Learn to make your own homemade Instant Oatmeal Mix in just 5 minutes with this easy, versatile, healthy, and tasty recipe from my friend, Kathryne's, new cookbook (<– affiliate link).
Today is a very special, long-awaited, hard-earned, holy-cow-it's-finally-here day for a dear friend of mine.
Today is the day that Kathryne's cookbook is finally released!!!
As many of you know, Kathryne and her adorable pup are the talented duo behind the vegetarian recipe blog, Cookie & Kate. And, she also happens to be one of my best friends here in Kansas City. ? So I've had a front-row seat in watching the step-by-step evolution of this particular cookbook over the past 2+ years. From the month that Kathryne and I lived in Austin while she was working diligently on the book proposal, to raising a glass at happy hour when the book deal was signed, to watching in admiration as she tested and re-tested and re-re-re-tested the recipes hundreds of times until they were no less than perfect, to nail-biting final year of edits and revisions and waiting for this day to finally come — let's just say that cookbook writing is not for the faint of heart. But, when Kathryne brought over an advanced copy for me as a birthday present two weeks ago, and I finally got to hold it in my hot little hands and thumb through the pages and see her beautiful work in print, it was clear that her hard work was 100% worth it.
This book is an absolute winner, you guys.
And I'm already certain that you're going to love it as much as I do. True to Kathryne's style on her blog, this cookbook is overflowing with fresh, simple, beautiful, feel-good, and reliable (<– trust me, this girl tests her recipes more than anyone I know) recipes that anyone is sure to love, whether you eat a fully vegetarian diet or just like weaving more plant-based meals into your life. And the book also comes with a host of helpful tips and resources and cheat sheets all along the way, and vibrant eye-catching photos for every single recipe. And of course, plenty of cameos of her cute four-legged crumb-catcher, Cookie.
My copy is already dog-eared galore with recipes that I'd like to try, like Kathryne's Spicy Breakfast Fajitas, and her Outrageous Herbaceous Chickpea Salad, Fresh Greek Nachos with Herbed Tahini Sauce, Sweet Potato Poblano and Black Bean Enchiladas, Roasted Eggplant Lasagna, Coconut Fried Rice with Edamame, a cute Pineapple-Tini, and Lemony-Almond Blueberry Cake. But today, I thought I'd share the first recipe of hers that I tried. It literally took 5 minutes to make, it's full of feel-good simple ingredients, it's a recipe you can store in your pantry for up to 3 months, and it's a mega step up in deliciousness from the store-bought packets of my childhood.
It's Kathryne's Instant Oatmeal Mix!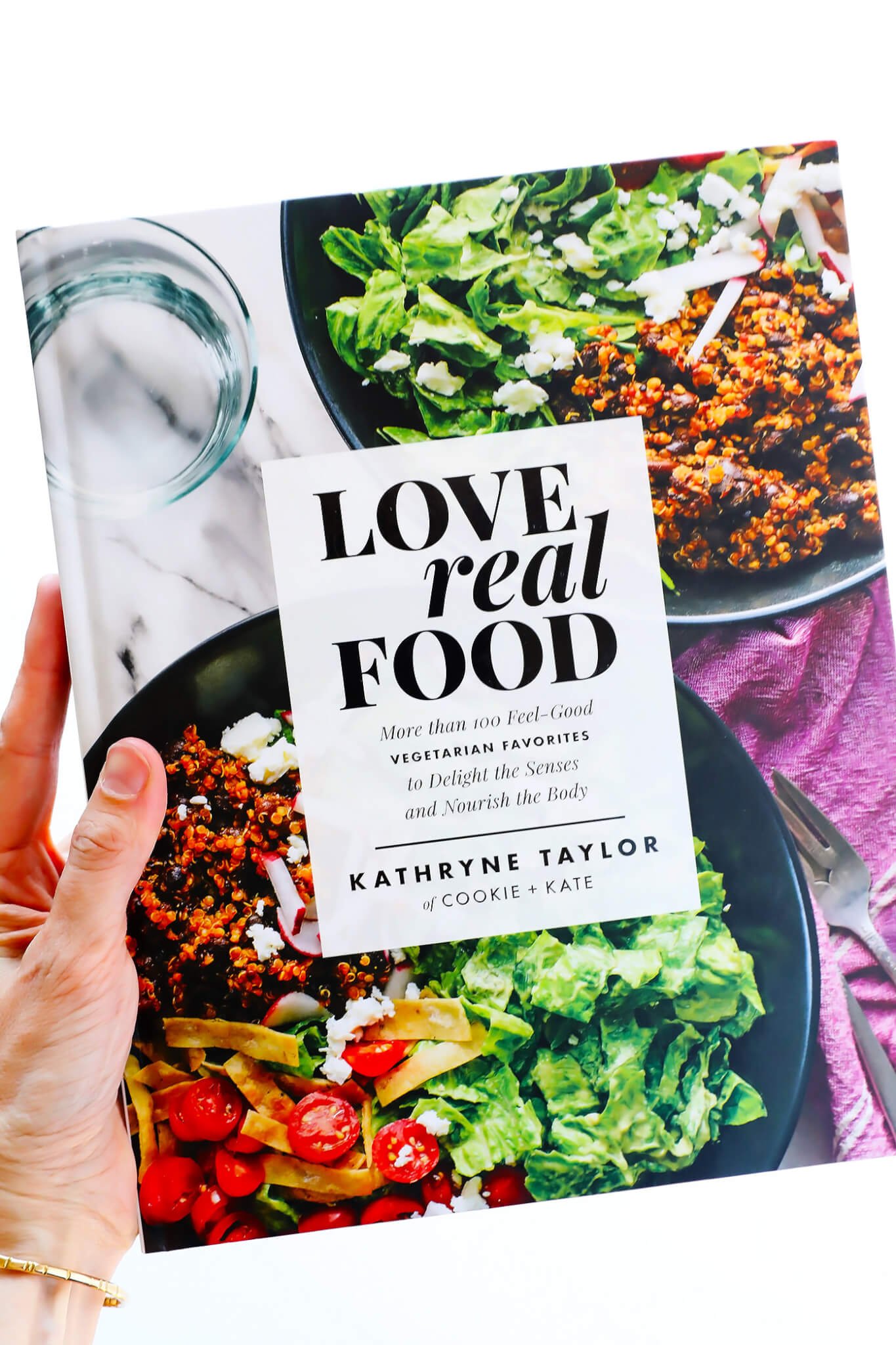 Back in our Austin days when Kathryne was working on her cookbook proposal, we went round and round brainstorming ideas for what on earth this delicious cookbook should be called. But I absolutely love the name that she finally settled on — Love Real Food — because that's exactly what Kathryne does. She is a passionate believer in the power of good food to nourish and change your life, and loves nothing more than creating approachable and quick and delicious recipes that make a healthy daily cooking lifestyle genuinely possible.
As her Good Pal Al, I can also give you the inside scoop and tell you that Kathryne…
is a

meticulous

recipe tester, in the best of ways. In the world of "fast food blogging" when many bloggers are tempted to rush and slap a recipe online after one try, Kathryne is adamant about testing and re-testing recipes until they are absolutely perfect. And if a reader leaves a comment saying otherwise, she's the blogger who will go back and re-test it again (and make tweaks if necessary) just to be sure. Her cookbook was no exception to this practice. For a solid year, whenever I would check in with her during the day, Kathryne and her assistant Mara would inevitably be in the weeds of fine-tuning the details of the 100+ recipes in this book, with a mountain of dishes piled up at the end of the day as testament to their hard work. They worked so hard to make each of these recipes delicious (and even tested the optional variations to make them gluten-free or vegan). But thankfully — we all get to enjoy the delicious results. So trust me, Kathryne's Test Kitchen won't let you down with this book. ?

loves making nutritious food taste freaking delicious.  And she gets really mad when healthy food tastes boring. ? Ha, truly, some of the times that I see Kathryne most fired up are when she's served some "healthier" menu option at a restaurant, and it comes out tasting bland or dry or poorly-seasoned or boring. Girl can't stand it…mostly because she knows this is what drives people away from certain vegetables or legumes or flours or whatever other foods have the potential to be awesome. So naturally, this is why she's so passionate about doing what she does, and why she also…

is a really great 

teacher

in the kitchen.  I had the happy privilege of being the friend who introduced Kathryne to the Enneagram, and right away, we decided that she is undoubtedly a 5 through and through — a.k.a. "The Investigator". The girl knows her way around Google more than anyone I know, and absolutely loves to research anything and everything (and generously help research anything and everything for her friends too). Literally, in the past week alone, she has researched and given me recommendations for how to fix a loose strap on my wedding shoes, to how much vitamins D we should be taking, to what toppings to add to a salad, to where we should go to try out eyelash extensions for the first time (yes, we're totally doing it! ?), and on and on. But on the food front, that also means that she's constantly researching and reading up on the latest nutrition research, food trends, holistic health, and more — which she loves sharing with her readers, and which makes this book an awesome healthy-living resource as well as a recipe cookbook. I will also note that — unlike some health writers who jump on every single fad and get obsessed with the most obscure ingredients — I love Kathryne's approach to living a healthy lifestyle because it's down-to-earth and reasonable and balanced.  And I know that I can count on her to enjoy a margarita along with our kale salad at happy hour.
All that said, I am admittedly partial to this girl, because in the past few years that we have gotten to know one another and hang out in Kansas City, Kathryne has quickly become one of my nearest and dearest friends. ? We have this crazy world wide web to thank for bringing us together. I count myself so lucky to have her in my life now — not just as a "blog friend" (although, man, she has been invaluable in helping and encouraging me as a blogger over the years), but also purely as a "friend friend". The two of us are wildly different in many ways — and will have a strong argument about the deliciousness of baby carrots any day to prove it. But man, she is as loyal, and honest, and hilarious, and supportive, and generous, and encouraging as they come. And I am so thankful for her amazing friendship these past few years. And I am continually inspired by the life that she lives…and how hard she has worked to make her lifelong dream of writing and publishing (a kickass!) cookbook a reality.
It has been a true labor of love, and I'm so proud of her.
Well done, friend. ??
That said, I am absolutely certain that every single one of you will love it to, so I hope that you click over to Amazon and order yourself a new copy hot off the press right now…so that you can make more recipes like this one!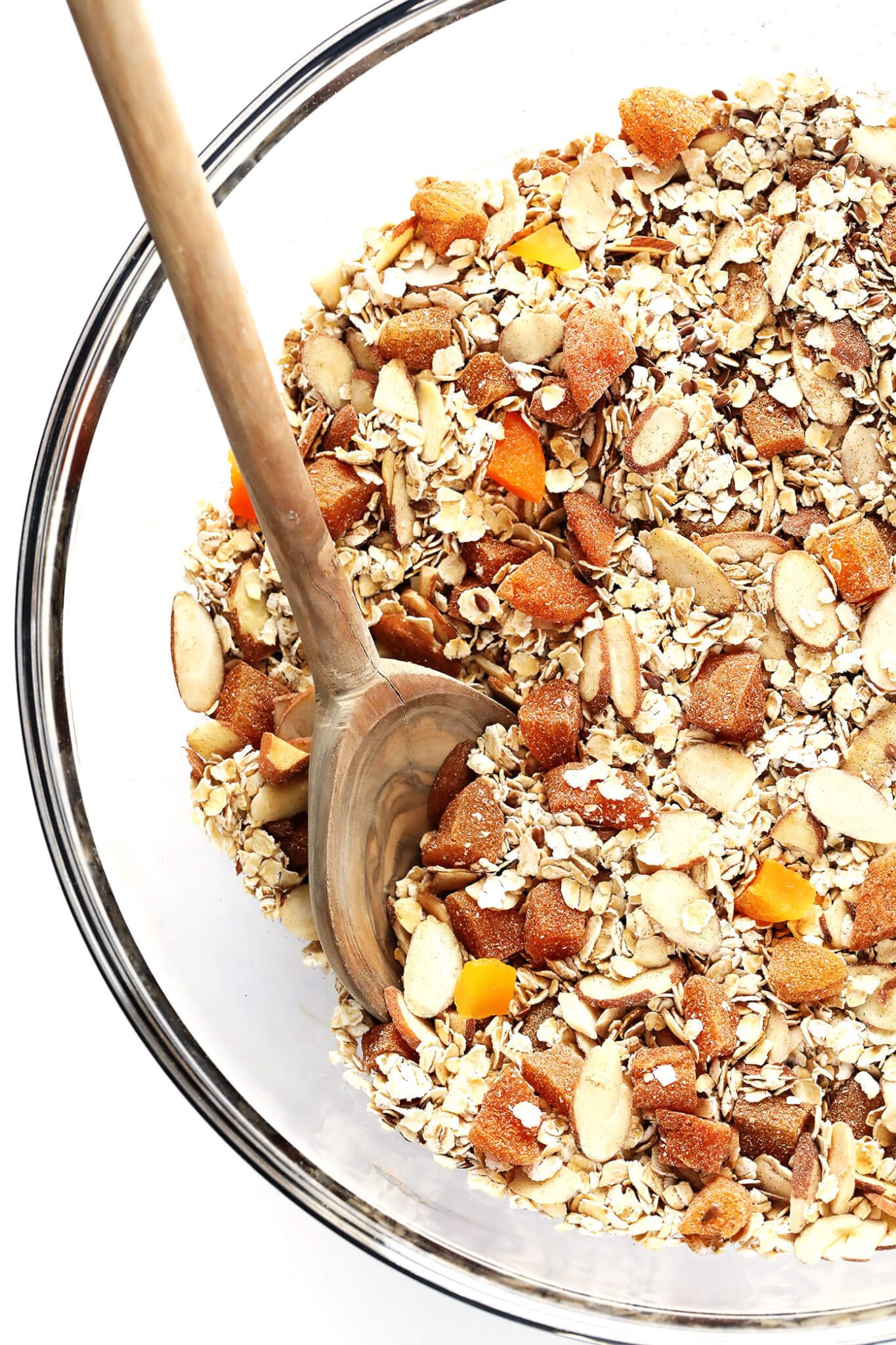 This is Kathryne's tried-and-true recipe for delicious homemade instant oatmeal mix. And as you can see, it's packed with all sorts of goodies including:
oats (quick oats, for speedy cooking)

nuts (you can use almonds, or whatever's on hand)

dried fruit (apricots, berries, cherries, you pick!)

flaxseeds (or raw pepitas)

coconut sugar (or your desired sweetener)

cinnamon and salt (because…yum)
To make the mix, all you need to do is simply stir everything together and — poof! — it's ready to go and store in your pantry for up to 3 months or in your freezer for up to 6 months. (Or pro tip — this mix is also awesome for gifting!)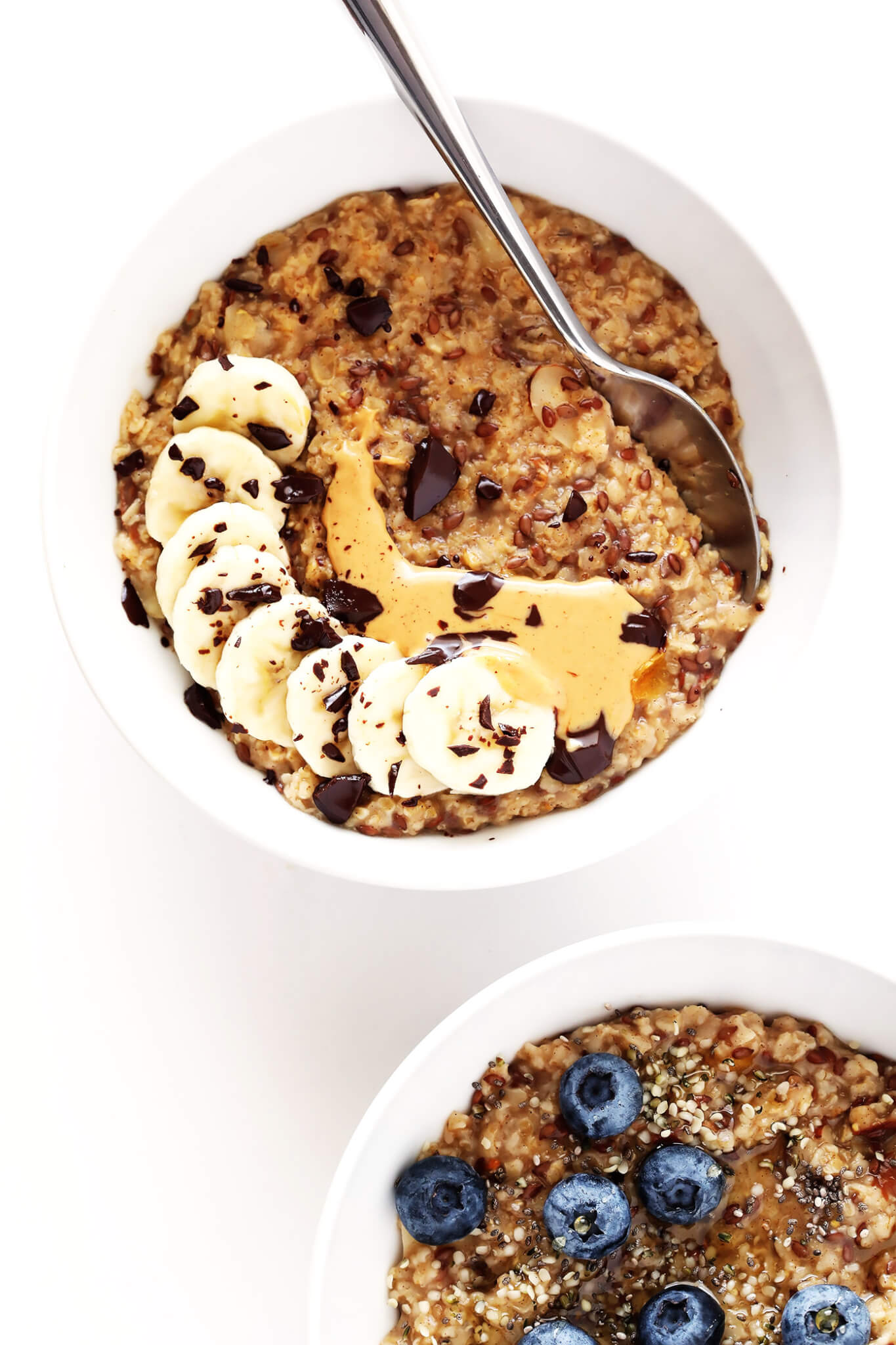 Then once you're ready to cook up a warm bowl of oatmeal, just bring 2 parts water to a boil, and stir in 1 part oatmeal mix. Then in about 5 minutes — once the oats have soaked everything up and gotten nice and soft — a delicious and nutritious bowl of oatmeal will be yours to enjoy.
Feel free to top yours with whatever sounds good too! I went with berries + chia seeds + hemp seeds on one bowl here, and bananas + almond butter + chocolate shavings on another. But the oatmeal recipe itself is so versatile that just about any toppings will pair well with it.
Perfect for a quick breakfast that you can feel good about…that's also sure to get your day off to a delicious start.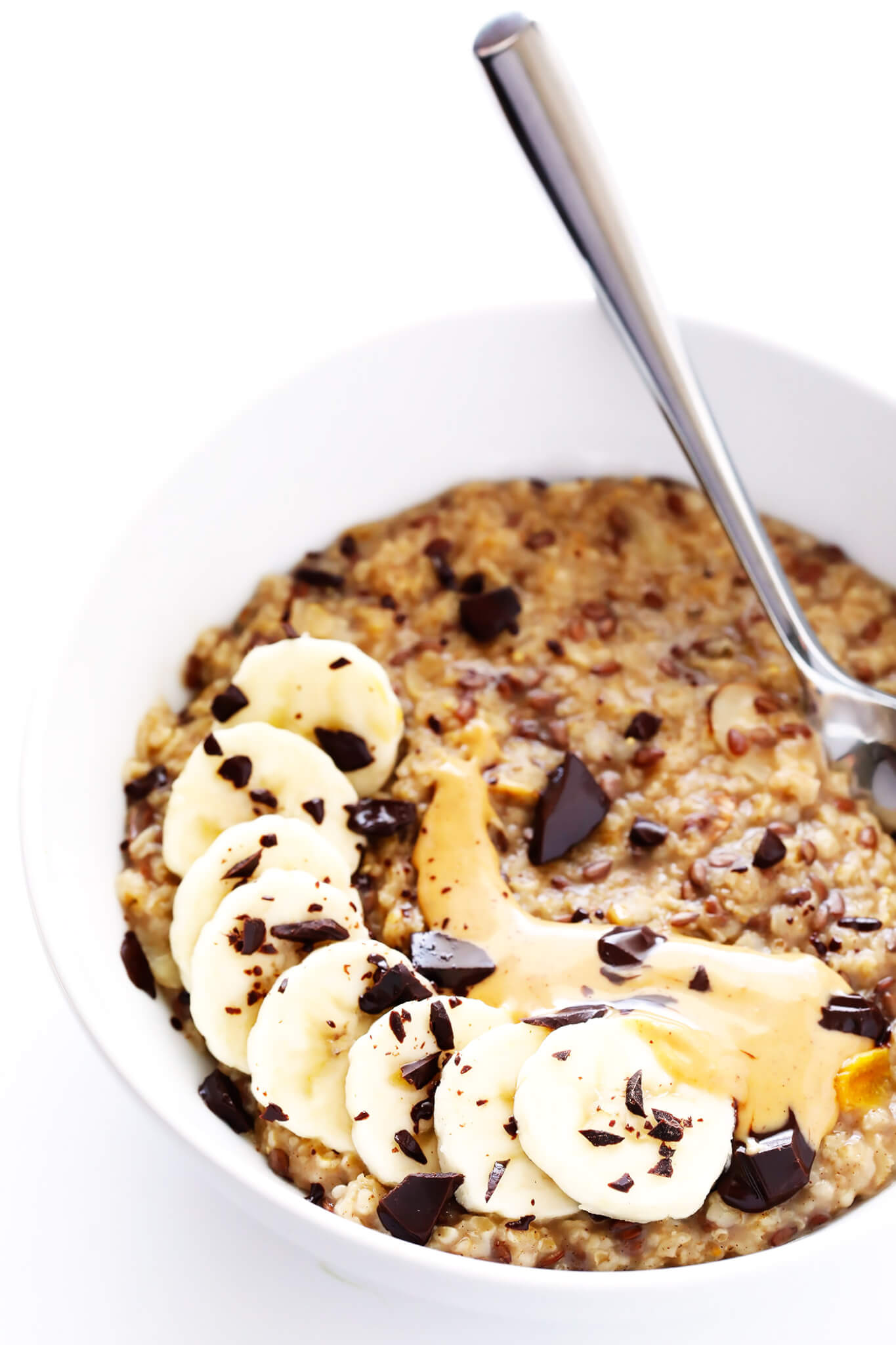 Thanks for the great recipe, Kathryne. And congrats again! You did it, girl!!
Print

Make-Your-Own Instant Oatmeal Mix

Prep Time: 5 minutes


Cook Time: 5 minutes


Total Time: 10 minutes


Yield: 18 servings 1x
---
Description
This healthy instant oatmeal mix is quick and easy to whip up, easy to customize with your favorite ingredients, and absolutely delicious!  It's also naturally gluten-free, dairy-free, and vegan.
---
4 cups

quick-cooking oats

1 cup

sliced almonds

1 cup

chopped dried tart cherries, dried blueberries, or chopped dried apricots

1/2 cup

flaxseeds or raw pepitas (hulled pumpkin seeds)

1/3 cup

lightly-packed coconut sugar

2 teaspoons

ground cinnamon

3/4 teaspoon

fine sea salt
---
Instructions
In a large storage container or freezer bag, combine the oats, almonds, dried fruit, flaxseeds, coconut sugar, cinnamon, and salt.  Stir to combine.

To prepare a single serving of oatmeal on the stove: Pour 2/3 cup water into a small saucepan and bring to a boil over high heat.  Stir the oatmeal mix again to ensure that it's evenly blended, then pour 1/3 cup of the oatmeal mixture into the boiling water.  Stir to combine, reduce the heat to medium-low, and simmer, uncovered, stirring occasionally, until the oats have absorbed most of the water and are creamy in texture, 5 to 7 minutes.

To prepare a single serving of oatmeal in the microwave: Stir the oatmeal mix again to ensure that it's evenly blended.  Combine 1/3 cup of the mix and 2/3 cup of the water in a microwave-safe bowl (use a slightly larger bowl than you think you'll need, so the oatmeal doesn't bubble over).  Microwave for 1 1/2 to 2 1/2 minutes, pausing to stir if necessary to prevent overflow, until the oats have absorbed most of the water and are creamy in texture.

The oatmeal will thicken up a bit more as it cools.  Let the oatmeal rest for a few minutes, until it reaches a palatable temperature.  Stir again, add any garnishes that you might like, and serve.

Leftover dry mix will keep at room temperature for up to 3 months, or in the freezer for up to 6 months.
---
Notes
Tip: In the single-serving directions, Kathryne suggests using 1/3 cup dry oatmeal mix because it is about the equivalent of a packet of oatmeal.  If you would like to cook up more oatmeal at once, just follow the directions, using twice as much water as oatmeal mix.
Gluten-Free Cooking: If making this recipe gluten-free, be sure to use certified gluten-free oats and other ingredients.
Recipe used with permission from Love Real Food: More Than 100 Feel-Good Vegetarian Favorites To Delight The Senses And Nourish The Body by Kathryne Taylor (from Cookie & Kate).
This post contains affiliate links.