This post is sponsored by Blue Diamond Almond Breeze Almondmilk.
I thought we'd take a little stroll down memory lane today to one of my favorite retro dishes from childhood — tuna casserole!!
Oh yeah.  You'd better believe this was one of the favorite dishes in our family when I was young, and you'd better believe we made it from the box. Even my little sister and I used to be able to make it from the box! Just add a little water, a few cups of milk, a pat of butter, a few cans of tuna, give it a stir and toss it in the oven, and — ba da bing, ba da boom — dinner was served. (With a generous side helping of processed ingredients of course, but hey, who cared about those back in the day?!)
Well, times have changed, and my mom and sister and I no longer have the boxed pasta meals hanging out in our pantries. But our love for this classic comfort food dish is still as strong as ever. So for a little throwback Thursday meal last week, I decided to try whipping up a lighter tuna casserole recipe that I could feel good about. Turns out, it only takes a little bit longer than the ol' boxed version. And turns out, it tastes even better. 🙂
The key, of course, is to use lots of fresh ingredients. Fresh carrots? Check. Fresh mushrooms? Check. Fresh garlic? Check. Fresh peas? (Ok, frozen are much easier.)  Check.
Stir those in with a lighter cream sauce (made with an unsweetened almond milk base instead of cream), your favorite tuna (I prefer albacore tuna packed in water instead of oil), toss them with your favorite kind of pasta (I went with no-yolk "egg" noodles, although whole wheat pasta would be great), and then add in a handful of part-skim sharp cheddar for that retro cheesy casserole goodness.
If you want, you can just serve this as a stovetop pasta right then and there!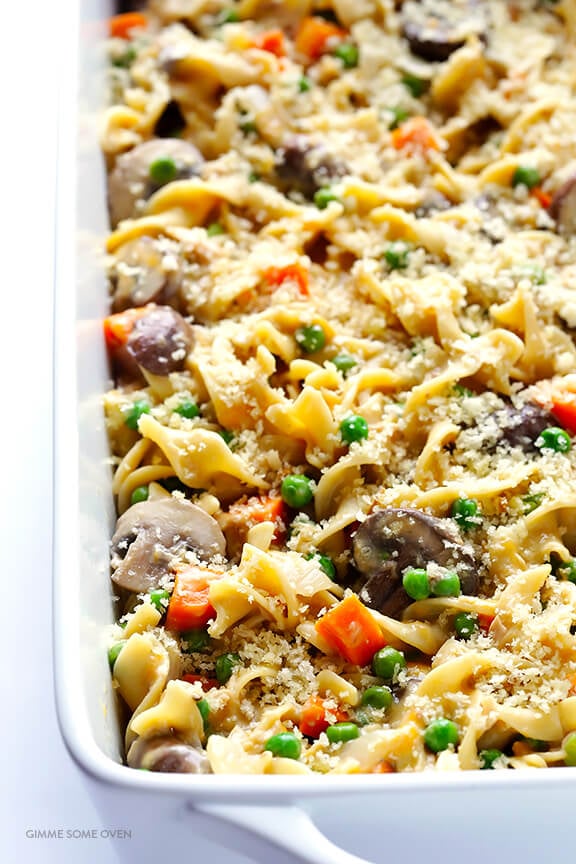 Or if you want to bake it up, add some Panko on top and toss it in the oven until the filling is nice and bubbly and the topping is golden and crispy. Either way, you can't go wrong.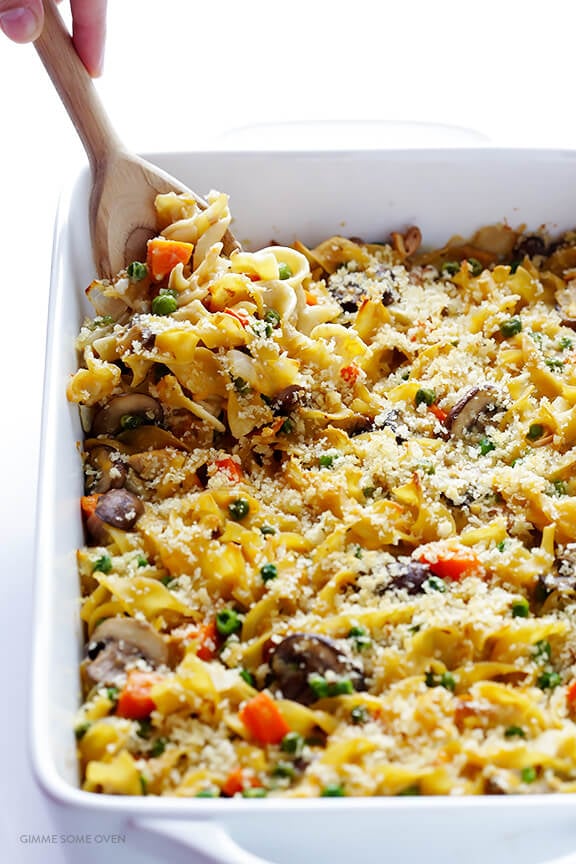 Then serve it up…
…and enjoy every delicious, flavorful, tuna-y bite.
This recipe is decidedly lighter and less processed than the version I grew up with, but I promise that it's just as satisfying and comforting. Just be sure to have a peppermint on hand for afterwards. Because, well, tuna will always be tuna. 😉
Enjoy, everyone!
Print
Lighter Tuna Casserole

Prep Time: 10 minutes


Cook Time: 50 minutes


Total Time: 60 minutes


Yield: 8 –10 servings 1x
---
Description
This lighter tuna casserole recipe is easy to make, full of great flavor, and lightened up with a few simple tweaks.
---
8 ounces

 wide egg noodles (or no-yolk noodles)

1 Tablespoon

butter or olive oil

1

medium white or yellow onion, peeled and diced (about

1.5 cups

)

2

large carrots, peeled and diced (about

1 cup

)

3

cloves garlic, peeled and minced

1/4 cup

all-purpose flour

1 1/2

 cups chicken stock

1 1/2 cups

milk (I used Blue Diamond Almond Breeze Original Unsweetened AlmondMilk)

2 teaspoons

Italian seasoning, homemade or store-bought

1/2 teaspoon

salt

1/4 teaspoon

freshly-ground black pepper

6

 ounces baby Bella or button mushrooms, sliced

1 cup

 frozen peas

3

(5-ounce) cans tuna in water, drained

1 cup

reduced-fat shredded sharp cheddar cheese

2 Tablespoons

 Panko breadcrumbs
---
Instructions
Preheat oven to 400°F.

Cook egg noodles al dente in a large pot of generously-salted water in a large stockpot according to package instructions.  Drain and set aside.

Meanwhile, as the water for the noodles is cooking, melt butter (or olive oil) in a large saute pan over medium-high heat.  Add onion and carrots, and saute for 5-7 minutes, or until both are soft.  Add garlic and saute for 1 more minute until fragrant.  Stir in the flour and cook for 1 more minute.  Whisk in the chicken stock until it is combined, then stir in the milk, Italian seasoning, salt, pepper, mushrooms, peas and tuna.  Continue cooking, stirring occasionally, until the mixture reaches a simmer and thickens and the mushrooms are cooked, about 4-6 more minutes.

Once the noodles are ready, add the sauce mixture to the (drained) noodles, and toss to combine.  Stir in the cheddar cheese until it is evenly combined.  Then you can either serve the pasta as-is at this point, or continue on to bake it.

If you are baking the casserole, pour the noodles into a greased 9 x 13-inch baking pan.  Sprinkle the Panko breadcrumbs evenly on top of the pasta, then mist with some cooking spray.  (Or I prefer to use olive oil in a Misto.)  Bake for 18-20 minutes, or until the top of the pasta is slightly crispy and golden, and the filling is bubbly on the sides.

Remove and serve warm.
---
Notes
I took a few tips for lightening this up from my friend Gina, so this recipe is adapted from SkinnyTaste.
This post is sponsored by Blue Diamond Almond Breeze Almondmilk. I am partnering with them to bring you some tasty and healthier recipes this year, and all almond-milk-loving opinions are my own as always. Thanks for continuing to support the brands who help make this site possible.