This delicious Lemon Artichoke Pasta Salad is so fresh and delicious, super easy to make ahead of time, and tossed with a yummy lemon-basil vinaigrette. Perfect for spring!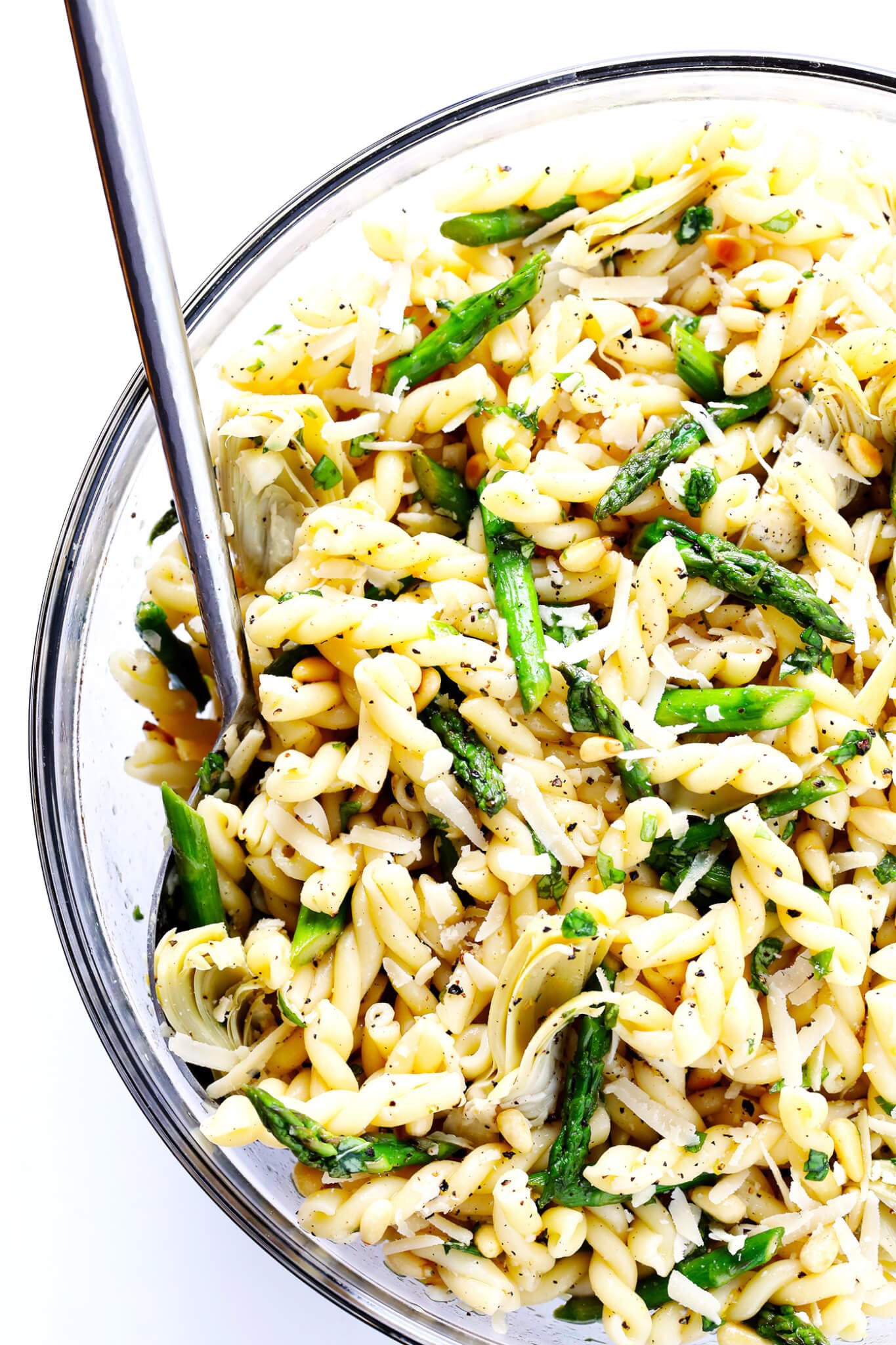 Best group text to start a weekday morning:
"Grill out tonight?"
Within minutes, most all of our Wednesday-night-hangout friends were on it. "?" said Beth. "Peter and I can bring some veggies for grilling!" said Cass. "I've got chicken breasts and veggie burgers!" said Rachel. "I've got tilapia and wine!" said Sarah. "Do we need more chicken? I have some I can bring!" said Michelle. "We'll bring chips or something!" said Danielle. "I'll bring an artichoke pasta salad" said Yours Truly.
And just like that, a delicious plan for the evening was hatched that I looked forward to all day long. Sure enough, it did not disappoint. By the time everyone rolled in after work, the weather was gloriously warm and sunny and un-mosquito-y. The kiddos instantly took to the grassy lawn, where they ran around and played for hours. The smell of the grill was intoxicating and made all of our food taste downright magical, especially after a long winter of food cooked inside. And best of all, we all just hung out together on the back deck for hours and hours, catching up on life together and chatting about everything under the sun until late past our bedtimes. Loved every minute of it.
Oh, and I also have to say — the night started on the most adorable note too. When I first walked in the door to Rachel's house, her sweet little 4-year-old daughter looked up from her toys and exclaimed, "Ali! YOU get to marry BARCLAY!" I laughed and said, "Yes, yes I do! Really soon!" And she broke out into the sweetest smile, and with a twinkler in her eye, leaned in closer and said, "Are you just so excited?"
Heart = melted. ?
Yep. Sweet little kiddos who ask the best questions. Sunny spring nights firing back up the grill. Easy times with friends who know one another so well. An impromptu pasta salad that had everyone asking for the recipe. So simple. And so good.
Wednesday night for the win!
How To Make A Lemony Artichoke Salad | 1-Minute Video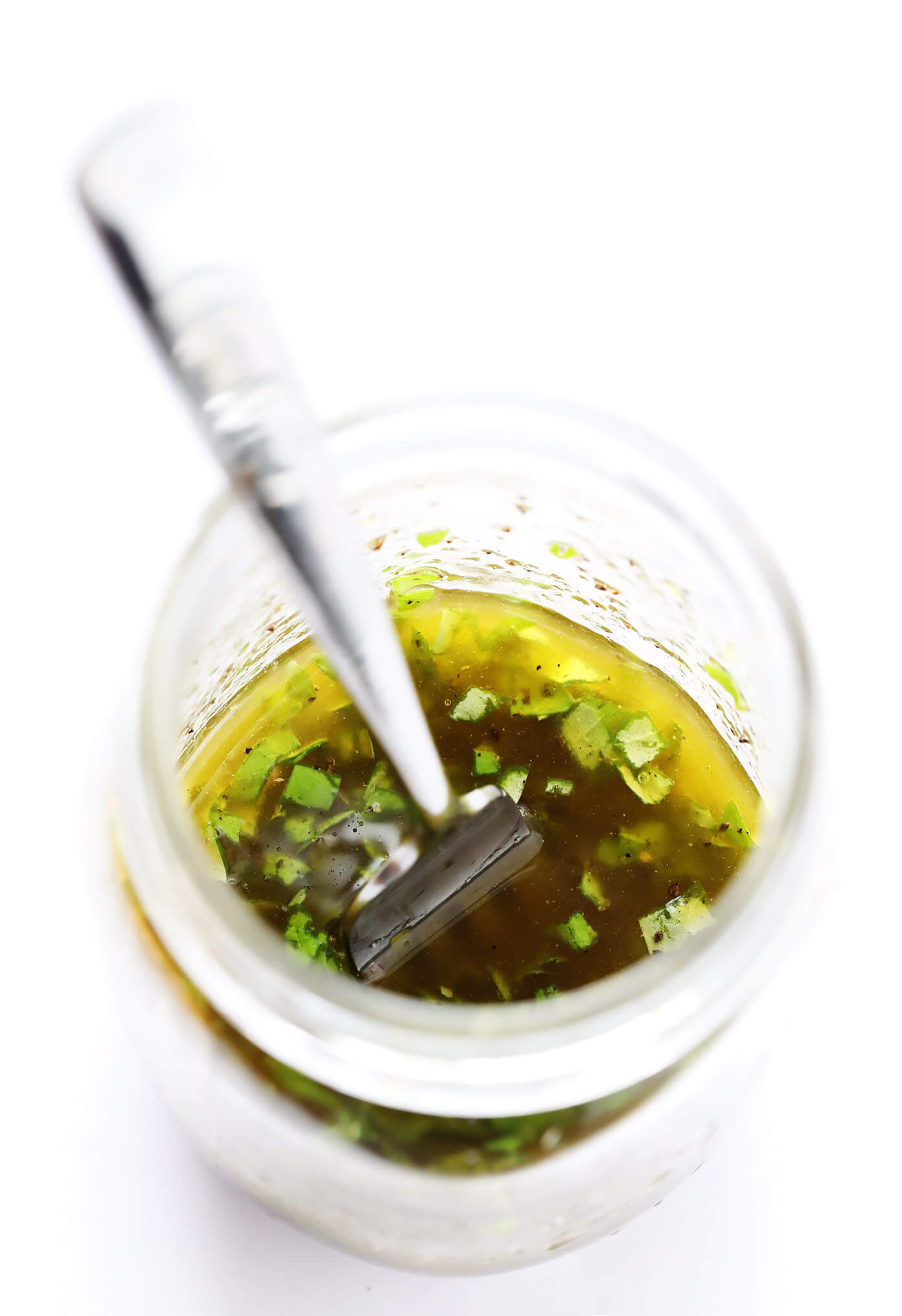 So for my friends who asked for the recipe — as well as those of you who asked after I shared a pic on my Instagram story — here 'tis! I had a busy day with zero time to go to the grocery store. So I just scavenged my fridge and pantry for some inspiration, and luckily enough, this delicious combo was born!
I'd say that the starring is this fresh lemon basil vinaigrette. It's quick and easy to make, and makes just about anything taste wonderfully spring-y and light and fresh.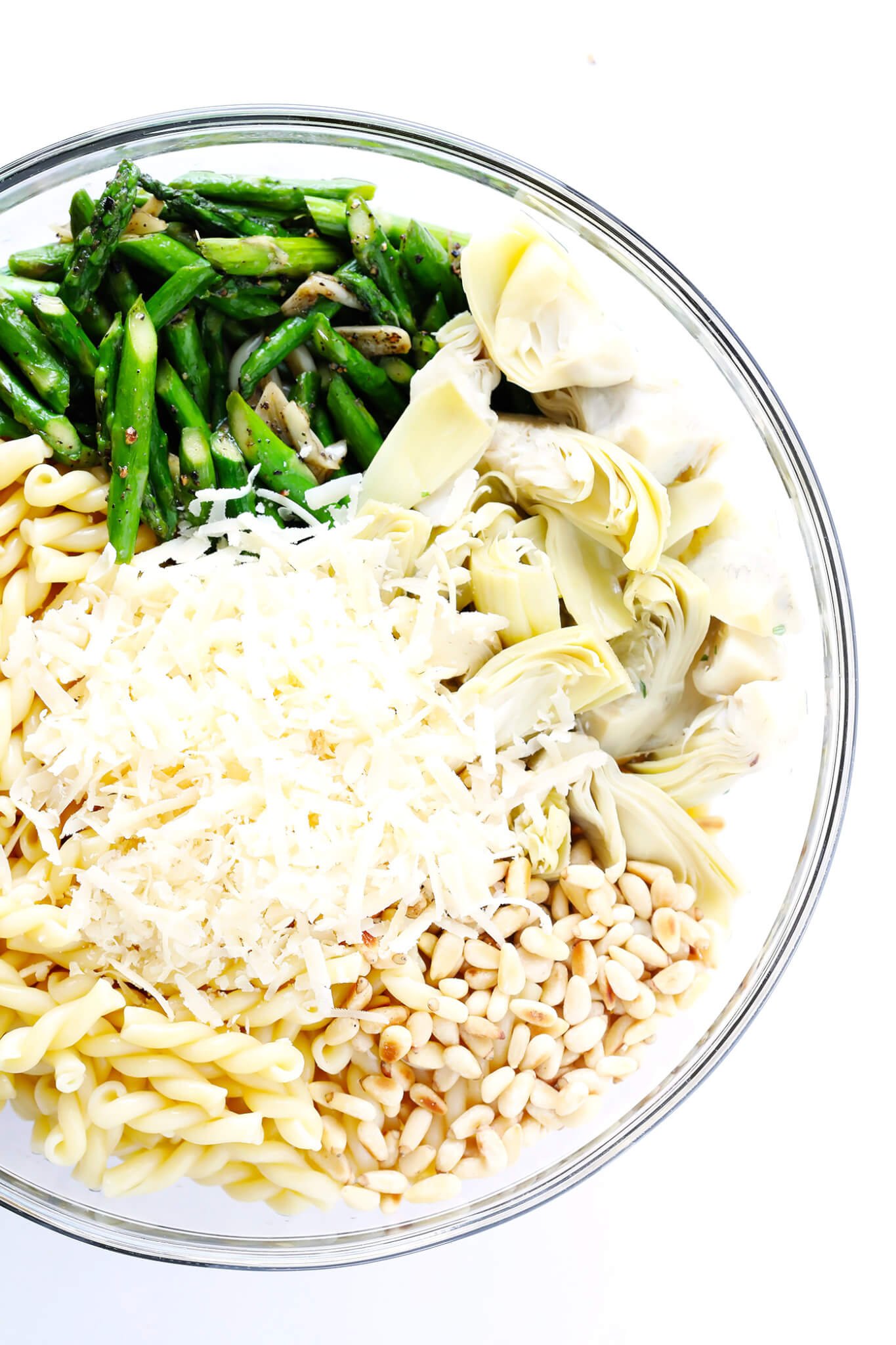 Then, while the pasta water is heating and the pasta is cooking, simply sauté some asparagus and garlic in olive oil until they are cooked through. Add them together in a large bowl with the cooked pasta, roughly-chopped artichoke hearts, toasted pine nuts, lots of Parmesan (or you could also use crumbled goat or feta cheese). Drizzle with the vinaigrette.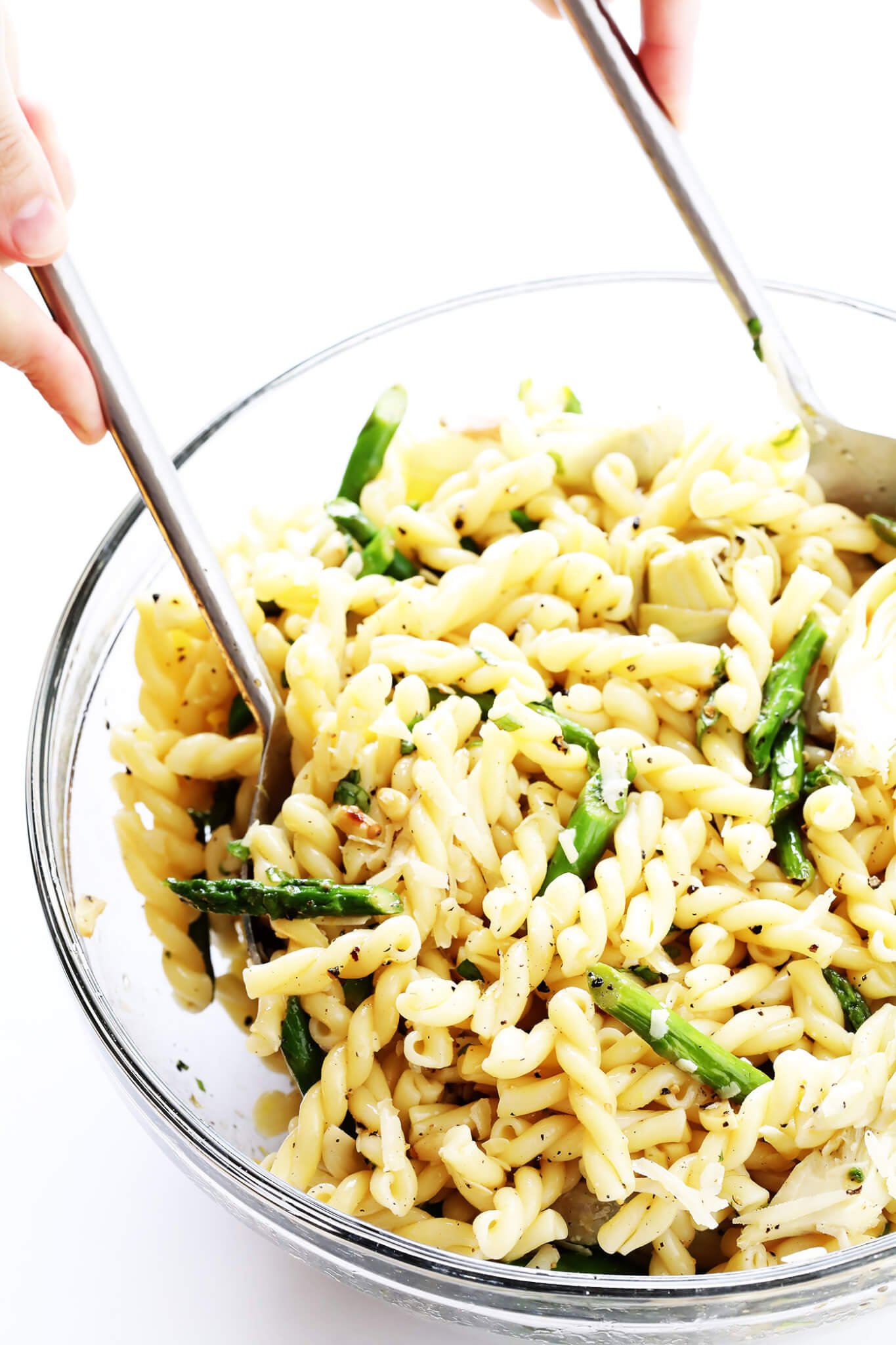 Toss…
…and serve!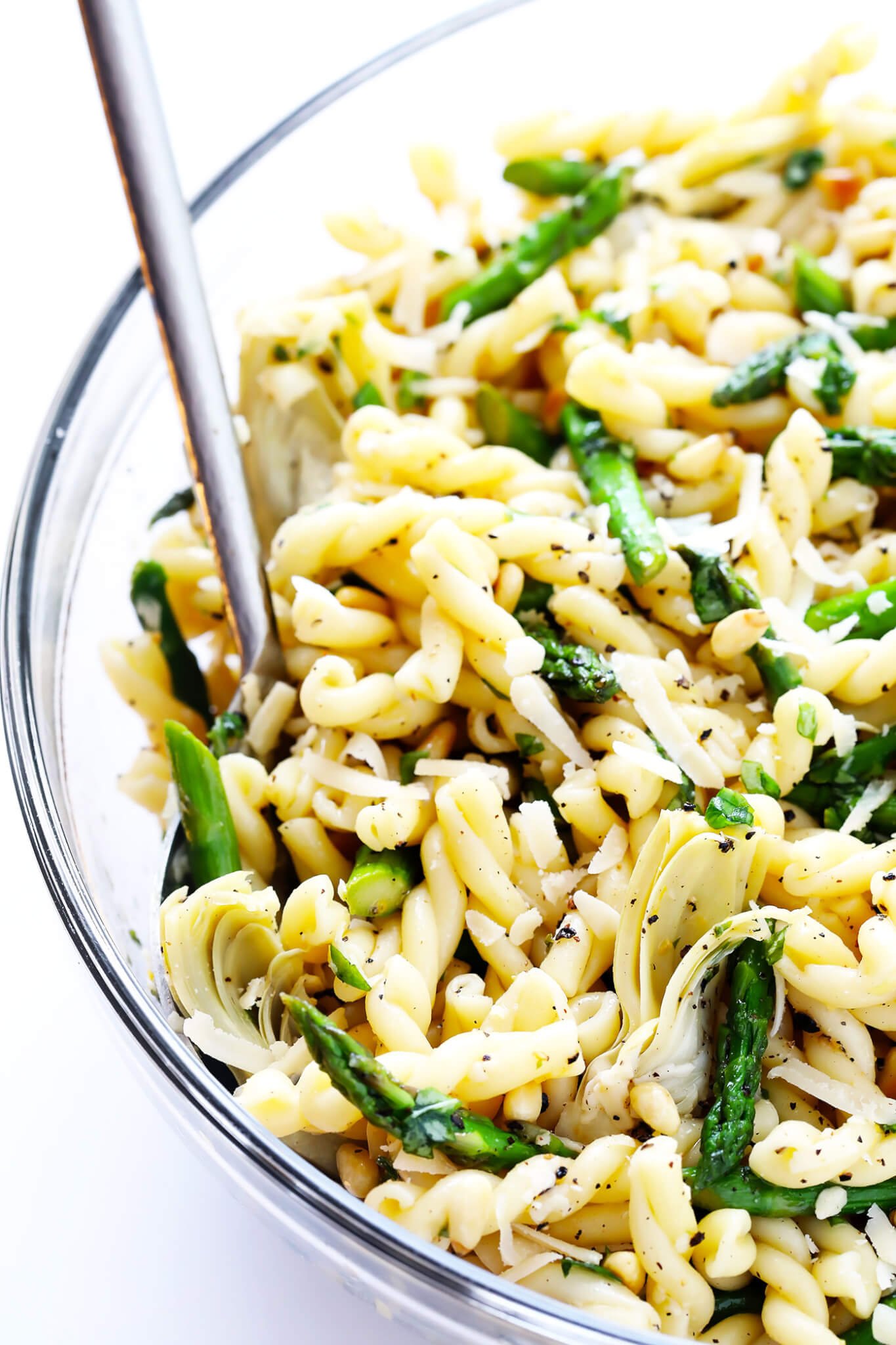 Seriously, we all loved this one so much, and it was incredibly easy to make. So if you have a potluck, or picnic, or a nice spring grill-out with friends coming up, I hope that you'll give it a try!
Enjoy, friends!
Print

Lemony Artichoke Pasta Salad

Prep Time: 10 minutes


Cook Time: 20 minutes


Total Time: 30 minutes


Yield: 8 –10 servings 1x
---
Description
This easy Lemony Artichoke Pasta Salad is quick and easy to make ahead, tossed with a zippy lemon basil vinaigrette, and SO delicious!
---
Pasta Salad Ingredients:
1

pound (16 ounces) uncooked pasta (I used gemelli)

1 tablespoon

olive oil

1

bunch (about

1

pound) asparagus, chopped into bite-sized pieces

4

cloves garlic, peeled and thinly-sliced

Kosher salt and freshly-cracked black pepper

1

(14 ounce) jar artichoke hearts, drained and roughly-chopped

2/3 cup

freshly-crated Parmesan cheese, plus extra for serving

1/2 cup

toasted pine nuts

1

batch Lemon Basil Vinaigrette (see below)
Lemon Basil Vinaigrette Ingredients:
1/4 cup

olive oil

3 tablespoons

freshly-squeezed lemon juice

3 tablespoons

finely-chopped fresh basil leaves

2 tablespoons

red wine vinegar

1/2 teaspoon

Kosher salt

1/4 teaspoon

freshly-cracked black pepper
---
Instructions
To Make The Pasta Salad:
Cook the pasta in a large stockpot of generously-salted water until it is al dente, according to package directions.  Drain pasta and rinse under cold water for about 20-30 seconds until no longer hot.  Set aside.

Meanwhile, as the pasta water is heating and the pasta is cooking, heat oil in a large saute pan over medium-high heat.  Add chopped asparagus, season with a generous pinch of salt and pepper, and stir to combine.  Sauté for 3 minutes, stirring occasionally.  Stir in sliced garlic, and continue sautéing the mixture for 1-2 minutes more, stirring occasionally, until the garlic is fragrant and the asparagus is tender but still slightly crisp on the inside.  Remove from heat and set aside.

In a large bowl, combine the cooked pasta, asparagus mixture, artichoke hearts, Parmesan and toasted pine nuts.  Drizzle evenly with the lemon basil vinaigrette, then toss to combine.

Serve immediately, garnished with extra Parmesan if desired.  Or cover and refrigerate in a sealed container for up to 3 days.
To Make The Lemon Basil Vinaigrette:
Whisk all ingredients together in a small bowl or measuring cup until combined.
---