I've been back on a Project Runway kick lately, catching up on old seasons while I work out.
And oh my goodness, I forgot how much I freaking love that show!
I like to think that's because I grew up in a home where sewing is the family business (my mom is a cross-stitch designer). But let's be honest, I haven't picked up a needle and thread to sew anything other than a button in decades. 😉
Still, I am absolutely fascinated by these designers, and think that everything they accomplish is beyond impressive. I mean, it's one thing to be able to come up with a creative and awesome idea for a design. But to have the skills to actually be able to execute that design undoubtedly comes from years (and years and years) of study and practice, and challenges a totally different part of the brain. Not to mention having that these designers are forced to whip something up in usually about 24 hours (crazy!), and do so in the midst of a little workroom drama (although I like that the show has evolved to be more about the craft and less about that), and of course, all with the looming fear of Nina possibly calling all of your hard work "mumsy" or (gasp! the worst!) "matronly".
Ahhhh, Project Runway, how I've missed you.
Anyway, the good thing about getting behind on a few seasons is that I've had dozens of episodes stored up to watch this summer during my workouts. And I must say, having a good show cued up is always a good incentive for me to make time to exercise each day. So after elliptical-ing my heart out yesterday while watching the designers make clothes using paintball paint, I made another batch of one of my latest favorite pasta dishes for a protein-packed late lunch — this Lemon Basil Pasta with Almonds.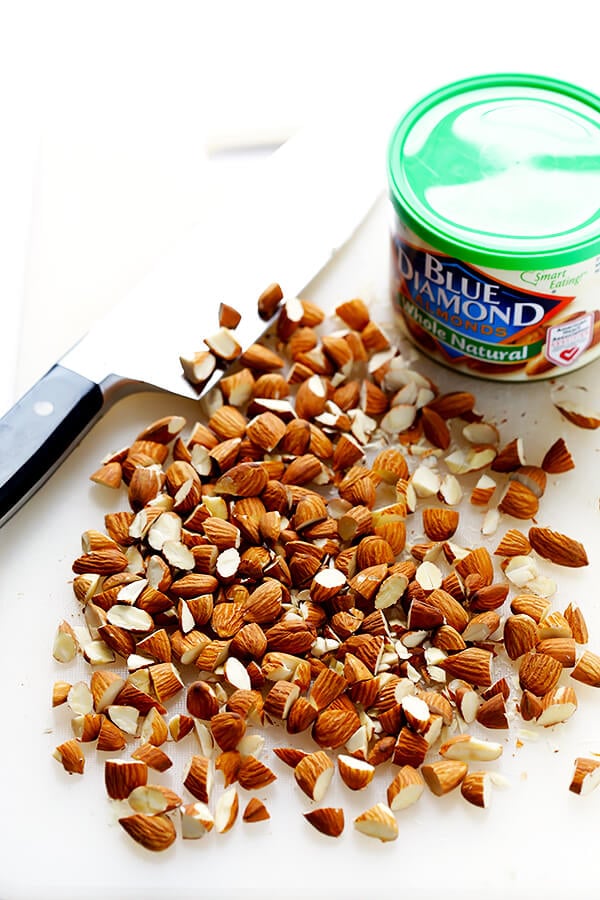 This recipe is yet another random one I dreamed up recently, while trying to use up some extra lemon and basil in the fridge. But then for something different, I decided to toast and chop up a ton of almonds to add in there for some extra protein. And oh my goodness — why had I never tried this almond thing earlier?! They're delicious in pasta!!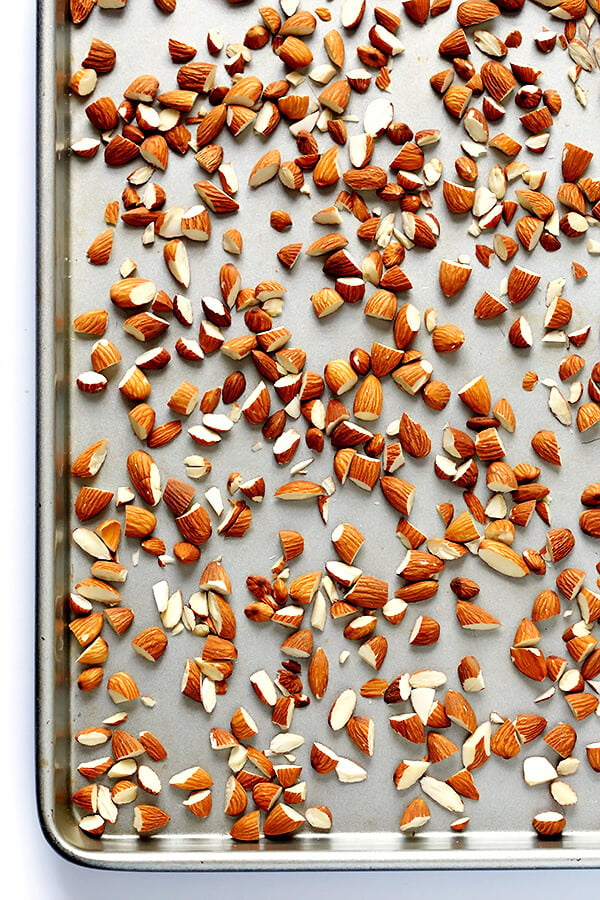 Just toast a bunch of them up. (I used Blue Diamond Whole Natural Almonds, which are plain and simple and delicious.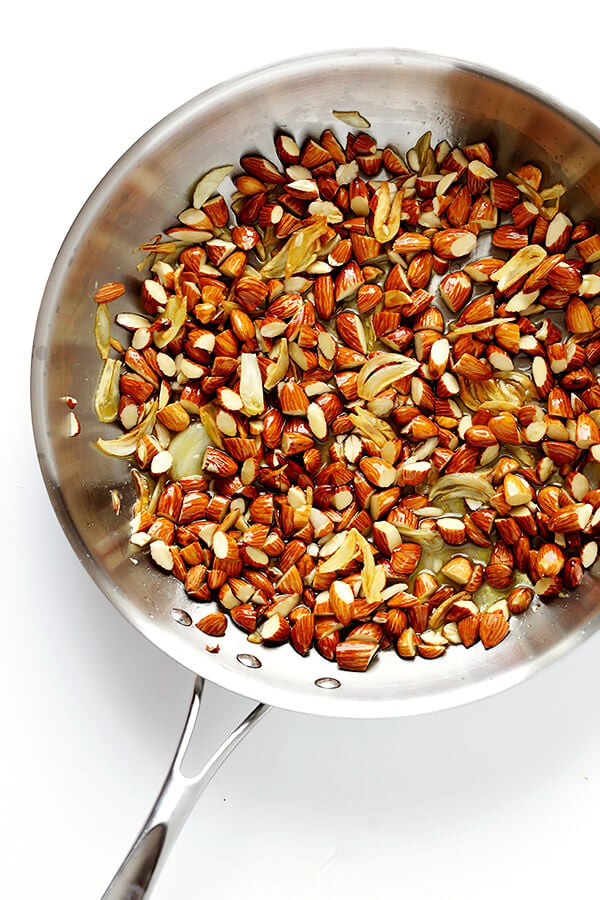 Then, while your pasta is cooking, saute some garlic in olive oil. Then stir in those almonds and some lemon juice.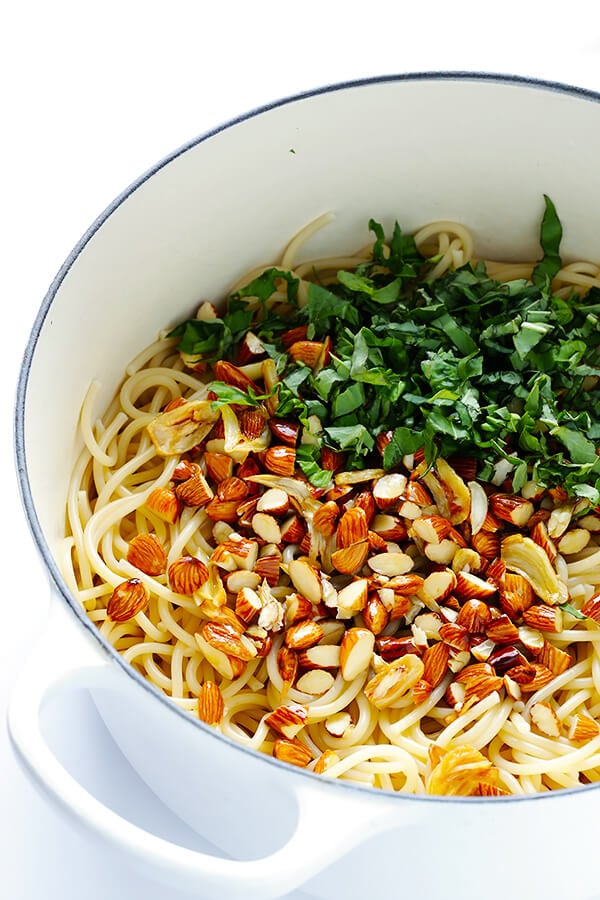 Then add that mixture to your pasta, along with a big handful of chopped (or julienned) fresh basil leaves.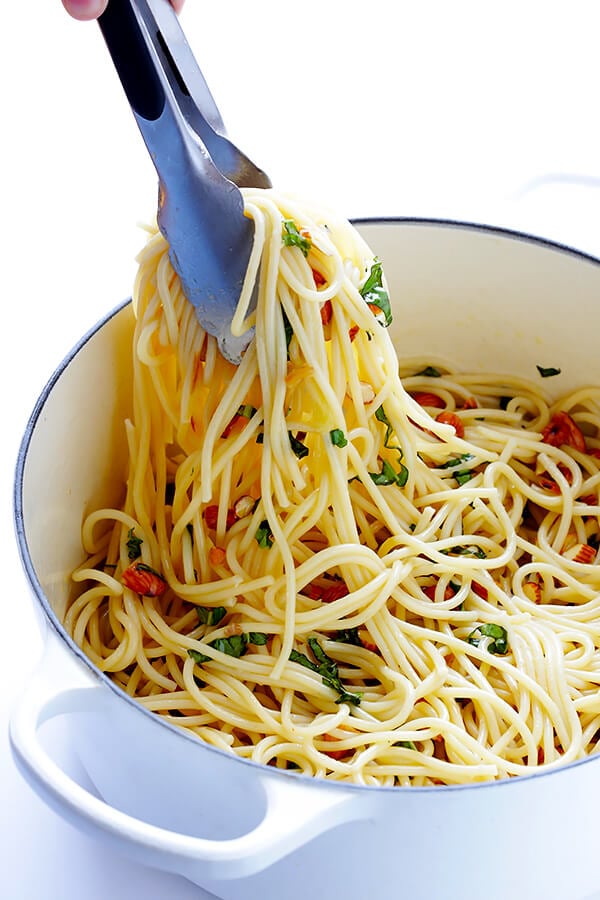 Give it a good toss.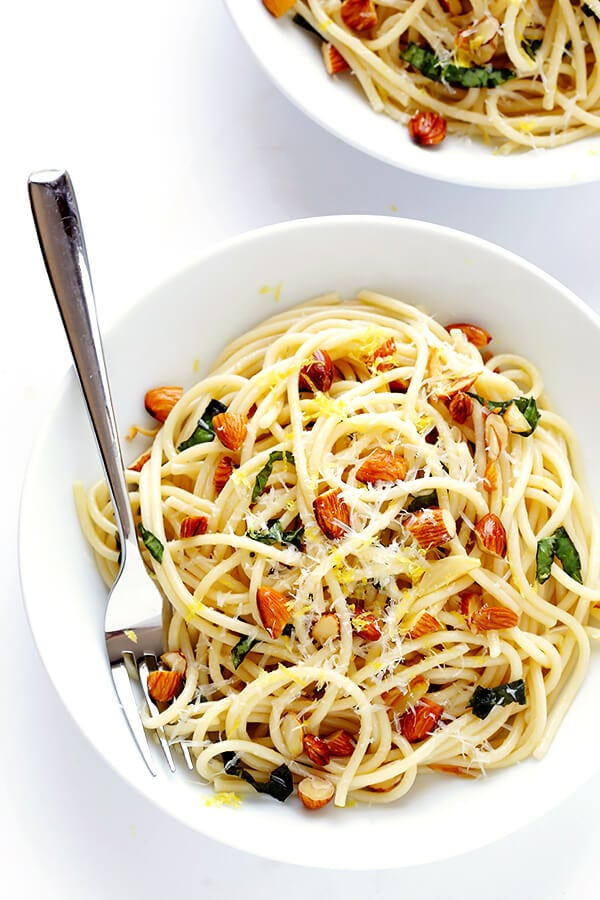 And then? Dinner (or a late post-workout lunch) is served.  🙂
I topped mine with a bunch of freshly-grated Parmesan (since I can never resist it), along with some extra zest from the lemons. And the result was a fresh, bright, savory pasta that I couldn't stop eating. Loved the crunch of those almonds, loved the classic lemon-basil flavor combo with a hint of garlic, and — as always — I love any chance to have some spaghetti.
So if you're looking for a quick and easy dinner idea, or a good post-workout meal (because hey, Blue Diamond is the official sponsor of Team USA Swimming, so they know something about fueling strong athletes!), then I definitely recommend giving this one a try.
As Tim would say, "Make it work!" 😉
Print

Lemon Basil Spaghetti with Almonds

Prep Time: 5 minutes


Cook Time: 25 minutes


Total Time: 30 minutes


Yield: 4 –6 servings 1x
---
Description
This Lemon Basil Spaghetti with Almonds recipe is full of zesty flavor, it's quick and easy to make, and packed with extra protein from lots of almonds!
---
1 cup

 Blue Diamond Whole Natural Almonds, roughly chopped

12 ounces

uncooked spaghetti (or any pasta shape)

3 tablespoons

olive oil or butter

6

cloves garlic, peeled and thinly-sliced

2 tablespoons

freshly-squeezed lemon juice

1 cup

julienned or roughly-chopped fresh basil leaves, loosely-packed

recommended toppings: freshly-grated Parmesan and lemon zest
---
Instructions
Heat oven to 350°F.  Scatter the chopped almonds in an even layer on a baking sheet.  Bake for 6-9 minutes, or until the almonds are lightly-toasted and fragrant.  Remove from the oven and set aside.

Meanwhile, heat a large stockpot of generously-salted water, then add the spaghetti and cook it al dente according to package directions.  Drain and set aside.

Meanwhile, as the pasta water is cooking, heat olive oil (or butter) in a separate saute pan over medium-high heat.  Add the garlic and saute for 2-4 minutes or until lightly-golden and fragrant.  Remove from heat and stir in the lemon juice and toasted almonds.  Set aside.

Once the pasta is cooked and drained, return it to the stockpot.  Add the garlic mixture and basil, and toss until evenly combined.

Serve immediately, garnished with recommended toppings.
---
This post is sponsored by Blue Diamond Almonds, maker of all of my favorite snack almonds. And fun fact — I'm excited that they are an official sponsor of USA Swimming. Visit www.LaneToGreatness.com to learn more, and for a chance to win $5,000 to fuel your dreams of greatness (whatever they may be), get a Blue Diamond Almonds coupon and recipes, and more!