This delicious Kung Pao Chicken recipe is quick and easy to make, and tastes even better than the restaurant version!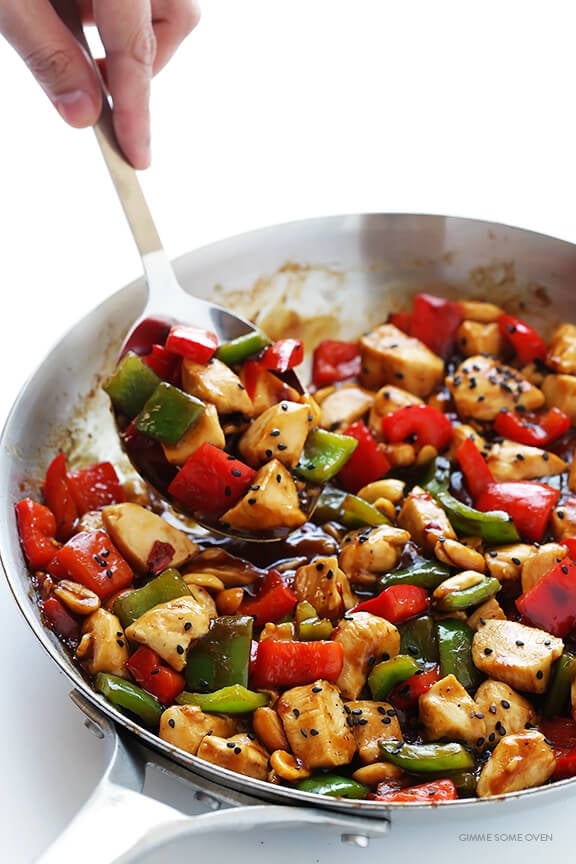 Ka-POW! It's Monday!!
I seriously don't know how the weekends seem to be zooming by so quickly lately. But yet again, the beginning of another week seems to have arrived. (Plus another new month — oh hey, August!)  And with that, my to-do list for the week is already brimming with new missions to accomplish. (I'll give you one guess as to which blockbuster I saw this weekend — oh hey, Tom Cruise!)
So for anyone looking for a quick and seasonal meal to fuel you for another new week ahead, I thought it would be fun to feature a favorite Chinese restaurant dish that's just as fun to say as it is to eat — Kung Pao Chicken!
My dad ordered this dish religiously at our neighborhood restaurant growing up, and it has long been one of my favorites as well. Because tender chicken, sauteed up with tons of bell peppers (or your choice of veggies) and peanuts, and then tossed in a slightly-spicy brown sauce? Let's just say that for years, I thought it was called "Ka-POW Chicken", and that it was perfectly named. I never get tired of this dish!
As it turns out, it's also exceptionally quick and easy to make at home, and my naturally-sweetened version lets you check those processed sugars at the door. Let's make some!
Kung Pao Chicken Recipe | 1-Minute Video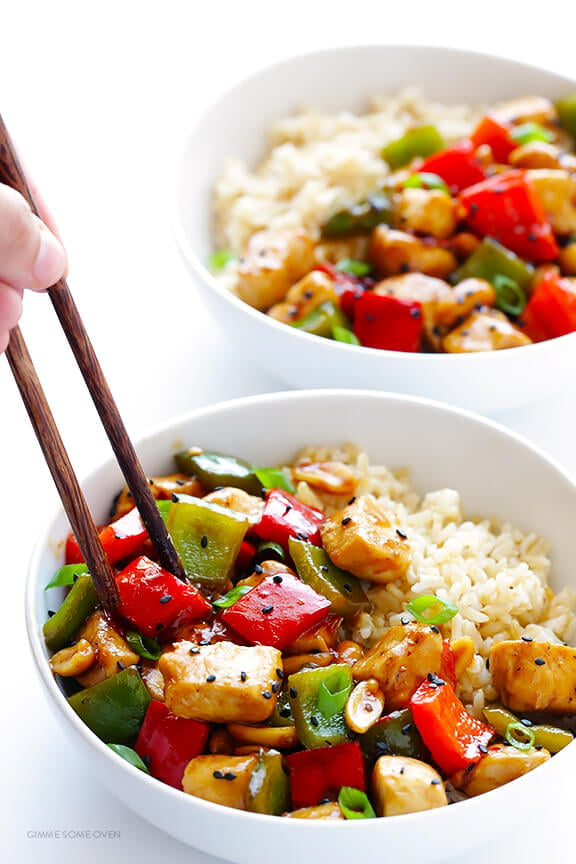 Really, this recipe is about as versatile as you'd like to make it.
Don't love chicken? Feel free to sub in shrimp or beef or pork or even tofu.
Don't love tons of bell peppers? You can easily sub in whatever veggies are in season — asparagus, zucchini, green beans, broccoli, whatevs.
Allergic to peanuts? They're not incorporated into the sauce with this dish, so feel free to nix them entirely, or just use cashews or a different nut.
The key to this recipe is mostly the sauce. I'm a big believer in using actual whole dried red chiles in this dish, because I feel that their flavor helps give it more of an authentic taste. You can buy them in almost any Asian or Mexican food section of the store (get dried, not fresh!). The key is just to remove the seeds before using them, unless you want a super Ka-POWWWW level of heat. Once the seeds are removed, just give them a nice chop, or saute them up whole if you're feeling brave.
If you can't find the peppers, though, traditional crushed red peppers (the kind used on pizza) will work as a substitute. See the note below the recipe.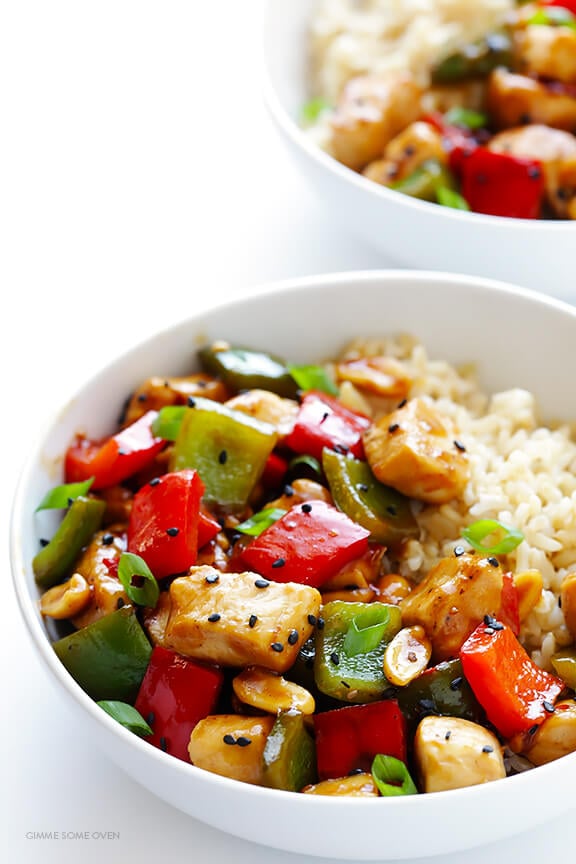 I'm generally in a hurry when I make this dish, so I skip marinating the chicken. And frankly, the dish is so flavorful that I think you hardly miss that step. Just saute everything up together, adding in the sauce at the end, and within literally just about 20 minutes (less than the amount of time to run and pick up carry-out)…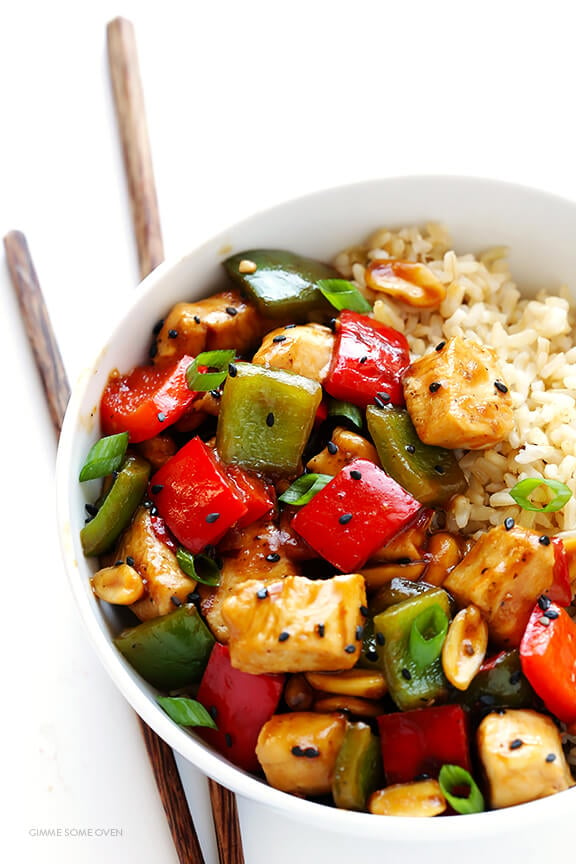 …dinner is served.
Ka-pow. 🙂
Print

Kung Pao Chicken

Prep Time: 10 minutes


Cook Time: 10 minutes


Total Time: 20 minutes


Yield: 4 servings 1x
---
Description
This Kung Pao Chicken recipe is quick and easy to make, naturally sweetened, and full of the classic flavors of the dish we all love!
---
Kung Pao Chicken Ingredients:
2 Tablespoons

vegetable or peanut oil

1

pound boneless skinless chicken breasts, cut into

1

-inch pieces

1

red bell pepper, cored and diced

1

green bell pepper, cored and diced

2

cloves garlic, minced

1/2 cup

peanuts

4

 dried red Chinese or arbol chili peppers, seeds removed and finely chopped*

1

batch Kung Pao Marinade (see below)

garnishes for serving: thinly-sliced green onions, toasted sesame seeds
Kung Pao Marinade Ingredients:
1/4 cup

water

3 Tablespoons

soy sauce

2 Tablespoons

rice wine vinegar

1 Tablespoon

cornstarch or arrowroot powder

1 Tablespoon

honey

1 teaspoon

toasted sesame oil

1/2 teaspoon

ground ginger

1/8 teaspoon

white pepper
---
Instructions
To Make The Kung Pao Chicken:
Heat 1 tablespoon oil in a wok or large saute pan over medium-high heat.  Add chicken breast pieces and saute for 5 minutes, flipping occasionally, or until the chicken is completely cooked through and no longer pink inside.  Transfer cooked chicken to a separate plate and set aside.

Add the remaining 1 tablespoon of oil to the pan.  Then stir in the red and green bell peppers, garlic, peanuts and chopped red chili peppers.  Saute for 3-4 minutes, or until the garlic is fragrant and the peppers are slightly softened, stirring frequently.  Stir in the Kung Pao Marinade, and then let the mixture simmer until the marinade has thickened (about 1 minute).  Add the cooked chicken back in and toss to combine.  Remove from heat.

Serve immediately with rice or quinoa, topped with garnishes if desired.
To Make The Kung Pao Marinade:
Whisk all ingredients together until combined.
---
Notes
*If you don't want to work with whole dried chiles, you can substitute 1 teaspoon crushed red pepper flakes.