This Kung Pao Chicken Noodle Stir-Fry recipe is quick and easy to make, totally easy to customize (with your favorite noodles, veggies, protein…you name it), and tossed with the most delicious kung pao peanut sauce.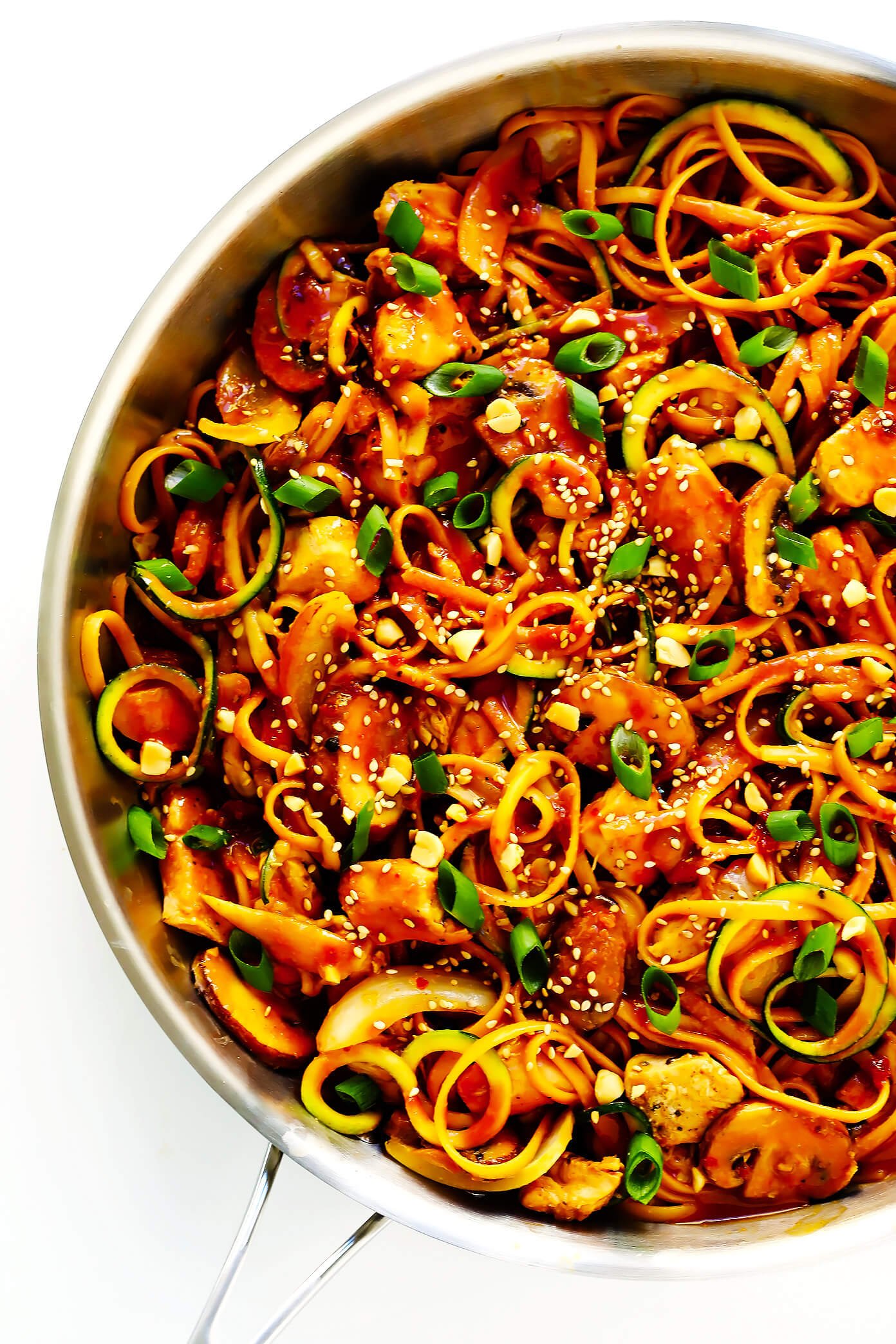 For those days when you're craving chicken and noodles…kicked up a notch. ♡
Seriously, this quick and easy recipe is pretty much everything I love in a good stir-fry. It's the perfect clean-out-the-fridge kind of meal, easy to customize whatever veggies or proteins (shrimp, beef, pork, or tofu would be other delicious options) you might have on hand. It can be made with whatever kind of noodles (pasta, rice noodles, udon, etc.) and/or veggie noodles (zucchini, sweet potato, etc.) you prefer. It's tossed with the most delicious zesty kung pao peanut sauce, that you can make as spicy or as mild as you'd like. It's perfect for easy dinners or meal prep lunches for the week ahead, and tastes just as delicious hot or cold. And more than anything…
…it is just downright good, you guys. I think you're going to love it.
Kung Pao Chicken Noodle Stir-Fry Recipe | 1-Minute Video
So let's make a batch!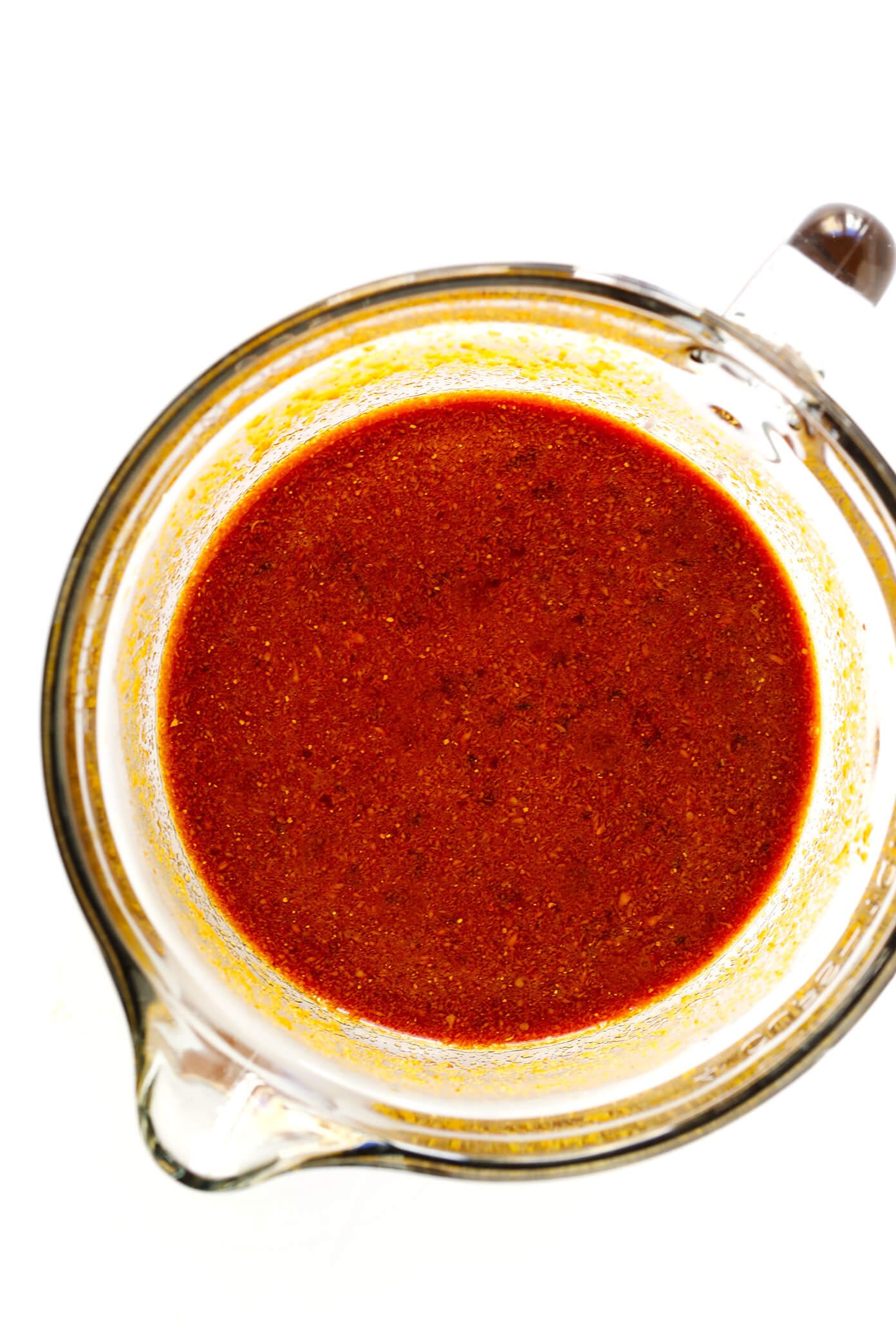 As with any good stir-fry, the star of this recipe that ties everything together — and will undoubtedly have you going back for seconds — is this delicious sauce.
I went with a traditional kung pao-ish base for this one, made with an extra heaping spoonful of peanut butter to give it that irresistible balance of sweet and savory with a bit of a kick. And good grief, it was delicious. That said, feel free to tinker around with the ingredients and customize them to taste. If you'd like more heat, you can always stir in some extra chili garlic sauce (or go the traditional route and add in some dried red chiles). If you like yours more mild, you can omit the spicy ingredients entirely. And of course, always season to taste with salt and pepper.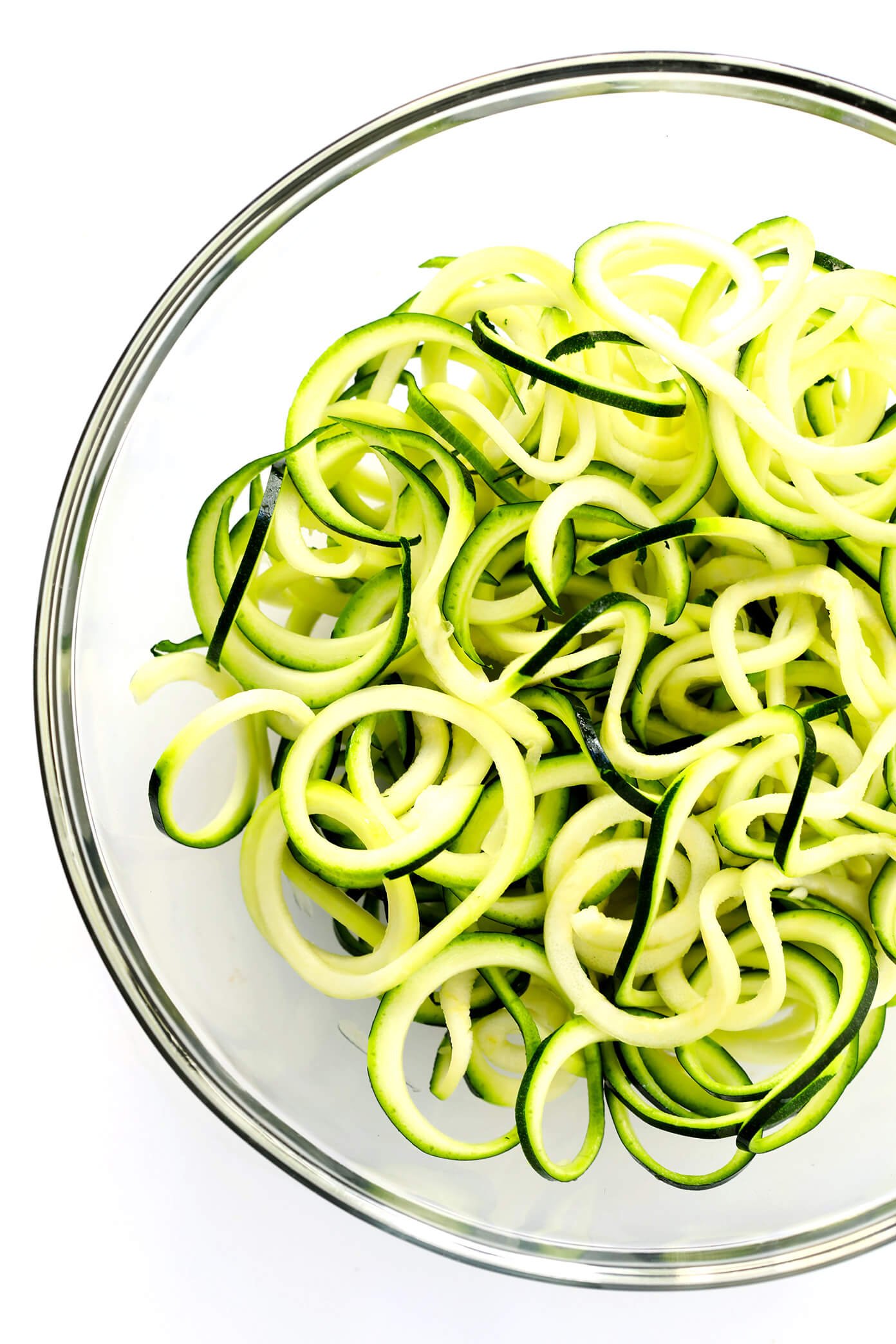 Then also feel free to use whatever veggies you have on hand too! I finally just bought a new spiralizer for our kitchen here in Spain, so I went with some zoodles, mushrooms and onions. But if you don't have a spiralizer, diced zucchini would work just as well here, or any other stir-fry friendly veggies.
Just whisk together your sauce. Then sauté the chicken, followed by the veggies, while your noodles are busy cooking. And then once everything is ready to go, give it a good toss together in the skillet until everything is coated evenly and the sauce thickens.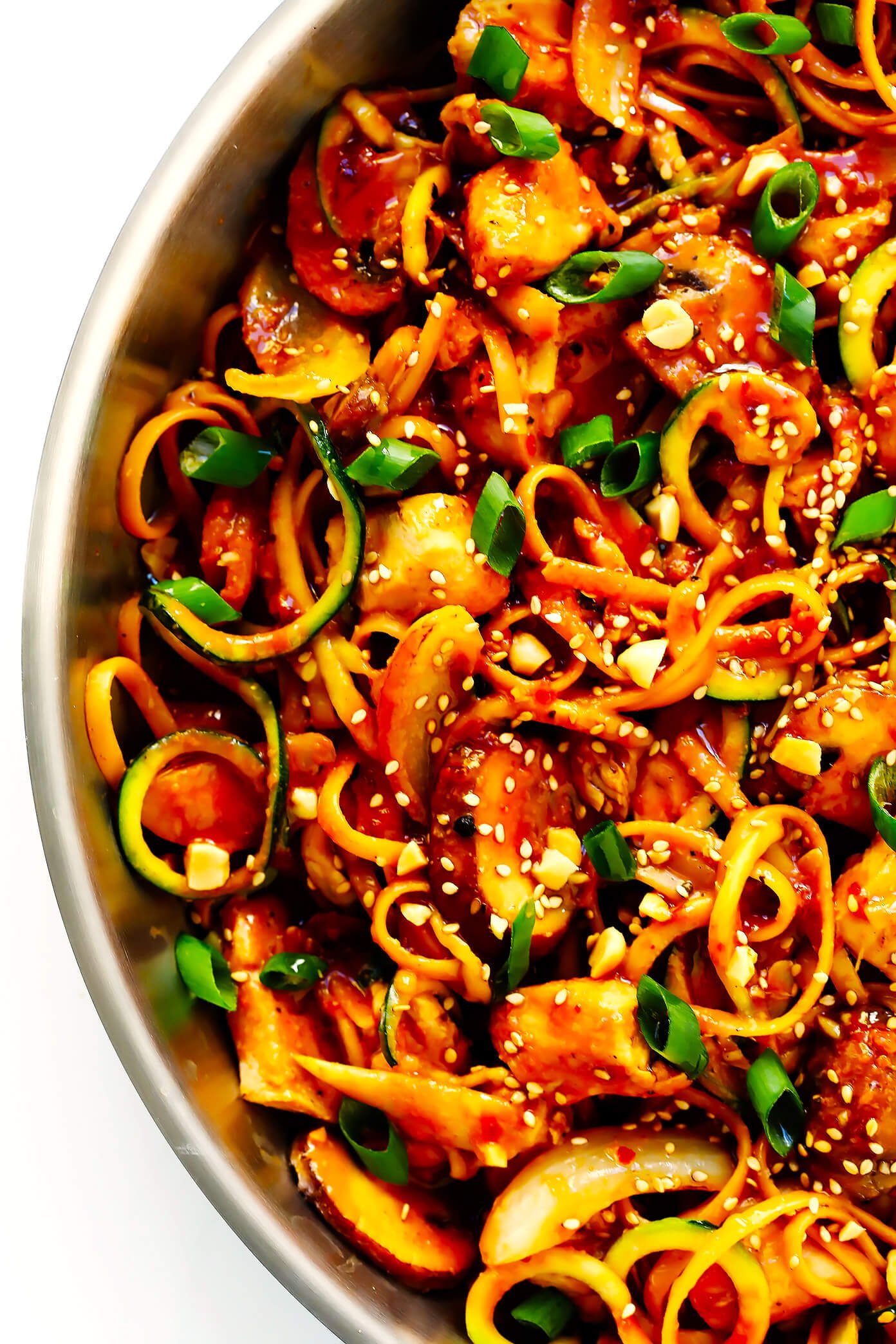 Then dish it up…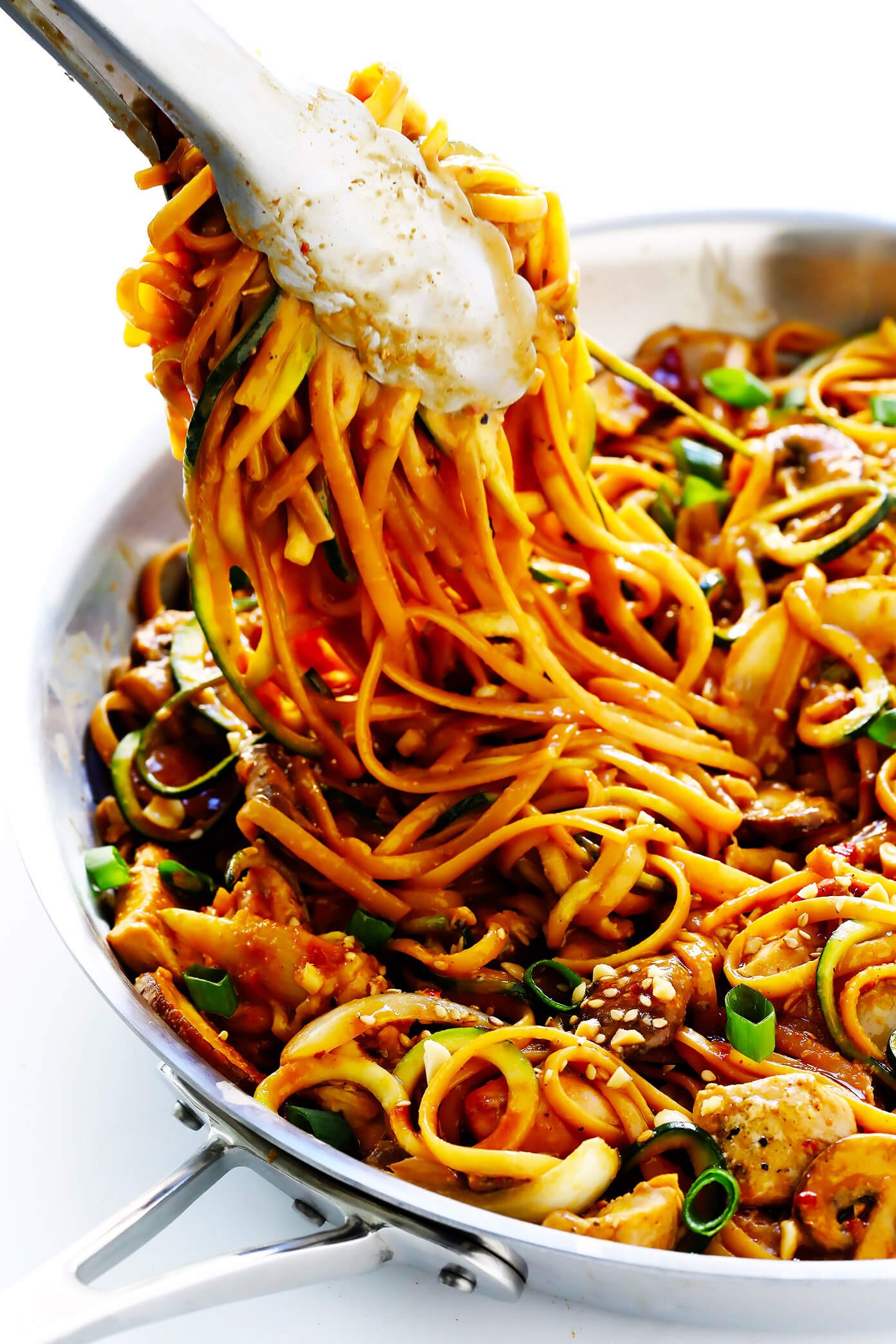 …sprinkle on your favorite toppings (I went with chopped peanuts, green onions and toasted sesame seeds)…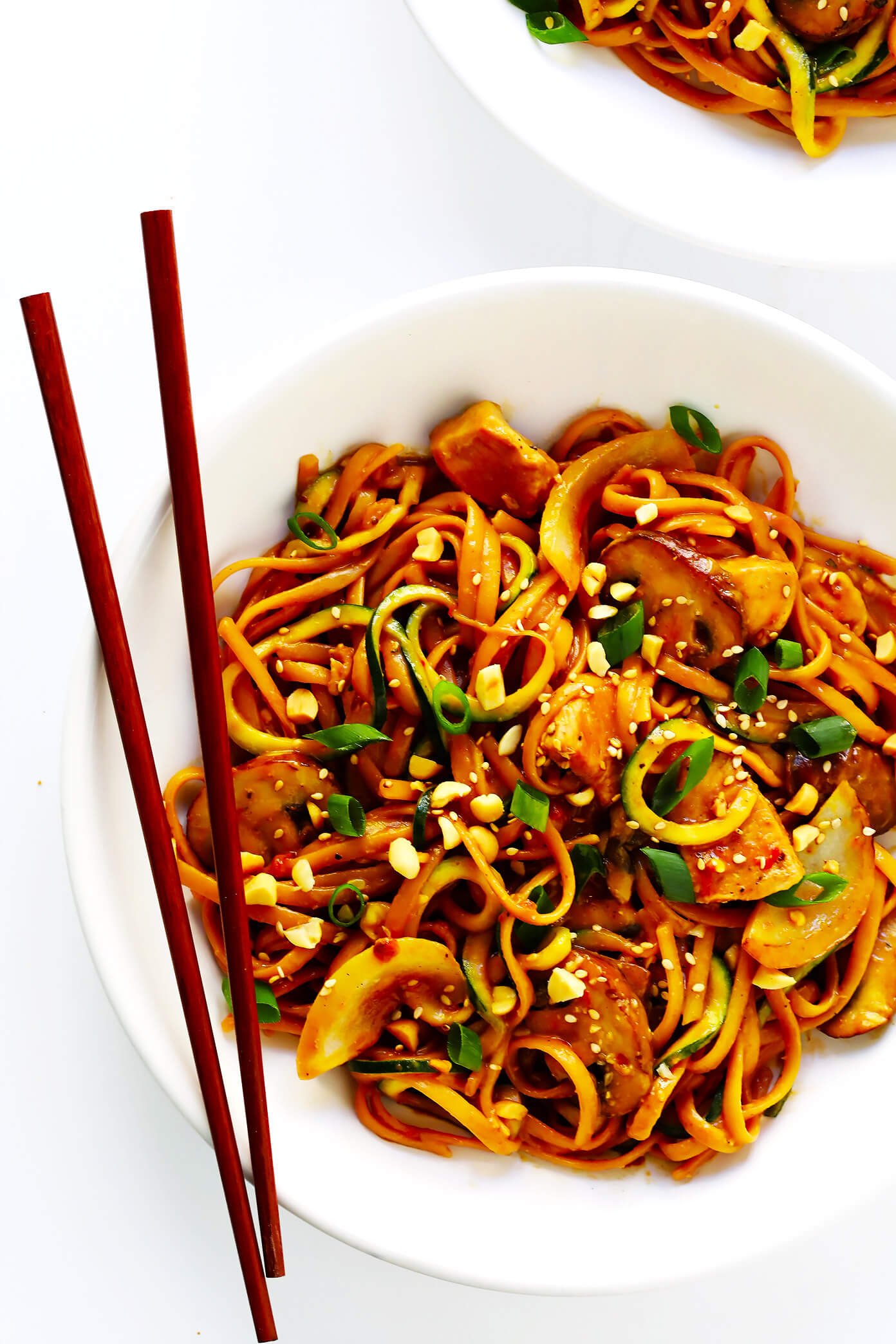 …and serve!
Like I said, as much as I loved this one straight outta the sauté pan, I ended up munching on it for lunches over the course of the week (often cold, as more of a pasta salad). And notably, as someone who tends to get bored quickly with leftovers, I found myself legit looking forward to this one with each passing day. Definitely a great back-pocket recipe to make when the noodle cravings strike. Because it is always just a matter of "when"…isn't it? 🙂
Enjoy, everyone!
Print

Kung Pao Chicken Noodle Stir-Fry

Prep Time: 20 minutes


Cook Time: 15 minutes


Total Time: 35 minutes


Yield: 4 servings 1x
---
Description
This Kung Pao Chicken Noodle Stir-Fry recipe is quick and easy to make, totally easy to customize (with your favorite noodles, veggies, protein…you name it), and tossed with the most delicious kung pao peanut sauce.
---
Stir-Fry Ingredients:
8 ounces

(uncooked) noodles of your choice (I used linguine)

2 tablespoons

peanut oil or olive oil, divided

1

pound boneless skinless chicken breasts, cut into bite-sized pieces

1

small white onion, thinly sliced

8 ounces

baby bella or white button mushrooms, thinly sliced

1

large zucchini, spiralized (or chopped into bite-sized pieces)

3

cloves garlic, peeled and minced

1

batch Kung Pao Sauce (see below)

toppings: chopped peanuts, thinly sliced green onions, toasted sesame seeds
Kung Pao Sauce Ingredients:
1/2 cup

low-sodium soy sauce

1/4 cup

natural peanut butter

1/4 cup

rice vinegar

1 tablespoon

chili garlic sauce (or sriracha)

1 tablespoon

cornstarch

1/2 teaspoon

ground ginger

1 tablespoon

sesame oil
---
Instructions
To Make The Stir-Fry:
Cook noodles al dente according to package instructions.  Strain, drizzle with a bit of oil, and toss to combine.  Set aside until ready to use.

While the noodles are being prepared, heat 1 tablespoon oil in a large sauté pan or wok over medium-high heat.  Season chicken evenly with a few pinches of salt and pepper, then add it to the pan.  Cook for 3-4 minutes, stirring occasionally, until the chicken is cooked through and no longer pink inside.  Transfer the chicken to a clean plate with a slotted spoon, and set aside.

Add the remaining 1 tablespoon oil to the pan, along with the onion and mushrooms.  Sauté for 4 minutes, stirring occasionally, until soft.  Add the zucchini* and garlic and sauté for 2 more minutes, stirring occasionally.

Stir in the Kung Pao Sauce, cooked chicken and rice noodles, and toss until everything is evenly combined.  Cook for 1 more minute until it comes to a simmer.

Remove from heat and serve immediately, garnished with your desired toppings.
To Make The Kung Pao Sauce:
Whisk all ingredients together in a small bowl until combined.  If you would like a spicier sauce, add an extra tablespoon or two of the chili garlic sauce.
---