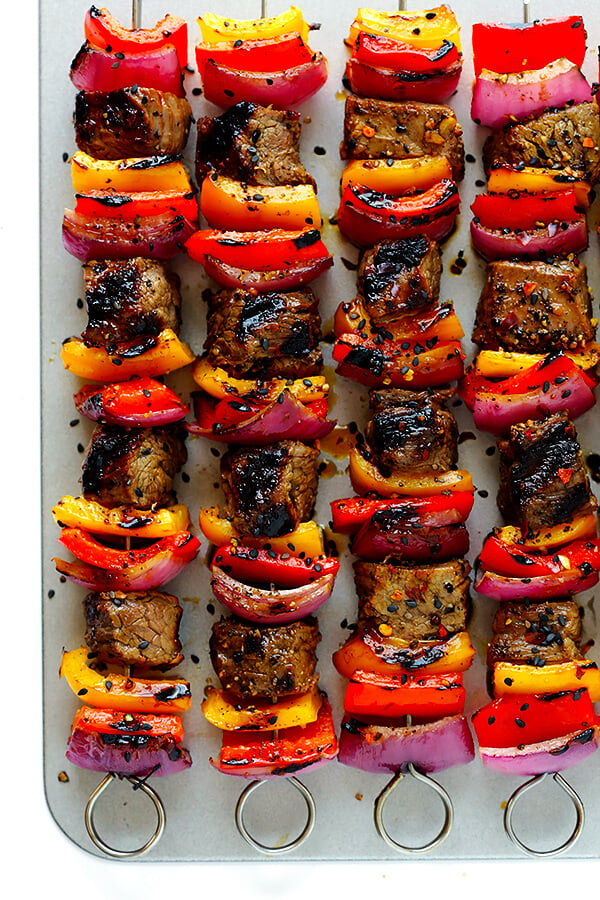 Sooo, I love this vegetarian that I'm dating. (Like, so much, actually.)
And whenever I cook for the two of us, I'm more than happy to go vegetarian and cook us delicious, meatless, plant-based meals.
But now that I'm eating vegetarian almost all of the time, I've gotta admit, I appreciate the chance to occasionally enjoy a good steak entree more than ever. It's true, as much as I love plant-based meals, I still love me a good steak. They are pretty rare in my life nowadays (<– hehe, steak joke!), but whenever I have the random chance to order one at a restaurant or cook up a steak something-or-other for some friends, I will be the first to admit that I enjoy every bite.
These Korean Steak Kabobs that I made a few weeks ago were no exception. 😉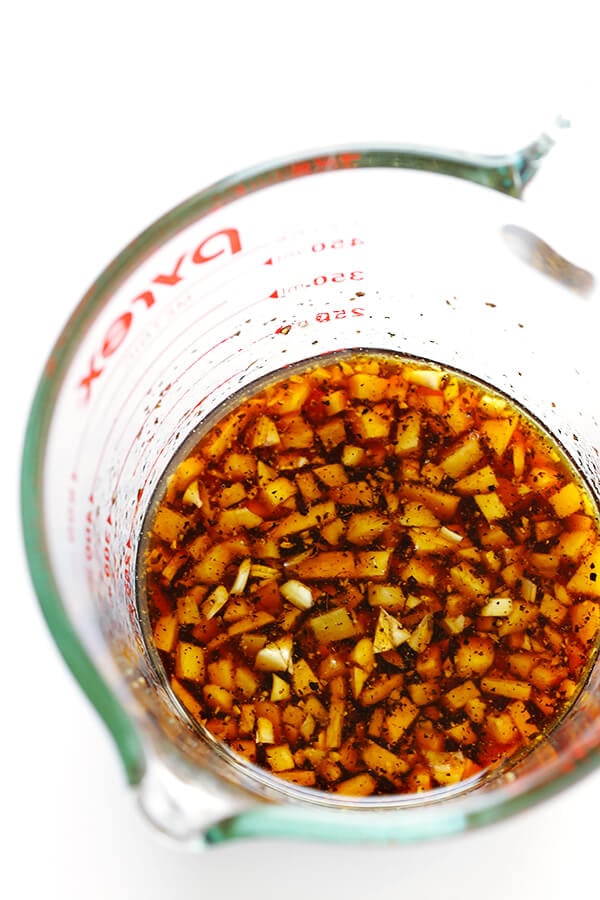 To be honest, the steak itself was an impulse buy at the grocery store. Organic flank steak was on sale, and when I was circling the grocery store with a growling stomach at 11:30am (not the time I recommend shopping), a few pounds of it immediately found their way into my cart. And sure enough, an hour later at home, these kabobs were happening.
I just whipped up a simple Korean steak marinade…(I chose to forego pears, which aren't in season, and just stick with the basic Korean marinade ingredients)…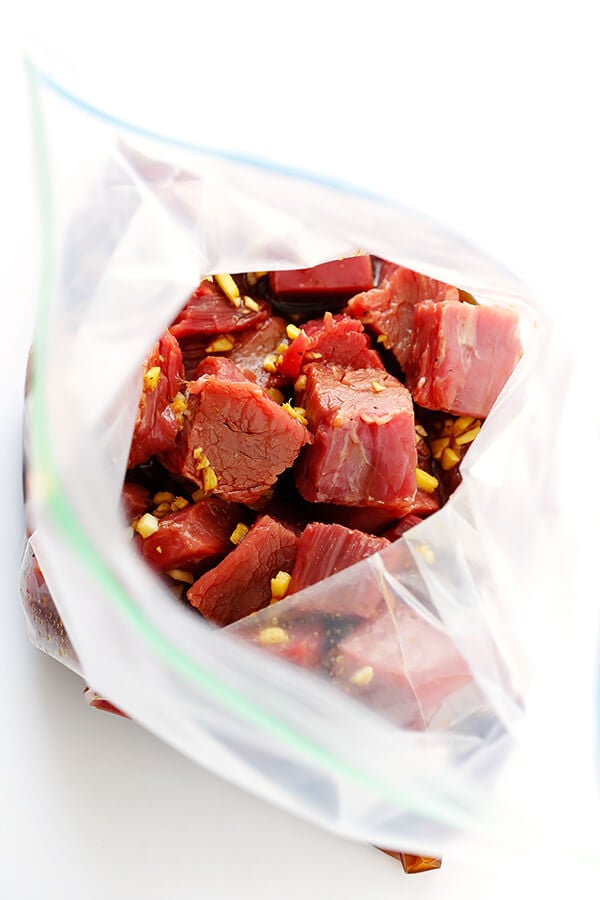 …tossed it with my steak, and let it marinate for about 30 minutes…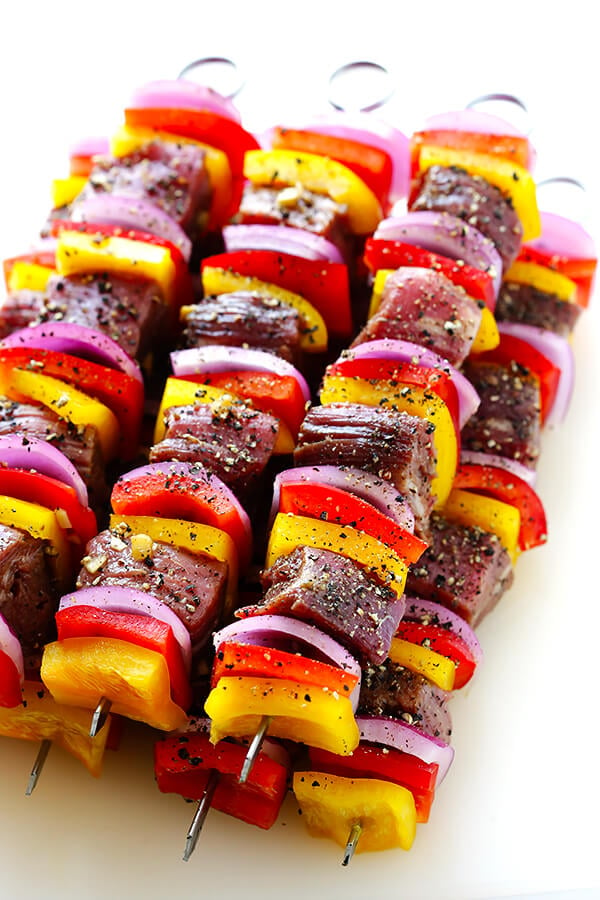 …then while it marinated, I chopped up some peppers and onions, and then skewered them all up and brushed them with the remaining marinade…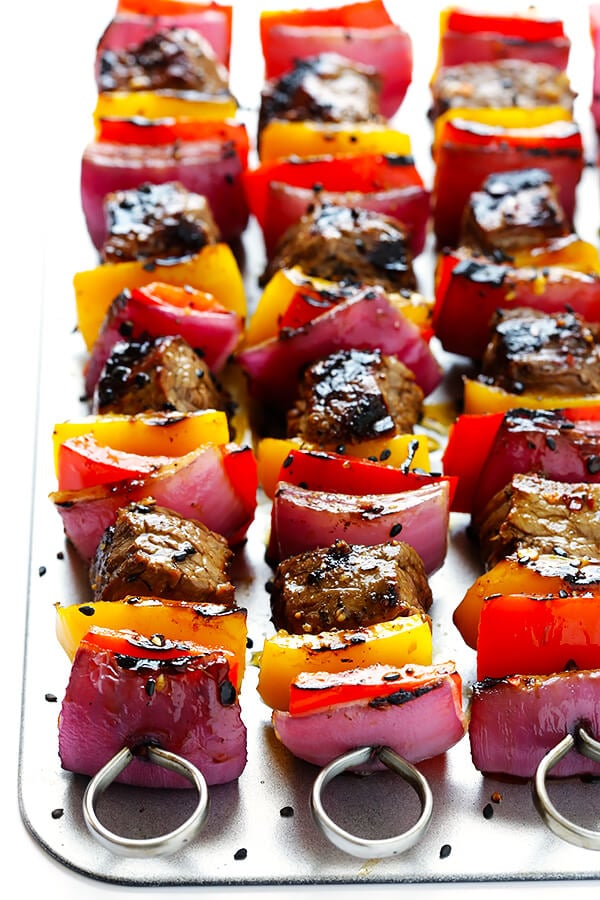 …and after 10 or so toasty minutes outside with the grill, this late steak dinner — er, lunch — was ready to enjoy. 🙂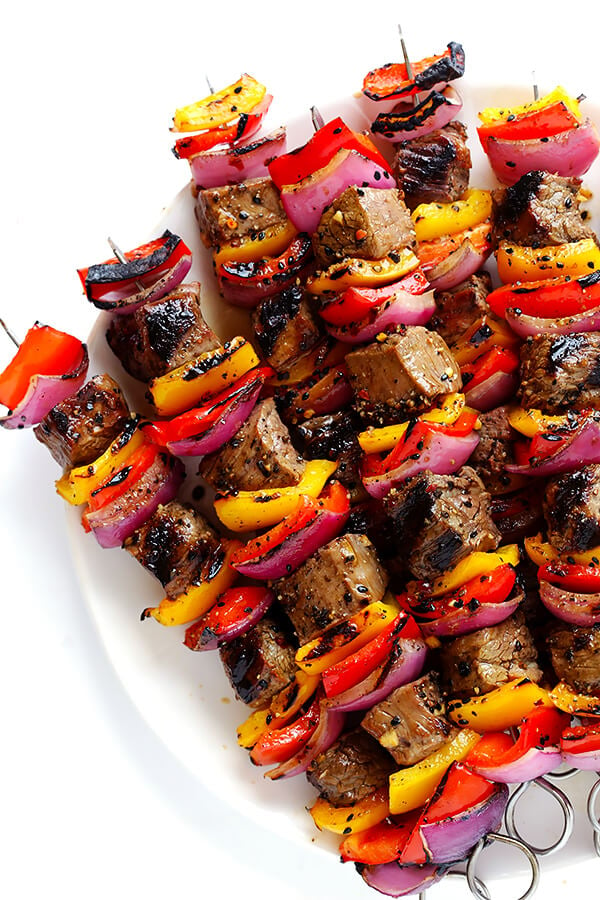 Yeah, I'll be honest, I actually didn't share this meal with anyone. 😉
I just enjoyed every bite of those tasty skewers for lunch that afternoon. And then saved the leftovers for lunch the rest of the week, sometimes enjoying them with rice and cucumbers, sometimes with sesame noodles, and one day on a big green leafy salad with a sesame vinaigrette. And every day, they were absolutely delicious.
Feel free to add in any of your favorite veggies to this mix. And as always, if you don't have access to a grill outdoors (as I didn't for most of the summer), a grill pan will also do the trick indoors. 🙂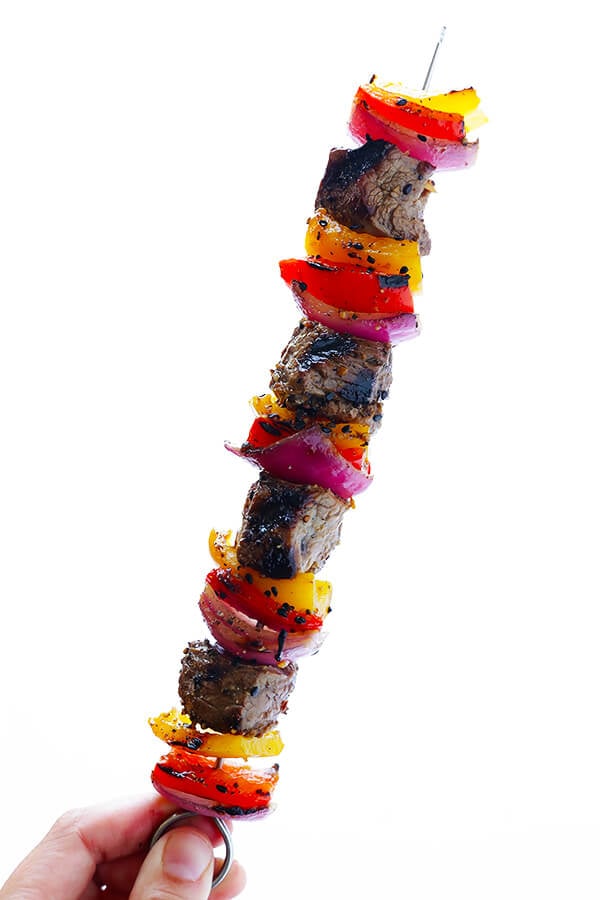 So to all of my fellow steak-lovers out there, if you happen to have a craving, these'll definitely do. 😉
Enjoy!
Print

Korean Steak Kabobs

Prep Time: 24 minutes


Cook Time: 6 minutes


Total Time: 30 minutes


Yield: 6 –8 servings 1x
---
Description
This Korean Steak Kabobs recipe is made with a super-easy, flavorful marinade, and grilled to perfection with any vegetables you'd like. So flavorful and delicious!!
---
Korean Steak Kabob Ingredients:
1

batch sauce/marinade (see below)

2

pounds flank steak or sirloin, cut into bite-sized pieces

metal or wooden* skewers

3

large bell peppers, cored and cut into bite-sized pieces (I used red and yellow peppers)

1

large red onion, peeled and sliced into bite-sized pieces

salt and freshly-cracked black pepper

toasted sesame seeds
Sauce/Marinade Ingredients:
1/2 cup

soy sauce

1/4 cup

rice wine vinegar

3 tablespoons

honey

1 tablespoon

toasted sesame oil

4

cloves garlic, peeled and minced (or pressed)
---
Instructions
To Make The Korean Steak Kabobs:
Combine the steak with (half of) the sauce in a large ziplock bag or bowl, and toss until the steak is evenly coated.  Seal or cover, then refrigerate for at least 30 minutes, or up to 8 hours.

Once you're ready to cook the skewers, heat grill to medium-high heat.

Thread the skewers alternately with the marinated steak, peppers and onions.  Brush each skewer liberally with the remaining marinade, and season each with a pinch of salt and pepper.  Grill the skewers for 2-3 minutes per side, turning once, or until the steak is cooked to your desired level of doneness.  Remove skewers from grill and let rest for 5 minutes.  Brush each kabob evenly with the remaining sauce (the half that was not used for the marinade).

Serve immediately.
To Make The Sauce:
Whisk all ingredients together until combined.  Set aside half of the sauce to be used as a dipping sauce, and half to be used as a marinade.
---
Notes
*If using wooden skewers, be sure to soak them in a bowl of water (so that they're completely submerged) for at least 30 minutes before cooking.
**Prep time does not include the time needed to marinate the steak, which can vary (your choice!) from 30 minutes up to 8 hours.