Hands-down the best jambalaya recipe! It is surprisingly easy to make, customizable with your favorite proteins (I used chicken, shrimp and Andouille sausage), and full of bold, zesty, Cajun jambalaya flavors that everyone will love.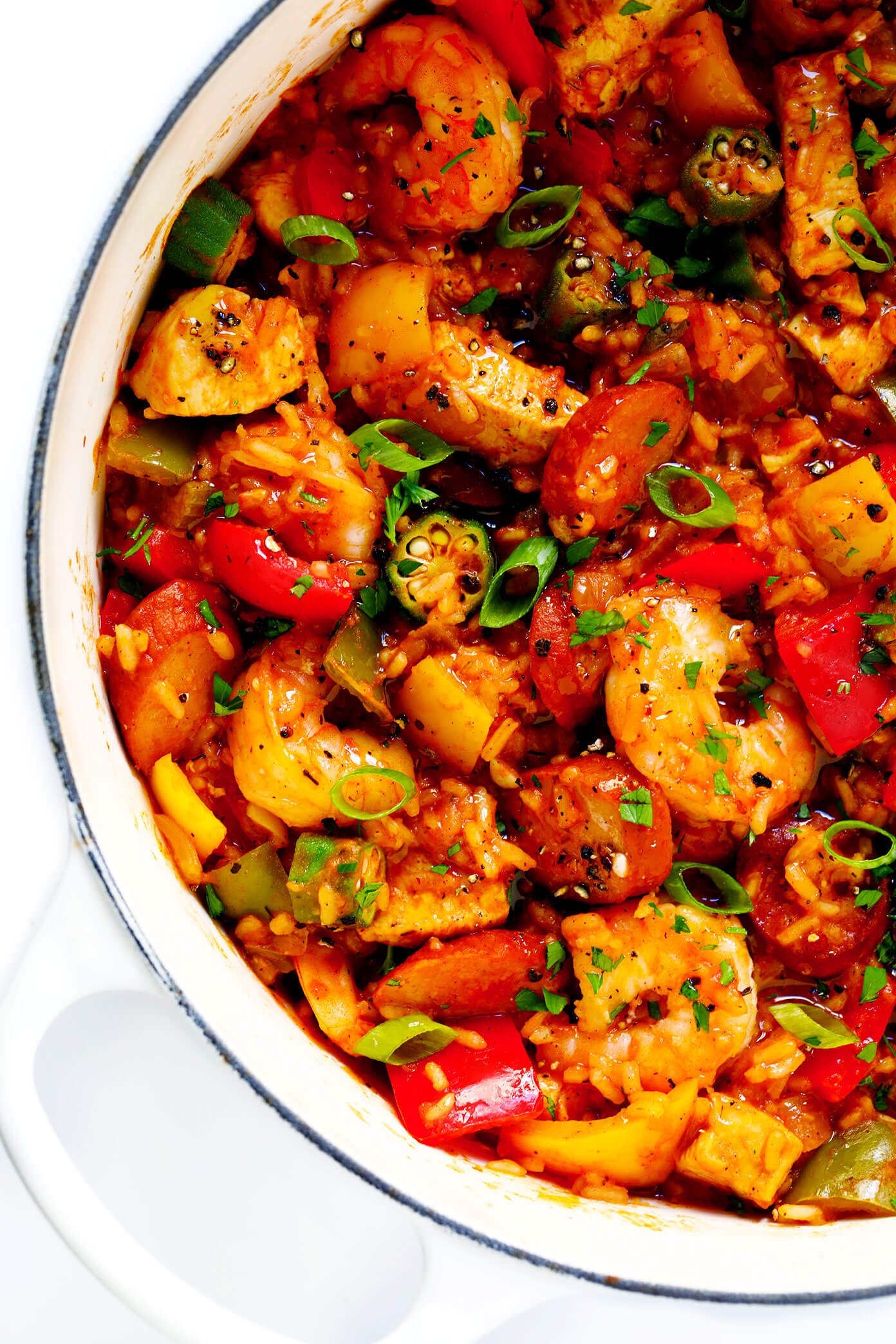 I thought it was time we revisit an old favorite recipe of mine here on the blog today, which I love all the more because it always reminds me of two of my favorite people — John and Cate's famous jambalaya recipe! ♡
John and Cate were two of the very first neighbors I met when I moved to downtown Kansas City five years ago. When I arrived in the neighborhood, I didn't know a soul around. But a cute new coffee shop serendipitously also happened to be opening next door that very week. And as I began to stop by morning after morning to order my favorite iced pour-over, I noticed that another couple was doing the same. Eventually we all introduced ourselves, and one of my favorite friendships was born.
For years, the three of us crossed paths at the coffee shop nearly every morning — giving each other groggy pre-caffeinated hugs, catching up on the past day's events, ruffling the heads of one another's pups, talkin' shop about all things small business, and finally settling in at nearby tables with our laptops to work for a few hours. Then morning hangs eventually extended to evenings, swinging by one another's places for impromptu happy hours and dinners, sneaking up to the rooftops to watch the fireworks on the 4th of July, or rallying all of our neighbors together each Tuesday for our beloved "neighbor nights" dinners.
In a heartbeat, these two moved from being neighbors, to what we called "freighbors", to what we now consider "framily." And I miss them and our Tuesday nights something fierce now, being 4800 miles across the ocean.
But whenever I pull out the ingredients to whip up a batch of their famous homemade jambalaya recipe, I'm instantly transported back to their old loft, and those impromptu, hilarious, always-longer-than-planned hours we used to spend cooking up a storm together in the kitchen. And the jambalaya simmering on the stove, wine glasses being refilled left and right, random neighbors showing up when they heard we were cooking. And those easy, good, long nights shared around the table together as our little neighborhood family.
As Julia Child once said, "People who love to eat are always the best people." And John and Cate are certainly two of my best.
So is their jambalaya. ♡
Alright, let's talk about this jambalaya recipe! With parents from the South, John grew up on spicy Cajun and Creole food, and always liked to brag to us Midwesterners about all of the fresh Gulf shrimp his family used to pick up at the market specifically for their jambalaya. (Which sounds…dreamy.)  Still, though, he's whipped this dish up for our neighbors time and time again right in the heart of Kansas, and proven that it can be a winner wherever in the world that it's made. It's full of great flavor, easily customizable with your favorite proteins (or you can make it vegetarian), and probably much simpler to make than you might think. It just requires lots of chopping, and a solid 45 minutes or so from start to finish.
So just grab a glass of wine, maybe invite some friends over to keep you company while you cook, John-and-Cate-style, and enjoy this one! Thanks for the recipe, you two! ♡
Easy Jambalaya Recipe | 1-Minute Video
Jambalaya Ingredients:
Alright, let's talk ingredients. To make classic jambalaya, you will need:
The Cajun/Creole "holy trinity": Celery, onion and green bell pepper (although for some extra color, I've also used red and yellow bell peppers).

Jalapeño and cayenne: For heat. Feel free to add more or less of either, depending on your heat preferences.

Garlic, Creole or Cajun seasoning, bay leaf, thyme: Some of my favorite seasonings.

Chicken, shrimp and Andouille sausage: Or whatever proteins you prefer. Feel free to choose one or two, or you can use all three like I do.

Chicken stock: If the rice needs more liquid as it cooks, feel free to add in more.

Crushed tomatoes: For flavor.

White rice: Long grain is traditional, but short grain white rice also works.

Okra: Fresh or frozen; we will use this to help thicken the jambalaya.

Salt and Black Pepper: Very important! Don't forget to taste and season with salt and pepper to taste at the end.
Also, feel free to garnish with whatever you prefer! I like to use sliced green onions and a hint of chopped fresh parsley and lemon wedges.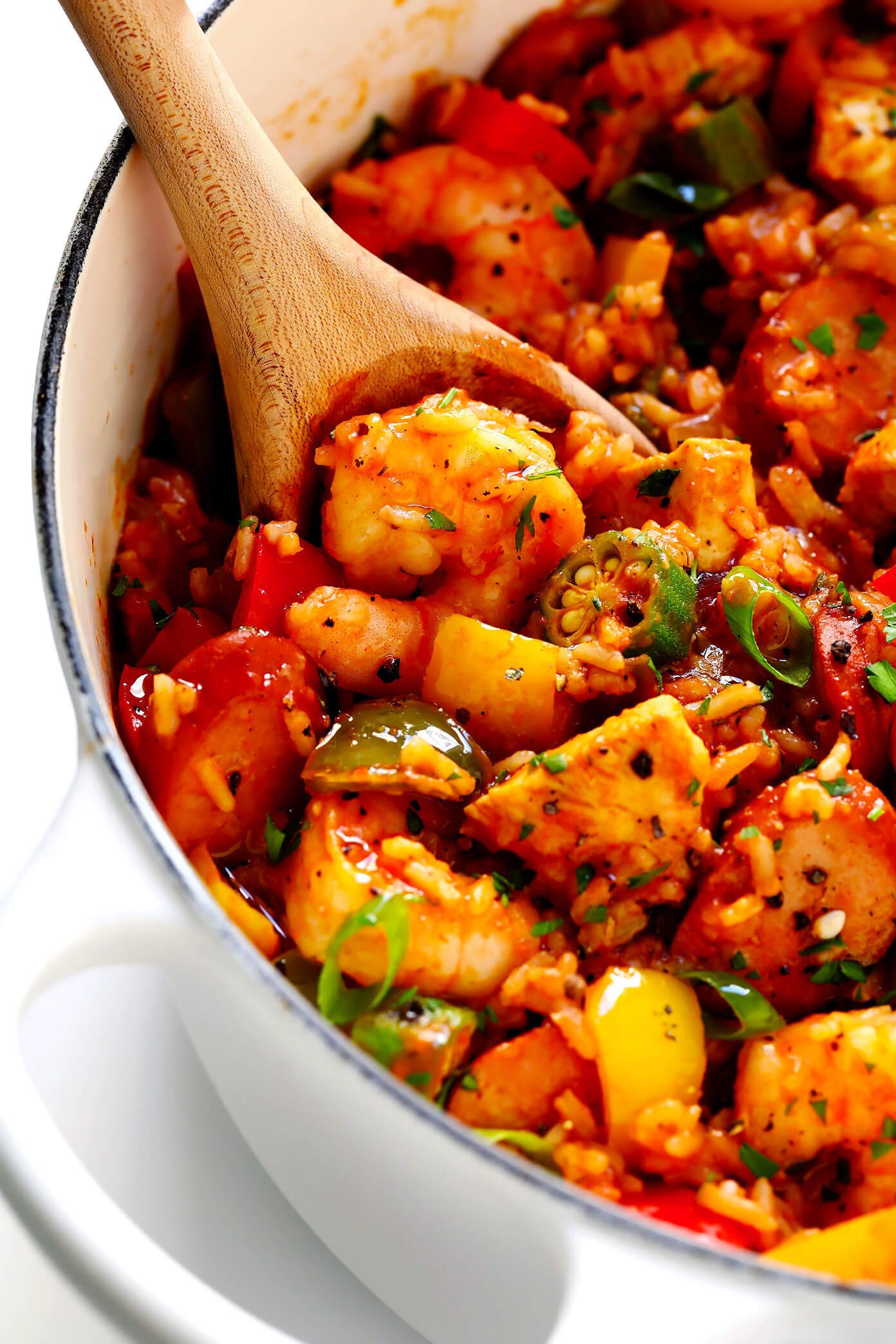 How To Make Jambalaya:
Heads up! I've edited this method a bit since I first posted this recipe back in 2014. The ingredients are all the same — I just changed the order of things slightly.
Next, let's talk about how to make jambalaya. Simply…
Sauté the chicken and sausage. Sauté until the chicken is cooked through and the sausage is lightly browned. Then transfer to a clean plate and set aside.

Sauté the veggies. Sauté the onion, bell pepper, celery, jalapeño and garlic until soft.

Add rice, liquids and seasonings. Add in the uncooked rice, chicken stock, crushed tomatoes, Cajun/Creole seasoning, thyme, cayenne and bay leaf. Give everything a good stir.

Cover and cook. Then cook for 25-30 minutes, being sure to stir the mixture every 5 minutes or so (to prevent burning) until the rice is nearly tender.

Add the okra and shrimp.  And cook for a final 5 minutes or so, until the shrimp is pink and opaque. Add the chicken and sausage back in.

Taste and season. Season the jambalaya with salt and pepper (and extra Cajun/Creole seasoning, if needed) to taste.

Serve warm. Garnished with your desired toppings!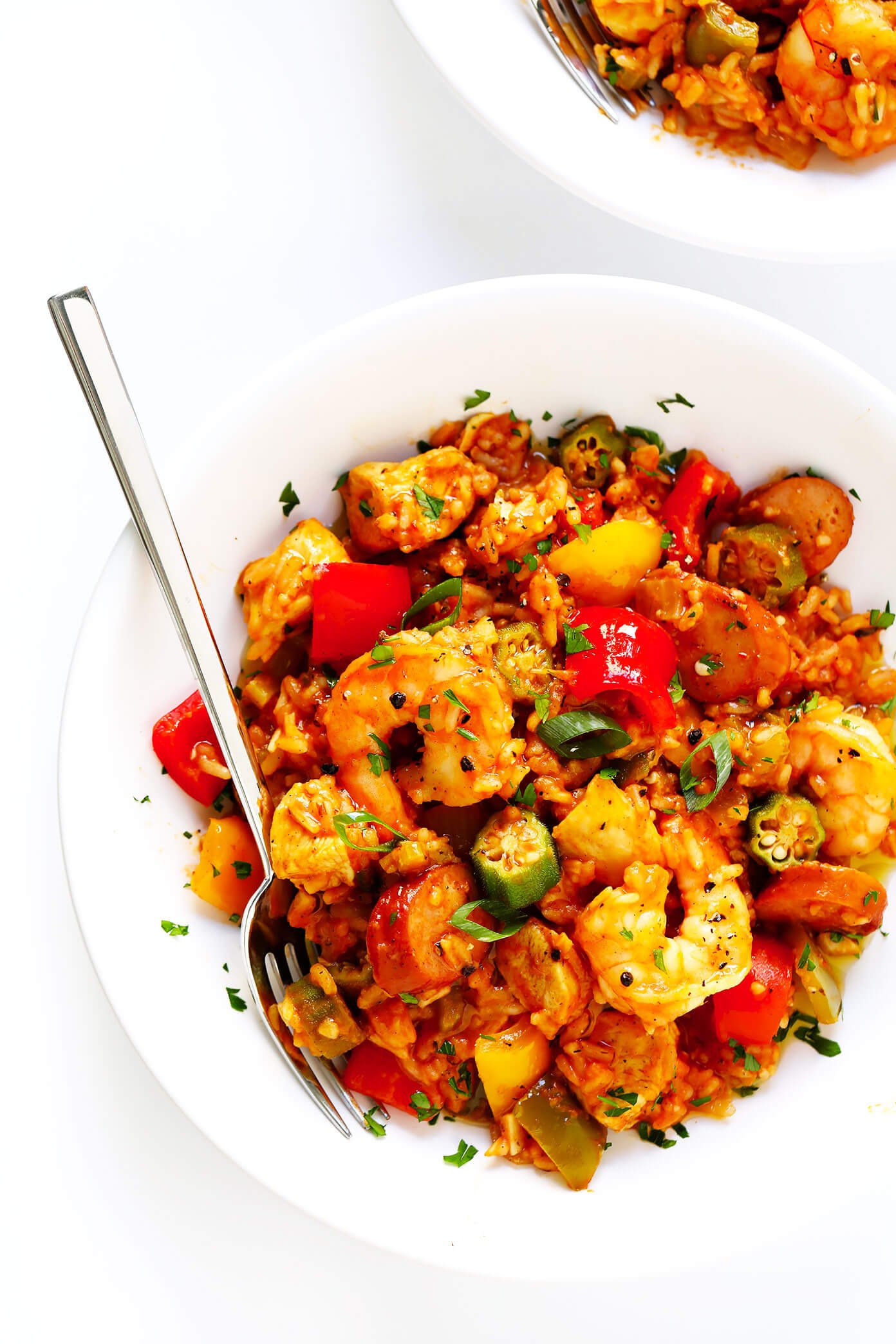 Options To Customize Your Jambalaya Recipe:
Want to mix things up? Feel free to:
Add more/less heat: If you'd like a milder jambalaya, I'd recommend nixing the jalapeño and just stirring in some cayenne at the end if you'd like. For a spicier jambalaya, use two jalapeños. And then you can always add more cayenne at the end if you'd like.

Pick your protein: Chicken, shrimp and Andouille sausage are all traditional options for jambalaya. But feel free to choose just one, two or use all three, depending on what proteins you like. Other options could include other kinds of seafood (i.e. cod, mussels, clams, crawfish, etc.), pork or firm tofu.

Make it vegetarian: Wanting to avoid the meat? No prob! I also love making a vegetarian version of this with veggie stock and lots of hearty veggies (such as carrots, squash, mushrooms, broccoli, etc). Some veggies can withstand the long cooking time with the rice. But if you use some softer veggies, feel free to set them aside after sautéing at the beginning, and then add them back in at the very end.

Use file powder: Not into okra? Feel free to sub in 1.5 teaspoons file powder instead.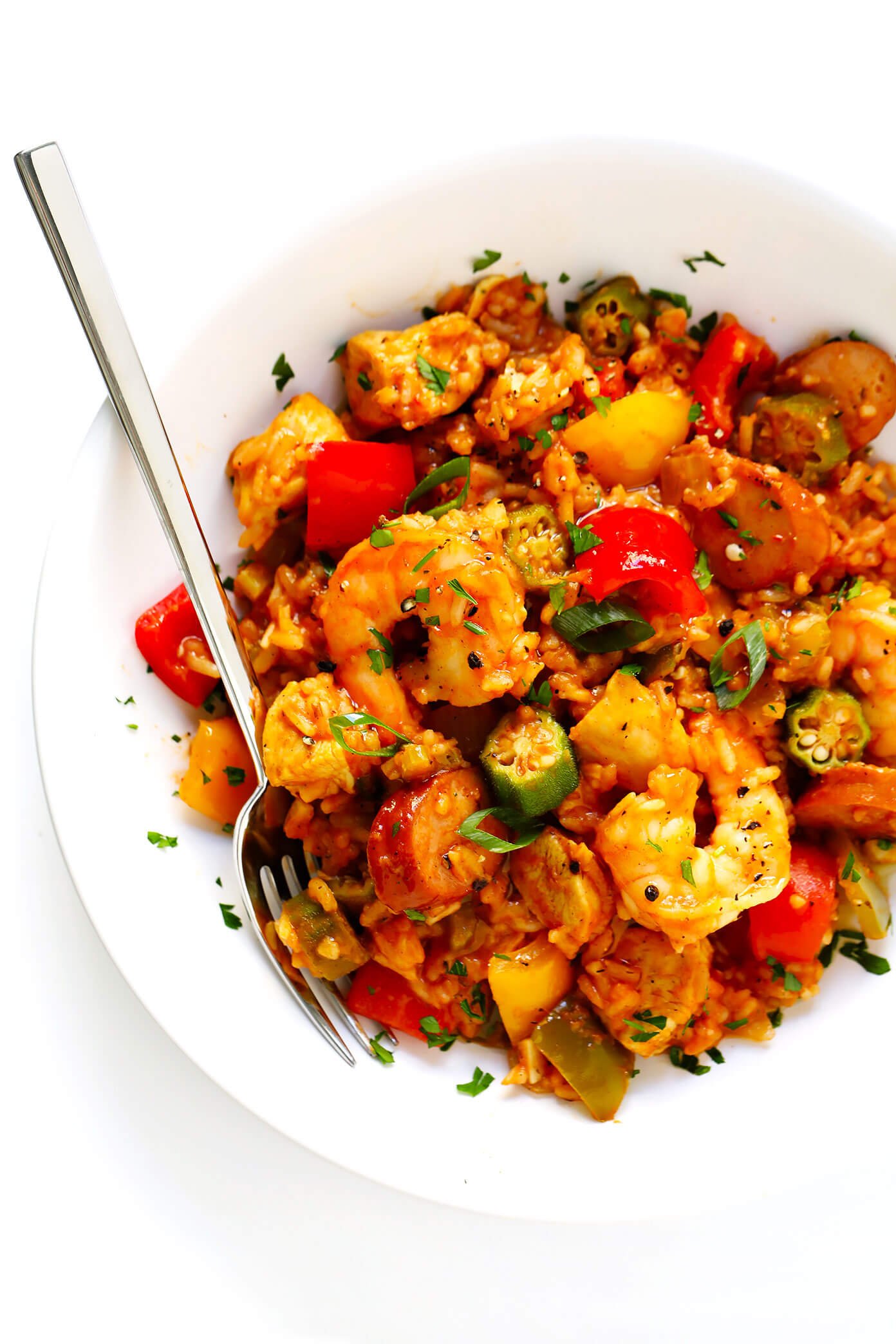 What To Serve With Jambalaya:
Since this dish is already incredibly hearty, I would recommend serving it with anything light and fresh, such as:
My favorite Everyday Salad recipe

Fresh sliced seasonal fruit (or this Berry Fruit Salad or Winter Fruit Salad)

Iced tea, crisp dry white wine, or maybe a round of Moscow Mules
More Great Cajun Recipes:
Love this jambalaya recipe? Be sure to also check out these faves:
My All-Time Favorite Gumbo

Vegetarian Gumbo

Creamy Cajun Shrimp Pasta

Cajun Corn Chowder
This post contains affiliate links.
Print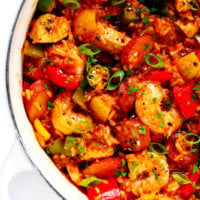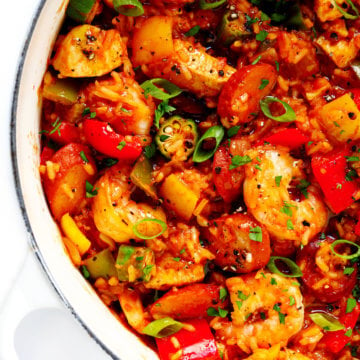 Jambalaya

Prep Time: 15 minutes


Cook Time: 40 minutes


Total Time: 55 minutes


Yield: 0 About 6-8 servings 1x
---
Description
Hands-down the best jambalaya recipe! It is surprisingly easy to make, customizable with your favorite proteins (I used chicken, shrimp and Andouille sausage), and full of bold, zesty, Cajun flavors that everyone will love.
---
3 tablespoons

olive oil, divided

2

boneless skinless chicken breasts, cut into bite-sized pieces

1

pound andouille sausage, thinly sliced into rounds

3

small bell peppers, cored and diced (I used a yellow, red and green bell pepper)

2

ribs celery, diced

1

jalapeño pepper, seeded and finely chopped

1

white onion, diced

4

cloves garlic, peeled and minced

1

(14-ounce) can crushed tomatoes

3

–

4

cups chicken stock

1 1/2 cups

uncooked long grain white rice

2 tablespoons

 Cajun seasoning or Creole seasoning

1 teaspoon

dried thyme, crushed

1/4 teaspoon

cayenne pepper

1

bay leaf

1

pound raw large shrimp, peeled and deveined

1 cup

thinly-sliced okra*

Kosher salt and freshly-cracked black pepper

optional garnishes: chopped fresh parsley, thinly-sliced green onions, hot sauce
---
Instructions
Heat 1 tablespoon oil in a stock pot (or a very large, deep sauté pan) over medium-high heat.  Add the chicken and sausage and sauté for 5-7 minutes, stirring occasionally, until the chicken is cooked through and the sausage is lightly browned.  Transfer to a clean plate and set aside.

Add the remaining 2 tablespoons oil to the stock pot.  Add bell peppers, celery, jalapeño, onion and garlic. Sauté for 6 minutes, stirring occasionally, until the onions are softened.

Add the crushed tomatoes, chicken stock, rice, Cajun seasoning, thyme, cayenne, bay leaf, and stir to combine.  Continue cooking until the mixture reaches a simmer.  Then reduce heat to medium-low, cover and simmer for about 25-30 minutes, or until the rice is nearly cooked through, stirring every 5 minutes or so along the way so that the rice does not burn.

Add the shrimp, okra, and stir to combine. Continue to simmer, stirring occasionally, until the shrimp are cooked through and pink. Stir in the chicken and sausage, and remove and discard the bay leaf.

Taste season the jambalaya with salt, pepper, and additional Cajun seasoning if needed.  (I typically add about 2 teaspoons salt and 1/2 teaspoon pepper.)  Remove from heat.

Serve warm with your desired garnishes.  Or refrigerate and store in a sealed container for up to 3 days.
---
Notes
*Feel free to use fresh or frozen okra.  If using frozen, make sure to thaw it before adding to the jambalaya.
If you like spicy jambalaya, I would recommend adding in 2 jalapeños.  If you would like it more mild, you can omit the jalapeño altogether.
This recipe was edited slightly in August 2018 — just the order of the steps, not the ingredients.