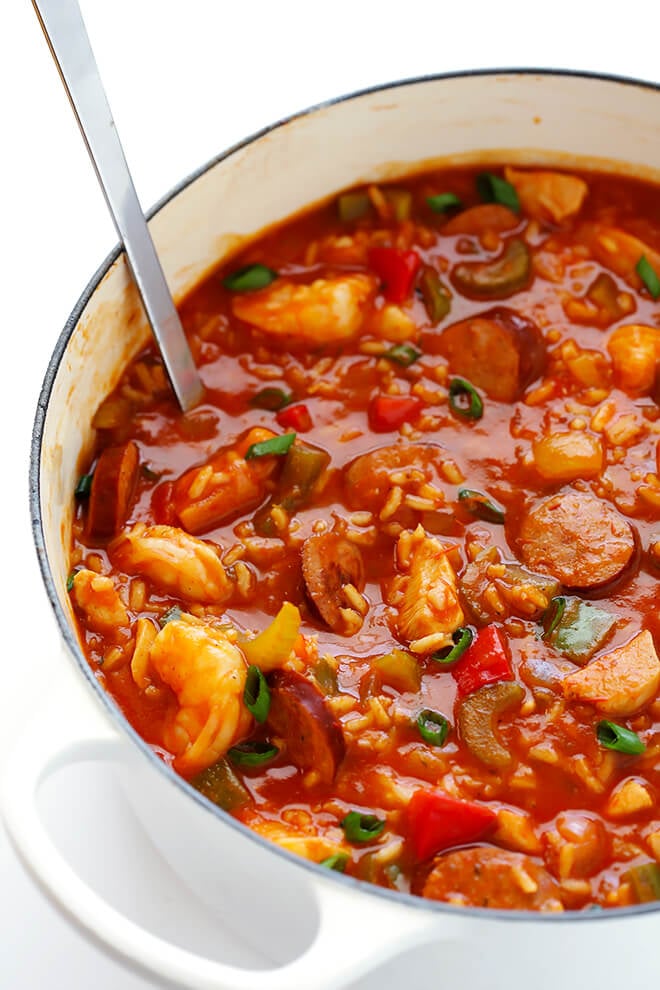 Fellow soup lovers, I think I may have just successfully "soupified" another one of my favorite dishes.
Check out this jambalaya soup!!
Oh my goodness, I think I may actually love this dish even more as a soup. (<– Which, ahem, wouldn't be the first time that's happened. Here's lookin' at you chicken enchilada soup, corned beef and cabbage soup, and chicken pot pie soup.)  Like the others, this soup is packed with everything that we all love about jambalaya — all of those amazing and colorful veggies, cooked in a spicy tomato Cajun sauce, mixed with hearty Andouille sausage, chicken, and shrimp — but instead of being cooked in just a bed of rice, they're simmered in a thick, flavorful, amazing tomato rice soup.
And oh my goodness, the result is mmm, mmm, good.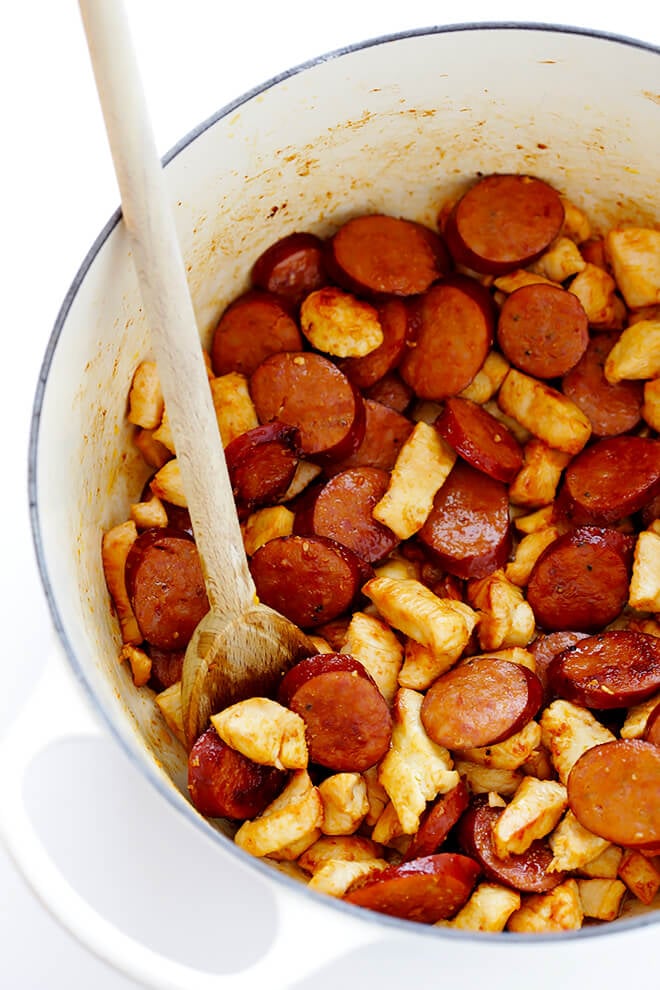 I will say that this soup takes a little extra time and effort to make than my usual 30-minute recipes. But this recipe makes a huge batch of soup, and the work is totally worth it.
To make the soup, simply saute up some chicken and Andouille sausage in a large stockpot until they're mostly cooked through. (<– If you're not into either of those, or the shrimp, feel free to just pick your favorite protein. You'll need about 3 pounds of protein total.)  Then add in your veggies, stir in some flour to thicken up the broth, add in the broth and rice and seasonings, and let the soup simmer on the stove until that rice is nice and tender. (Be sure to keep a close eye on this soup and stir it often so that the rice doesn't burn on the bottom of the pot!)  Finally, just stir in your shrimp at the end and season everything with salt and pepper to taste…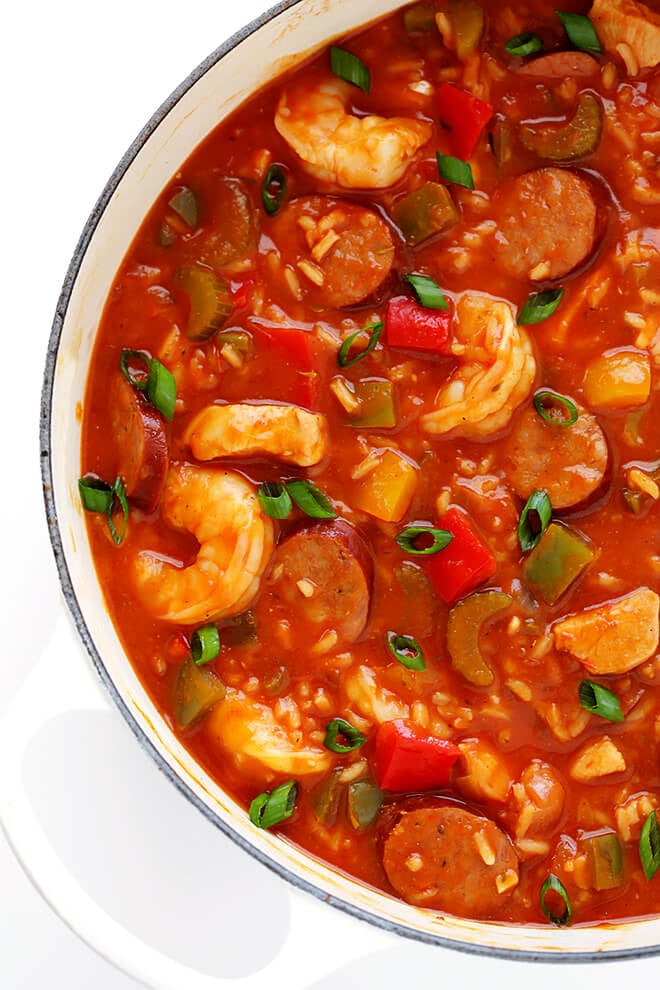 …and voila! This vibrant, flavorful, and hearty soup will be yours to enjoy!
And I do mean hearty. Similar to a gumbo, this jambalaya soup is incredibly rich and filling, so a big pot of it will go a long way.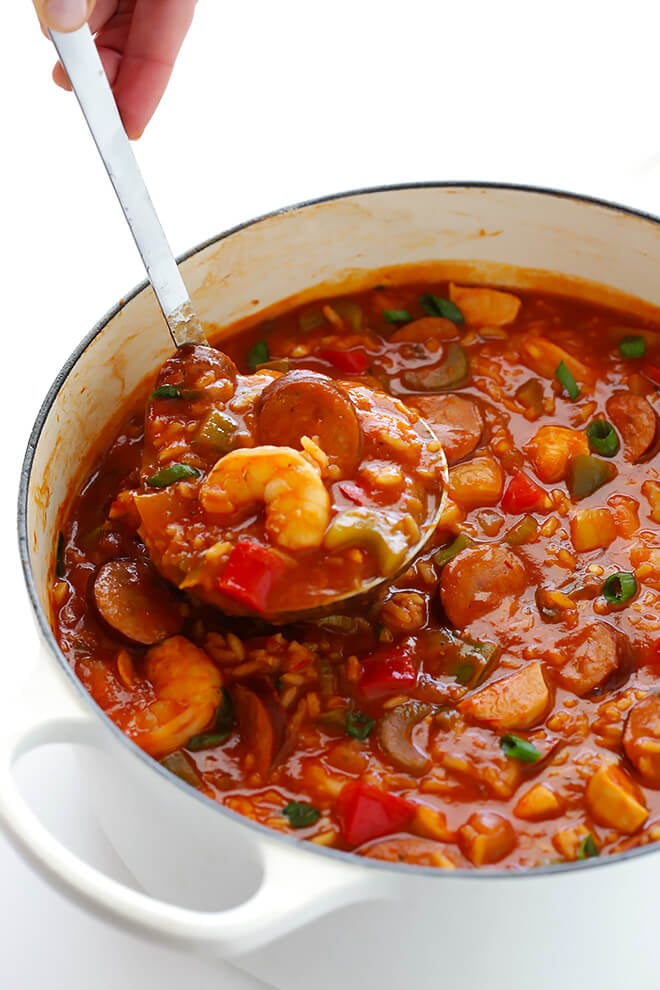 Feel free to also customize this soup to your desired level of spiciness, too. I love my jambalaya with a nice kick, so I usually include 2 jalapenos to bring some heat. But if you like a more mild jambalaya, feel free to just use a single (or half of a) jalapeno.
Also, different brands of Cajun seasoning tend to have different flavors, and varying levels of spiciness and saltiness. So if you're cooking with one that is new to you, I'd start by adding in just 1 tablespoon of Cajun seasonings, and then you can always add in more at the end. I love that stuff. 🙂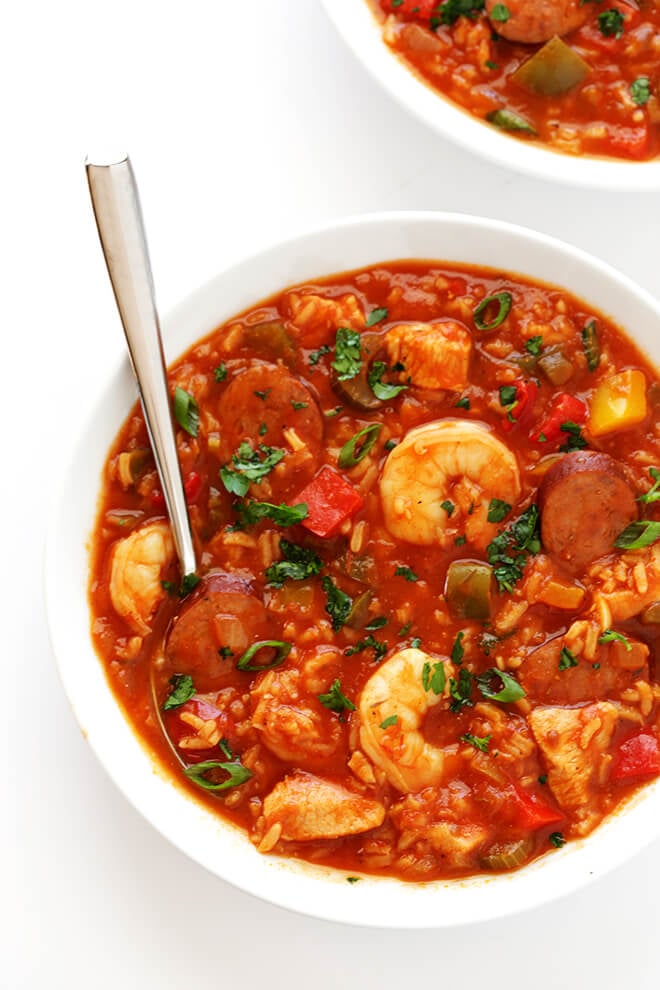 All in all, a very successful "soupifying" mission. 🙂  Hope you all enjoy this one as much as I do!
Print

Jambalaya Soup

Prep Time: 15 minutes


Cook Time: 35 minutes


Total Time: 50 minutes


Yield: 8 –10 servings 1x
---
Description
This Jambalaya Soup recipe can be made with shrimp, chicken, Andouille sausage — or all three! It's easy to make, and so hearty and delicious.
---
3 tablespoons

olive oil, divided

2

boneless skinless chicken breasts, cut into bite-sized pieces

1

pound Andouille sausage, thinly sliced into rounds

3

small bell peppers, cored and diced (I used a mix of colors)

2

ribs celery, chopped

1

small white onion, peeled and diced

1

jalapeño pepper*, seeded and finely chopped

4

cloves garlic, minced

6 cups

chicken stock

1/4 cup

flour

1

(28 ounce) can crushed tomatoes

1 cup

uncooked white or brown rice

2 tablespoons

 Cajun seasoning** (add more/less to taste)

2

bay leaves

1 teaspoon

dried thyme, crushed

1

pound raw shrimp, peeled and deveined

salt and pepper

(optional garnishes: chopped fresh parsley, thinly-sliced green onions, hot sauce)
---
Instructions
Heat 2 tablespoons oil in a large stockpot over medium-high heat.  Add the chicken and sausage, and sauté for 2-3 minutes, stirring occasionally.  Add in the remaining 1 tablespoon oil, bell peppers, celery, onion, jalapeño, and stir to combine.  Continue sautéing for 5-6 more minutes, or until the onion is soft and translucent, stirring occasionally.  Stir in the garlic, and sauté for 1 more minute until the garlic is fragrant, stirring occasionally.

Sprinkle the flour over the mixture, and stir to combine.  Continue cooking for 1 minute, stirring occasionally.

Gradually stir in the chicken stock, then add the crushed tomatoes, rice, Cajun seasoning, bay leaves and dried thyme.  Continue cooking until the soup reaches a simmer.  Then reduce the heat to medium-low, and continue simmering the soup for 15 more minutes — being sure to stir the soup occasionally (yes, more!) so that the rice doesn't burn on the bottom of the pot — until the rice is cooked and tender.

Stir in the shrimp and continue cooking for 5 more minutes, or until the shrimp is cooked through (it should be pink and opaque, not gray).

Season the soup with salt and pepper to taste.  Then serve warm, topped with your desired garnishes if desired.
---
Notes
*If you'd like a spicier soup, feel free to add in a second jalapeno pepper.  Or you can always add in a pinch or two of cayenne at the end of the cooking time, when you're seasoning the soup with salt and pepper.
**Different brands of Cajun seasoning vary dramatically in terms of flavor, spiciness and saltiness.  So if you're cooking with one that's new to you, I recommend starting with just 1 tablespoon of seasoning, and then adding more at the end to taste.
This post contains affiliate links.