This Italian Sausage, Gnocchi and Tomato Soup recipe only takes about 30 minutes to make, and is filled with the absolute best savory and cozy flavors for soup season.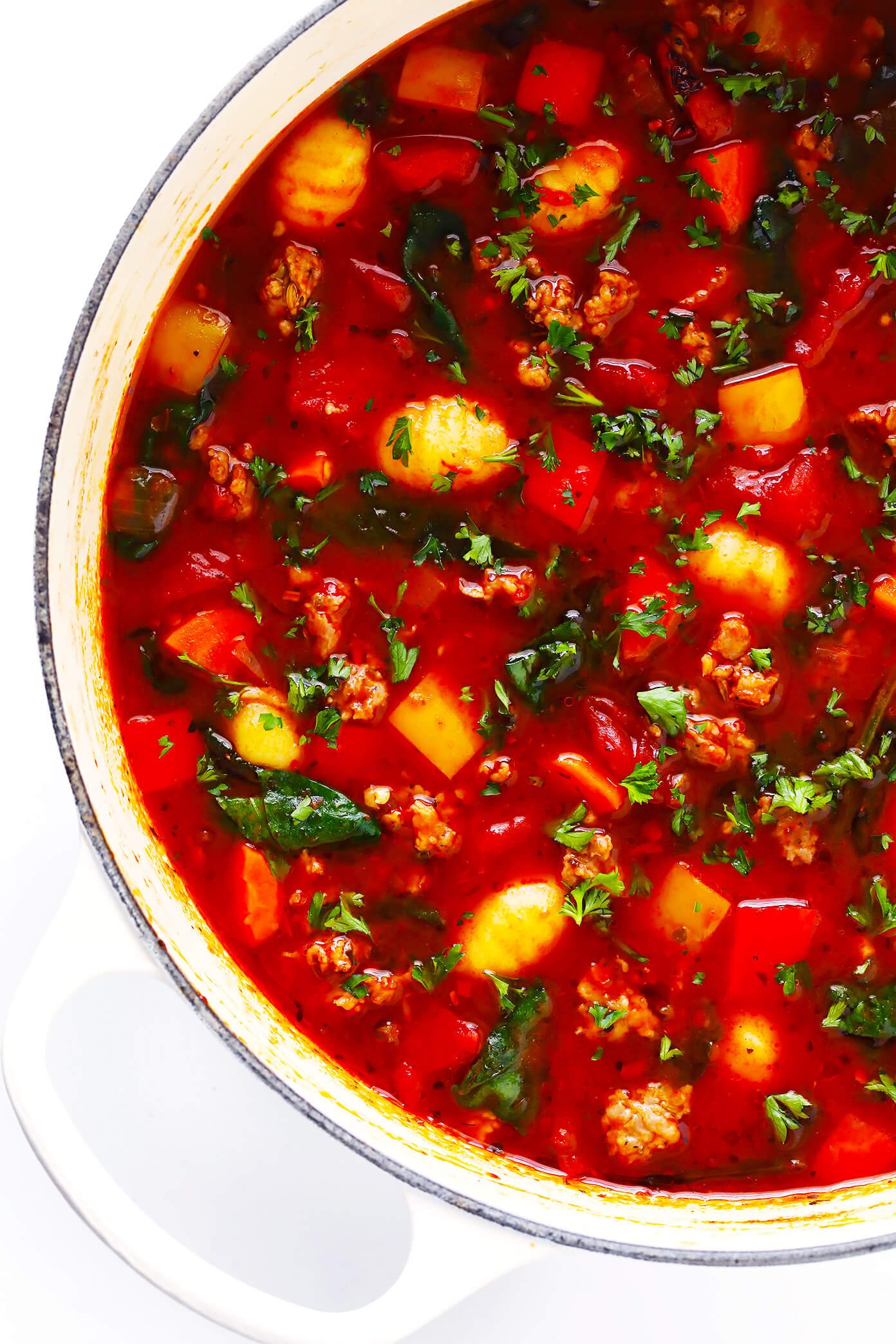 As a summer lovin' girl, the flip of the calendar into September has always felt a little bittersweet. ❤️
I mean, I love a beautiful crisp fall day as much as the next girl. But man, saying good-bye to my favorite season of the year with its wonderfully warm, sunshine-soaked, flip-flop-filled days has always been a tough transition for this little heart of mine. I just feel like I was absolutely made for this season of the year. (And literally never want it to end!)
Thankfully, though, there are cozy scarfs and warm cups of tea and crackling backyard fires already in the works this September, which definitely help to ease the transition for summery-souls like me into this new season. But without a doubt, my favorite "gateway" into fall is the arrival of my favorite food season of the year. Yep.
Soup season!
Specifically, warm, cozy, hearty, and feel-good soup season.
You know, the kind of soups that warm you up through and through, and make everyone want to snuggle in for an evening at home? The kind of soups that you can stir together quickly right after work, or maybe simmer low and slow all day in the slow cooker? The kind of soups that maybe (ok, definitely) beg to be served with a nice crusty baguette and maybe a glass of wine? The kind of soups that have you falling back in love with fall all over again?
You know, soups like this one. ?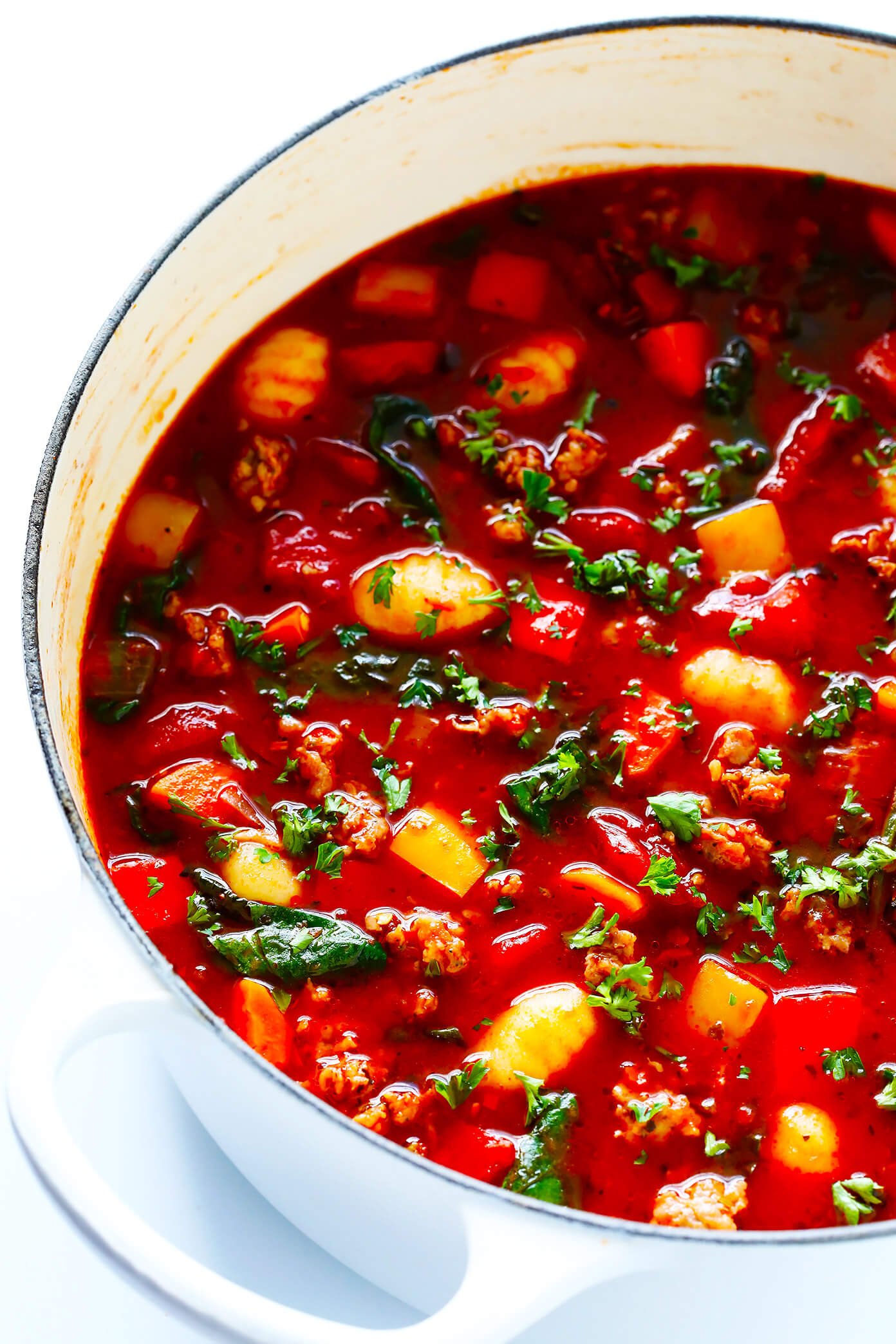 Actually, this Italian Sausage, Gnocchi and Tomato Soup is more of an end-of-summer recipe, since it features so many of the veggies that are still in season right now. (Think: bell peppers, carrots, onions, tomatoes, herbs, and either spinach or kale!)  I also made mine extra-easy with a quick package of gnocchi that I had in the pantry, although you'd be welcome to use some diced potatoes, which are still in season, or some dried pasta in its place if you'd like. Of course, if you happen to have ripe summer tomatoes on hand right now, those would be a-m-a-z-i-n-g in this soup too. But since those are only around in the Midwest for a hot minute, I included canned tomatoes in the recipe just to be safe.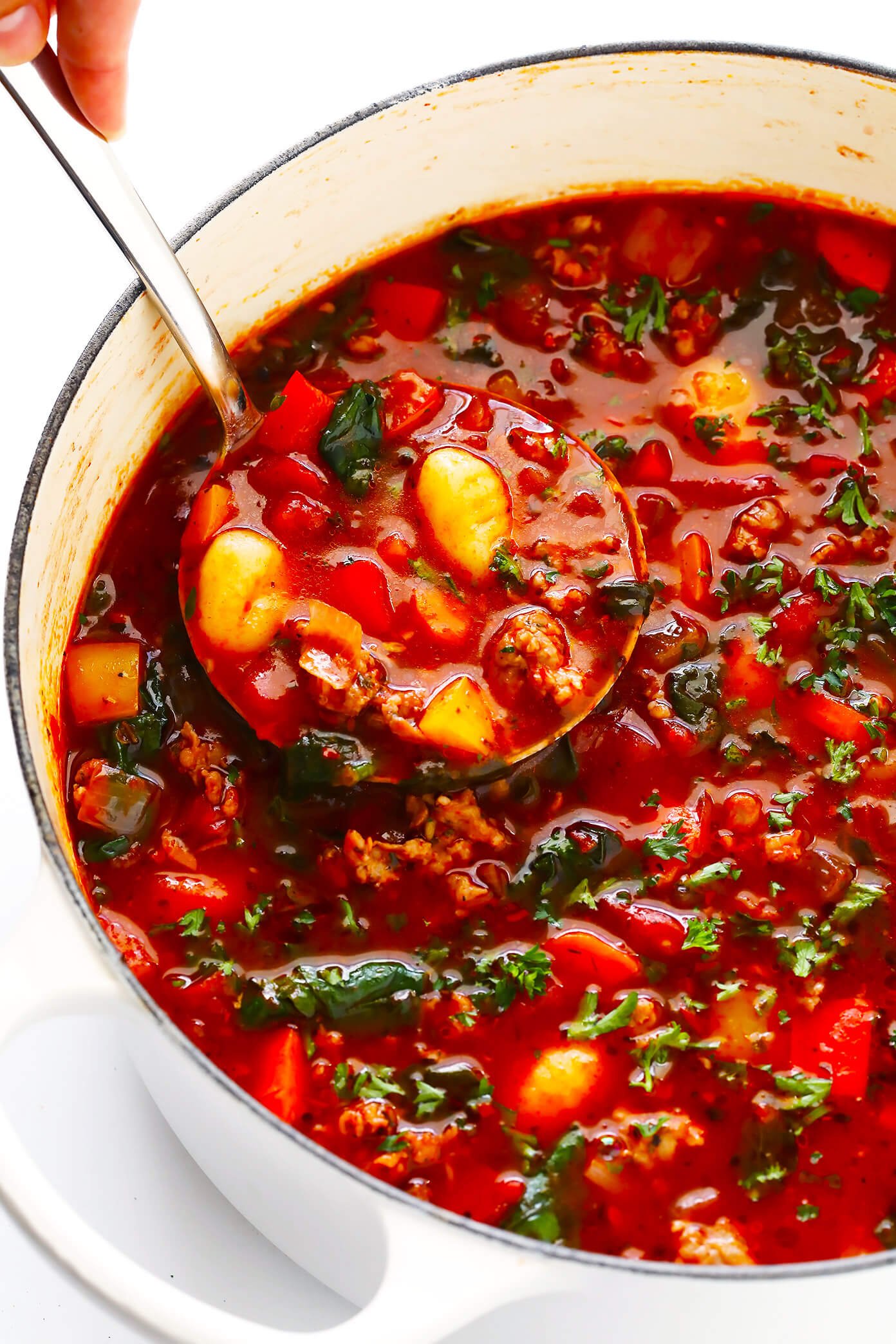 To make the soup, just brown and crumble some Italian sausage in a large stockpot. (Feel free to use traditional pork sausage, or lighter chicken or turkey Italian sausage, or even our favorite vegan sausage if you'd like.)  Then sauté your veggies, add your tomatoes and broth and bring everything to a simmer, add the gnocchi and spinach (or kale), taste and season.
Then voila! This vibrant, flavorful, delicious, and oh-so-comforting soup will be yours to enjoy.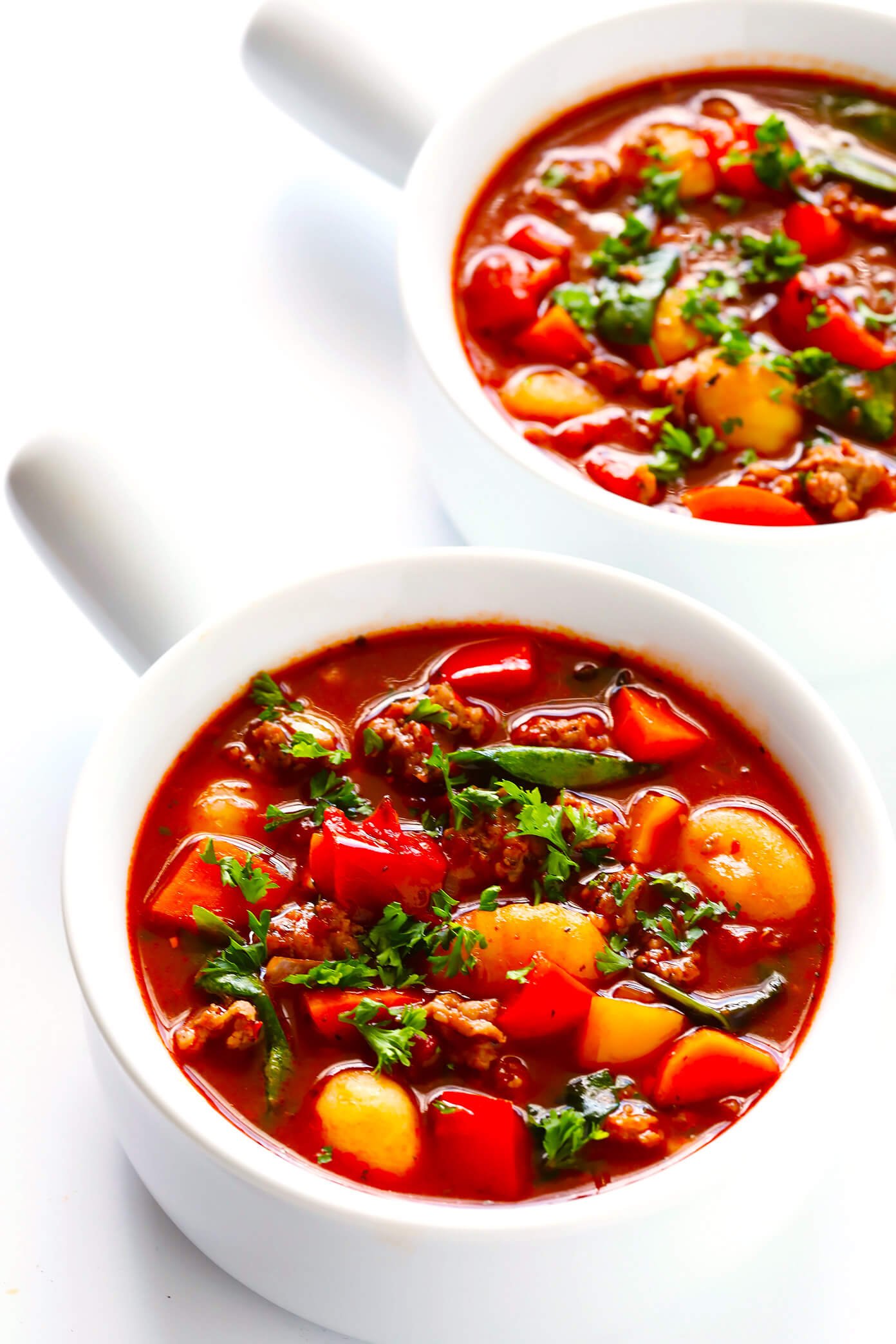 There are all sorts of ways you could modify this recipe to your taste, including:
adding in a few good pinches of 

crushed red pepper flakes

if you'd like a spicier soup

subbing in whatever other veggies you might happen to have on hand

experimenting with various other Italian herbs and seasonings
Totally up to you! I would just put in a strong recommendation for serving this up with a loaf of crusty bread (because…bread) and lots of freshly-grated Parmesan for garnishing. And I guarantee it'll warm you right up. Annnnd, probably have even the summer-lovers around your table feelin' all the feels about fall…and heading back for seconds. ?
Happy soup season, everyone!
Print

Italian Sausage, Gnocchi and Tomato Soup

Prep Time: 10 minutes


Cook Time: 20 minutes


Total Time: 30 minutes


Yield: 6 –8 servings 1x
---
Description
This delicious Italian Sausage, Gnocchi and Tomato Soup recipe is hearty and comforting and SO flavorful.  It's also extra-delicious when served up with a loaf of crusty bread for dipping!
---
1

pound ground Italian sausage*, spicy or mild

1 tablespoon

olive oil, divided

1

medium white onion, diced

2

large carrots, diced

3

stalks celery, diced

2

bell peppers, diced (I used

one

red,

one

yellow)

5

cloves garlic, peeled and minced

1/2 cup

dry red or white wine

4 cups

chicken stock

2

(15-ounce) cans tomato sauce

1

(15-ounce) can diced tomatoes (I used fire-roasted)

1 tablespoon

Italian seasoning

1 teaspoon

 crushed red pepper flakes (or more to taste)

1

(16-ounce) package gnocchi

2

large handfuls fresh baby spinach or roughly-chopped kale

optional toppings: freshly-grated Parmesan cheese, finely-chopped fresh parsley or basil
---
Instructions
Brown the sausage in a large stockpot over medium-high heat — crumbling it with a spoon as you go — until it is cooked through.  Use a slotted spoon to transfer the sausage to a separate plate, leaving behind about 1-2 tablespoons of grease in the pot.  (Remove any excess grease, or add a little bit of olive oil if there is not enough remaining.)

Add the onion and sauté for 3 minutes, stirring occasionally.  Add the carrots, celery, bell peppers, garlic, and sauté for 5 more minutes, stirring occasionally.

Add in the wine, and use a wooden spoon to deglaze the pot (scraping up those delicious brown bits that get stuck to the bottom).  Add in the chicken stock, tomato sauce, diced tomatoes, Italian seasoning, red pepper flakes, and stir to combine.  Continue cooking until the soup reaches a simmer.  Then reduce heat to medium-low, cover, and simmer for 5-10 more minutes, or until the vegetables are completely tender.

Add in the cooked sausage, gnocchi and spinach (or kale), and cook for 5-7 minutes, stirring occasionally, or until the gnocchi begin to float and are cooked through.  Taste and season with salt and pepper (and/or extra crushed red pepper flakes) as needed.

Serve immediately, sprinkled with your desired toppings.
---
Notes
*Feel free to use pork, chicken, turkey, or vegan Italian sausage.  If you use any kind of sausage besides pork, you will probably need to add in an extra tablespoon of olive oil to help brown the sausage, and then an extra 1-2 tablespoons of olive oil afterwards to help sauté the vegetables.
**Pro tip: to save time, I recommend chopping the vegetables as you go while the sausage cooks!