This Italian Orzo Spinach Soup recipe is quick and easy to make and so delicious and comforting.
One of my good friends has a rule that none of us are allowed to complain about the weather here in Kansas City when we're around her. ?
Somehow, though, this still happens all the time, since it always seems to be "unseasonably" something-or-other. There's always someone lamenting about the lack of snow this winter. Or the return of a freezing windchill after an unusually warm week. Or how every single meteorologist totally blew it predicting the "ice storm of the century" a few weeks ago. Ya know, normal Midwestern weather small talk…
Well, the second that crosses over into complaining or I-can't-believe-this-is-happening-ing, she's there with her classic — "Guys! We live in the freaking Midwest.  There's no such thing as normal weather here. You've gotta expect the unexpected.  It's this way every single year, remember?!"
We've gotta admit — she has a point. ? ? ?
So when the temperature took a nosedive again this week after a gloriously sunny weekend in the 60s, I bit my tongue and forbid myself to whine about it. And, instead, dove back into full-on winter hibernating mode. I pulled on my favorite ultra-comfy sweater and slippers, made a warm cup of my favorite hot tea, and got to work making a big batch of this favorite comforting soup to eat this week.
And it totally hit the spot.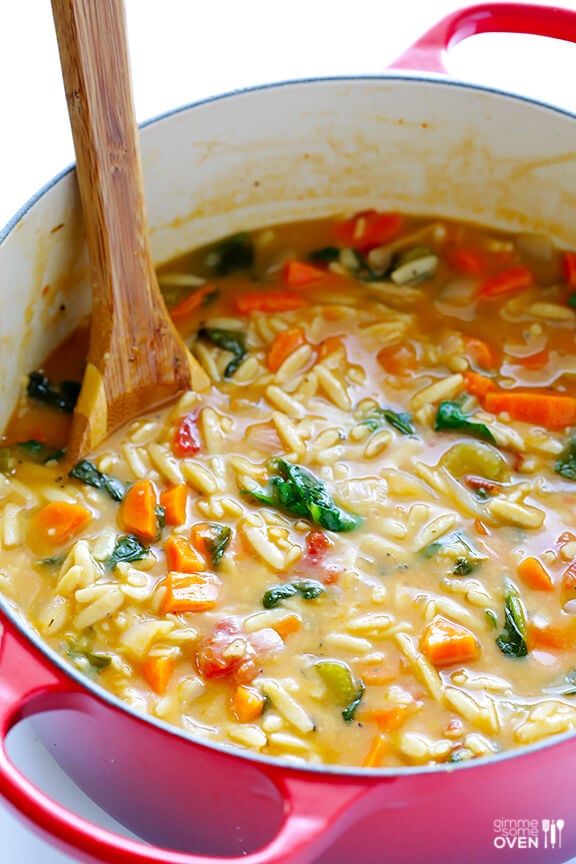 Some of you already know and love this recipe — it was one that I shared on the blog about three years ago. (??That was the original photo!)  But for anyone who missed it, I thought I'd bump it to the top of the blog again, since this recipe is a total winner and one I still make often.
One of the main reasons I love this soup is because it uses my favorite whole wheat pasta in the world, made by DeLallo. I love it because it's legitimately delicious, as opposed to most other whole-wheat pastas I've tried, which seem to fall in the good-for-you-but-not-so-tasty category. This stuff = awesome. And I'm especially partial to this particular whole wheat orzo, which I always keep stocked in the pantry for quick soups and sides.
I'm also a fan of this recipe because it's packed full of fresh spinach. (Or, you could also use fresh kale or collards in this recipe.)  Honestly, I sneak a few handfuls of spinach into just about any soup I make nowadays, since it's such an easy way to add extra greens (that have such a mild flavor) to my meal.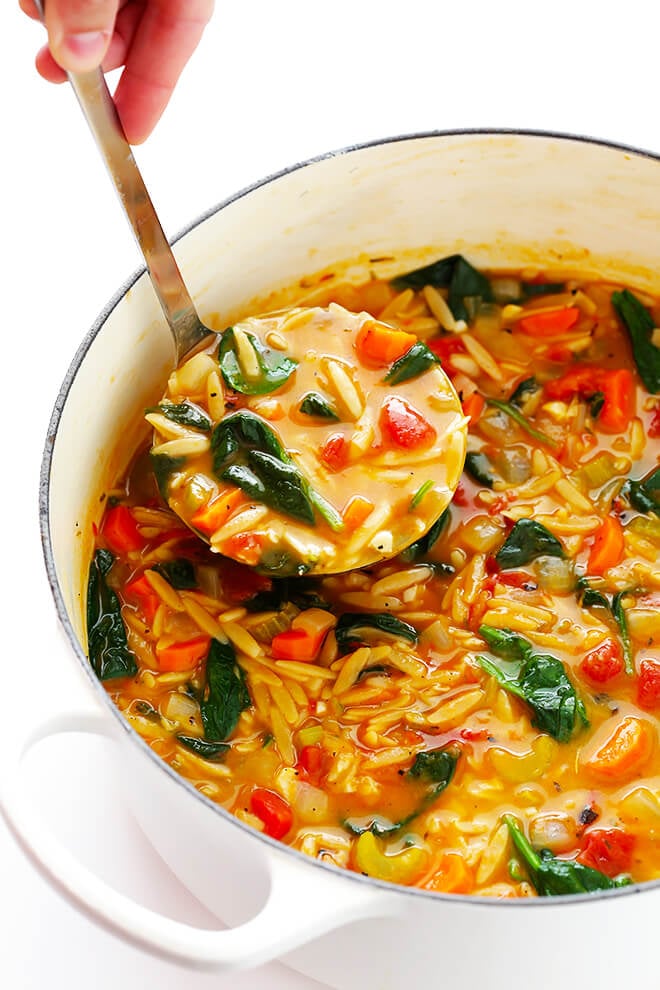 And of course, I also love this one because it all comes together easily in about 30 minutes. Just saute your veggies, then let everything simmer until the pasta is al dente and ready to go…
…and then voila! This warm, comforting, and absolutely delicious bowl of soup will be yours to enjoy.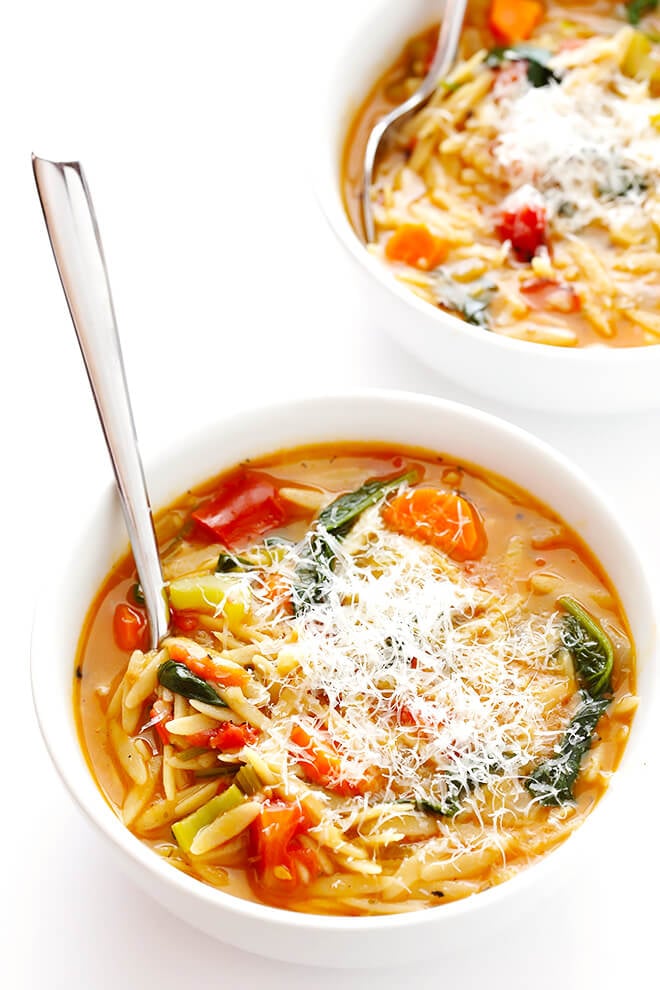 I like loading mine up with lots of Parmesan (and crushed red pepper, which I missed adding in the photo here). But feel free to top yours with whatever sounds good.
Enjoy, friends!
Print
Italian Orzo Spinach Soup

Prep Time: 5 minutes


Cook Time: 25 minutes


Total Time: 30 minutes


Yield: 4 –6 servings 1x
---
Description
This delicious Italian Orzo Spinach Soup is simple, flavorful, and so comforting.
---
2 tablespoons

olive oil

1

small white onion, peeled and diced

1 cup

diced carrots

1 cup

diced celery

3

cloves garlic, peeled and minced

6 cups

chicken or vegetable stock

1

(14-ounce) can fire-roasted diced tomatoes

1 1/2 cups

(about

8 ounces

) DeLallo whole wheat orzo pasta, or other whole wheat pasta

1/2 teaspoon

dried thyme

1/4 teaspoon

dried oregano

1/4 teaspoon

dried rosemary

4 cups

loosely-packed spinach

salt and black pepper

optional toppings: freshly-grated Parmesan cheese, crushed red pepper flakes
---
Instructions
Heat oil in a large stock pot over medium-high heat. Add onion and saute for 4 minutes, until soft. Add carrots, celery and garlic and saute for an additional 3 minutes. Add chicken stock, tomatoes, orzo (pasta), thyme, oregano, rosemary and stir to combine. Bring soup to a simmer, stirring occasionally. Reduce heat to medium-low and simmer for 10 minutes, stirring occasionally, until the pasta is al dente.

Stir in the spinach and cook for 1-2 minutes until it is bright green and wilted. Taste, and season with salt and black pepper as needed.  (Also feel free to add more of the thyme, oregano and rosemary, if you'd like.)

Serve warm, garnished with your desired toppings.
---
This post contains affiliate links.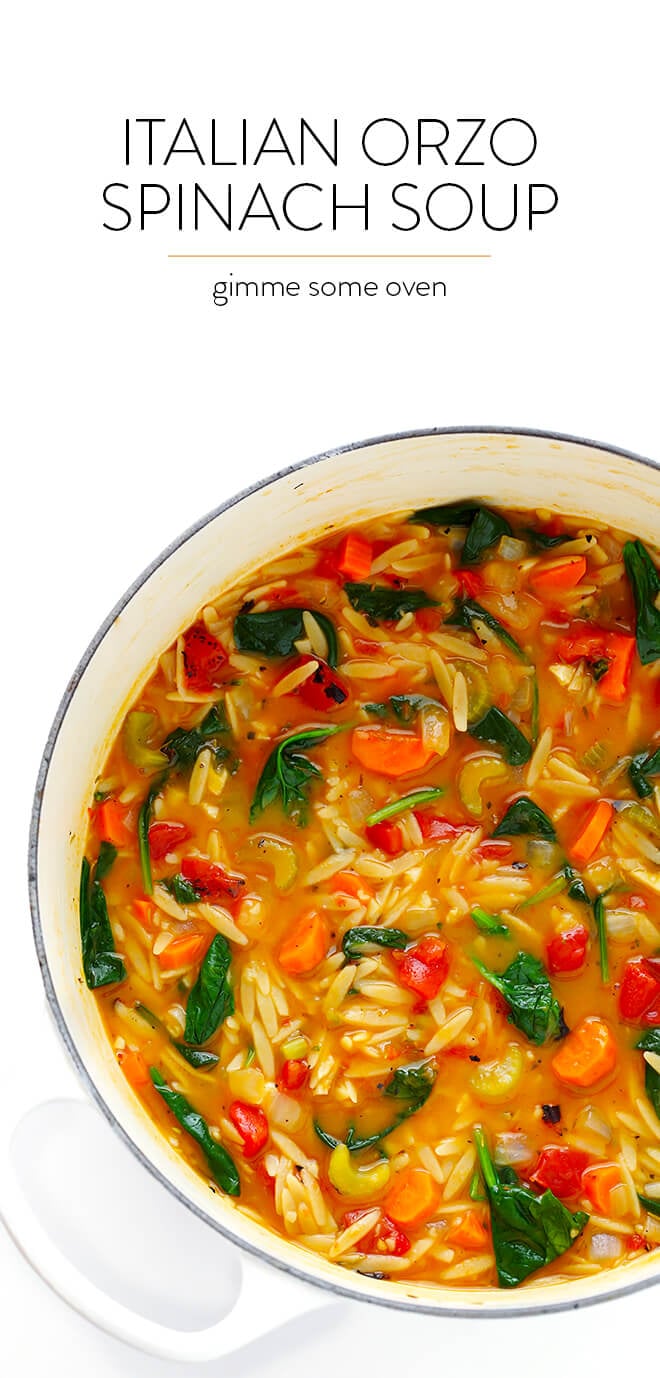 This post is sponsored by DeLallo Foods, maker of my favorite whole wheat pasta. Thank you for supporting the brands who help make this site possible! ♡