This Instant Pot Steamed Artichokes recipe is ultra-easy to make, full of great flavor, and super-speedy in your pressure cooker!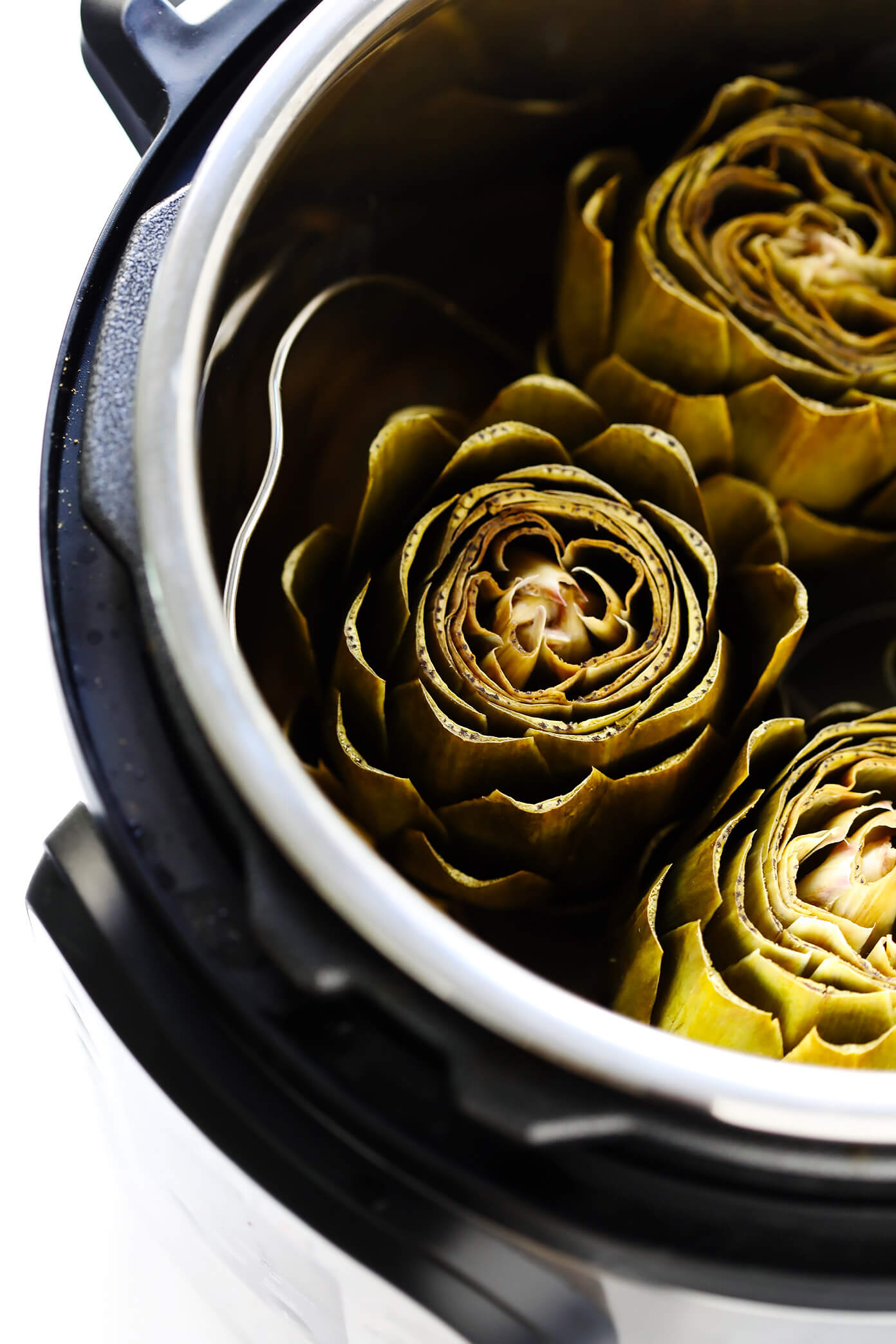 Over the past few weeks, Barclay and I have been taking lots of little field trips to explore the various markets in our new neighborhood in Barcelona. And each time, I come away with a bag full of fresh veggies, plus usually at least one or two new foods to try. And each time, this handsome husband of mine comes away with…
…a bag of fresh artichokes. ? ? ?
Ha, I'm not kidding. We've been eating steamed artichokes at least twice a week since we've been living here, partly because they are Barclay's absolute favorite food in the universe, and it turns out they are widely available here in Spain. But also because they are crazy affordable in Spain! (Like, $0.50 apiece here, versus the $3 artichokes we used to buy in Kansas City!)
Naturally, we both freaked out the first time we saw the price tag and immediately filled a bag full of fresh alcachofas to take home and steam. But once we arrived home, we realized that there were no pots in our "furnished" little rental kitchen that were large enough to use as a steamer, whoops. Thankfully, my new Instant Pot (affiliate link) had just arrived in the mail that day from Spanish Amazon. So we decided to try see if we could pressure cook them instead. And oh man, guys.
Talk about a game changer.
Seriously. Just when we thought artichokes couldn't get any better, the Instant Pot worked its magic and made them even easier and quicker to steam. I mean, let's be real, artichokes are still incredibly delicious and easy to cook the traditional way on the stovetop. But now — a half dozen perfectly-cooked batches in the Instant Pot later — I have to say that I think my stovetop steaming days are officially behind me.
So if you're a lifelong fellow Team Artichoke fan — or if you've been curious about trying them for the first time — grab your Instant Pot because you've gotta try this one for yourselves. ?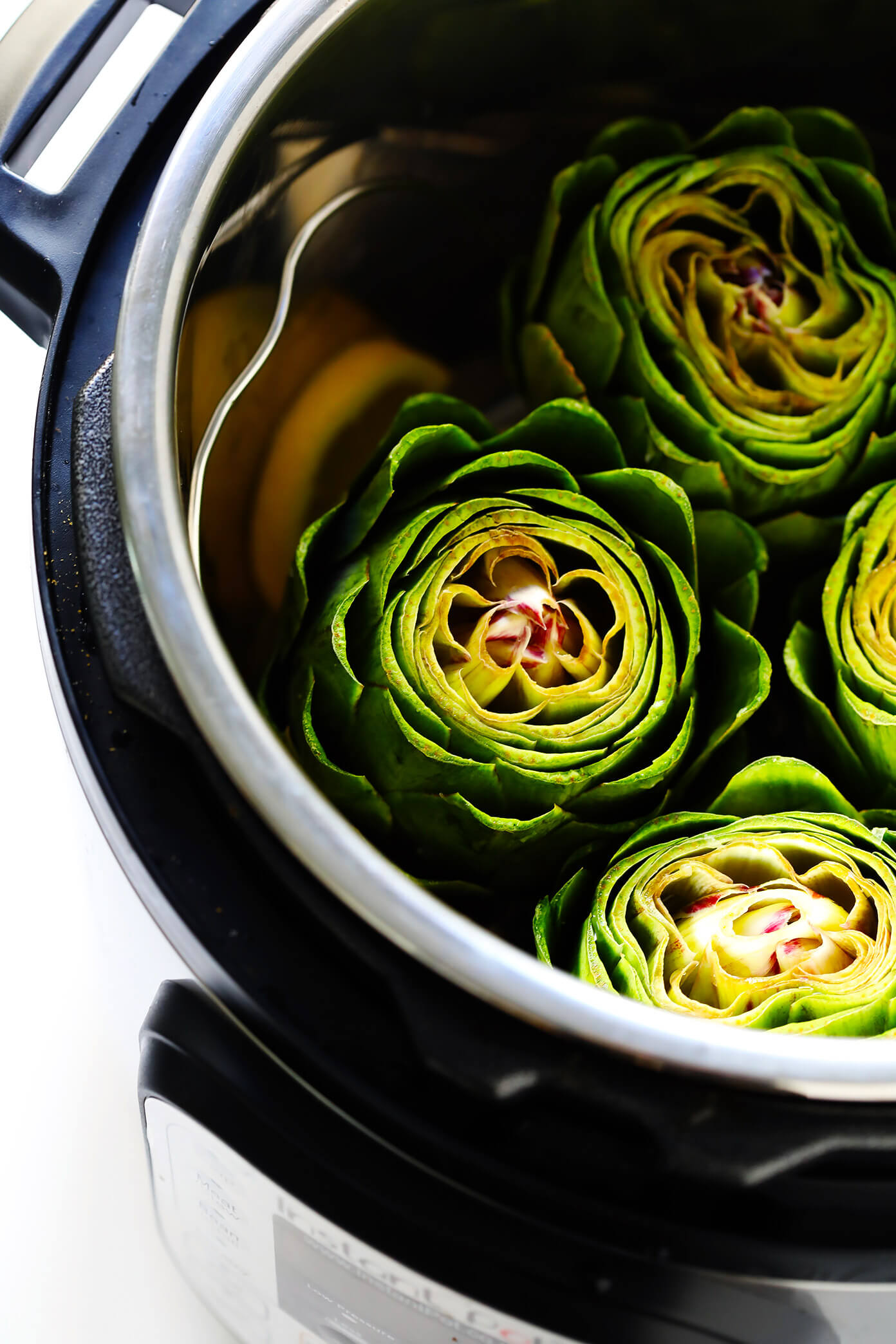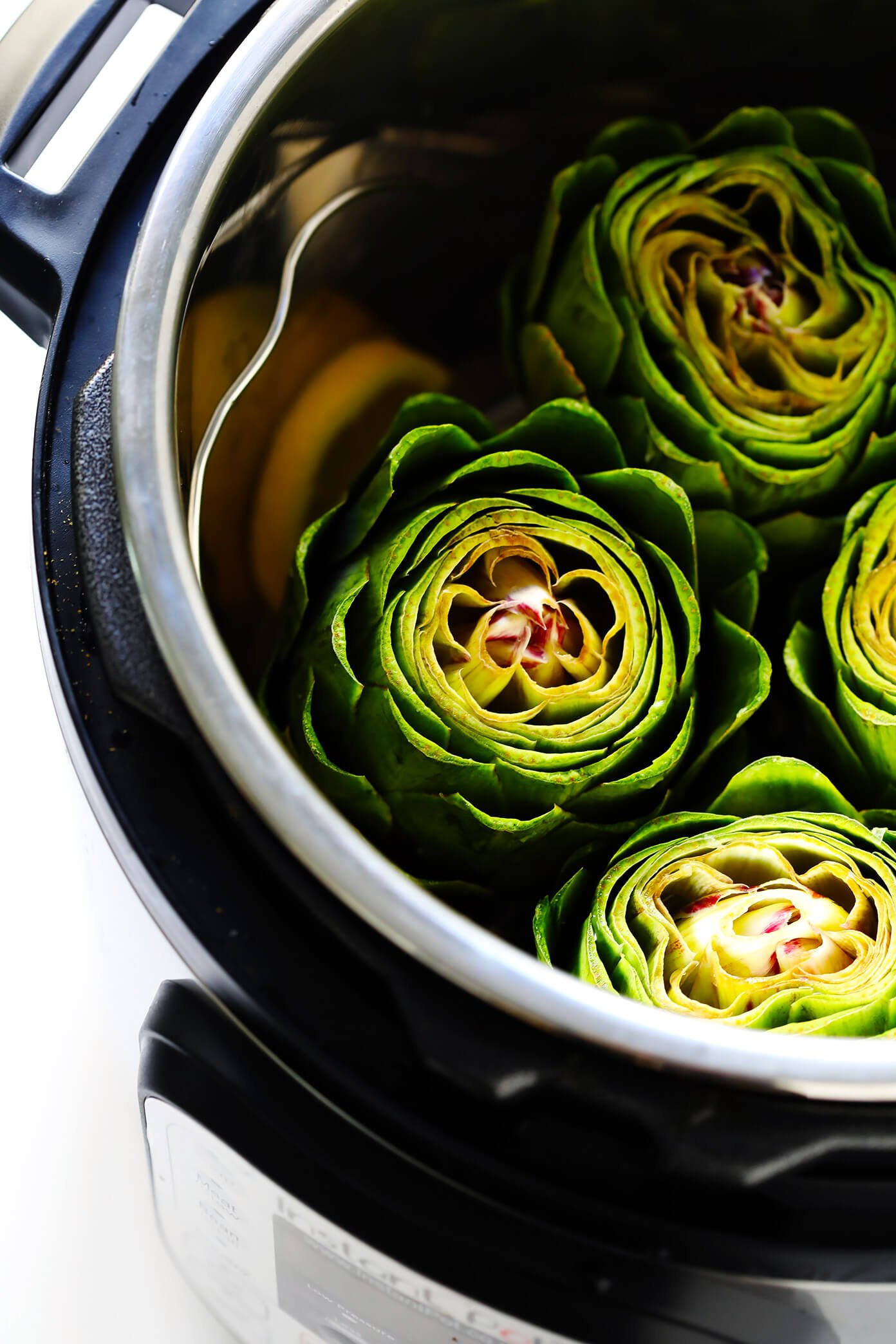 To make these Instant Pot steamed artichokes, begin by prepping and trimming however many fresh artichokes you would like to cook. (I can fit between 4-5 medium artichokes in a single layer in my 6-quart Instant Pot, but obviously the size of your artichokes and pot may vary.)
For tips on how to choose the best fresh artichokes at the market, plus tips on how to prep and trim them before cooking, check out my post and video here on How To Cook and Eat Artichokes. (It features the traditional stovetop steaming method, but all of the steps before and after cooking are the same.)
Once your artichokes are ready to go, place the steamer basket in your instant pot, and add some water, garlic and a bay leaf to the bottom of the pot. Take a slice of lemon and rub it all over the outside of the artichokes (to add flavor and slow down oxidizing/browning), then drop the lemon wedge in the water. And place your artichokes in a single layer (not stacked on top of one another) in the steamer basket. We've tried cooking them stem-up and stem-down, and it doesn't seem to make a difference, so set them in there however you'd like.
Then secure the lid, set to cook on "manual" high pressure for 10 minutes (or 12 minutes for large artichokes), finish with a quick release…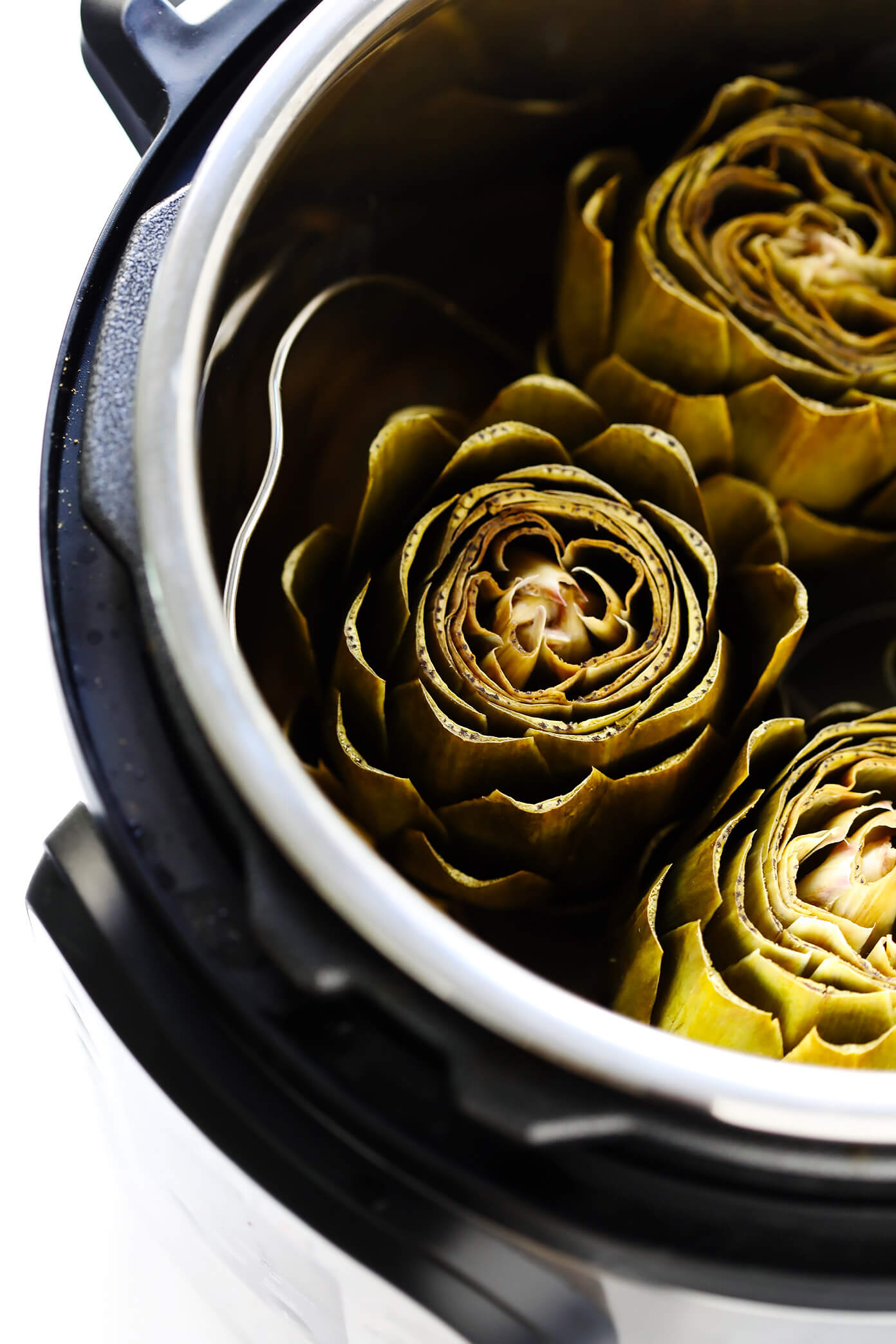 …and voila!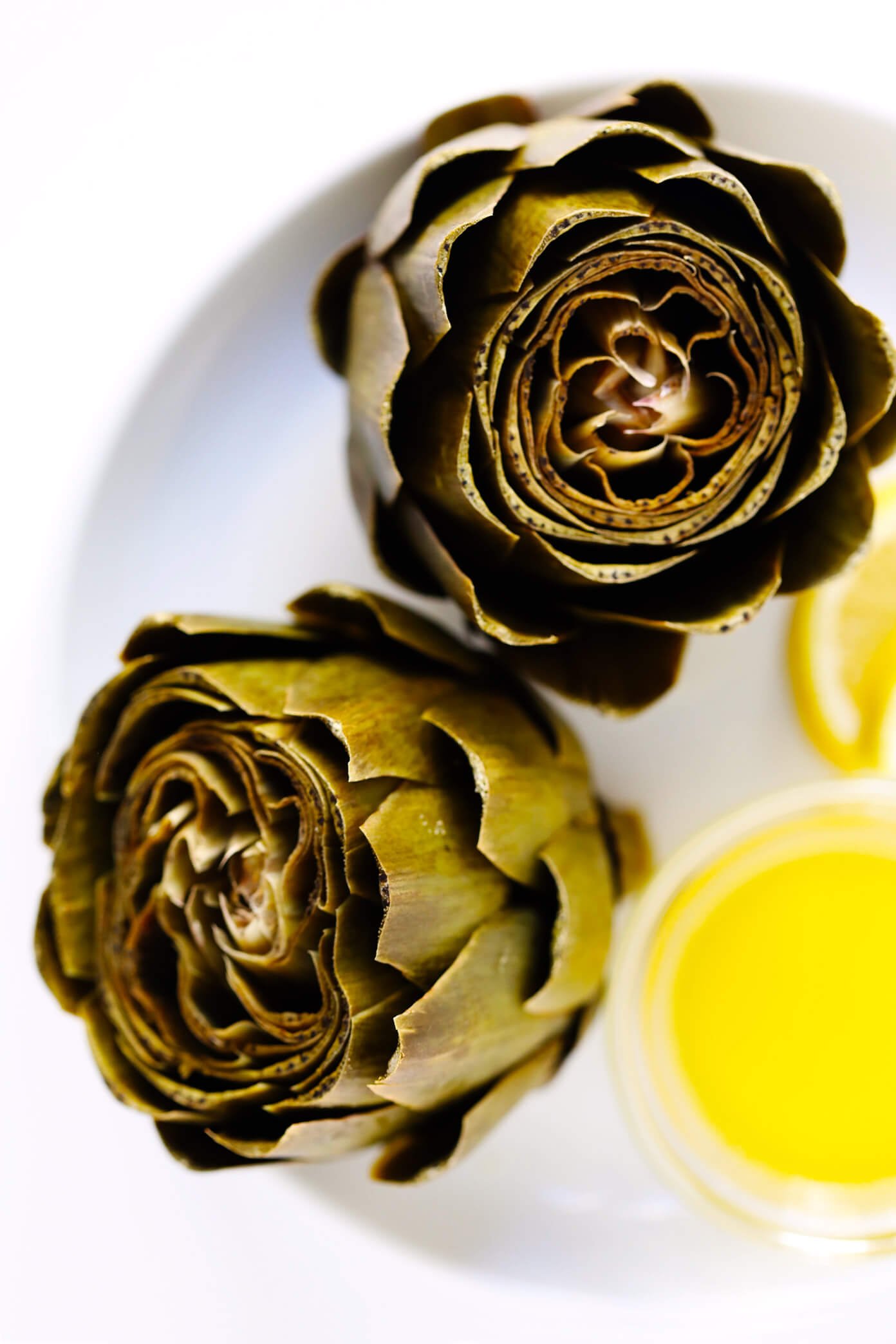 A batch of gorgeous, tender, flavorful, perfectly-steamed artichokes will be yours to enjoy in less than 30 minutes! So simple!!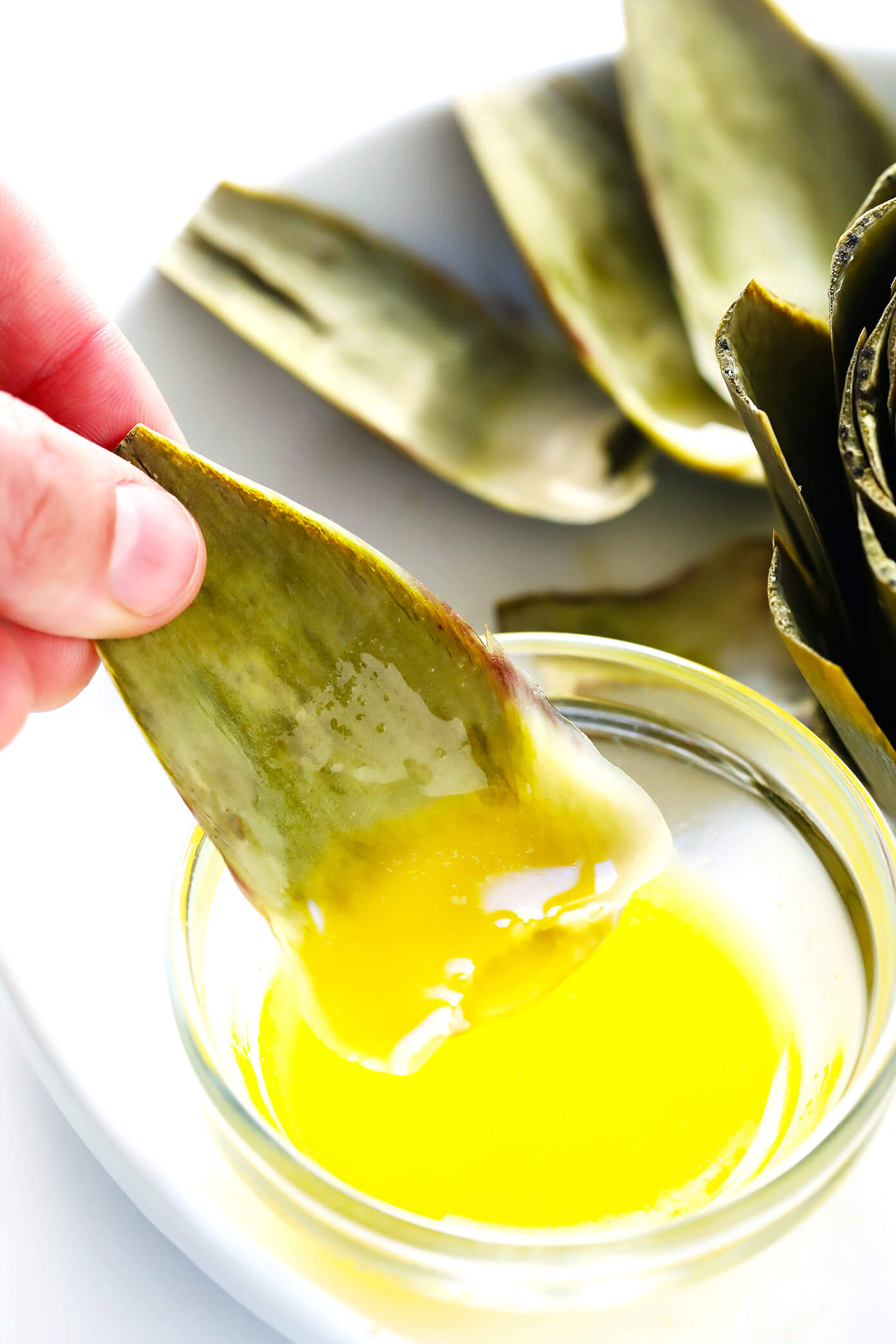 Again, if you need any tips on how to eat these guys, feel free to check out my traditional steamed artichoke tutorial here.
Otherwise, as we say with our artichoke nights here in Spain — ¡buen provecho!
Print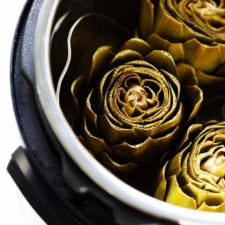 Instant Pot Steamed Artichokes

Prep Time: 5 minutes


Cook Time: 20 minutes


Total Time: 25 minutes


Yield: 2 –4 servings 1x
---
Description
Fresh artichokes are extra easy to steam in the Instant Pot!  Feel free to add other fresh herbs and seasonings to your steaming water if you would like.
---
1 cup

water

3

cloves garlic

1

bay leaf

2

–

4

fresh large artichokes, trimmed (here's a quick video for how to trim artichokes)

1

fresh lemon wedge

dipping sauce (see options below)
---
Instructions
Pour the water, garlic cloves and bay leaf into your Instant Pot, and place the steamer basket on the bottom of the pot.

Rub the lemon wedge all over the outside of the trimmed artichokes.  (This helps add flavor and prevent browning/oxidizing.)  Place the artichokes in a single layer on top of the steamer basket, and toss the lemon wedge in the water below.  Close lid securely and set the vent to "Sealing".

Press "Manual", then press "Pressure" until the light on "High Pressure" lights up, then adjust the +/- buttons until time reads 10 minutes*.  Cook.  Then very carefully, turn the vent to "Venting" for quick release, and wait until all of the steam has released and the valve has dropped.  Remove the lid.

Carefully use a pair of tongs to remove the artichokes from the Instant Pot, and serve immediately with your desired dipping sauce.  Enjoy!
---
Notes
*For extra-large artichokes, increase the cooking time to 12 minutes.  To test whether your artichokes are fully cooked, insert a sharp knife in the stem of the artichoke.  If it slides in smoothly without resistance, your artichokes are ready to go.  If not, cook them for an extra 2 minutes in the Instant Pot.
Dipping Sauce Ideas:
Lemony Melted Butter Dipping Sauce: This is my favorite way to eat steamed artichokes!  Just melt some salted butter in a small saucepan or in the microwave, add a squeeze of fresh lemon juice, a pinch of salt and pepper, and serve.  And if you really feel like going the extra mile, sauté a clove of minced fresh garlic in the butter for 1 minute before serving.  Delish.

Blender Hollandaise Sauce: This version is super easy.

Tzaziki Sauce: For a Mediterranean twist.

Any kind of mayo or aioli

…or whatever sounds good to you!