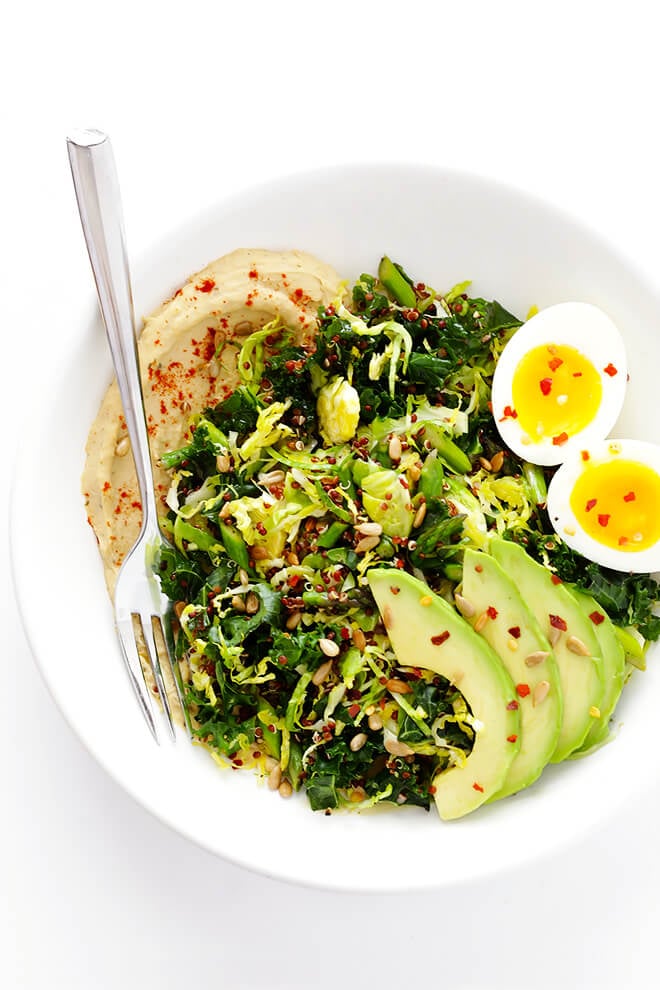 I feel like I'm probably forever going to be a procrastinator when it comes to trip planning.
Especially with meals. ?
I always so look forward to eating out and trying new places on vacation, and always aspire to doing my research and asking for recommendations and actually having a plan for where to go on a trip. But — let's be real — being that I'm the type who starts packing my suitcase at 11pm the night before a trip, it's safe to say that restaurant research usually starts, oh, about an hour before it's time to eat. ?
Thankfully, Yelp hardly ever lets me down, which proved true again when Barclay and I were in NYC two weekends ago. After landing at the airport, we were both pretty hungry with no plan in place. So while Barclay was deep in conversation with our Uber driver on the way in from the airport (<– which happens in every taxi ride we ever take, btw, the guy loves talking to strangers), I started Yelping the restaurants around our hotel, looking for a solid place for brunch. And sure enough, there was this cute little Aussie beach cafe a block away from our hotel, with a menu full of beautiful healthy food that everyone seemed to love. So we decided to check it out first thing on Saturday morning.
And oh my goodness, Yelp, you did it again.
We absolutely loved this little place! From the bright and summery decor (which felt like a breath of fresh air in the middle of January), to the friendly servers (with awesome Aussie accents), to the beautiful flat whites (always a favorite of my half-Kiwi fiancé), to the food — oh my gosh, THE FOOD — this place was a total highlight of our trip. We already can't wait to go back. But until then, I couldn't resist making my own twists on the two dishes we loved best when I got home, and my first attempt was a delicious success.
This lovely Hummus and Veggie Breakfast Bowl. ?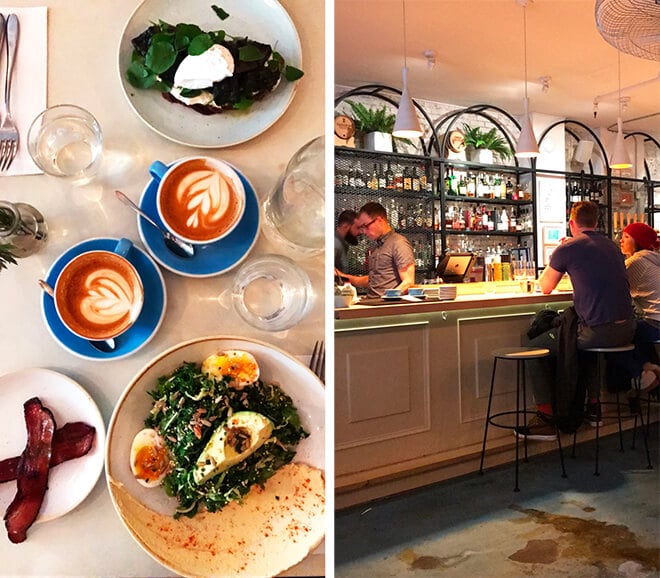 See why we loved this place so much?!
Delightful all around. And so delicious.  Barclay couldn't stop talking the rest of the day about how much he loved his mushroom toast. But I was head over heels for my "Brassicas Bowl". (With, ahem, a little side of bacon. ?)
The bowl was basically an ode to the brassicas family of cruciferous veggies — kale, Brussels sprouts, broccolini (which they roasted), and mustard. Plus, a generous swipe of hummus on the plate, lots of toasted sunflower and sesame seeds, and soft-boiled eggs.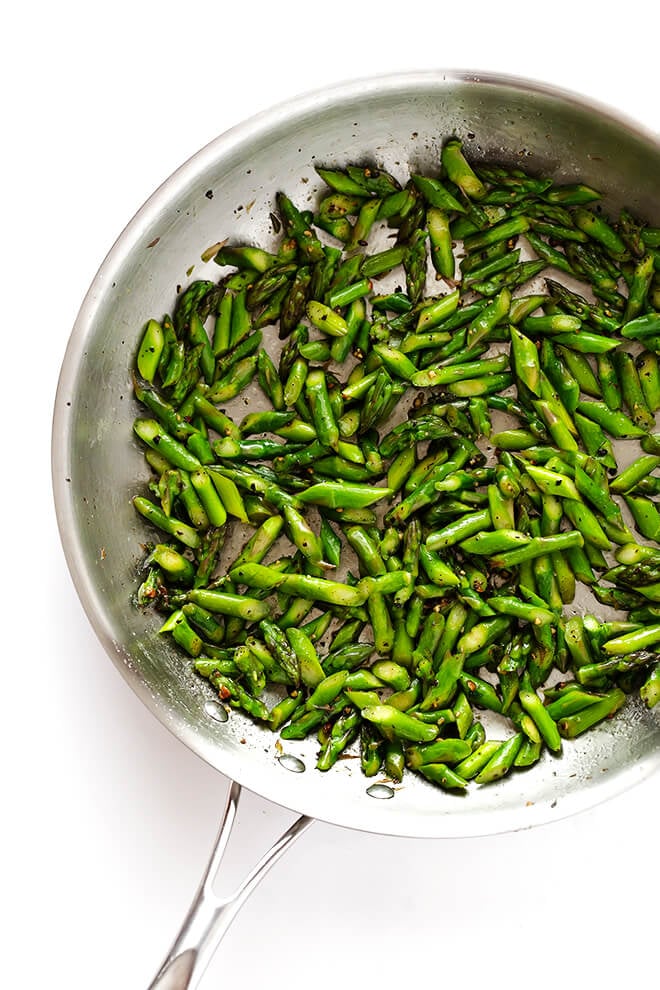 My neighborhood grocery store still isn't very consistent with carrying broccolini, so for my version at home, I decided to sub in some fresh asparagus. (Although, really, any sautéed or roasted veggies would be delicious in this bowl!)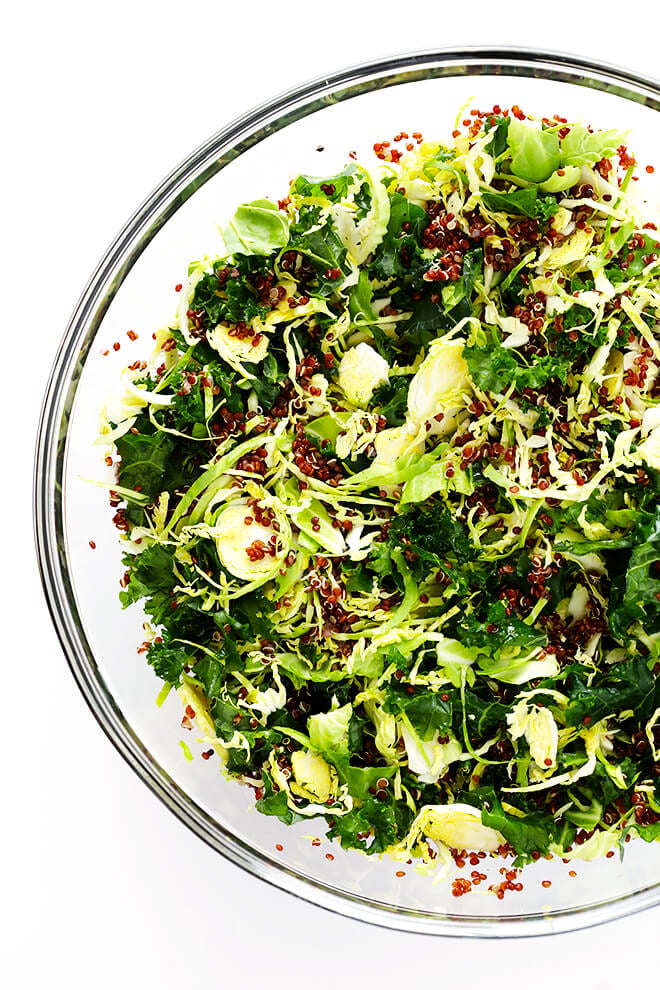 Then I shredded some Brussels sprouts and kale, and tossed them with a simply lemony mustard dressing. And then to add in a little extra protein, I also added in some leftover quinoa that I had on hand, which I loved. Made the salad part of the bowl a little more hearty. (Although it's totally optional, of course.)
Then I just soft-boiled some eggs, sliced up an avocado, swiped a big spoonful of my favorite hummus onto the side of my bowl, and sprinkled everything with lots of sunflower seeds and a pinch of crushed red pepper, and…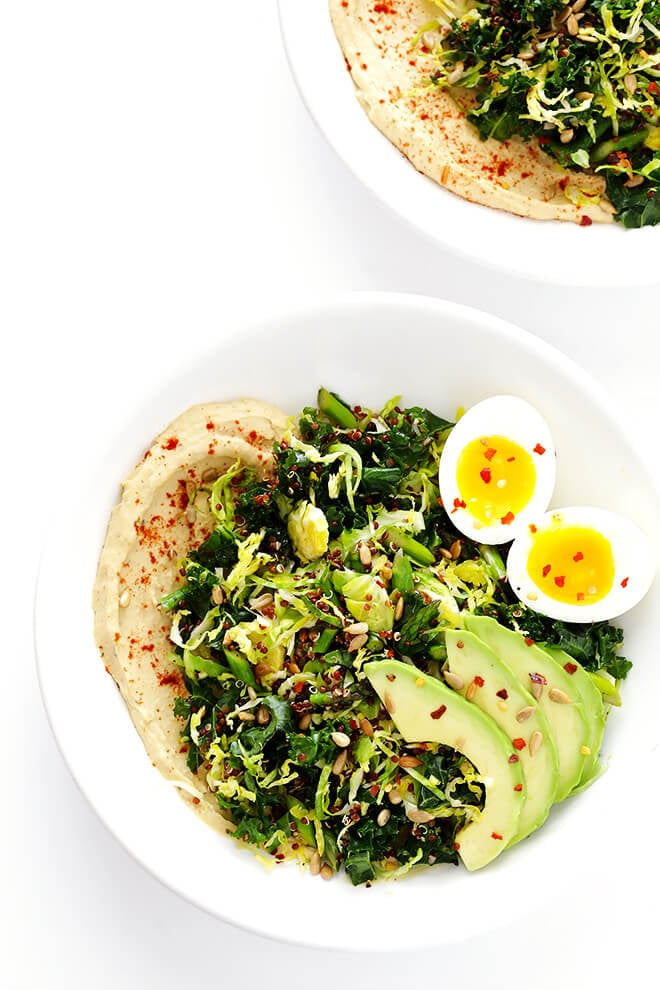 …voila.
This gorgeous breakfast was ours to enjoy, even being hours away from NYC. I absolutely loved how light and fresh and flavorful all of the ingredients tasted together. And I've gotta say, I loved that the entire dish was savory. I seem to have lost my sweet tooth with breakfast lately, so everything about this one completely hit the spot.
So if you're looking to mix things up for breakfast, give it a try! It'd be the perfect use for leftover veggies and hummus. And bonus — that kale salad mix will hold up well in the fridge for at least 2-3 days, if you'd like to make a big batch and stretch it out for awhile. You won't regret it. 😉
So big thanks to Two Hands Restaurant & Bar in Tribeca for the inspiration, and hope you all enjoy my homemade take on this one!
Print

Hummus and Veggies Breakfast Bowl

Prep Time: 25 minutes


Cook Time: 5 minutes


Total Time: 30 minutes


Yield: 4 servings 1x
---
Description
This nourishing Hummus and Veggies Breakfast Bowl is filled with feel-good, flavorful favorites that combine to make a perfectly savory and delicious meal!
---
Breakfast Bowls Ingredients:
1 tablespoon

 avocado oil or olive oil

1

pound asparagus

¹

, cut into bite-sized pieces (with ends trimmed and discarded)

3 cups

shredded kale leaves

1

batch lemony dressing (see recipe below)

3 cups

 shredded (uncooked) Brussels sprouts

²

1

 

½ 

cups cooked quinoa

³

½

 cup hummus

1

avocado, peeled, pitted and thinly-sliced

4

eggs, cooked however you'd like (I soft-boiled mine)

garnishes: sunflower seeds (or sliced almonds), toasted sesame seeds, crushed red pepper
Lemony Dressing Ingredients:
2 tablespoons

 avocado oil or olive oil

2 tablespoons

freshly-squeezed lemon juice

2 teaspoons

 Dijon mustard

1

garlic clove, minced

salt and freshly-cracked black pepper
---
Instructions
To Make The Breakfast Bowls:
Heat oil in a large saute pan over medium-high heat.  Add asparagus and saute for 4-5 minutes, stirring occasionally, until tender.  Remove from heat and set side.

Meanwhile, in a large mixing bowl, combine the kale and lemony dressing.  Then use your fingers to massage the dressing into the kale for 2-3 minutes, or until the leaves are dark and softened.  Add the Brussels sprouts, quinoa, and cooked asparagus, and toss until combined.

To assemble the bowls, smear a spoonful of hummus along the side of each bowl.  Then portion the kale salad evenly between the four bowls, top with avocado, egg, and your desired garnishes.  Serve immediately.
To Make The Lemon Vinaigrette:
Whisk all ingredients together in a small mixing bowl until combined.
---
Notes
¹ Feel free to use your favorite vegetable(s) here in place of asparagus, sautéing or roasting them until cooked.
² To shred your Brussels sprouts, either thinly-slice them with a knife by hand.  Or — my favorite — let the disc slicer on a food processor do all of the work for you.
³ To yield about 1.5 cups quinoa, you will need about 1/2 cup uncooked quinoa and 1 cup chicken (or vegetable) stock.  Here is my tutorial for how to cook quinoa.