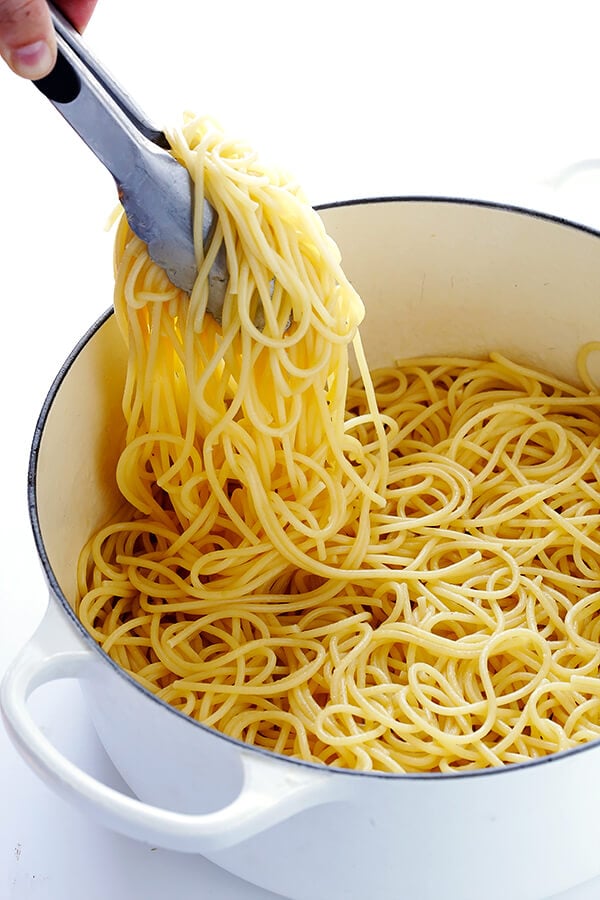 Hey guys! Thought I'd take the day off from sharing a recipe to instead share a Very Important Tip for all of you pasta lovers out there. This topic happens to be a little culinary soap box of mine, and one that I realize we've never directly discussed here on the blog.
I'm talking about how to properly salt your pasta water!
For years, I've heard people make comments about how pasta dishes they order in Italian restaurants (or even in Italy!) always seems to be so much more flavorful than the stuff they make at home. And my first question to them is always — "Do you generously salt your pasta water?!" More often than not, turns out that they don't. They either skip the step entirely. Or if they do add salt, it's usually only a small pinch or two, because they're not sure how much to add, and they worry about over-salting the pasta or ingesting all of that sodium.
Here's the deal:
You've gotta salt your pasta water, and you've gotta salt it generously.
Those precious moments while the pasta is boiling in the water are really the only time during the cooking process that you have the chance to season the actual pasta itself. (No one wants chunky salt on their pasta after it has been cooked!)  And in order for it to be seasoned well, you need to make sure that your pasta water has a high enough salt ratio to actually make a difference with the relatively small volume of pasta that's being cooked in it. Don't worry, the pasta only technically soaks up a tiny fraction of a teaspoon per serving. But having properly salted pasta water will make a big difference with the flavor.
So how much salt should you use? When do you add it in? How much water should you use? How much pasta?
Here are my recommendations…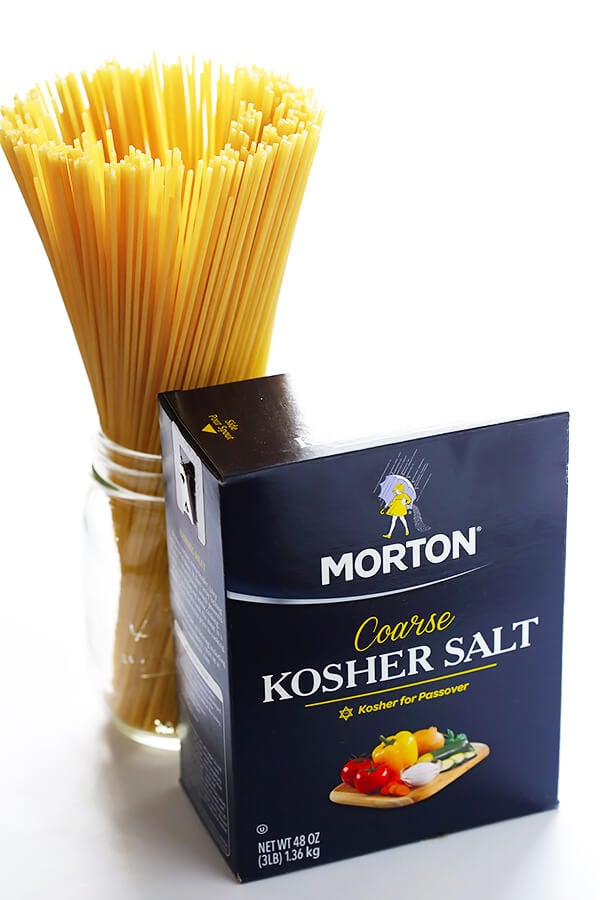 Well first, I should probably make the disclaimer that everyone will probably have a different opinion on this. And I highly recommend doing your own experimenting to find your perfect ratio. But to provide a starting point, I'll share with you the basic formula that I've always used. It's easy to remember — 1:1:4.
1 pound of pasta : 1 tablespoon salt : 4 quarts (16 cups) water
To break that down…
1 pound of pasta: Any shape of uncooked, dry pasta will work here. It can be traditional semolina pasta, whole wheat pasta, gluten-free pasta, you name it. 1 pound.
1 tablespoon salt: Actually, this one can very slightly depending on your type of salt. If you're using table salt or sea salt, I recommend 1 tablespoon. But if you're using Kosher salt (which I prefer), I recommend 1 "heaping" tablespoon (about 1.5 tablespoons). Or, if you happen to like really salty pasta like me, experiment with adding another half to full tablespoon and see what tastes good.
4 quarts (16 cups) water: This is how much water you need to fill approximately half of a traditional large stock pot, and how much water I recommend using to cook 1 pound of pasta. You can arguably use more or less, but this is my norm.
To cook the pasta, bring the water to a rolling bowl. Stir in the salt. Then cook the pasta al dente according to the package directions, then drain and serve.
So if you're new to salting your pasta water, I highly recommend giving it a try!
Happy pasta making!
Print

How To Properly Salt Your Pasta Water

Prep Time: 5 minutes


Cook Time: 10 minutes


Total Time: 15 minutes


Yield: 4 servings 1x
---
Description
Learn how to properly salt your pasta water with this 1:1:4 formula. It will definitely kick the flavor of your pasta up a delicious notch!
---
4 quarts

(

16 cups

) water

1 tablespoon

regular table salt (

or

 1.5 tablespoons Kosher salt)

1

pound (uncooked) dry pasta
---
Instructions
In a large stockpot, bring the water to a rolling boil over medium-high heat.  Stir in the salt.

Add the pasta and cook it according to the package directions, stirring occasionally and reducing the heat a bit if it starts to boil over, until the pasta is al dente.

Drain off the excess water.

Serve immediately, using your favorite pasta recipe.
---
Notes
*If you like a saltier pasta, feel free to up the salt quantity by 1/2 tablespoon per batch until you find the amount that tastes good to you.