This post is sponsored by BotaBox Wines.
I've been thinking a lot lately about adventure.
About what it looks like to take the time to incorporate little moments of adventure and imagination and spontaneity into the routine normal moments of everyday life. About what it looks like to dream up, and make time for, and plan for (and save up for!) those bigger bucket-list adventures that give us a fun escape from everyday life. About how so many of my favorite memories seem to happen when I'm open-minded to new adventures and leaving some wiggle room in my world for new people, and new experiences, new restaurants, new philosophies, new music, new trips, new authors, new workouts — heck, even new routes to take the dog on a walk! — in everyday life.
On the flip side, I've also been thinking a lot lately about how ridiculously easy it is to fall into a life that's unadventurous.
About how easy it is to just go on auto-pilot through the motions of everyday life, without leaving any room for change or appreciating the beauty and inherent adventure that can be found in the mundane. About how easy it is to get lazy and procrastinate when it comes to planning some of the bigger adventures and travels I want to take. About how easy it is to let some of the best things in my life turn into ruts and routines that aren't necessarily as life-giving as when they began. Too easy, right?!?
Welp, maybe I'm inching my way into a 1/3-life crisis here at age 32, but for some reason I'm feeling the good kind of restless and ready for a little more adventure in my life lately. So I'm keeping my eyes wide open for any opportunities that seem fun! Thus, when I was contacted recently by BotaBox — the maker of my favorite eco-friendly boxed wine (that's actually good boxed wine, guys!) — to see if I'd be interested in coming out for a retreat in California, I said "yes" in a heartbeat. Big Sur has been a place on my bucket list for years, and the itinerary full of eco-adventuring all around the area with some great people, great food, and (yes) lots of great wine sounded like a dream. Turns out, it was even more magical than I could have guessed.
Oh, and bonus? I completely fell in love with grilled pizza while I was there, which I couldn't wait to get home and teach my friends (and you!) how to make. But before we get to it, I thought I'd share a few stories from the adventures in Big Sur…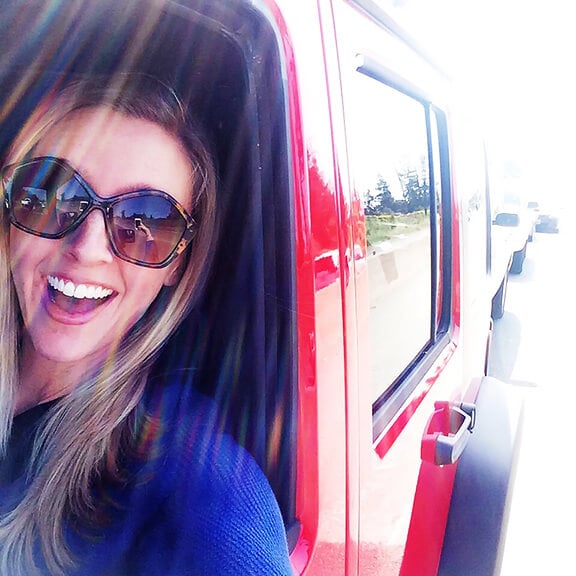 Ok ok, I know that there are way too many car selfies online. But this moment had to be documented because I had my very own Jeep for the trip! Which I got to drive myself — taking my own sweet time with the windows down and sunlight streaming in — all the way down scenic Highway 1 all the way to Big Sur.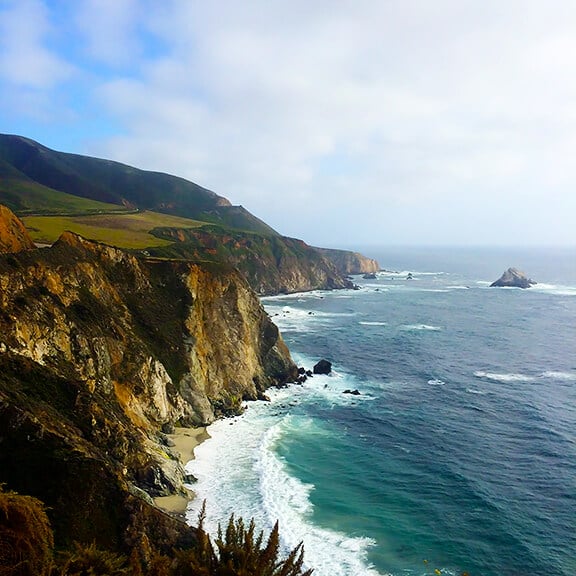 I had heard people talk for years about this beautiful drive, and I'm happy to say that it did not disappoint. It was absolutely breathtaking.
Once we started nearing the cliffs near Big Sur, I seriously felt like we had jumped across the ocean to Ireland. Literally every bend in the windy road introduced a new panorama of dramatic cliffs, topped with lush vibrant green hills, with roaring turquoise waves crashing beneath. I couldn't believe that a place like this existed in my very own country!
And clearly I wasn't the only one.
I was quick to pull off the side of the road when I came upon a scenic outlook, and pulled my camera out to snap some photos along with the handful of other cars that had stopped to do the same. But as I started driving, I realized that there were scenic outlooks literally every hundred feet or so. One…after another…after another…after another. And all of them were completely parked up with cars and people, who were holding up cameras and posing for photos and just standing there staring out, completely lost in the moment.
I think that I might have enjoyed watching so many humans just standing there awestruck even more than I enjoyed the view. So cool to see people blown away by the beauty of this world.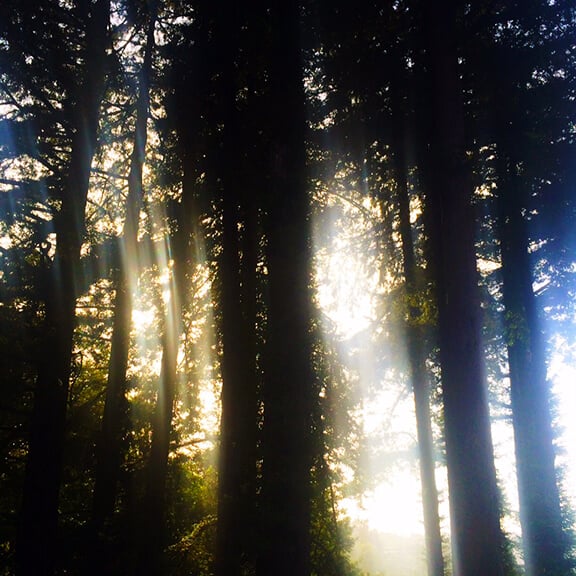 Anyway, once I made it to Big Sur, I nestled into my home for the next few days — The Ventana Inn & Spa — where this was the view from my hotel room. I could hardly believe it. The resort is hidden away in this towering forest with all sorts of absolutely beautiful gardens, and spas, and pools, and gardens, and hiking trails galore. But after a lovely dinner on the patio with some new blogging friends, all I wanted to do was come home and sit in the hammock on my deck and get lost in this view. And so I did. 🙂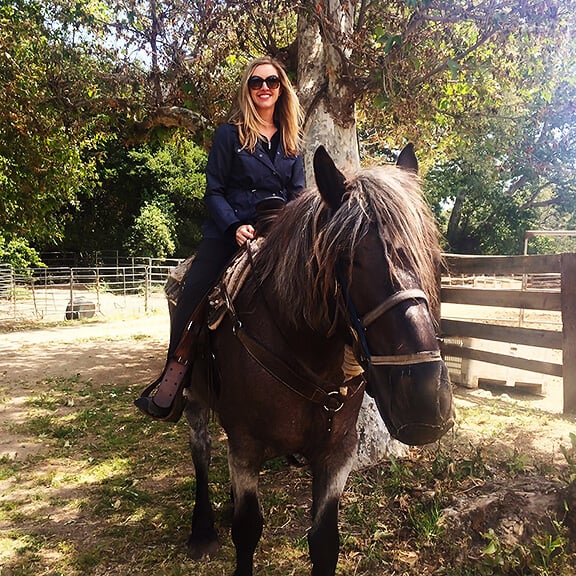 The next morning, we all enjoyed a lovely breakfast in the sunshine. Then loaded up the Jeeps with our Go-Pros, snacks, sunblock, and mini Bota Boxes, and hit the road for a day of adventure.
First up? A morning spent adventuring around with this pretty girl. Don't be fooled by her frown — she had quite the good time splashing through creeks and up grassy hills and down along the beach. And would you look at that hair?!?  She has the "beachy" tossled look down pat. 😉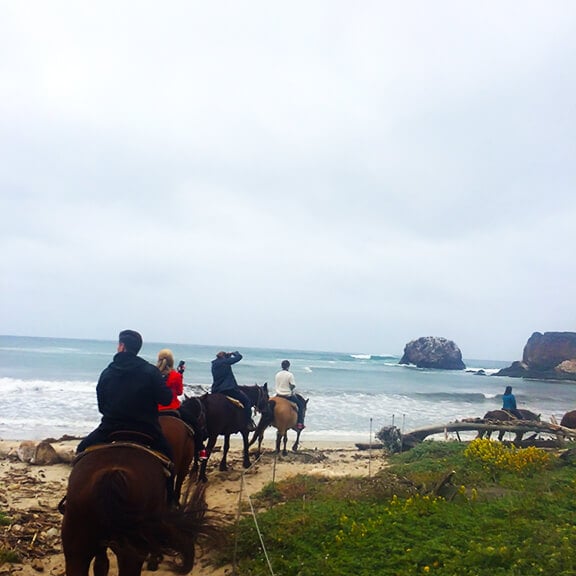 I'll admit, I probably would have never chosen to spend half the day on horseback initially (I usually prefer to just admire horses from afar), but it was one of those moments where I'm so glad they pushed me out of my comfort zone. It turned out to be such a beautiful experience…and super relaxing. I forget sometimes how quickly a move through life — like, literally, I'm the fastest walker ever! — so it was nice to have someone else set the pace for a morning and literally just enjoy the ride.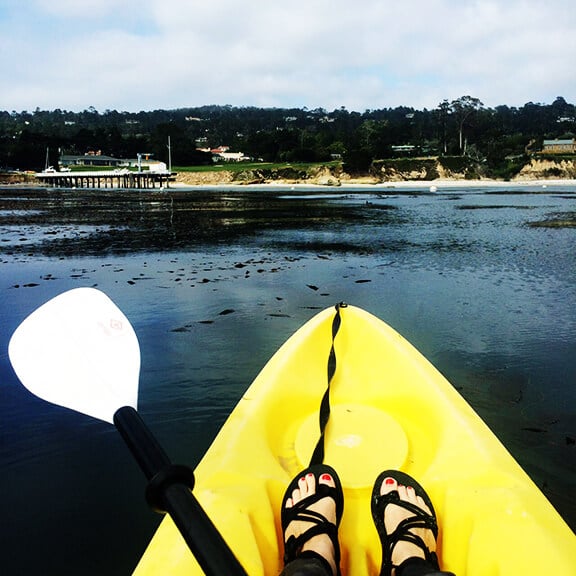 Our next ride was also a personal bucket list item of mine — solo kayaking!!
I've paddle-boarded, I've canoed, I've white-water-rafted, I've boated, and I've kayaked with a partner before. But somehow in my 32 years, I had never actually kayaked on my own. Let's just say I'm already planning a little adventure to go back out on the water in Kansas City this month — I loved it.
Our friends from BotaBox took us out to Pebble Beach, where we all tapped into our inner Life Aquatic and suited up to go out on the water in style. Then we hopped in our kayaks and spent a leisurely few hours paddling around the area, ooohing and ahhing over everything from the sea otters to seals to sea lions to seagulls and to everything else lovely about the "sea".
Toto, we definitely weren't in Kansas anymore.
It was such a beautiful afternoon, and reminded me how I need to spend so much more time on the water. Good. For. The. Soul.
After a long day of adventuring came my favorite part of the experience — getting to gather with new friends around the table and talk allllll about it. 🙂
In my book, nothing beats getting able to sit around huge tables with lots of friends, enjoying delicious homemade food, with wine glasses constantly refilling, sharing about our lives. And I must say, this dinner was definitely one to remember. I think there was an audible gasp when we all drove into the heart of the forest, and then walked through the trees into this clearing where beautiful long tables were waiting, topped with flickering candles and fresh greens galore. It was our very own little enchanted forest!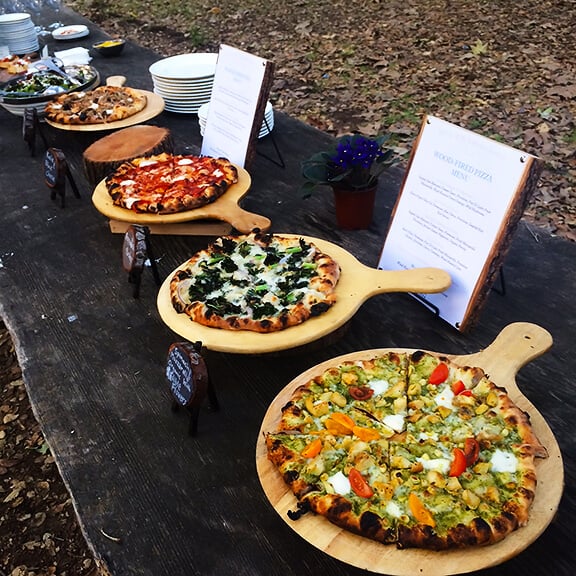 Make that…an enchanted forest with PIZZA.
(As I now firmly believe all enchanted forests should have.)  🙂
And of course, this was not just any pizza. A group arrived with a portable pizza oven and made homemade grilled artisan pizzas for all of us to enjoy, fresh out of the oven. This food blogger was in high heaven.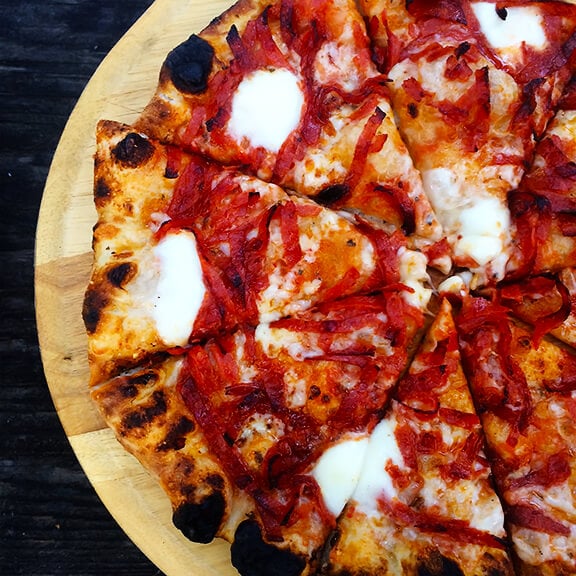 First off, can we just talk about the way they made pepperoni pizza for a second?! Instead of the traditional little pepperoni circles, they cut them up into a zillion little skinny strips and then tossed them like confetti all over the pizza. So you literally get pepperoni in every bite.  Um, brilliant.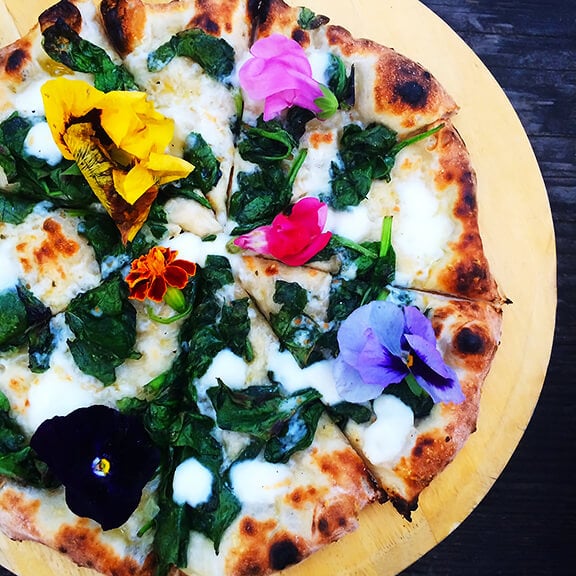 Another favorite? The fresh wildflower pizza, made with the loveliest edible flowers and just as delicious as it looks. The perfect pizza to enjoy outside in an enchanted forest, eh?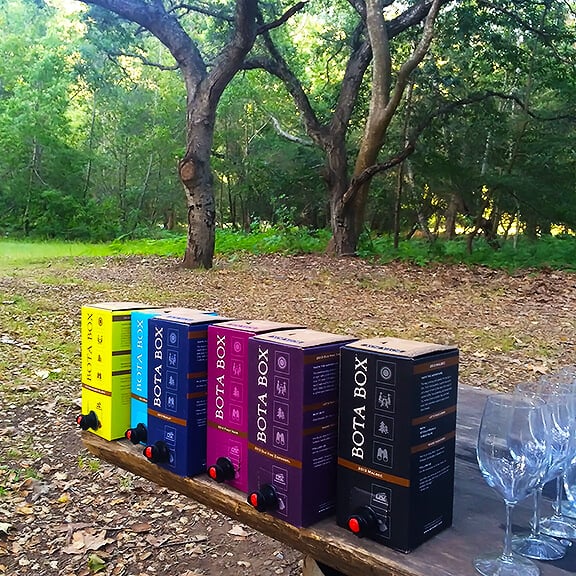 And of course, the other absolute highlight of our meal was the endless supply of BotaBox wines.
The entire reason I wanted to go on this trip was because I absolutely love Bota, and the heart that the brand has for adventure and eco-friendliness and community, and making good wine affordable so that everyone can enjoy it. And this dinner seemed to be the perfect example of all that. After a long day of exploring Big Sur, all everyone wanted to do was sit down and relax and soak in the scenery and tell stories and fill (and refill!) their glasses with good wine…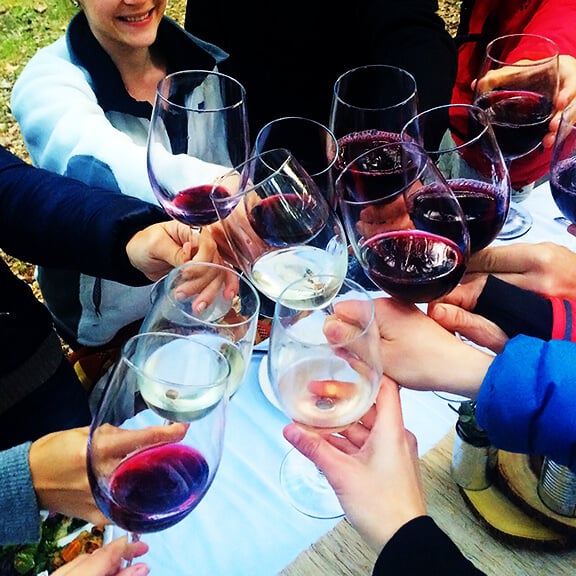 …and raise a toast to it all. 🙂
Because I'm pretty convinced in life that the best adventures are those that are shared with those you love. And I was so thankful to be surrounded by such great new and old friends for this experience. So many great memories made. And it left me with a hunger to bring even more of that sense of adventure back into my own everyday life.
Annnnnnd…bring some of the grilled pizza and wine night fun back to my everyday life!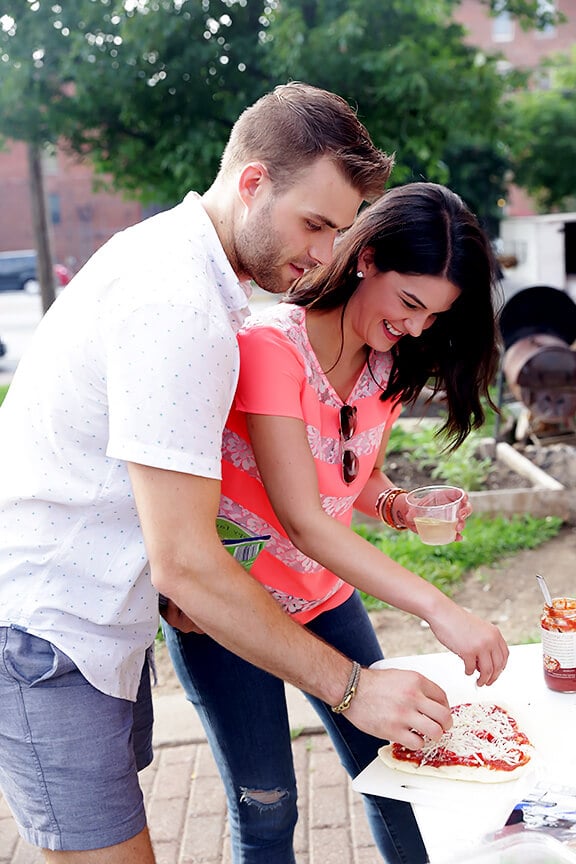 So upon arriving back in Kansas City, I decided to enlist my neighbors to do some grilled pizza adventuring together of our own.
Granted, we don't have a fancy pizza oven nestled deep in an enchanted forest back home in KC. But hey, we have a fantastic old grill and falling-apart picnic table out back which are near and dear to our little hearts. 🙂  So we fired up the ol' grill, and as the resident food blogger in the group, I pulled together a big buffet of pizza crusts and toppings galore to make our own little creations.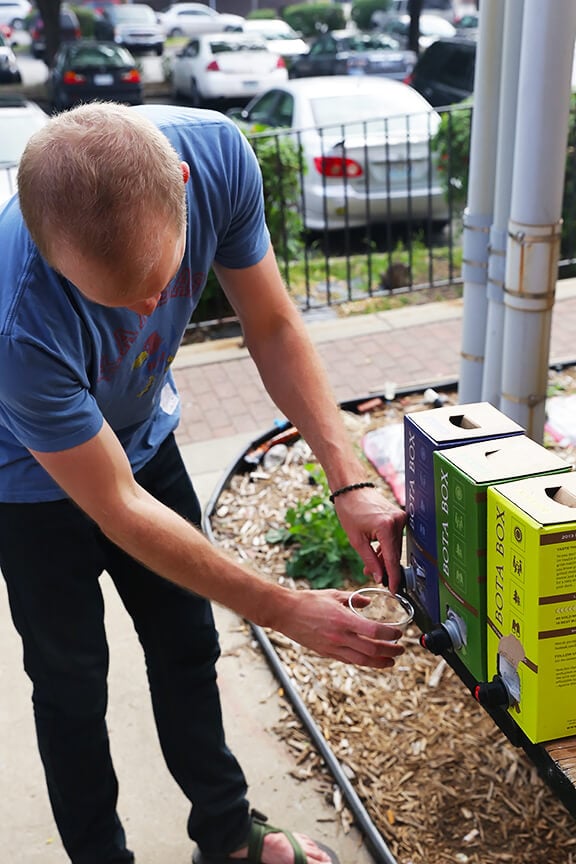 And of course, we also brought along lots and lots of BotaBox-es, which made the evening all the more delightful and delicious.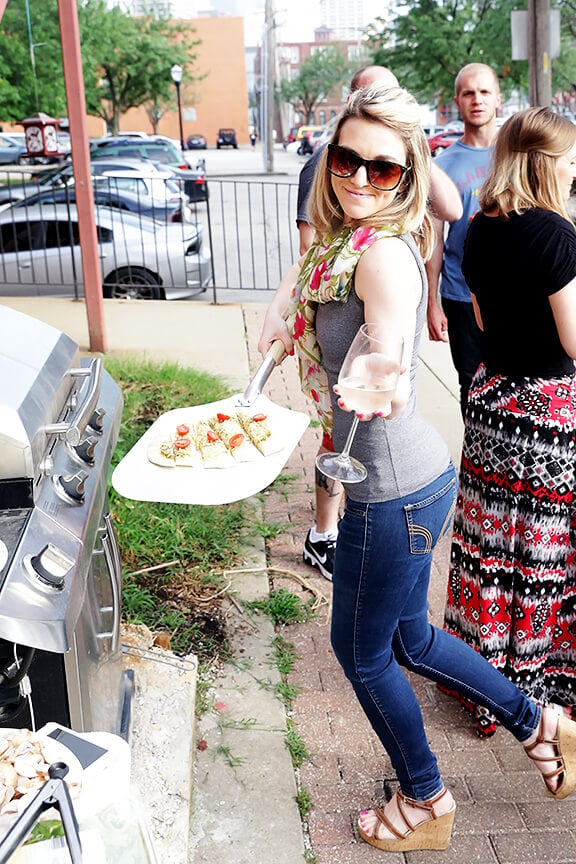 And oh my goodness, the night was SO MUCH FUN.
I love hosting parties with any kind of "bar" — a make-your-own taco bar, bellini bar, pasta bar, nachos bar, panini bar, you name it. But there was something about doing a grilled pizza bar outside that was extra fun. First off, the pace of grilling is a bit slower, so there's all sorts of anticipation that builds while people are waiting for their pizzas to finish. (Also an important time for that Bota!!)  And then once they came off the grill, I swear that all of us 20- and 30-somethings suddenly reverted to little kindergarteners wanting to show off our finger paintings. Everyone was so proud of their creations!!! I kept a pizza slicer on hand so that we could cut all of the pizzas up into small pieces to share — which some friends hilariously tried to hide and hoard their pizzas instead of share, so I guess some things never change — but it was all so much fun. And by the end of the night, I don't know if I've ever been so full. 🙂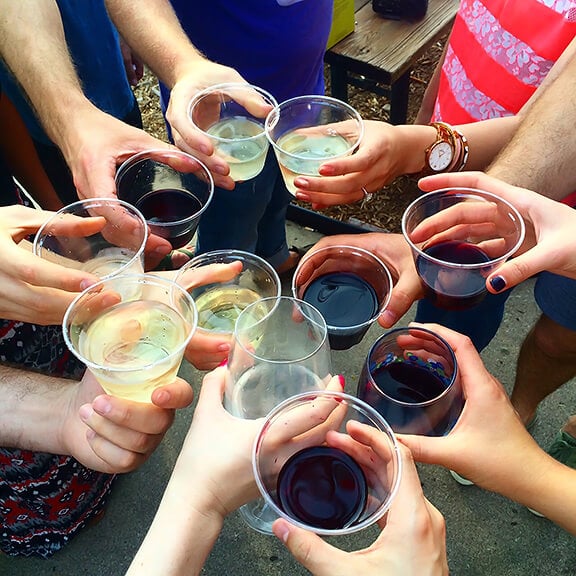 As is our neighborhood tradition, we also all raised a glass to the night, and to planning more little adventures in life together. And I already can't wait.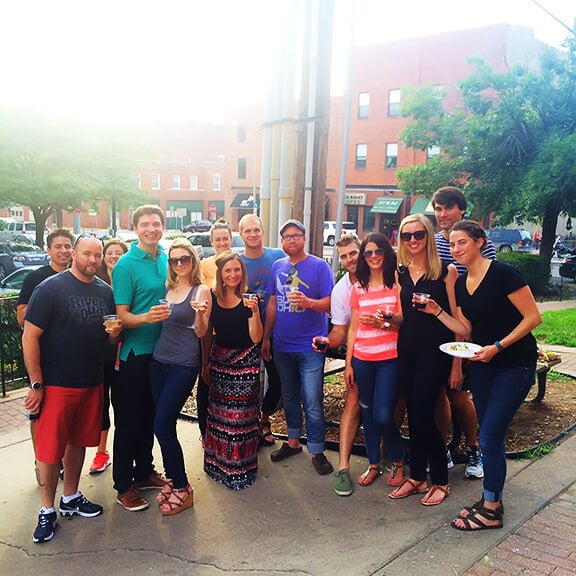 Cheers to this crew!!!
Alright, well for those of you who might be interested in trying a little grilled pizza and wine night of your own, I have learned some important tips and tricks about the art of grilling pizza that I thought I'd share with you today…
10 Tips For Making Grilled Pizzas:
1. Thoroughly prep your ingredients ahead of time. The actual grilling stage of things moves very quickly. So it's important to have all of your ingredients lined up and ready to go beforehand. Have your dough rolled out and stacked in a pile, with a sheet of parchment between each round of dough. (You can cover and keep those in the refrigerator for up to an hour beforehand.)  Have your sauces ready to go with a spoon for dipping and a brush for spreading. Have your ingredients chopped (if needed) and lined up for easy accessibility. And be sure to also have a bowl of olive oil and a brush ready to keep the grill grates oiled.
2. Have the necessary kitchen tools on hand. I highly recommend investing in a pizza peel, simply because it's the easiest way to transfer large rounds of dough on and off the grill, but it's totally not required. What you will need are a set of tongs (or something to help pull the pizza on and off the grill), a brush for oiling the grill, extra brushes or spoons for spreading sauce or oil on the pizza, and a pizza slicer.
3. Have multiple prep surfaces available for grilling and serving. You will (obviously) need a surface to lay out your pre-rolled-out dough. Then once they are partially-grilled, you will need another surface for adding sauce and toppings to the pizzas, then a surface for slicing the pizzas once they are fully cooked. If you are cooking lots of pizzas at once, keep in mind that you will need lots of surfaces space.
4. Set your grill to a high heat setting.  Every grill is different, so be prepared to adjust your settings to the temperature that works best for cooking your pizza. But in general, pizzas cook best at high heat. Always keep a close eye on the bottom of your pizza, though, to be sure that it doesn't burn.
5. Keep your grill well-oiled. Don't skip this step! Otherwise your grill might decide it doesn't want to let go of your delicious pizza.
6. Keep your work surface covered with flour or cornmeal so that the pizza dough doesn't stick. I'm not a big fan of cornmeal, so I prefer to just keep my surfaces well-floured. (This is especially important after you have pre-cooked the first side of the dough and then flip it over onto the work surface. After you load it up with toppings, you don't want it to stick!)
7. Partially-grill your dough first (or use dough that has been pre-cooked). This will help evenly and fully cook the pizza dough, and also give you a firmer surface for adding your pizza toppings. To partially-grill the dough, place it on the oiled grill and cover and cook for 1-2 minutes, or until the dough is lightly golden with grill marks on the bottom. Then immediately remove the dough, flip it over onto your floured or cornmeal-covered work surface (so that the grill marks are facing up), and then add on your sauce and toppings.
8. Don't layer on too many toppings.  Well, you can add on however many toppings you'd like, but keep in mind that the dough will finish cooking quickly during the second round of grilling. And the more toppings you include, the harder it is for them to heat up and cook in time. So keep the toppings fairly shallow, and feel free to garnish with extra fresh ingredients afterwards like greens, extra cheeses, or any other pre-cooked ingredients.
9. If you're having a make-your-own-pizza party, cut your pizzas into smaller slices so that people can sample more ingredient combinations. Our friends all wanted to try one another's creations, so we decided it was way more fun to cut our pizzas into small slices for sampling. This also makes for constantly fresh pizza that people can enjoy fresh off the grill!
10. Be creative and have fun with it! This is a perfect meal to experiment with new ingredients and different topping combinations. Always wanted to try egg on a pizza? Go for it! Curious about slicing up some pepperoni as I mentioned above? Highly recommended. Want to turn those leftover brussels into a delicious topping? Toss those puppies in a bit of olive oil and pop them on and you'll be glad you did. Just have fun experimenting and taste-testing your creations.
Print

How To Make Grilled Pizzas

Prep Time: 16 minutes


Cook Time: 4 minutes


Total Time: 20 minutes


Yield: 0 Varies
---
Description
Learn how to make delicious grilled pizzas with this easy tutorial and recipe.
---
olive oil

pizza dough*, rolled out to your desired size and thickness (I recommend 1/2-inch thick), then sprinkled on both sides with flour or cornmeal

sauce (a classic tomato pizza sauce, or pesto, or simply olive oil, etc.)

toppings** (cheeses, vegetables, proteins, you name it — just be sure that they are bite-sized and thinly-sliced, if needed)
---
Instructions
Prepare all of your ingredients and toppings in advance.

Heat the grill to high heat.  Brush the grates with olive oil, keeping extra olive oil on hand so that you can keep brushing the grates between each pizza.

Carefully slide the rolled-out pizza crust onto the hot grill.  Cover the grill and cook for 1-2 minutes, or until the underside of the dough is cooked and lightly golden and the grill marks can be seen.  Use a pizza peel or tongs to pull the pizza dough off the grill, then flip it over onto a flour- or cornmeal-sprinkled surface, so that the grill marks are on top.

Spread your desired sauce (or olive oil) on top of the dough.  Then sprinkle on your desired toppings, being careful not to layer them on too thick.

Slide the pizza back onto the grill ,cover it, and cook the pizza for an additional 1-2 minutes, or until the underside of the dough is cooked and lightly golden and the grill marks can be seen and the toppings on top are cooked and/or the cheese melted as desired.  Remove the pizza from the grill, slice it, and serve immediately.
---
Notes
*I prefer to use my favorite Whole Wheat Pizza Dough recipe.  But I also love Jenna's recipe for classic pizza dough made with all-purpose flour.  Or you can even buy unbaked pizza dough balls at most pizzerias.  OR, use store-bought pizza dough or pita bread or naan.  (If the store-bought ingredients that you buy are already completely pre-cooked, then skip the pre-grilling step and just top them with sauce and ingredients and grill them for 1-2 minutes, or until the underside of the dough is cooked and lightly golden and the grill marks can be seen and the toppings on top are cooked and/or the cheese melted as desired.)
I also prefer making smaller (8-10 inches in diameter) pizzas, but you can go with whatever size you'd like.
**Any classic pizza toppings will work with grilled pizzas!  Just keep in mind that some fresh toppings (i.e. greens like arugula) may not need to be cooked and can be added instead as a garnish after grilling.  If you need suggestions, here are some favorites:
Sauces: Alfredo Sauce, Olive oil, Pesto, Tomato Sauce, etc.
Cheese: Mozzarella (a classic — I recommend fresh!), blue cheese, cream cheese, feta, goat cheese, gorgonzola, Monterey Jack, provolone, ricotta, etc.
Protein: Bacon, Canadian Bacon, Hamburger, Meatballs, Pepperoni, Salami, Sausage (Italian, chicken, vegan, etc.), Shrimp, etc.
Toppings: Almonds (Slivered), Artichoke Hearts, Basil, Black Olives, Broccoli, Green Olives, Green Pepper, Jalapeno, Mushrooms, Pepperonicini, Pineapple, Red Onions, Roasted Garlic, Roasted Red Peppers, Spinach, Sun-Dried Tomatoes, Tomatoes, Yellow Onions, Yellow Squash, Zucchini, etc.
This is a sponsored post in partnership with BotaBox. I am collaborating with Bota to create some delicious recipes that are inspired by (and would be deliciously paired with) their boxed wine, and all opinions are my own as always. Thanks for continuing to support the brands who make this site possible.