This post is brought to you today by KitchenAid.
Oooooh la la! Grab your beret and your best French accent, because today we're taking a trip across the pond to master a bit of the art of French cooking. That's right.
We're learning how to make crepes!
(Or crêpes, if you want to use that fancy circumflex.)
I've been slightly obsessed with these famous thin French pancakes ever since moving near a local crêperie in downtown Kansas City, where a delicious list of creative and delicious crepes fill the menu. They of course serve all of the classic sweet crepes, filled all sorts of delicious fruits and citrus curds and flavored whipped creams and ice creams and, of course, classic Nutella.
But as someone who usually trends away from sweet breakfasts, I've actually fallen in love with the savory side of their menu. (Which I'll admit — up until this place opened up a few years ago, I had no idea really existed!)   From their smoked salmon crepes (with artichokes, caramelized onions, capers and cream cheese), to the roasted chicken crepes (with sun-dried tomatoes, sautéed mushrooms, spinach, mozz, pesto and marinara), to the pollo verde crepes (with Pepper Jack, verde aioli, and a red pepper sauce), to my all-time favorite simple bacon crepe (with brie, pesto and crème fraiche, YUM) — turns out that I love a good savory crepe!
Of course, after visiting the creperie for the dozenth time, I figured it was probably time (and time for my budget) to tap into my inner Julia Child and learn how to make crepes at home. I'm happy to report — it is très simple. So easy!!! All you need are a few basic ingredients, a blender, a saute pan, and your favorite fillings, and this classic crepe recipe will be yours to enjoy in no time. Let's make some!
I must admit, I've been making more crepes than ever lately, ever since this beautiful new blender arrived in my kitchen this month. I had heard awhile back that KitchenAid was coming out with a new high-powered magnetic drive "Torrent" blender that was rumored to be life-changing. And being that I always love having my life changed, I was pretty excited when they approached me and asked if I would like to give it a try.
Let's just say…I am a total fan.
It's insanely powerful (1.8 peak horsepower, for those who geek out on numbers), it comes with some handy Adapti-Blend preset modes for easy blending, it will automatically optimize blade speed to crush ice cubes and puree fruits and blend extra-thick milkshakes and more, it has a cool feed slot on top where you can easily add ingredients while blending, it's designed with a brilliant magnetic lock system to keep the pitcher in place, and — very important to me — the pitcher and feed slot are dishwasher-friendly.
Oh, and it's super sleek and looks fab sitting next to my beloved KitchenAid mixer. Fits right at home!
As it turns out, it also mixes up some mean crepes. 🙂
To make this crepe recipe, simply add your base ingredients — melted butter, flour, honey, salt, milk, eggs and vanilla extract to the blender. Then pulse to combine until the mixture is smooth. Chill it in the refrigerator for at least an hour, or up to 36 hours.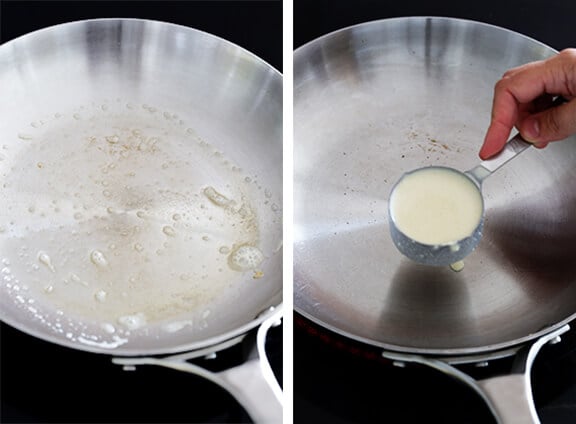 Once you're ready to cook the crepes, melt a little butter in a round skillet, and pour 1/4 cup of the batter in the pan. Immediately tilt and swirl the pan so that the batter spreads out into a nice big circle. Then cook for about 1 minute, or until the edges of the crepe ever-so-slightly begin to brown and lift up.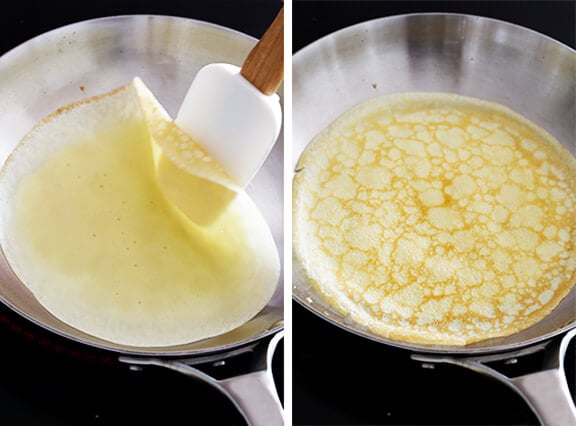 Use a thin spatula (or a rubber spatula) to loosen the edges, and then flip the crepe over to the other side. Cook for another minute or so…
…and then voila! Your crepes are ready to go!
Feel free to fill them with whatever sounds good — sweet fillings, savory fillings, you name it. There's no wrong answer when it comes to how to fill a crepe. 🙂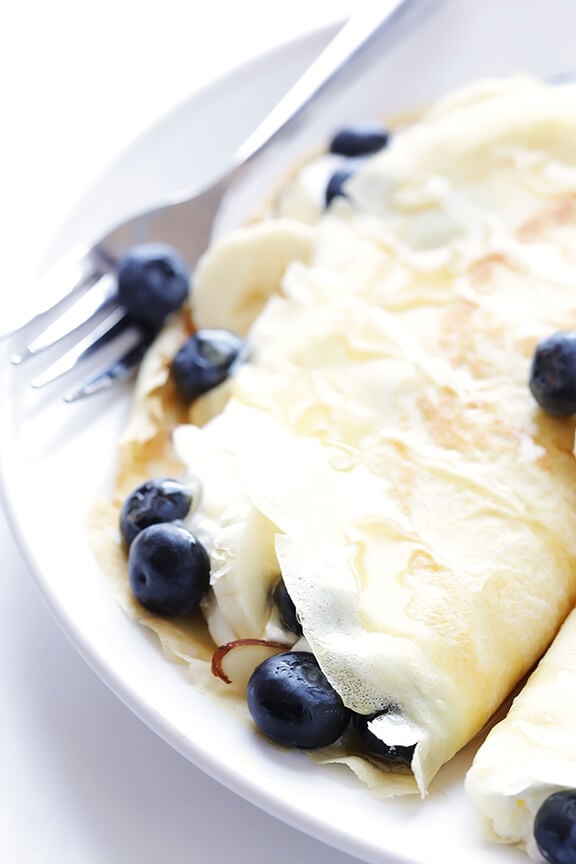 And bonus? They're wonderfully light and also full of protein from the milk and eggs. Definitely perfect for breakfast, lunch, a light snack, or anytime you're feeling like tapping into your inner Parisian. 🙂
So grab your blender, and give them a try soon!
Print
How To Make Crepes (A Step-By-Step Tutorial)

Prep Time: 5 minutes


Cook Time: 10 minutes


Total Time: 15 minutes


Yield: 8 –10 crepes 1x
---
Description
Learn how to make crepes with this step-by-step tutorial and classic crepe recipe!
---
2 Tablespoons

 melted butter, lukewarm, plus more for the the saute pan

1 cup

all-purpose flour or white whole wheat flour

1 teaspoon

honey, slightly warmed

1/8 teaspoon

salt

1 1/4 cups

milk (I used whole milk)

2

large eggs

1 teaspoon

vanilla extract, store-bought or homemade (optional)
---
Instructions
Add all ingredients to a blender and pulse for 5 seconds.  Use a rubber spatula to scrape down the sides of the blender, then pulse for another 5-10 seconds or until the mixture is smooth and combined.  Cover and refrigerate for 1 hour, or up to 36 hours.

Once you're ready to cook the crepes, melt 1/4 tablespoon butter in an 8- to 10-inch round saute pan over medium heat.  Pour 1/4 cup of the chilled crepe batter into the center of the saute pan, then immediately tilt and swirl the pan so that the batter forms a large circle.  Let the batter cook for about 1 minute, or until the edges of the batter begin to slightly brown.  Then carefully slip a thin spatula (or rubber spatula) underneath the crepe, and flip it to the other side.  Cook for another 45-60 seconds, then transfer the crepe to a separate plate and set aside.

Repeat with the remaining batter, adding extra butter to the pan occasionally when needed so that the crepes do not stick.

Serve crepes immediately, filled and/or topped with your favorite ingredients.
---
This is a sponsored post in partnership with KitchenAid. They provided me a new Torrent blender to test out — which I immediately fell in love with — but all opinions are my own as always. Thanks for continuing to support the brands that help make this site possible!