Learn how to cut a mango with this quick 1-minute video tutorial. Plus, tips for how to select and store fresh mangos, and my favorite recipes to make with them.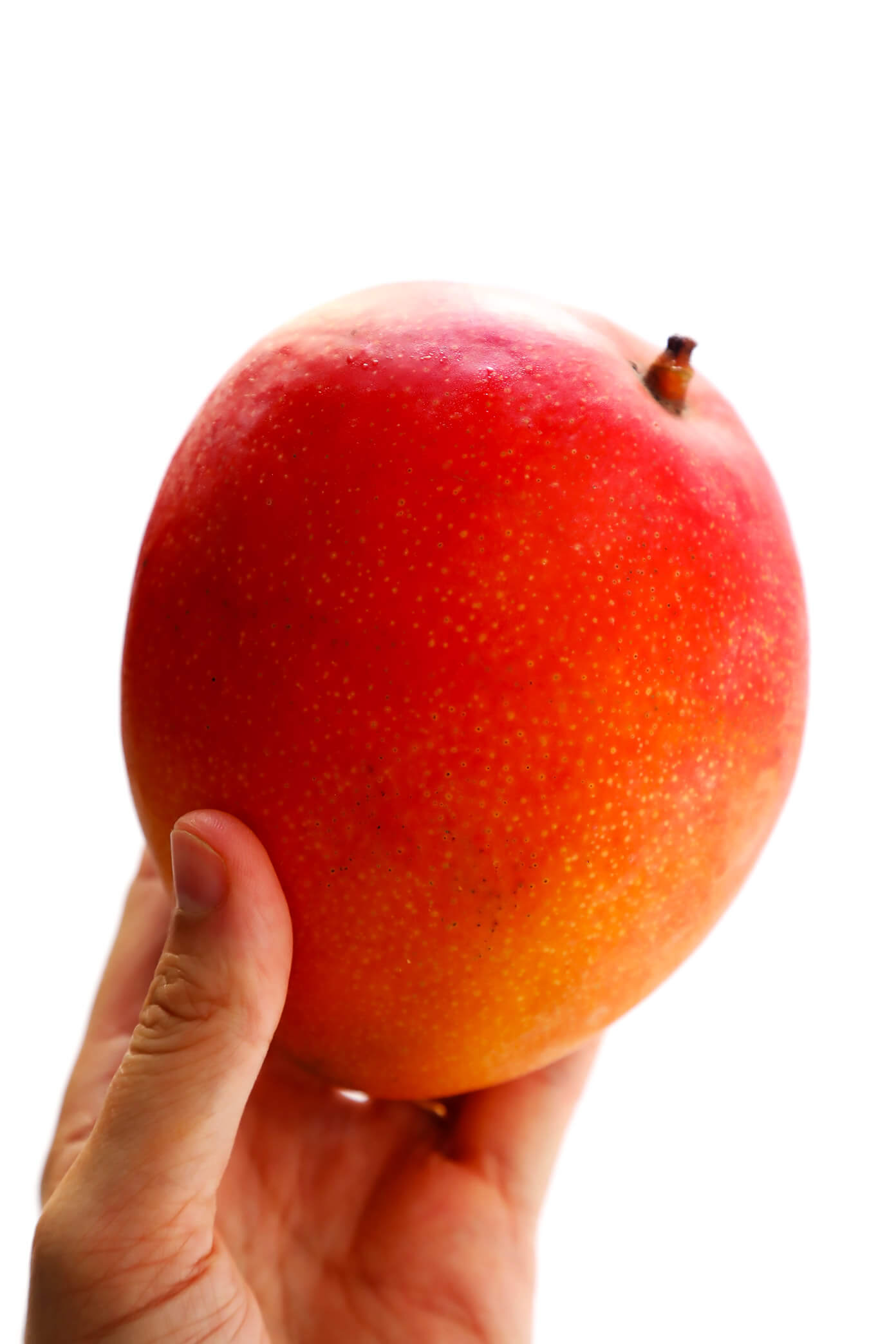 Hey friends! I'm back with a How-To Tuesday video tutorial today on one of the most delicious subjects I know — how to cut a mango.
Ever since I spent a summer back in high school living in the "City of Mangoes" in Alajuela, Costa Rica — where countless mango trees lined the streets and graced our tables each day for breakfast, lunch and dinner — mangoes sealed the deal as my all-time favorite fruit. And any chance I spy a ripe one at the market nowadays, you'd better believe it goes in my cart.
I love them in salsa, I love them in smoothies, I love them in curry, spring rolls, salads, cakes, parfaits, sorbets — you name it, I have yet to meet a mango dish I don't love. Still, my favorite way to enjoy a mango will forever be just plain — nice and ripe and juicy, freshly diced in a bowl with a fork, maybe with a sprinkle of Tajin on top if I'm feelin' it. In my book, there's nothing better. ♡
That said, figuring out how to dice these slippery little guys can be a bit treacherous if not done properly. (Speaking from experience, right here!)  So to save all of our precious fingers, here's a quick video for how to cut a mango safely. Plus, all of my best tips for how to store and select the perfect one.
How To Cut A Mango | 1-Minute Video
Here is a quick video of my favorite method for how to dice a mango. (Also, to slice a mango, just make thin slices instead of crosswise dice cuts.)  This method will work with any variety of mango.
How To Select A Mango:
Different variety of mangoes have different signs of ripeness. But in general, don't worry about the color of the mango. Instead, look for fresh mangoes at the market that:
have a strong, sweet mango smell (especially near the stem)

feel heavy for their size (nice and plump, not too flat)

are slightly soft and have a bit of a "give" when squeezed (about the same feel as a ripe avocado)

are in season (peak season runs from May through August, although different varieties have different harvest times, with many now available in the States yearround)

How To Store A Mango:
If your mango is not fully ripe yet, store it at room temperature. (And you can pop it in a paper bag, if you'd like, to speed up the ripening process.)  If the mango is ripe and ready to go, store it in the crisper drawer in your refrigerator, where it should keep for up to 3-5 days.
Once you have cut up your mango, you can refrigerate it in a sealed container for up to 3 days, or freeze for up to 3 months.
Favorite Mango Recipes:
5-Ingredient Mango Salsa

Mango Avocado Spring Rolls

Mango Chipotle Fish Tacos

Crunchy Asian Ramen Noodle Salad

5-Ingredient Tropical Smoothie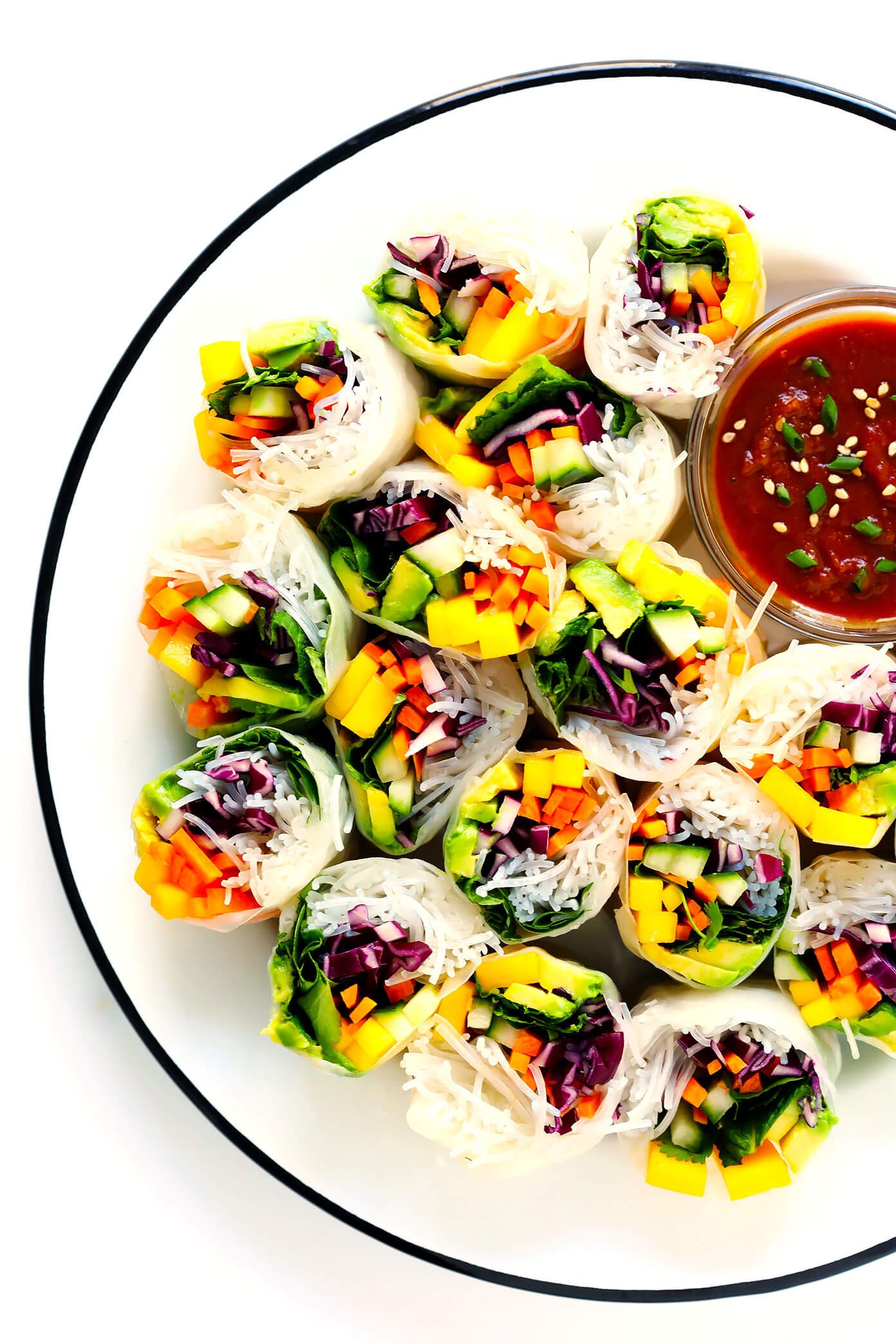 Print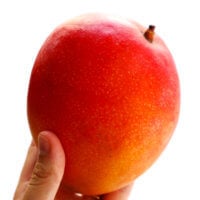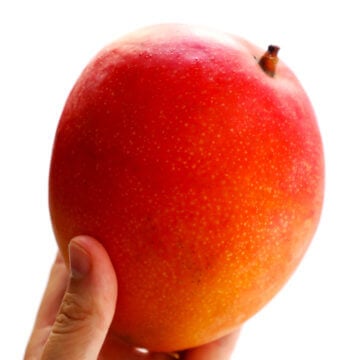 How To Cut A Mango

Prep Time: 3 minutes


Total Time: 3 minutes


Yield: 1 serving 1x
---
Description
See the video above for a visual guide to how to cut a mango.  Or feel free to follow the steps below.  🙂
---
---
Instructions
Place a mango on its side on a cutting board.  Find the flat side of the mango, and turn the mango to where that side is facing sideways.  Carefully make two long vertical slices in the mango, coming as close to the seed as possible without cutting into it.  Place the two oval sliced pieces of mango off to the side.

Now place the initial piece (with the seed) down flat on your cutting board.  Make two more long slices around the seed. Discard the seed.

Carefully slice the skin off of the two skinny long slices of mango, and discard it.  Then cut the mango into your desired slices or dices.  Set aside.

Now take one of the oval pieces of mango and place it peel-side-down on the cutting board.  Carefully use your knife to make even cuts in the mango flesh of your desired shape (slices or dices), making sure the cuts go deep enough to touch the skin yet not go through the skin.  Then press in the peel-side of the mango until it completely inverts, and use a knife to carefully slice off the flesh.  Discard the peel and repeat with the last remaining oval piece.

Serve and enjoy your mango immediately.  Or refrigerate in a sealed container for up to 3 days, or freeze for up to 3 months.
---