A step-by-step tutorial for how to roast a whole fish in the oven. Don't be intimidated — it's actually super easy, and crazy delicious.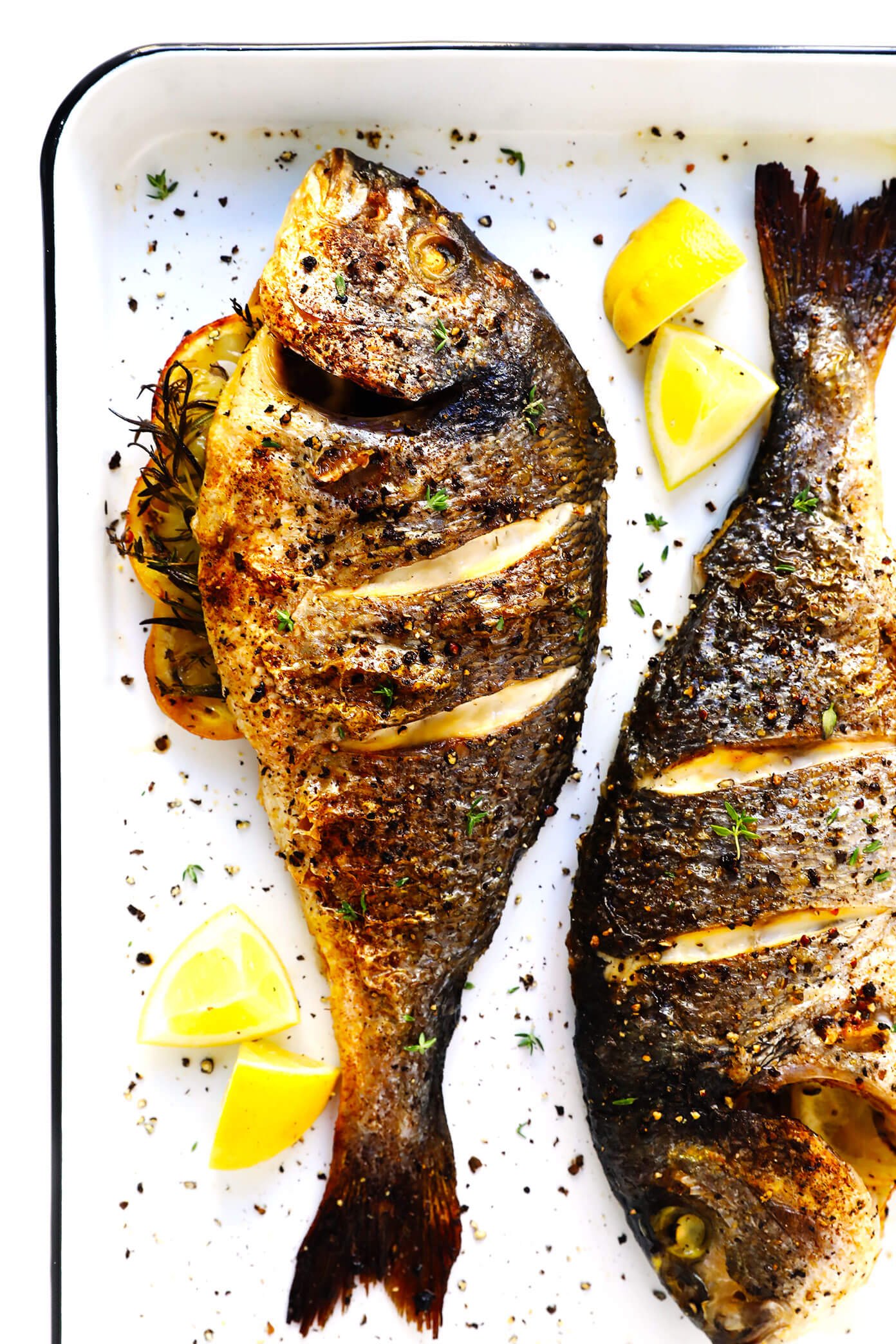 Friends, we're goin' all in today.
We're talking about how to cook a whole fish! ♡
I've been getting tons of requests from you guys for a step-by-step tutorial on this. Because since moving to Spain, many of you know that I've been on a quest to conquer my culinary bucket-list item of learning how to cook (and eat!) whole fish. As a fish lover, it's something that I have always wanted to learn, but was admittedly too intimidated to try for far too long. But a few months ago, after passing by the fresh fish stands at our neighborhood market for the hundredth time, I finally geared up my courage and walked up to one with a friendly fish lady and asked her to help a girl out. And now, months and months and dozens and dozens of fish later, "fish night" has officially become a tradition in our little casita here. And we are hooked.  (<– Hehe, fish joke!)
Because here's the thing — it's actually ridiculously easy to roast a whole fish in the oven!
Other bonuses? It's incredibly flavorful, thanks to just a few basic seasonings. You can also guarantee the freshness of the fish so much more accurately when purchasing it whole, versus taking a chance with a fresh or frozen filet. And perhaps most importantly, you can guarantee that your fish will be perfectly cooked with this method — amazingly juicy and flaky and tender on the inside, and deliciously crispy and seasoned on the outside. (Truly, this method has proved far more foolproof, in my experience, than cooking plain filets.)  It's a win-win all around. And while it feels so fun and new and novel to us as expats here, it's actually how most people cook their fish anyway here in Spain, ha.
So if you've ever wanted to try cooking your own whole fish, get to know the nice fish lady (or guy) at your favorite fresh fish counter, and bring home a pescado or two to try. Then I'll walk you step by step through the whole process. Don't be scared — I seriously think you are going to love it.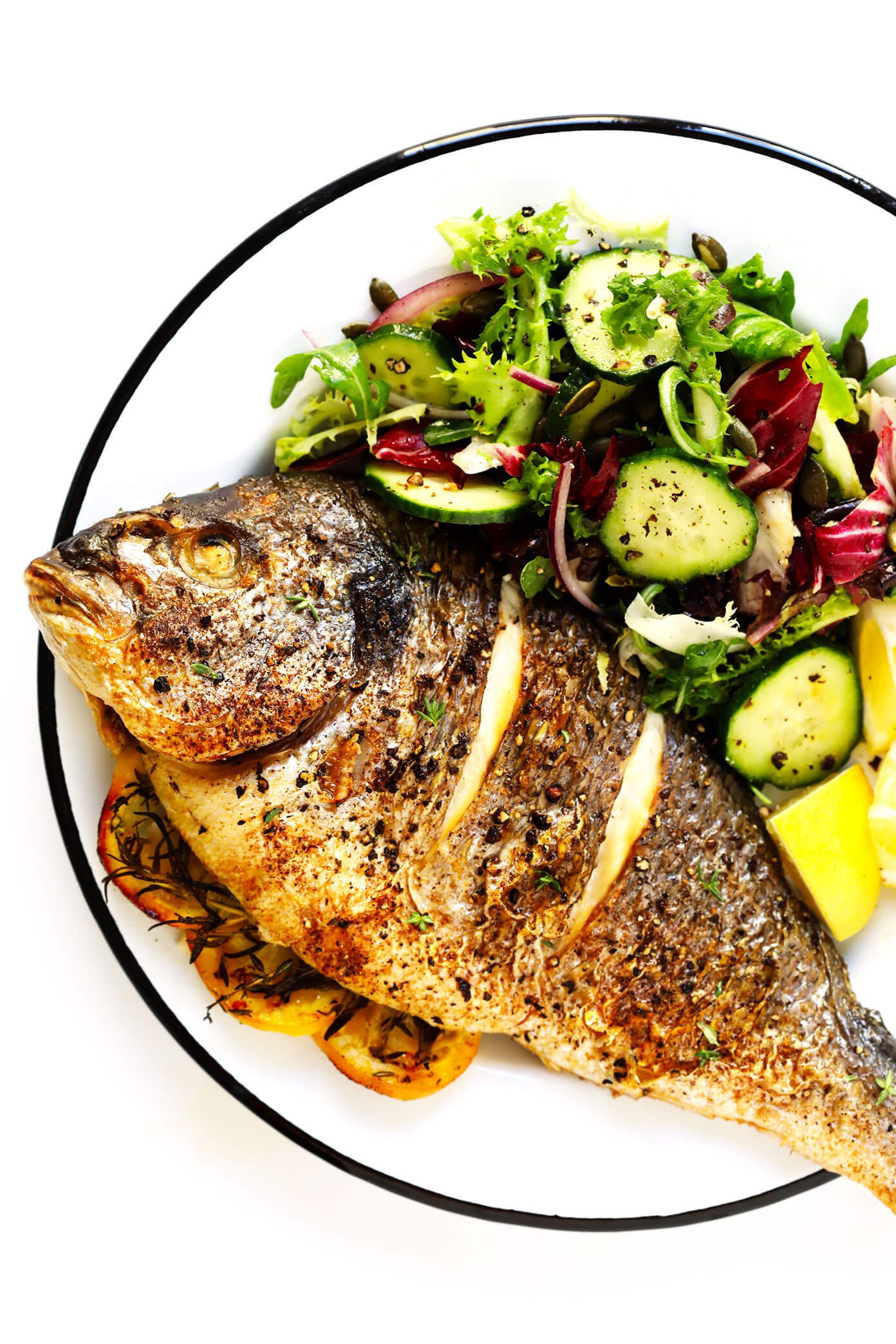 How To Buy Fresh Fish:
Alright, first things first. Let's talk about how to buy fresh fish — what to expect at the fish counter, what to look for, and what to say. (Because let's be honest — this was totally the step that intimidated me and kept me from trying this for so many years!)  Here's the drill:
Find the kind(s) of fish you have in mind.  If you're a beginner with cooking whole fish, I would recommend a white-fleshed fish, such as mahi mahi, sea bass, branzino or red snapper.

Look closely for signs of freshness.  Specifically, look for:

eyes

 that are clear (not cloudy) and plump (not deflated)

flesh

 that is firm and shiny (it should bounce back a bit when touched)

coloring

 that is fairly even (avoid fish that has browned around the edges)

gills

 that are bright pink/red and wet (not slimy or dry)

Give the fish a sniff.  It'll inevitably smell "fishy", but ideally it should still smell a bit fresh and more like the water from which it came, and not overly stinky.

Then make friends with the fish gal/guy!  Seriously, don't be shy. This person is here to help you, and also knows what's freshest that day. So explain what you are looking for, and ask for help in selecting the perfect fish for you.

Ask to have your fish prepared for roasting.  Because good news — this is totally not something you need to do yourself! Ask your new fish friend to please scale, gut, and rinse the fish. And also be sure to note that you are planning to cook your whole fish in the oven, and they will prepare it accordingly. (Note: different markets may or may not trim off the fins and make slits in the side of the fish for you. If they don't, you can either ask them to, or just do these steps at home. It's easy.)

Bring it on home! Then, your fish should be all ready to wrap up and bring home! Good job!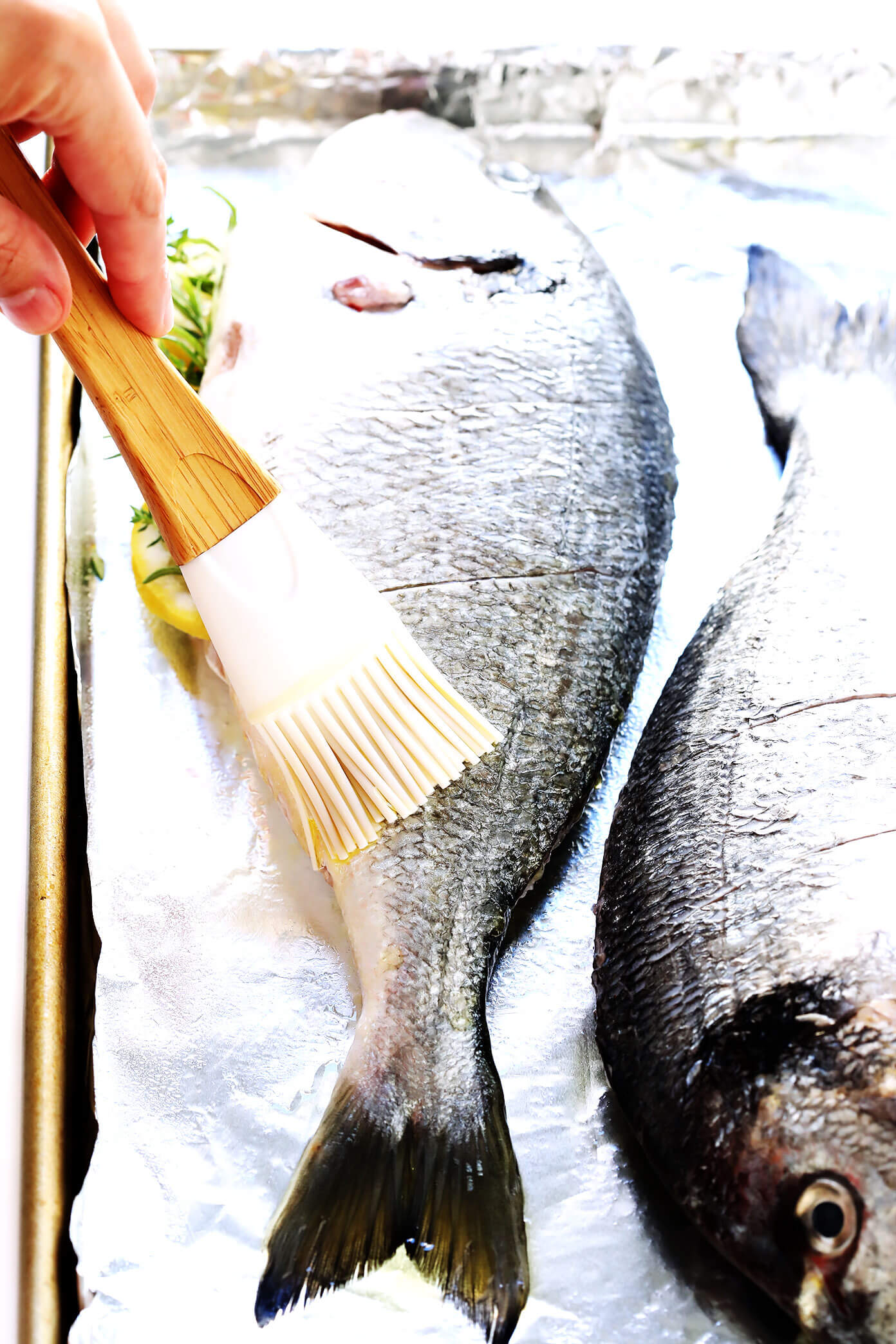 The Easiest Roasted Fish Ingredients:
There are infinite ways that you could prepare and season roasted whole fish. But my favorite way is super simple. You'll just need:
Your Fish: Ideally ready to go on the same day that you purchased it, for maximum freshness. As mentioned above, I would recommend beginning with a white-fleshed fish, such as mahi mahi, sea bass, branzino or red snapper.

Olive Oil: Just regular refined olive oil, not extra virgin. OR any other high-heat oil, since we're going to be cooking these at 450°F.

Garlic: Minced fresh garlic for the inside of the fish, plus garlic powder for the the skin on the outside.

Lemon: I'd recommend about one whole lemon per fish — half for slicing and stuffing on the inside, half for squeezing on the outside once the fish has been cooked.

Fresh Herbs: Whatever you love! I typically use a few sprigs of fresh rosemary and thyme for stuffing the inside of the fish.

Salt and Pepper: And lots of it. 😉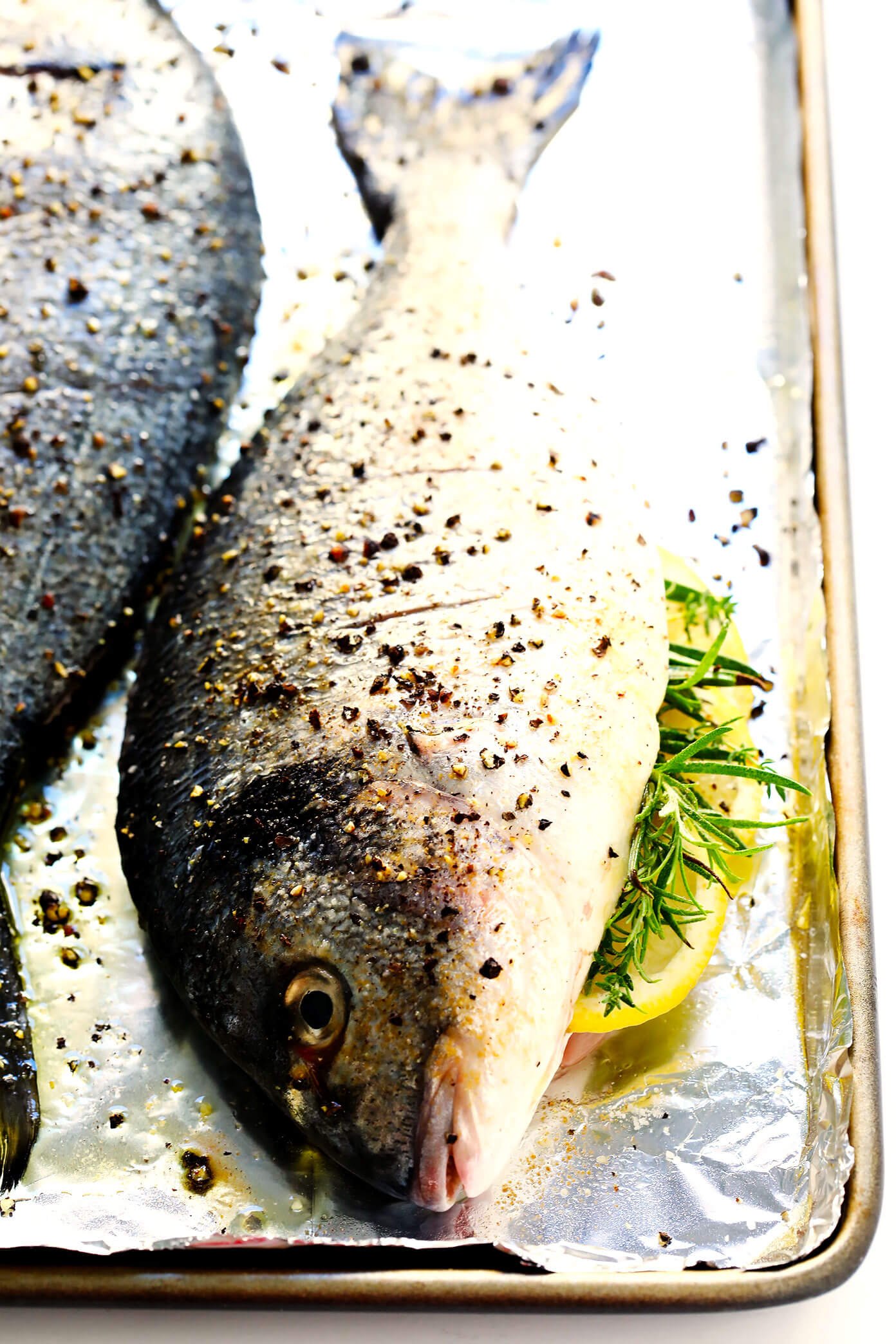 How To Prepare Your Fish:
Thanks to your new friend at the fresh fish market counter, who will take care of cleaning and scaling the fish for you, the actual prep time for your roasted fish should be super quick and easy. (Like, just 5 minutes or so!)  Simply:
Rinse and pat the fish dry. I recommend giving the fish one more good rinse when you get it home. Then lightly pat it dry with a paper towel, and transfer it to a foil-lined baking sheet.

Score the fish. If the fish counter did not already do this for you, use a knife to cut slits about an inch apart across the top of the fish. They do not need to be super-deep — just enough to cut through the skin.

Brush the fish thoroughly with oil, inside and out. Using an oil with a high smoke point, generously brush the outside of the fish with oil on both sides, being sure to also get the oil inside the slits you just cut. Then briefly brush some oil on the inner cavity of the fish.

Stuff the cavity with your aromatics. In this recipe, I recommend fresh herbs, lemon slices and garlic. But please experiment with whatever seasonings you love! Also, one note on the garlic — be sure to stuff it all the way into the cavity of the fish, or it may burn if it is left exposed.

Season the heck outta the fish. I recommend adding lots of sea salt, freshly-cracked black pepper, and garlic powder to the outside of the fish. Plus a bit on the inside cavity as well.
Then that's it! Your fresh fish is officially ready to go.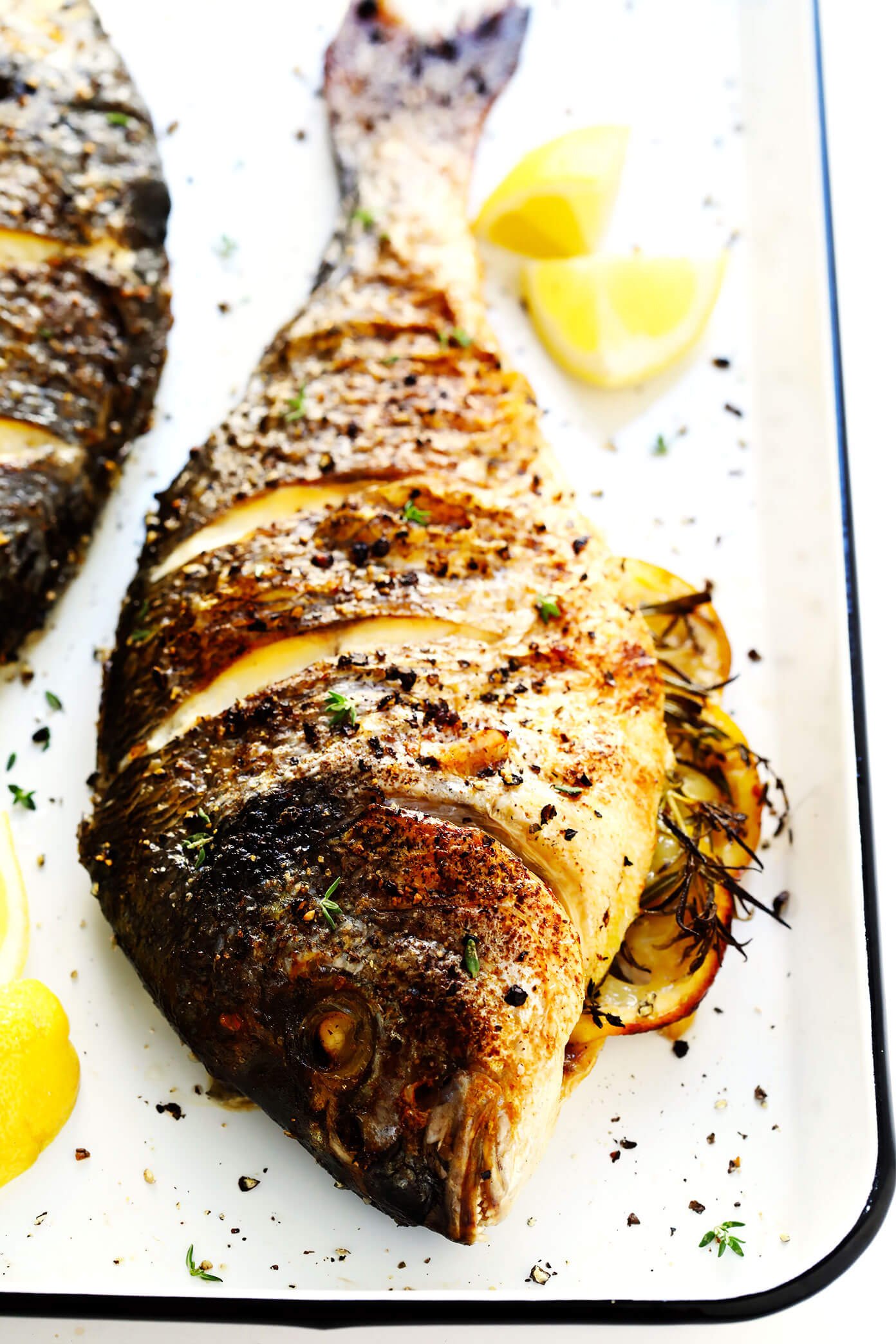 How To Roast Fish In The Oven:
So for everyone who has asked just exactly how to cook fish in the oven, good news — this part is also incredibly easy.
Roast on high heat: Cook your fish for 18-20 minutes at 450°F, or until it reaches an internal temperature of 145°F and flakes easily with a fork. (Cooking time will vary according to the type/size of your fish.)  Then remove from the oven.

Add lemon juice: Squeeze the juice from the remaining half of the lemon evenly on top of your baked whole fish.

Serve immediately: Then serve it immediately.
How To Eat A Whole Fish:
Honestly, most of the time we just dig in with a fork and work our way around the bones. (As in, we use a fork to eat the upper layer of the fish, staying on the lookout especially for bones along the top of the fish. Then gently lifting out the backbone once it is exposed, and then eating the bottom layer of the fish.)  But if you would like a proper tutorial on how to carve a whole cooked fish, here is a great one from Serious Eats.
Here's the thing — there's really no wrong way to do this. It's meant to be a bit messy and full of little surprises (read: occasional bones here and there). So just take your time and have fun with it!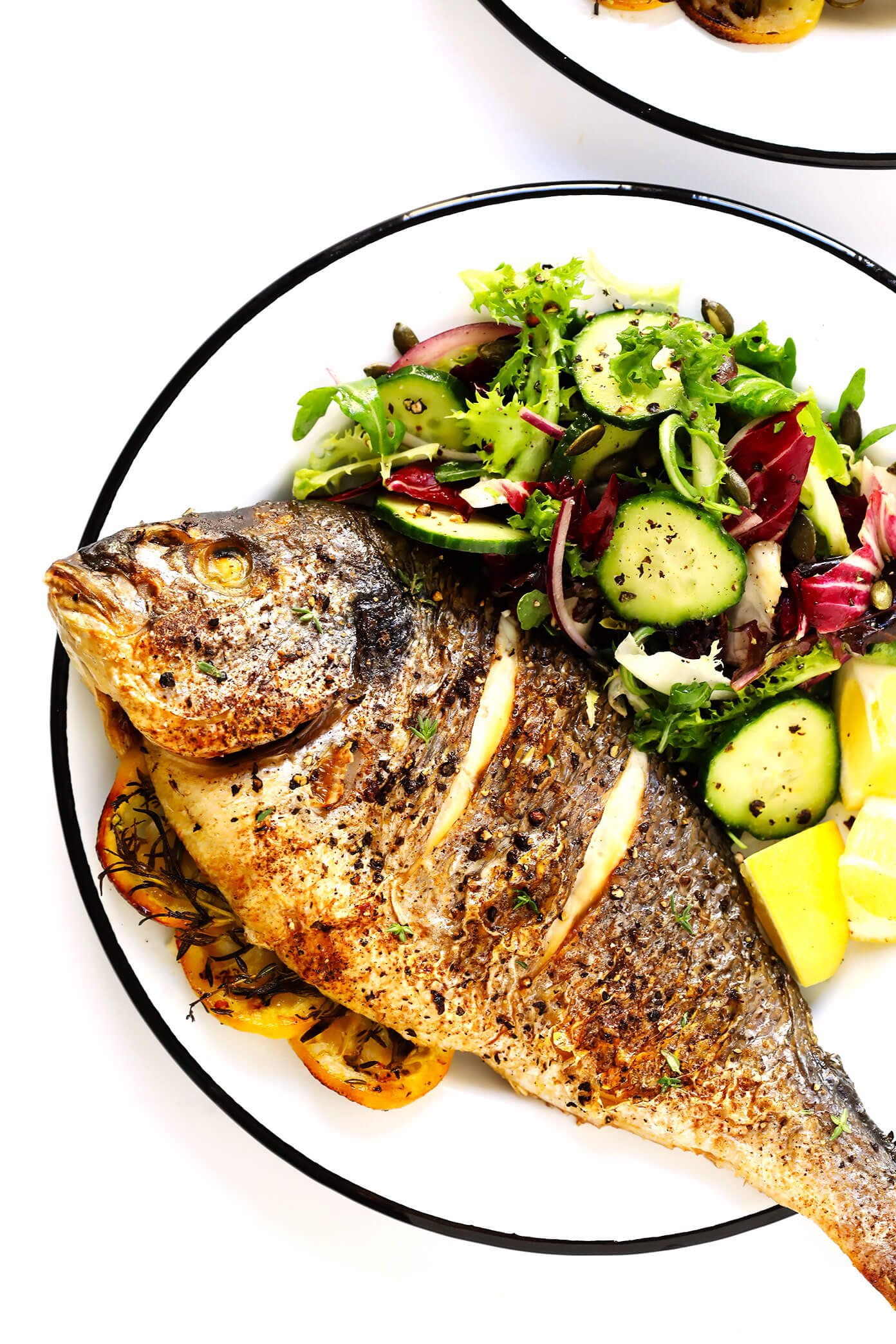 What To Serve With Whole Fish:
Some of my favorite recipes to serve with this baked whole fish include:
A nice salad, such as my favorite everyday salad recipe (pictured above) or a traditional Greek salad

Some sort of veggie that doesn't also require oven space, such as steamed artichokes

Maybe some good crusty bread or beer bread

A nice crisp glass of dry white wine
Insta Video:
If you'd like to watch a video version of this recipe, I made it for my little "How-To Tuesdays" series on Instagram this week and saved it to my highlights here. So feel free to check it out if you'd like!
Good Luck!
And that's it, friends! If cooking a whole fish has also been on your bucket list, I hope that this has demystified the process a bit and that you'll give it a try. (And report back on how it goes!)  Clearly, I'm a big fan. So I hope that you enjoy it too, and best wishes!
Print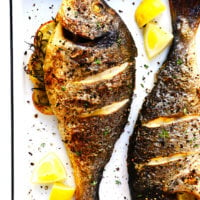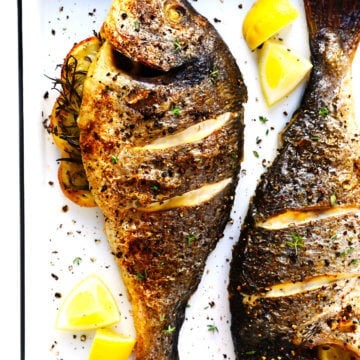 How To Cook A Whole Fish

Prep Time: 10 minutes


Cook Time: 20 minutes


Total Time: 30 minutes


Yield: 1 serving 1x
---
Description
A step-by-step tutorial for how to roast a whole fish in the oven.  Feel free to top with any of your favorite sauces or toppings!
---
1

large whole fish (such as mahi mahi, sea bass, or branzino), scaled and gutted

1

–

2

tablespoons olive oil*

1

large clove garlic, peeled and minced

1

lemon, halved

handful of fresh herbs (such as rosemary and thyme)

sea salt, freshly-cracked black pepper and garlic powder
---
Instructions
Heat oven to 450°F.  Line a rimmed baking sheet with aluminum foil, or grease with cooking spray.

Give your fish one final good rinse once you're ready to cook, then lightly pat it dry with paper towels.  Use a sharp knife to lightly score the top of the fish in diagonal lines about 1-inch apart.

Brush the fish generously on both sides with the oil.  Then briefly brush the inner cavity with oil as well.

Slice half of the lemon into slices, and stuff those as well as the garlic and herbs into the cavity of the fish (being sure that the garlic is completely tucked in and not exposed).

Season the outside of the fish generously with a few good pinches of sea salt, black pepper and garlic powder.

Roast for 18-20 minutes, or until the fish reaches an internal temperature of 145°F and flakes easily with a fork.  (Cooking time will vary depending on the size/variety of your fish.)

Remove from the oven, and squeeze the juice from the remaining lemon half evenly over the top of the fish.

Serve warm, and enjoy!
---
Notes
Be sure to use regular refined olive oil (not extra virgin) or any other high-heat oil that you prefer.