All you need are 4 easy ingredients to make this delicious Honey Mustard Dressing recipe!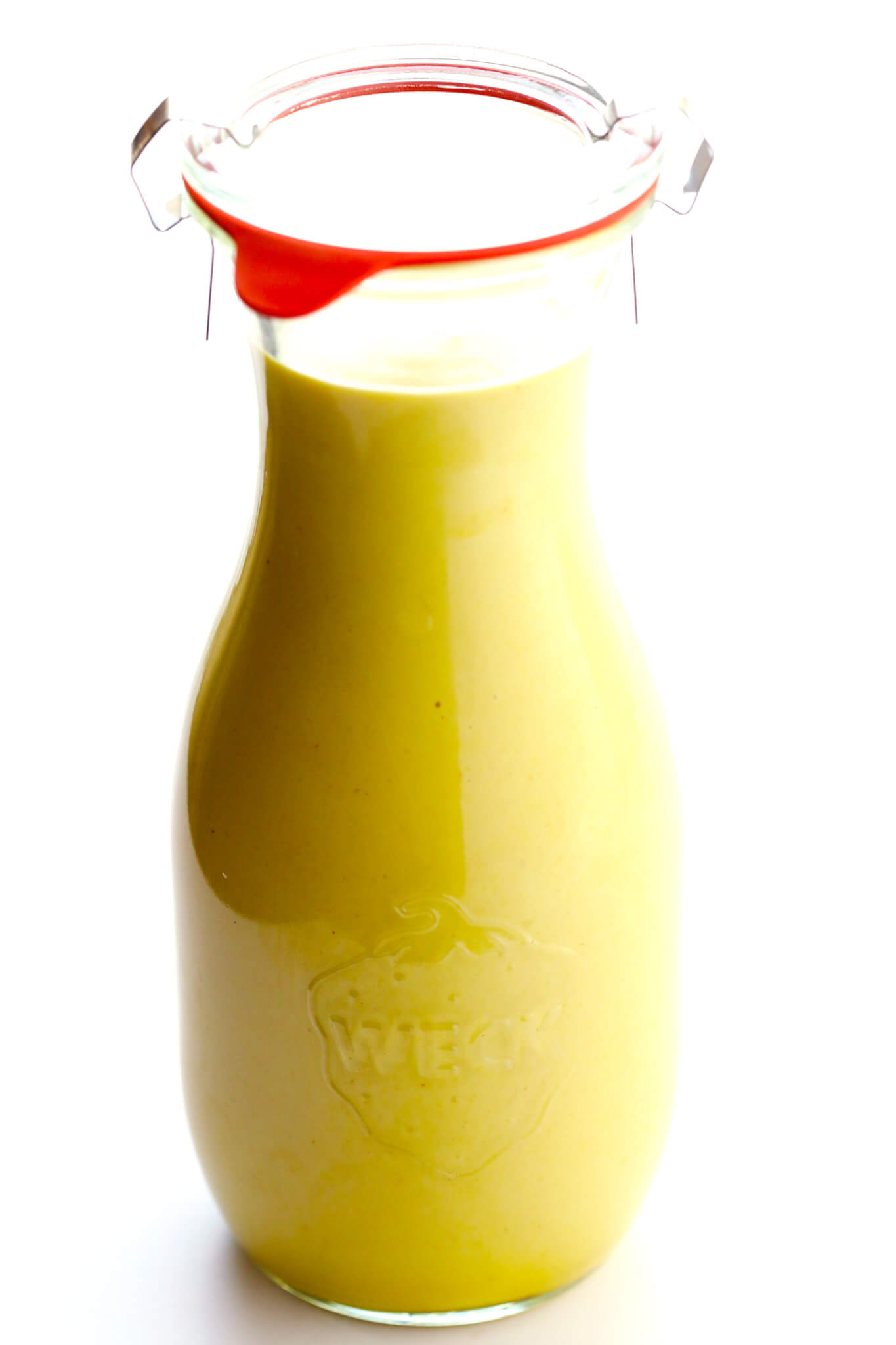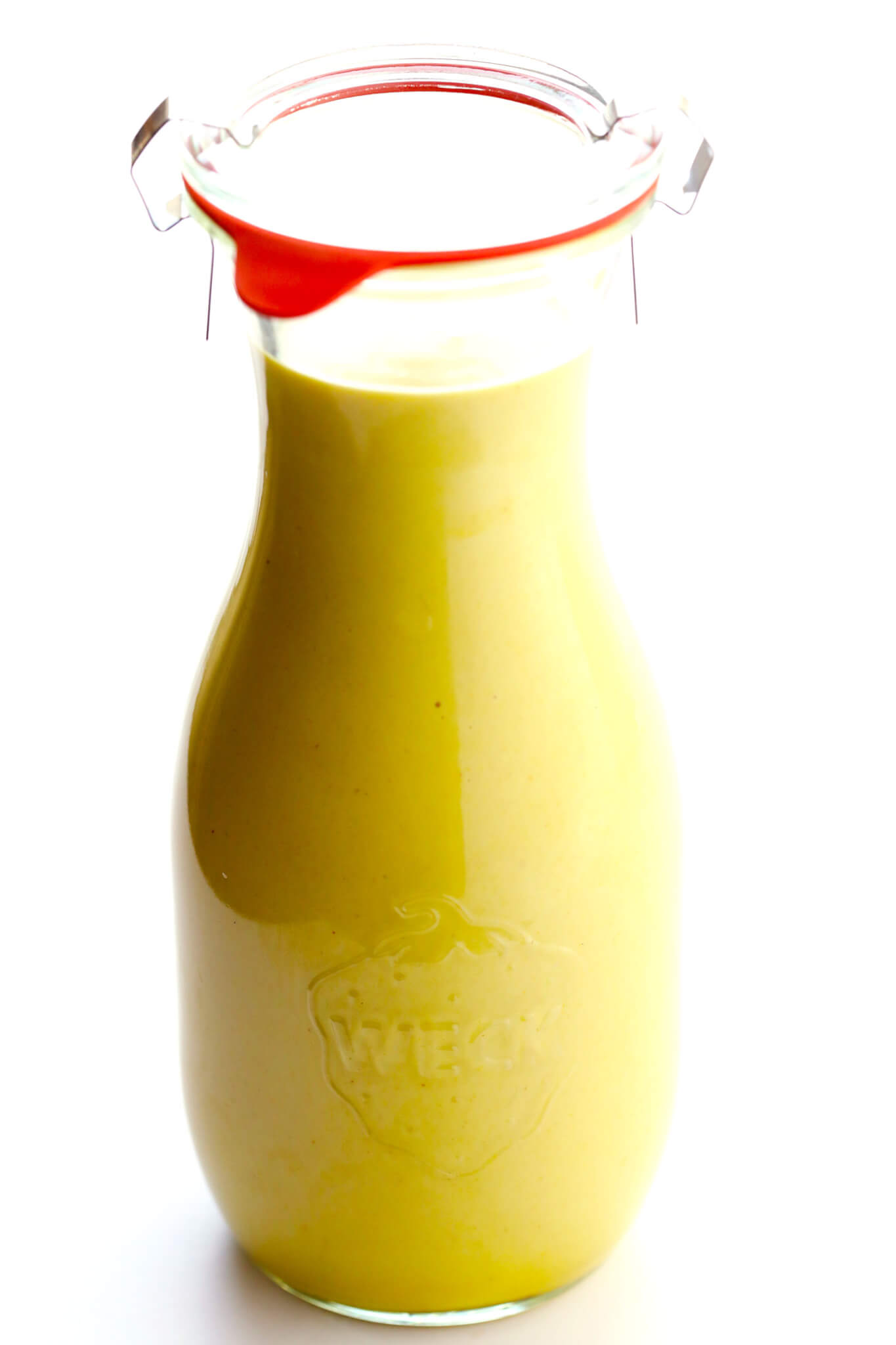 Oh man guys, I have a notoriously bad memory. Like, so bad. ?  But when it comes to all things honey mustard, I'm happy to report that the ratios for popular recipes are so simple that I know them by heart. ?  Are you familiar with them?
For honey mustard salad dressing, it's 1:1:1:1 — equal parts honey, Dijon, vinegar and oil.
For honey mustard sauce, it's 1:1:1 — equal parts honey, Dijon, and mayo.
For basic honey mustard, it's just 1:1 — equal parts honey and Dijon.
I mean, seasoned with salt and pepper of course. And thinned out a bit if needed for your specific recipe. But overall, I'm convinced that the honey mustard game is the easiest to win, and always so delicious. Today, let's talk about the salad dressing recipe!
As mentioned above, traditional honey mustard salad dressing recipes are usually made with equal parts:
honey

mustard (I highly recommend Dijon, the grainy-ness of which is up to you)

vinegar (I usually use apple cider vinegar, although I sometimes like to use half vinegar + half lemon juice for a twist)

oil (any mild oil will do, such as olive oil)
If you'd like a creamier dressing, you're welcome to sub in mayo (or Greek yogurt) for all or part of the oil. And I also recommend adding in a clove of minced garlic if you happen to have one on hand. Also, if you'd like a spicier dressing, feel free to add in a pinch of cayenne. But otherwise, this classic recipe should cover most of your honey mustard dressing cravings!
I recommend using it:
as a dressing on salads

as a marinade or finishing sauce for chicken, pork, salmon, beef, tofu, shrimp, or white fish

tossed with roasted vegetables
(This post contains affiliate links.)
Print

Honey Mustard Salad Dressing

Prep Time: 5 minutes


Total Time: 5 minutes


Yield: 1 cup 1x
---
Description
This homemade Honey Mustard Salad Dressing recipe is ultra-easy to remember with it's easy ratio — 1 part honey, 1 part mustard, 1 part oil, 1 part vinegar.  Feel free to customize yours with any of the suggestions mentioned in the post above.
---
1/4 cup

apple cider vinegar

1/4 cup

Dijon mustard

1/4 cup

honey

1/4 cup

 mild-flavored oil (such as extra-virgin olive oil)

pinch each of Kosher salt and freshly-cracked black pepper
---
Instructions
Whisk all ingredients together in a small bowl until combined.  (Or — my favorite method — shake together in a sealed mason jar or salad dressing bottle until combined.)

Serve immediately, or refrigerate in a sealed container for up to 1 week.
---
Notes
*The top photo in this post features a double batch of this recipe, made in my favorite Weck juice jar.
Be sure to also check out my other favorite salad dressings!