This Herb-Loaded Chicken Noodle Soup recipe is simmered with loads of fresh herbs, for an extra fresh and flavorful twist.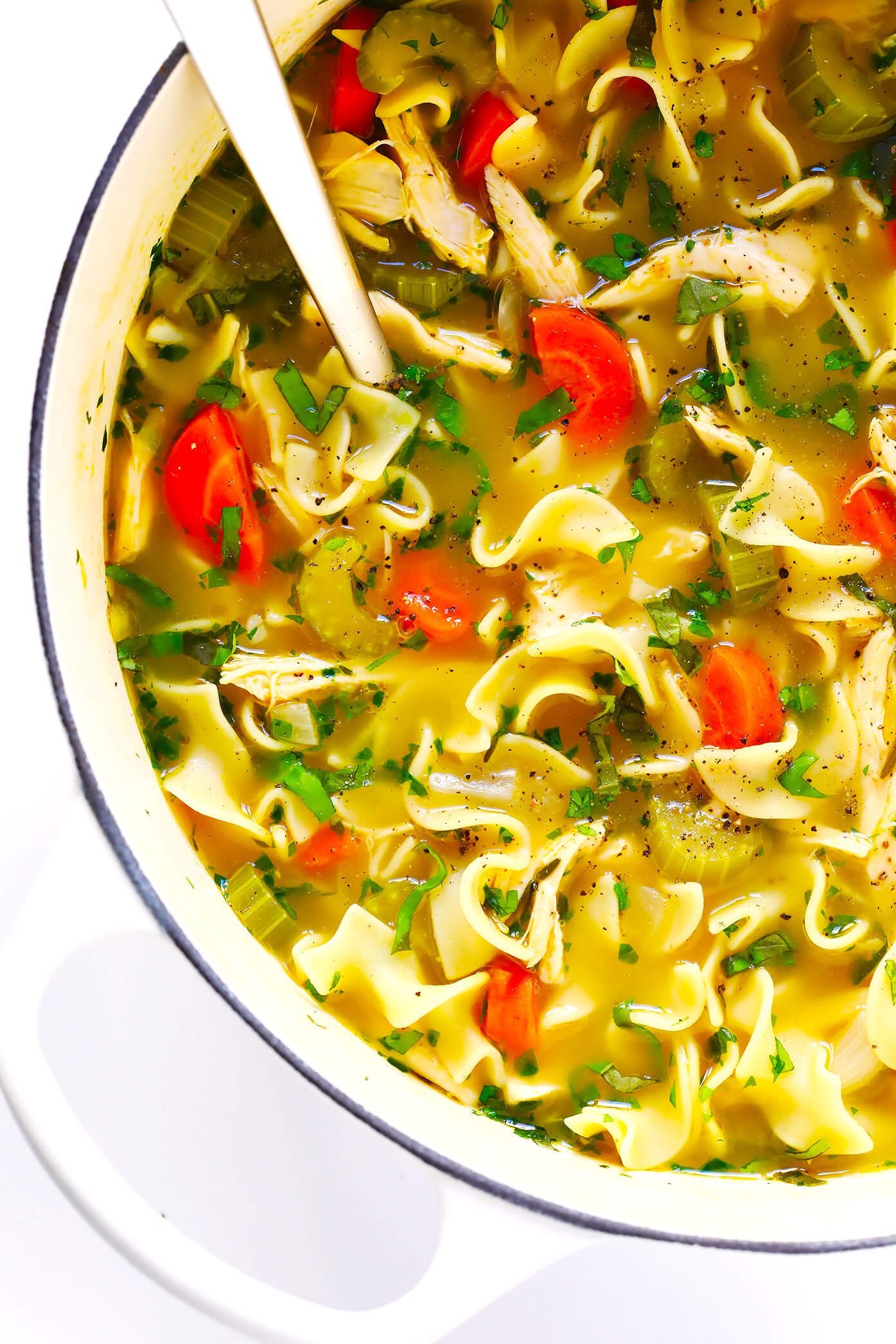 For the first time in nearly a decade…
…I have a garden again!
Even better? It's the cutest little herb garden, spread out between our four little balconies here in Barcelona, and I am head-over-heels in love with it. ?‍? ? ?
Truly. One of our favorite things about this city is that nearly all of the windows in flats are actually French doors that open into tiny little balconies overlooking the streets below. And needless to say, Barcelona's balcony garden game is strong. On our block alone, our neighbors have absolutely decked out their tiny little balconies with just about every kind of hanging planters, trees, bushes, flowers, vegetables and herbs imaginable. And since the climate here is extra plant-friendly, and our street gets a nice afternoon full of sunshine, everything is fabulously alive and green and flourishing…which is very good news for this brown-thumbed new expat arriving on the scene.
So of course, the second we moved in, Barclay and I couldn't wait to get started creating a little garden here of our own. We made a big trip right away to the gardening market to pick up a dozen hanging planters and lots and lots of soil. (Which ended up being comically impossible to carry home without a car. ?)  Then instead of planting a million flowers, Barclay helped make my little dreams come true by helping create mini paradise of my favorite plants instead — a million herbs!!! Ok, maybe like a dozen different herbs. But still! After having lived in a loft in KC for so many years without a balcony, or backyard, or garden of any kind, I am absolutely in heaven now having the opportunity to just open the door and snip-snip whatever fresh herbs I may need for a recipe. And suffice it to say, our food has been fabulously herbacious lately…
…which brings us to this classic recipe today, kicked up a mega-notch with the addition of a mega-helping of fresh herbs.
I'm calling it my Herb-Loaded Chicken Noodle Soup. And you've gotta try it.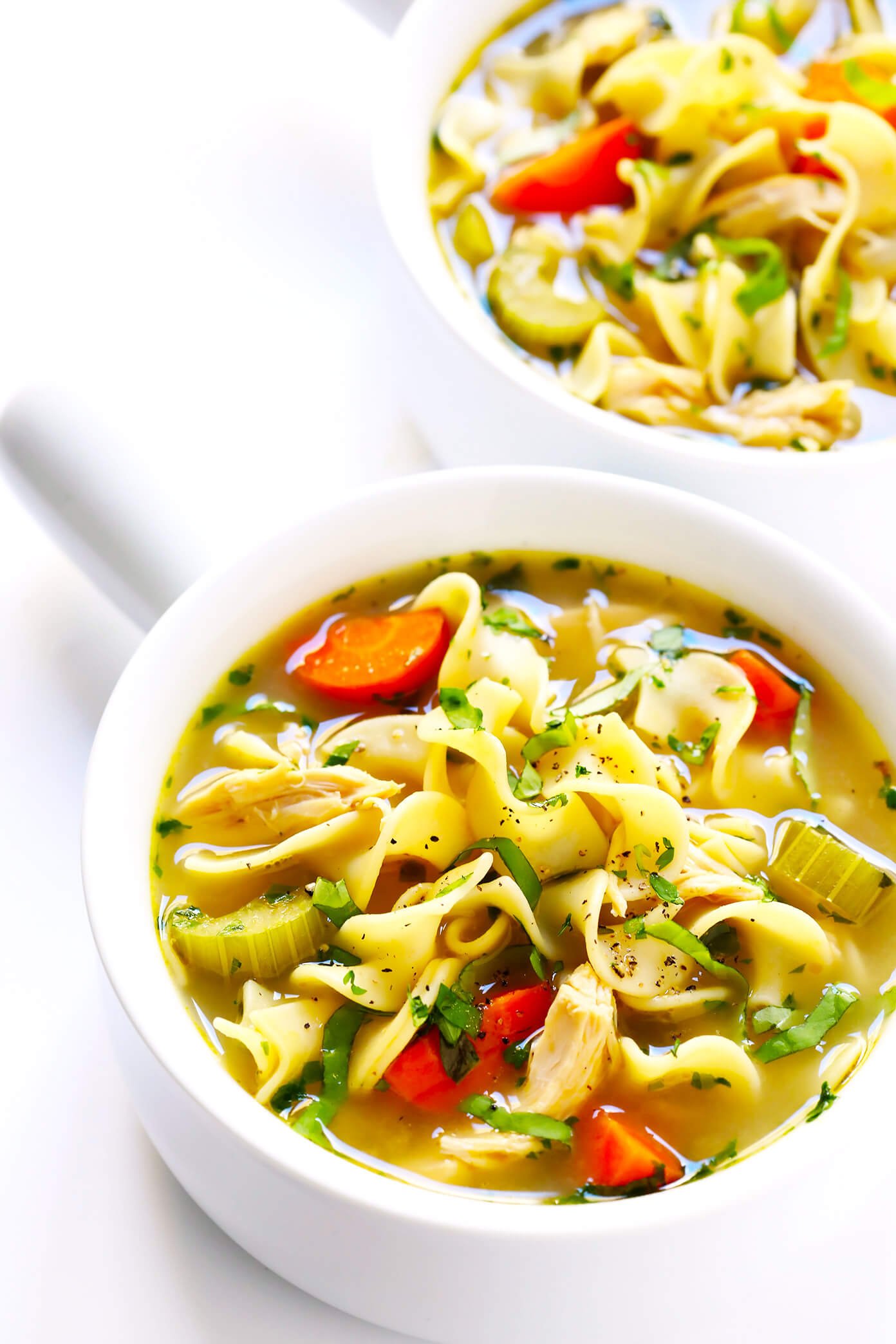 Nowadays, homemade chicken noodle soup probably falls in the "retro" category. But it will forever and always be one of my all-time favorite comfort foods, and I make (and freeze) at least a few batches of it every single winter.
This year, though, it felt extra fun being able to walk outside while the soup was simmering and snip off my own fresh rosemary and parsley to season the broth. And then…I may have gotten a little carried away and brought in a literal bouquet of herbs. And then kept adding more…and adding more…and adding more…but guess what?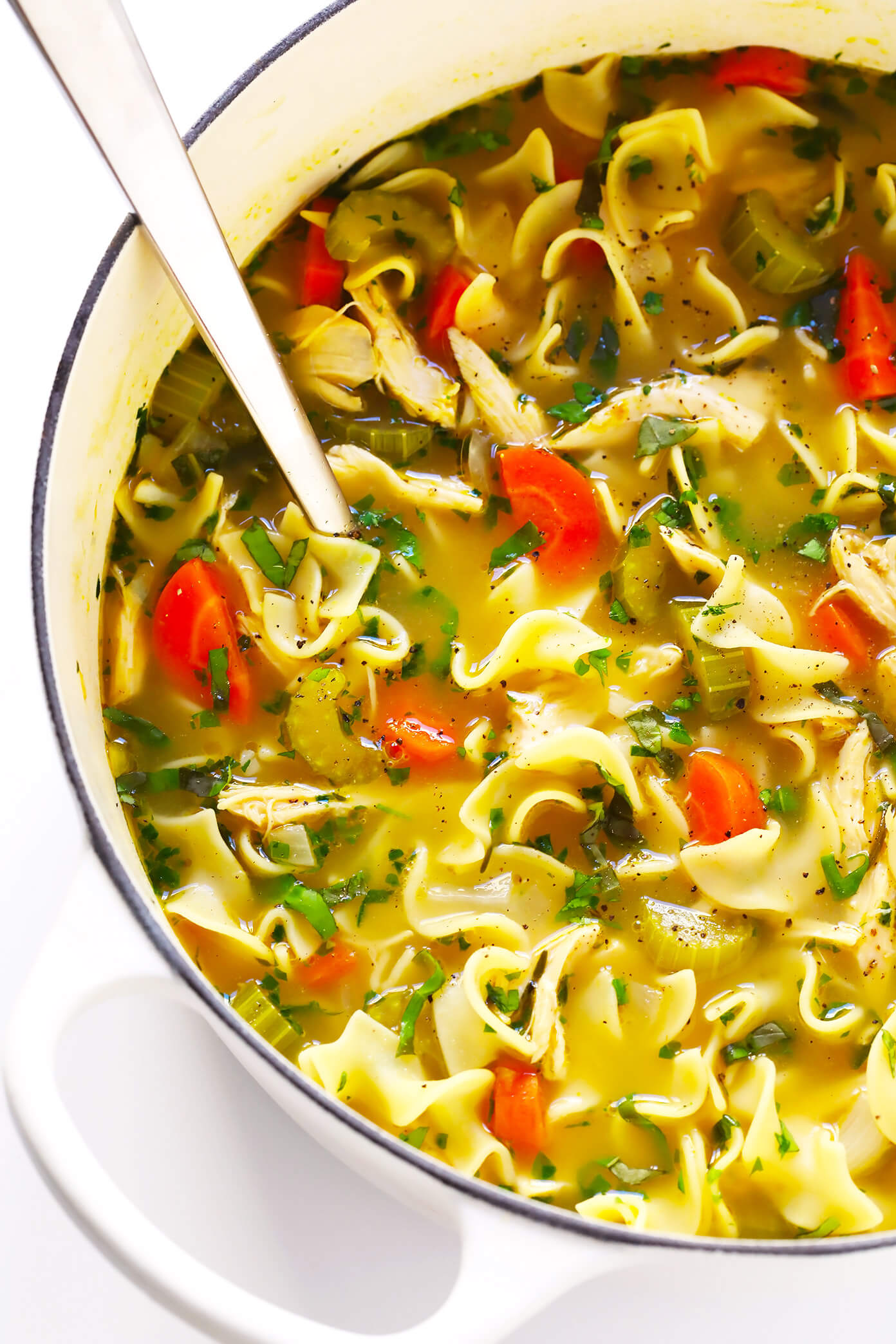 …it tasted freaking fantastic.
I went with a classic Italian blend of fresh rosemary, thyme, bay leaf (interestingly, they are also sold fresh instead of dried here in Spain), a little sage, and parsley. And then for something different, I also added in a heap of julienned fresh basil at the end. And I kept thinking the soup was going to get herb-overloaded, but it was perfection. The more, the merrier when it comes to chicken soup, I've found.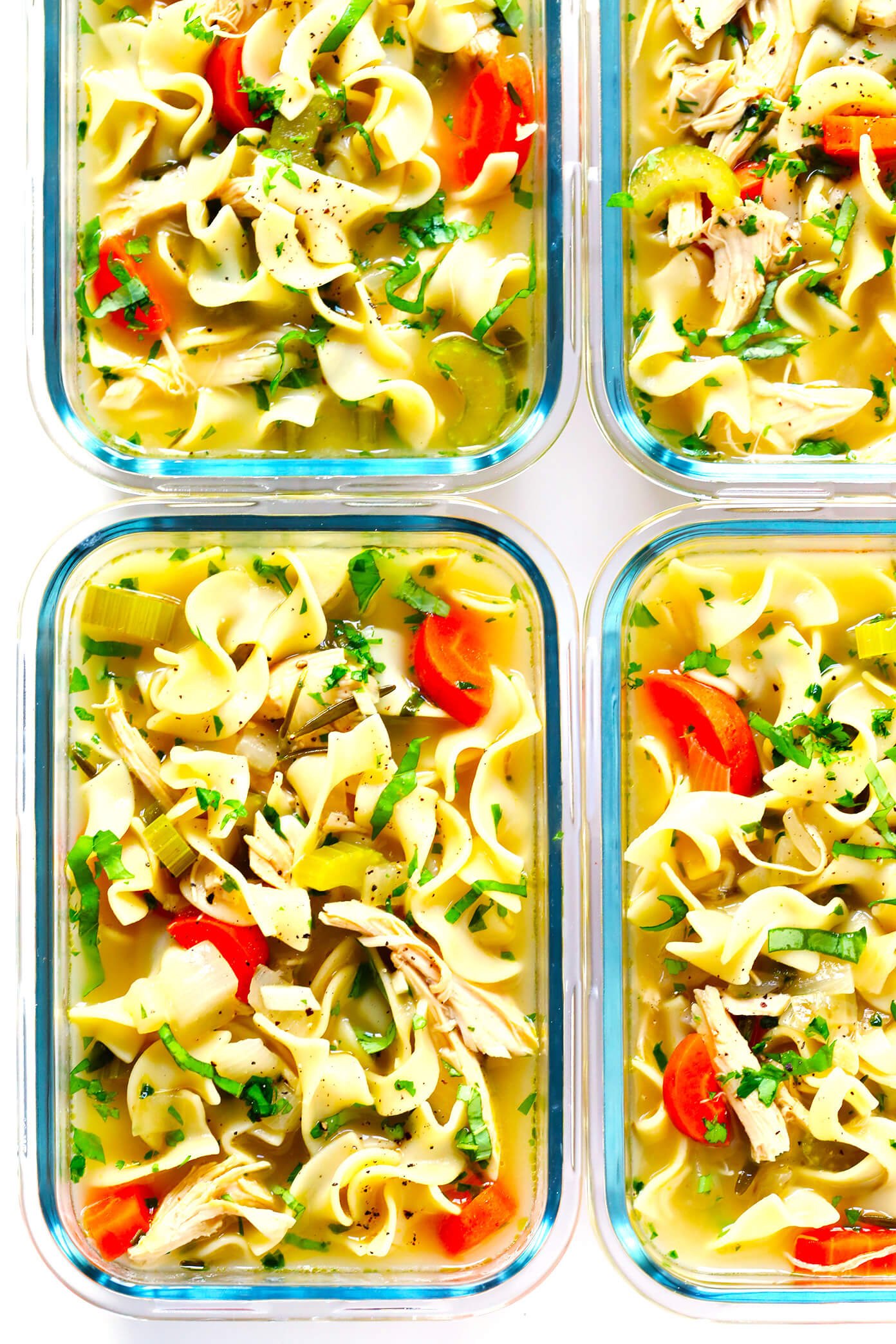 And bonus — since my handsome vegetarian husband doesn't do chicken, there was a very merry amount of leftovers ready to freeze too for future soup nights. ?
So yeah, as I mention below, feel free to customize your own chicken noodle soup with whatever fresh (or dried) herbs you have on hand. And have fun with this one!
Print

Herb-Loaded Chicken Noodle Soup

Prep Time: 8 minutes


Cook Time: 27 minutes


Total Time: 35 minutes


Yield: 8 servings 1x
---
Description
Kick your classic homemade chicken noodle soup up a delicious notch by loading it up with loads of fresh Italian herbs.  (Suggestions included below for dried herbs, too, in case fresh herbs are not available!)
---
2 tablespoons

olive oil

1

small white onion, peeled and diced

2

medium carrots, peeled and diced

2

stalks celery, ends trimmed and diced

4

cloves garlic, minced or pressed

8 cups

(

64 ounces

) good-quality chicken stock

3

 sprigs fresh rosemary*

3

sprigs fresh thyme*

1

sprig fresh sage*

6 ounces

wide egg noodles

2 cups

shredded cooked chicken

salt and pepper

1/2 cup

loosely-packed chopped fresh parsley

1/3 cup

loosely-packed chopped (or julienned) fresh basil
---
Instructions
Heat oil in a large stockpot over medium-high heat.  Add onion and sauté for 4 minutes, stirring occasionally.  Add carrots and celery and sauté for an additional 3-4 minutes, or until the carrots are softened a bit, stirring occasionally.  Add garlic and sauté for an additional 1-2 minutes, or until fragrant, stirring occasionally.  Add chicken stock, rosemary, thyme and sage, and gently stir until combined.  Continue cooking until the soup reaches a simmer.

Reduce heat to medium-low, and stir in the egg noodles and chicken.  Continue cooking for 8-10 minutes or until the egg noodles are al dente.  (The longer they cook, the more broth they will soak up.  Feel free to add more chicken stock if needed.)

Remove and discard the rosemary, thyme, and sage sprigs (no worries if some of the leaves have dropped off).  Taste the soup, and season with salt and pepper to taste.

Serve warm, garnished with extra black pepper, fresh parsley and fresh basil.
---
Notes
*Ok, so the fresh herb types/amounts here are just a rough suggestion.  If you only have access to a few, go with what you have and just add more/less to taste.  (And keep in mind that the size of fresh herb sprigs varies widely, so add more/less to taste.)  ??
If you do not have access to fresh herbs, in general you can substitute 1 teaspoon dried herbs for 1 tablespoon fresh herbs.  (Basically a 1:3 ratio.)
Other herbs that would taste fantastic in this soup could include: tarragon and oregano.  I also like adding in a pinch of crushed red pepper to help bring out the flavors in this soup.