Happy Friday, sweet friends!
And a Happy Early Mother's Day to all of you beautiful moms out there! I hope that we all do our part to make you feel extra-celebrated this weekend for the incredible, strong, loving, patient, hard-working, life-changing women that you are. And that you know how grateful we are for you and the zillion everyday, unseen, unglamorous, yet oh-so-important things you do to keep things rollin' and to care for those you love. You all knock my socks off, and I so wish I could make you all a big brunch to say "thank you" for making this world such a brighter place!!
But instead, I'll have to settle for zee ol' internet, and share a recipe that hopefully one of your loved ones might make for you sometime soon. Or one that you can make with those sweet littles of yours. Or one that we can all just share with anyone we love.
Yep, I went with a classic. I made you some blueberry muffins!
Even better, I made you some healthier blueberry muffins!
(Don't worry, no one will even be able to tell.)  😉
This is actually a recipe that I've been tweaking and experimenting with for awhile now. Because I don't know about you, but I LOVE BLUEBERRY MUFFINS. Like, so much. But I always have such a guilty conscience after eating one of those enormous ones from the bakery that I'm pretty sure could take the place of two entire meals' of calories. Yeesh — not how these delicious breakfast treats are meant to be enjoyed.
So I've lightened them up! And after batches and batches of testing, I think they're actually to the point now where I would totally prefer these to the epic ones from my coffee shop next door. (<–And now that's saying something.)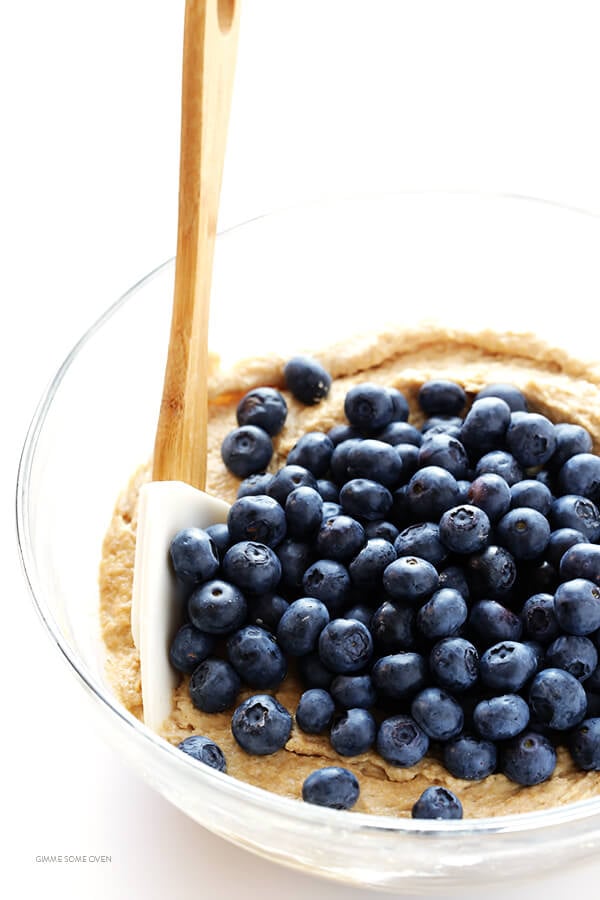 They're made with white whole wheat flour (my favorite baking swap for all-purpose refined flour), they're naturally sweetened with honey (although I did use a little powdered sugar in the glaze, if you want that), and they are chocked full of tons of fresh blueberries. You can use frozen ones if you'd like (just don't de-thaw them first), although heads up that their color tends to bleed more so you might have more purple/blueish muffins. Still delish. 😉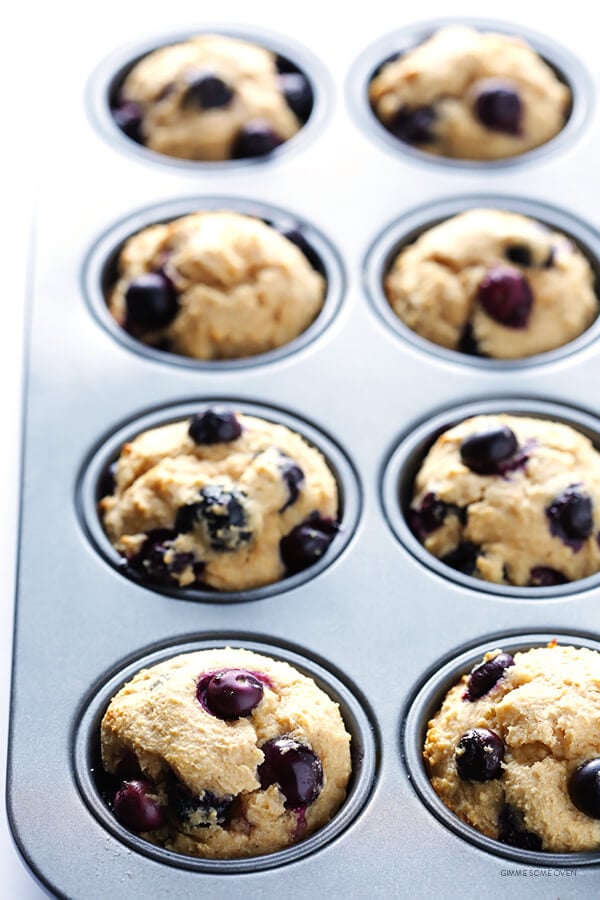 Just bake everything up to fluffy, soft perfection…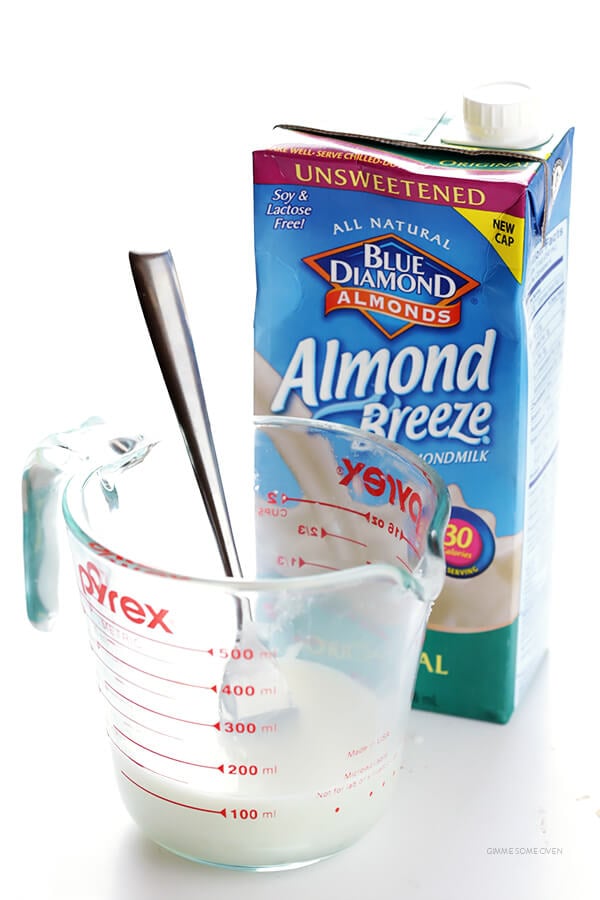 …and while they're in the oven, feel free to whip up a simple little almondmilk glaze if you want. I made mine using shelf-stable Almond Breeze Original Unsweetened Almondmilk, which I've been getting in the habit of stocking in my pantry this past year. (Sooooo convenient to keep on hand!)  But you can also make the glaze using their refrigerated almondmilk.
I added a little bit of fresh lemon juice/zest to my glaze, but you could also add a little cinnamon or vanilla or almond extract or whatever sounds tasty.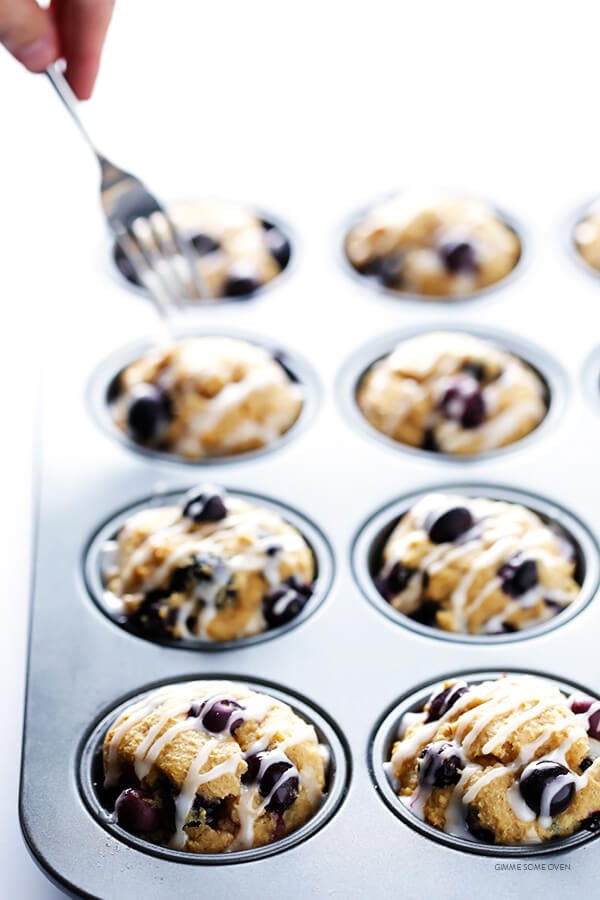 Then just drizzle it all over those beautiful blueberry muffins…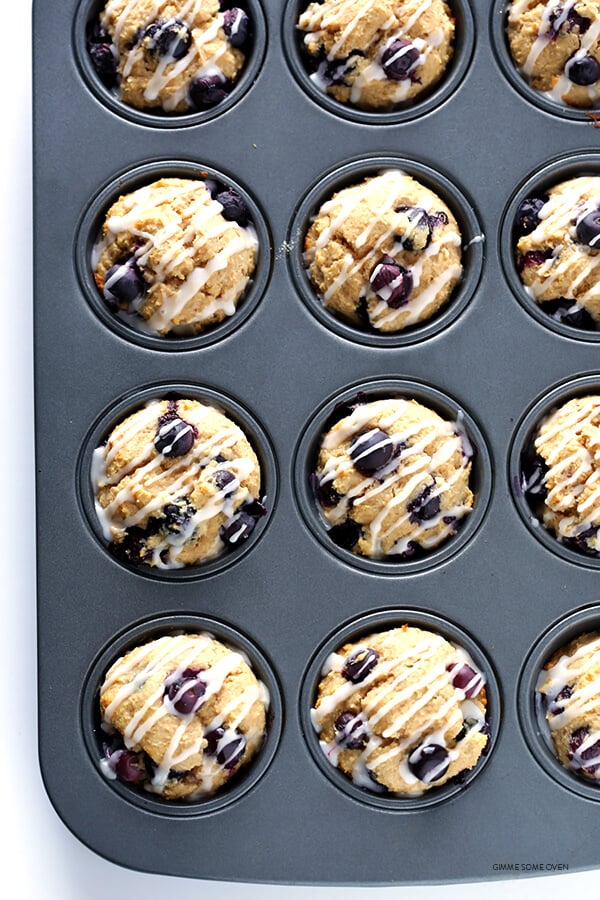 …and breakfast is served.
Enjoy friends! And I wish you such a lovely weekend ahead!
Print

Healthier Blueberry Muffins

Prep Time: 15 minutes


Cook Time: 17 minutes


Total Time: 32 minutes


Yield: 20 –24 muffins 1x
---
Description
These Healthier Blueberry Muffins are made with white whole wheat flour, naturally sweetened with honey, and they are SO wonderfully fluffy and buttery and delicious!
---
Healthier Blueberry Muffins Ingredients:
3 cups

white whole wheat flour

1 tablespoon

baking powder

1/2 teaspoon

ground cinnamon

1/2 teaspoon

salt

2

eggs

1 cup

non-fat plain Greek yogurt

3/4 cup

honey

2 teaspoons

vanilla extract, store-bought or homemade

1/2 cup

 Almond Breeze Original Unsweetened Almondmilk (shelf-stable or refrigerated)

1/2 cup

melted butter or coconut oil, slightly cooled

2 cups

fresh or frozen blueberries (if frozen, do not thaw first)
(Optional) Honey Lemon Glaze:
1/2 cup

powdered sugar

2 teaspoons

 Almond Breeze Original Unsweetened Almondmilk (shelf-stable or refrigerated)

1 teaspoon

honey

1 teaspoon

fresh lemon juice
---
Instructions
How To Make The Healthier Blueberry Muffins:
Preheat oven to 375°F.  Grease 24* baking cups with cooking spray, or line them with paper liners.  Set aside.

Add the flour, baking powder, cinnamon, and salt together in a large mixing bowl, and whisk until completely combined.  Set aside.

In a separate mixing bowl, add the eggs, Greek yogurt, honey, vanilla, and almondmilk, and whisk until completely combined.  Gradually add in the melted butter (or coconut oil), whisking continually as you add it in so that its warmth doesn't accidentally cook the eggs.  Whisk until completely combined.

Pour the wet ingredients into the mixing bowl with the dry ingredients, using a rubber spatula to gently fold everything together until just combined.  (Be really careful not to overmix the batter.)  Gently fold in the blueberries until just combined.

Scoop the batter into the prepared baking cups, filling them 3/4 full and topping with a few extra fresh blueberries if desired.

Bake for 17-20 minutes, or until a toothpick inserted in the middle of the muffin comes out clean.  Remove and let cool on a wire rack.  Serve immediately, drizzled with the optional glaze if you'd like.  Or store in a sealed container for up to 3 days.
How To Make The Honey Lemon Glaze:
Whisk all ingredients together until smooth.  If you need to thicken the glaze, add more powdered sugar.  If you need to thin the glaze, add more almondmilk.
---
Notes
*Depending on how much batter you use per muffin, this recipe should yield between 20-24 muffins.
This post has been sponsored by Almond Breeze, whose shelf-stable almondmilk always has a permanent home in my pantry. (Love it!)  Thanks for continuing to support the brands who help make this site possible!