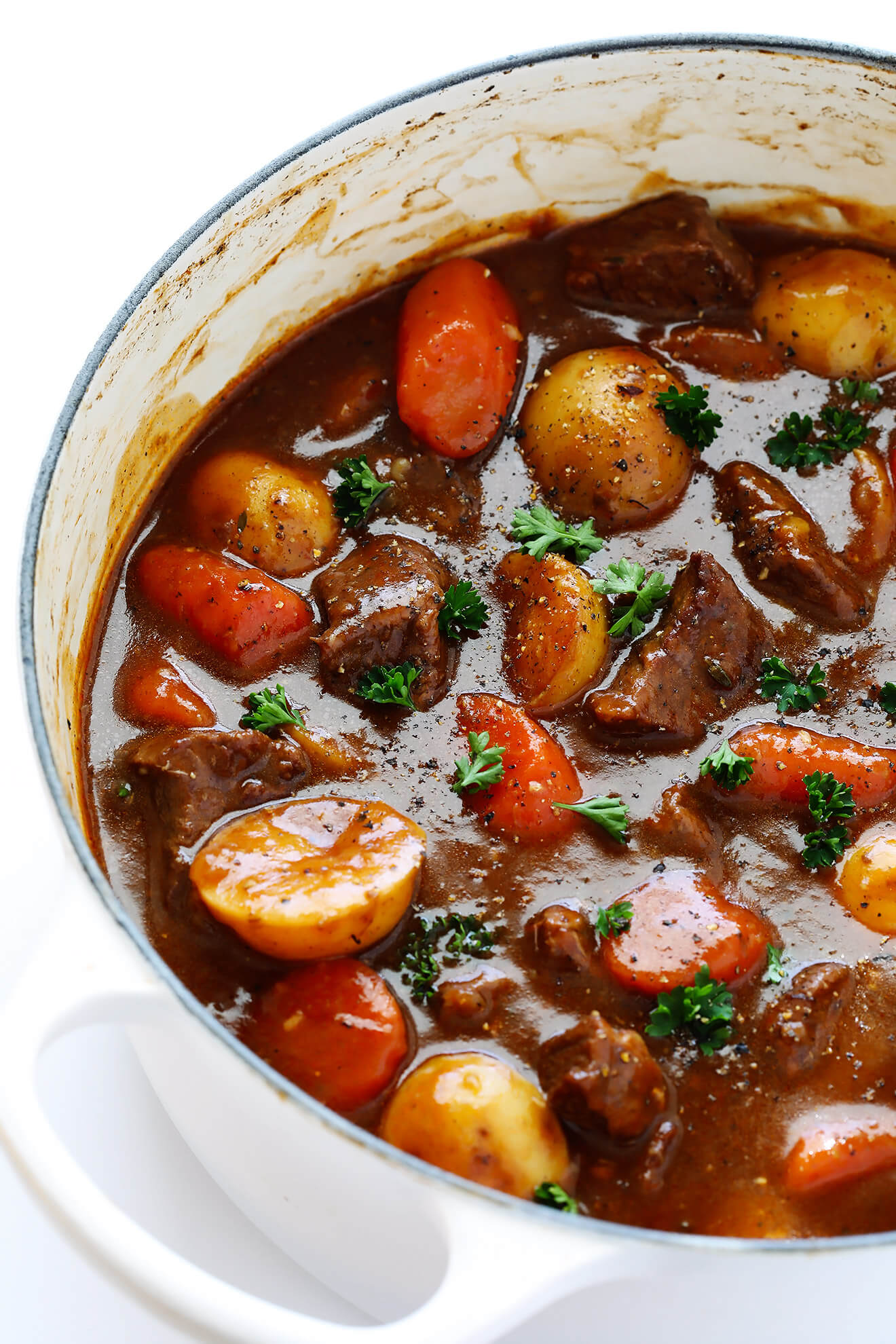 Mmmmm…stew.
Even better? This Irish beef stew, slow-simmered with a bottle of Guinness until it's perfectly rich and cozy and delicious, and will warm you up down to your bones.
I have a long history of making this recipe every year around St. Patrick's Day, and love bringing home a six-pack of stout to make it happen. But I have to admit that this recipe always actually reminds me of another favorite winter memory that took place just across the sea from Ireland — my dear friend, Sara's, wedding.
About four years ago, my beautiful and talented Kansas City friend fell in love with this amazing chap from England, and courageously packed up her things and moved across the pond so that they could finally be together and get married…which was so exciting! And which, of course, meant that all of our Kansas City crew had to fly over for the wedding. ? A bunch of us decided to travel over there together, and spent a fun week adventuring (and driving on the left side of the road) all around London and Oxford. But the highlight of the trip was absolutely Sara and Michael's wedding in this charming little town called Shrewsbury.
The two of them decided to have a full-on traditional English wedding. So naturally, we girls all took that as an excuse to make a shopping trip the day before for new hats and fascinators for the occasion. (You can my feathery choice below!)  Then on the wedding day, we navigated Shrewsbury's cobblestone streets in our heels to reach the beautiful, centuries-old church where our friends tied the knot in a high-church Anglican ceremony, which was lovely. Then afterwards, everyone made their way to a cozy restaurant where we all shared a formal English tea together, complete with little tea sandwiches and pastries galore. And then we all walked across the street to a huge barn, where Sara's new English friends and family taught all of us Americans the art of dancing — make that, Welsh line dancing — the night away.
And oh my goodness, it was so fun.
Ha, we Americans had absolutely no idea what we were doing. ? But everyone was so warm and welcoming, so we joined the big circle, tried our best to learn the steps, and danced and twirled and laughed and spun around the room for hours. And then suddenly, right in the middle of it all, the folk band stopped and everyone started filing into the back room of the barn for — get this — a stew break!! Ha, it was the most perfect thing ever. We all were starving after all of that dancing, and sure enough, a big and hearty bowl of stew with some bread and butter totally hit the spot. We ate our fill. And then, recharged, returned to the dance floor to wrap up the evening.
The whole experience that day was so much fun, and so joyful, and will forever be one of my favorite wedding memories. And…it also convinced me that we all need a good "stew break" in life every now and again. Wouldn't you agree?
Before we get to the recipe, here are a few pics from the wedding…
Exhibit A: Americans wearing hats. Or technically, fascinators. ? (Why are these not more popular in the States?!)
Exhibit B: Welsh dancing. So much dancing.
Exhibit C: The famous stew.  Magic.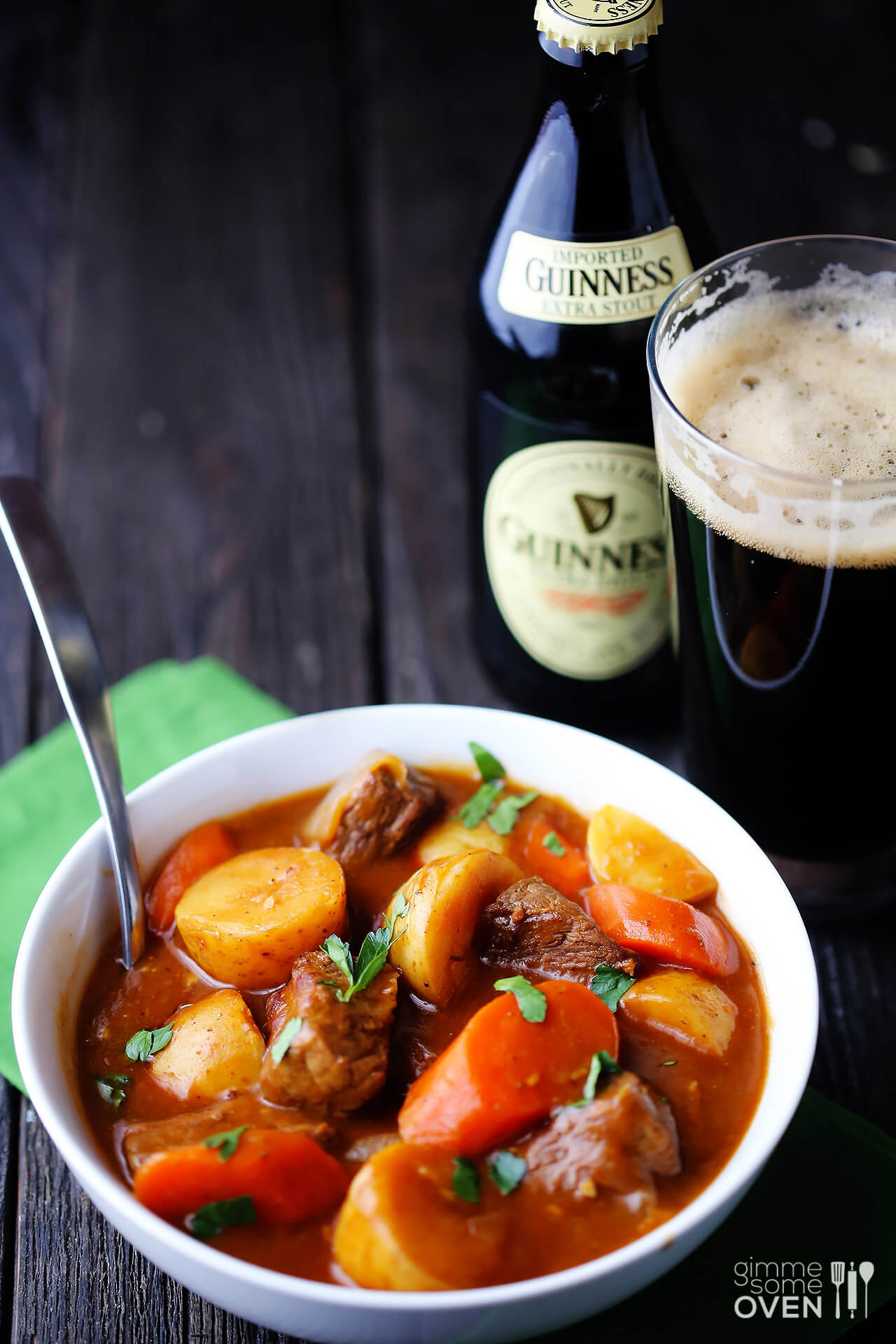 Well as far as good homemade beef stew recipes go, today's recipe will always be one of my faves.
I first shared this one on the blog back in 2013 (see above), right after returning home from Sara and Michael's wedding. But it's been a favorite in my house for years, and always seems to hit the spot during those last few weeks of winter around St. Patrick's Day. I don't know about you, but on months like these when we have 80 degree afternoons mixed with snowstorms the following weekends, I still love some good and hearty comfort food to get through the cold spells. And this soup was the perfect comfort food last week.
You're welcome to make it with any stout that you like, but Guinness is always my choice (especially around St. Pat's!).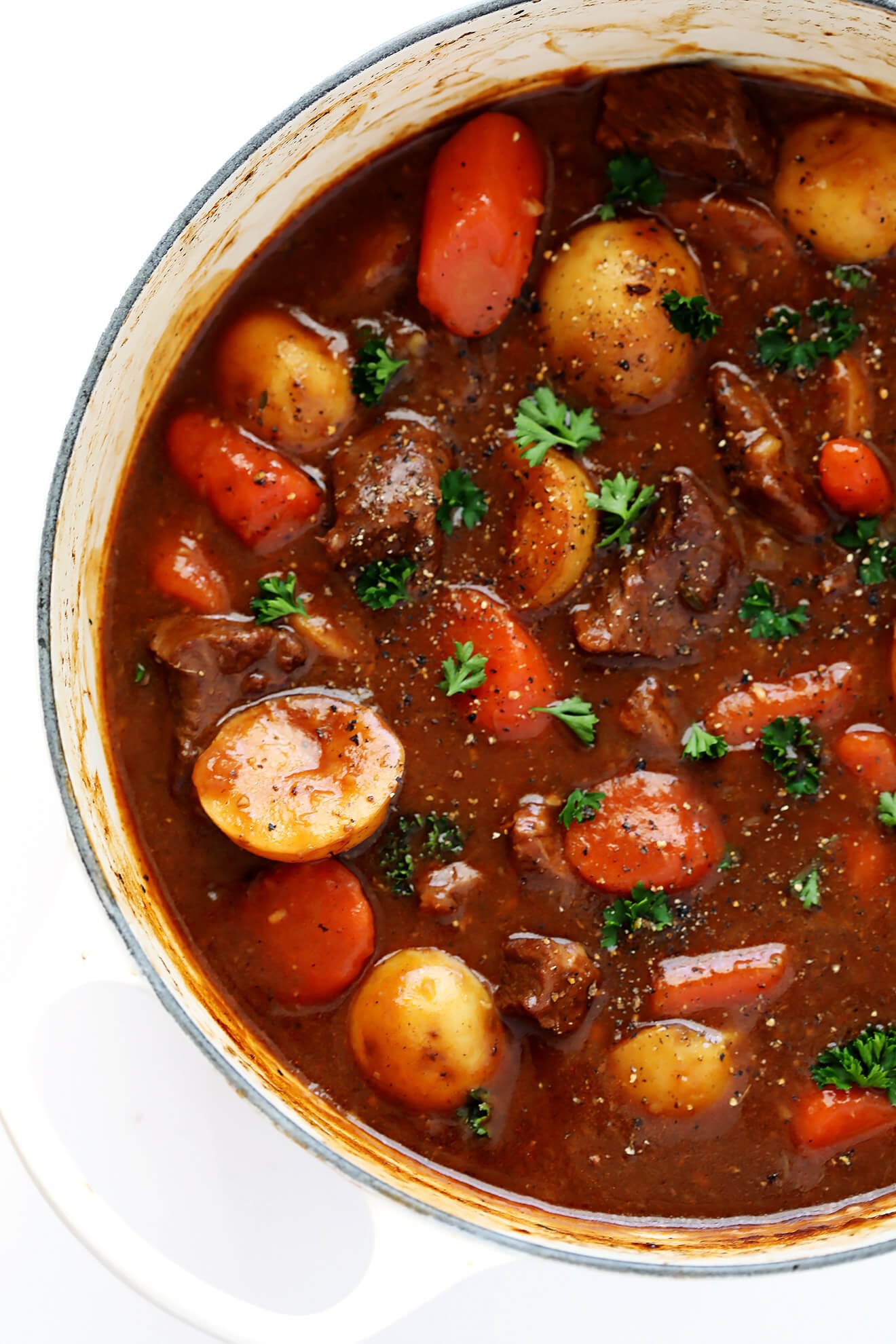 Just prepare your stew base, pour in the entire bottle of Guinness, and let everything simmer for a few hours on the stove (or in the Crock Pot) until it's thick and tender and ready to go.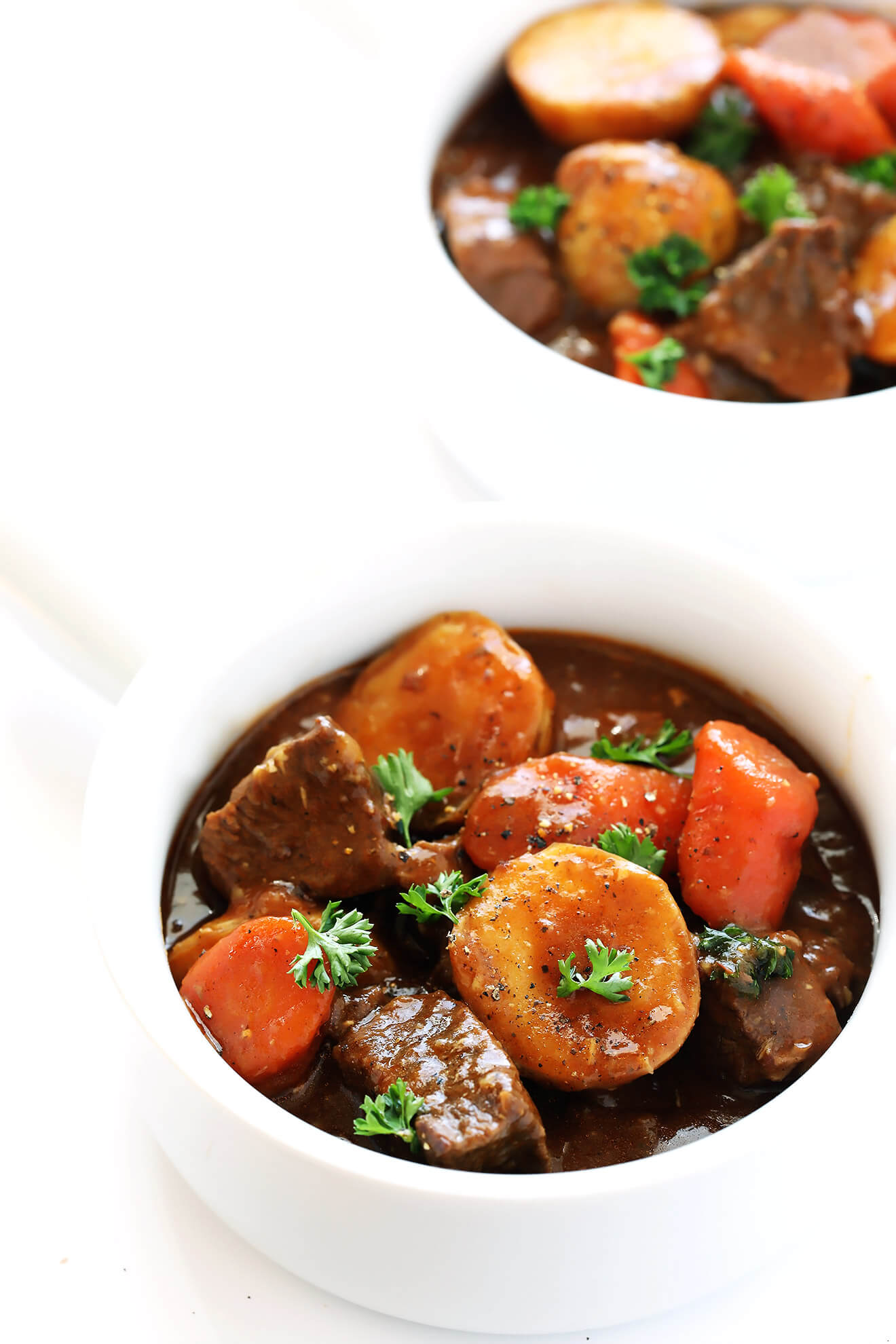 Then ladle it up into some cozy bowls, sprinkle with lots of black pepper and maybe a hint of fresh parsley, and enjoy, enjoy, enjoy.
Perfect for St. Patrick's Day, or any day that you're in need of a good stew break. ?
Print
Guinness Beef Stew

Prep Time: 20 minutes


Cook Time: 120 minutes


Total Time: 140 minutes


Yield: 6 –8 servings 1x
---
Description
My favorite recipe for hearty and flavorful Guinness beef stew!
---
2 tablespoons

 olive oil, divided

3

pounds beef chuck roast, trimmed of excess fat and cut into bite-sized pieces

Kosher salt and freshly-cracked black pepper

1

large white or yellow onion, peeled and diced

4

cloves garlic, peeled and minced

1/3

 cup flour

1

(12 ounce) bottle Guinness beer

4 cups

beef stock

3

large carrots, peeled and diagonally sliced into bite-sized pieces

1.5

lbs. Yukon gold potatoes, cut into bite-sized pieces

3 tablespoons

 tomato paste

1

bay leaf

1/2 teaspoon

 dried thyme

optional garnish: chopped fresh parsley
---
Instructions
Season beef with a few generous pinches of salt and pepper.  Heat 1 tablespoon oil in a large stockpot over medium-high heat.  Add half of beef to pan.  Cook until seared, turning the beef every 30-45 seconds or so until all sides are browned.  Remove beef from pan with a slotted spoon, and transfer to a clean plate.  Add an additional 1 tablespoon oil to the stockpot, and repeat this process with the remaining half of the beef, transferring it afterwards to the plate as well.

Add the onion to the stockpot (adding extra oil if needed, but usually there is leftover drippings/oil from the beef) and saute for 5 minutes, stirring occasionally. Add garlic and saute for 1 minute, stirring occasionally.  Then stir in the flour until it has evenly coated the onions, and cook for 1 minute, stirring occasionally.  Gradually stir in the Guinness, and use a wooden spoon to scrape the bottom of the pan to loosen any of those yummy brown bits. Stir in the beef stock, carrots, potatoes, tomato paste, bay leaf, thyme, and the cooked beef (along with any of its accumulated juices). Continue cooking until the stew reaches a simmer.  Then cover and reduce heat to medium-low.  Simmer over low for 1 1/2 hours, stirring occasionally, until the beef is tender and the potatoes are soft.

Remove bay leaf and season with additional salt and pepper if needed.

Serve warm garnished with chopped parsley if desired.
---
Notes
Recipe updated in March 2017.