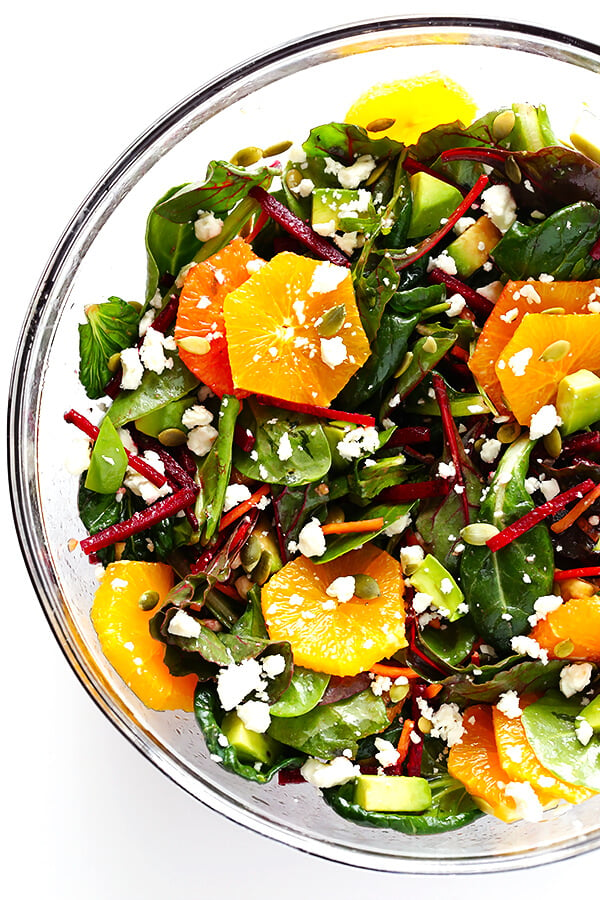 GUESS WHO'S FINALLY HOME FROM NEW ZEALAND?!?
We are!!! And oh my goodness, after a dreamy month away traveling with this guy and his Kiwi family, I must say — it feels really good to be home. Which I love.
Don't get me wrong, I will forever and always love traveling. But the older I get, the more I appreciate how special it is to also look forward to coming home. And to have a life, and friends, and family, and a home, and a sweet snuggly pup back here waiting for me that I absolutely love. And to still have this dream job back home waiting for me that I still completely love. And to be able to return to this cool (and now pleasantly warmer!) city that I still love calling home.
Call it cliche being from Kansas, but Dorothy really did say it best — there really is no place like home. 🙂
That said, of course, we did have an absolutely fabulous time traveling around New Zealand, and I have "heaps" of stories to share with you from the trip. (<– Fun fact, that's a favorite word of Kiwis that they always use instead of saying "lots".)  But while I'm busy unpacking and trying to sleep off jet lag this week, I thought I would begin by sharing my first recipe that was inspired by the trip. It's lean, it's green, and it's everything I loved about how we ate in New Zealand.
It's this gorgeous salad!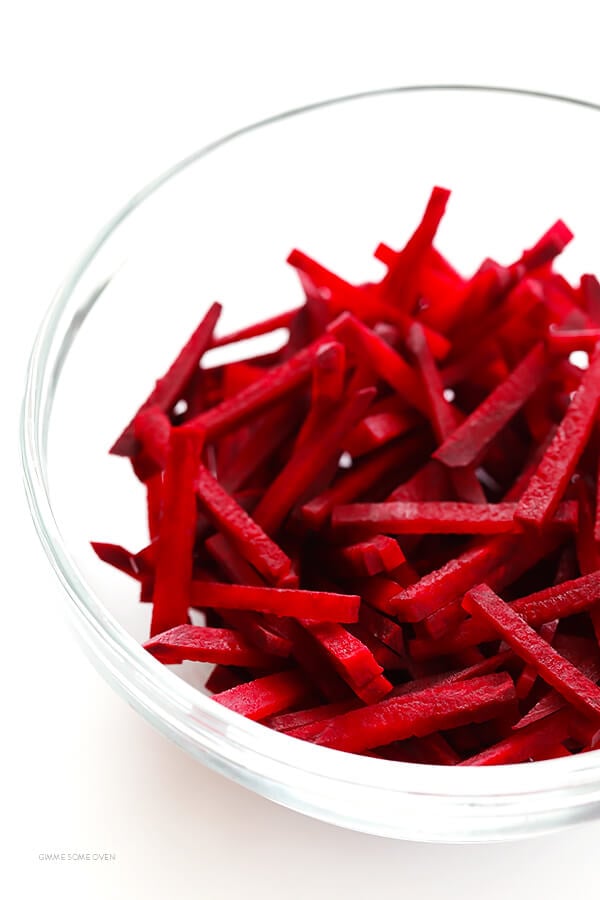 I'm calling it a Green Salad with Oranges, Beets & Avocado. But it's actually inspired by the "Lean & Green Salad" from this wonderful New Zealand fast-food chain called Tank.  We actually ended up eating at this place twice on our trip, but only wished we'd had the chance to go there more. It was incredible! And even better, it was incredibly healthy!!
Yep, no chicken nuggets there. Just tons of fresh and delicious salads and juices made-to-order, and we loved every single one that we tried. And believe it or not, I even loved the salads with beets! Or as they call it in New Zealand, beetroot.
Oh my goodness, Kiwis are obsessed with their beetroot.
I'm pretty sure it was served raw (shredded or julienned, mind you) on just about every salad we had during our month in New Zealand. And when it wasn't in the salad, it was roasted up and served on the side of whatever main course we were having. And everyone — from the adults down to the littlest kiddos — all seemed to love it.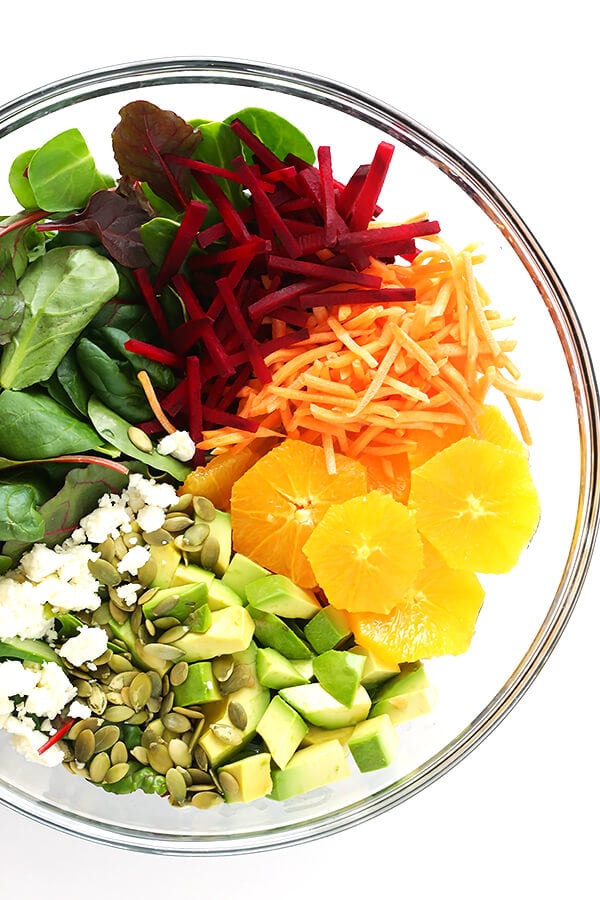 It's no secret that beets and I have never had a naturally good relationship. But I did decide that shredded beets may just be my gateway into eating raw beets more often. I thought they were totally delicious (and not overpowering!) on salads! And when paired with some fresh oranges, creamy avocado, crunchy carrots, tangy feta, toasted pepitas, and a light vinaigrette on this salad, they were absolutely delightful.
Well, I added in the avocado to this salad. And Tank also added in whole almonds. And I chose to go with a white vinaigrette instead of the traditional dark version, in order to preserve the colors in this beautiful salad.
But other than that, this one is almost identical to the "Lean & Green Salad" we adored. So I had to share it with you!!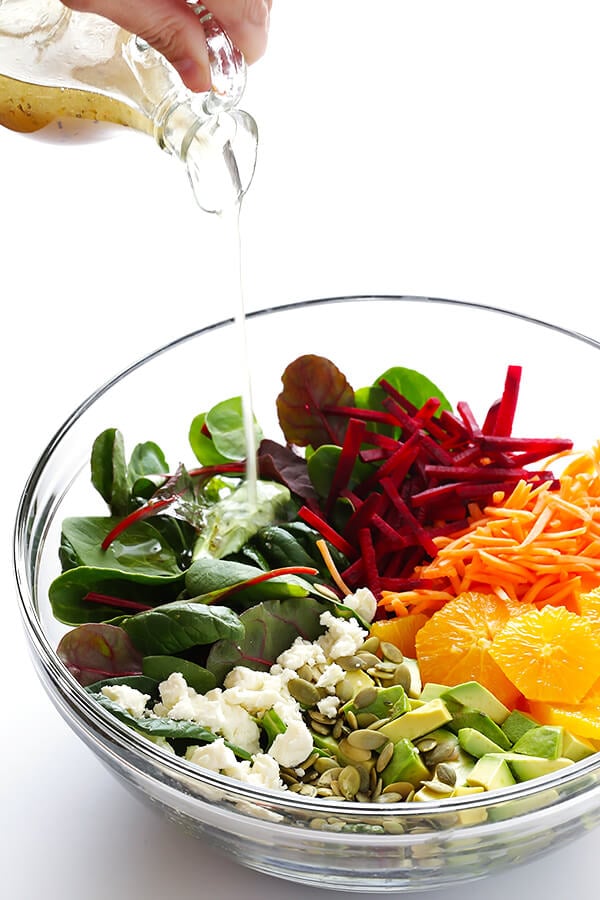 The good news is that in addition to being wonderfully fresh and delicious, it's also quick and easy to make. Just add everything together in a bowl, and give it a good toss until it's all combined.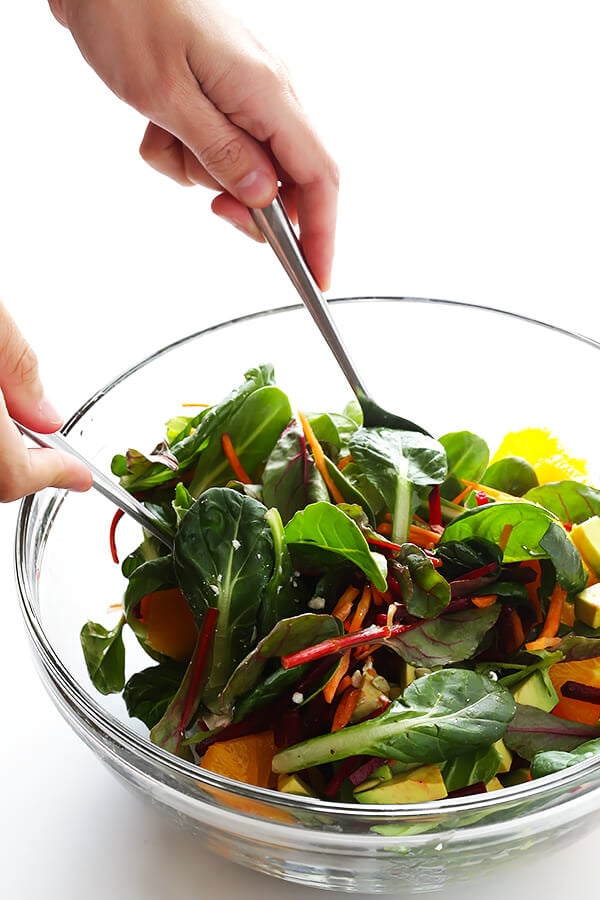 And then serve it up! I will say that those beets will turn your salad pink in a hurry. So I'd recommend tossing it just before serving, or layering the ingredients in each serving bowl separately. But however you serve it, I guarantee it's going to be just as delicious as it was in New Zealand. And I think you're going to love it heaps!
Enjoy!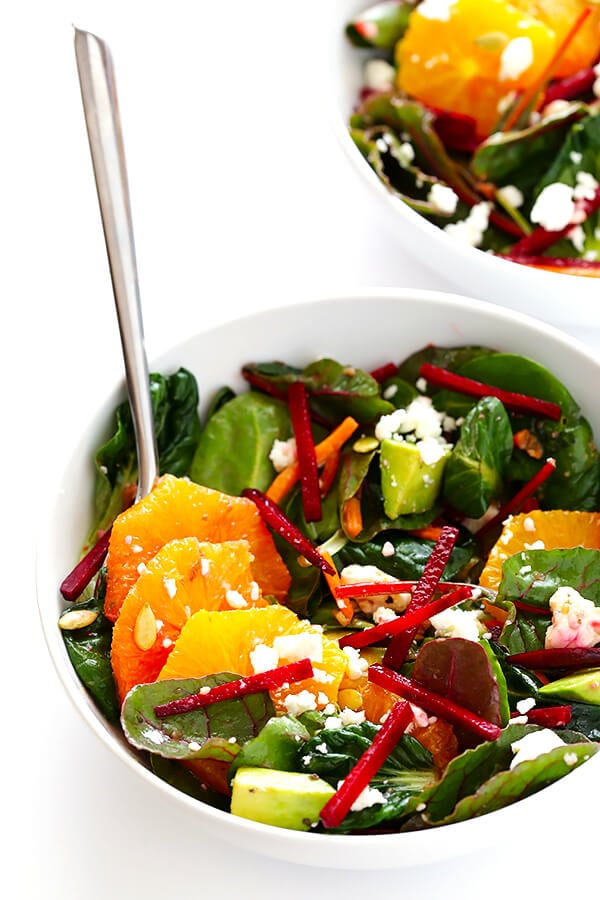 Print

Green Salad with Beets, Oranges & Avocado

Prep Time: 10 minutes


Total Time: 10 minutes


Yield: 2 –4 servings 1x
---
Description
This Green Salad with Beets, Oranges and Avocado was inspired by a delicious meal I had in New Zealand. It's easy to make, full of healthy ingredients, and it's SO delicious and refreshing!
---
4 cups

 leafy greens (I used a chard/kale/arugula/spinach mix)

3

small oranges, peeled and sliced into rounds

1

avocado, peeled, pitted and diced

1

large carrot, peeled and julienned

1

small beet, peeled and julienned

1/2 cup

crumbled feta or goat cheese

1/4 cup

toasted pepitas

1/3 cup

 white balsamic vinaigrette (or any vinaigrette)
---
Instructions
Add greens, oranges, avocado, carrot, beets, pepitas, and cheese together in a large bowl.  Drizzle evenly with the vinaigrette, and toss until the salad is combined and evenly coated.

Serve immediately, topped with some freshly-cracked black pepper if desired.
---
Notes
Inspired by Tank in New Zealand.