This Green Goddess Soup is full of feel-good veggies and greens, it's quick and easy to make, and it tastes and feels great. Bonus? It's also naturally gluten-free and vegan.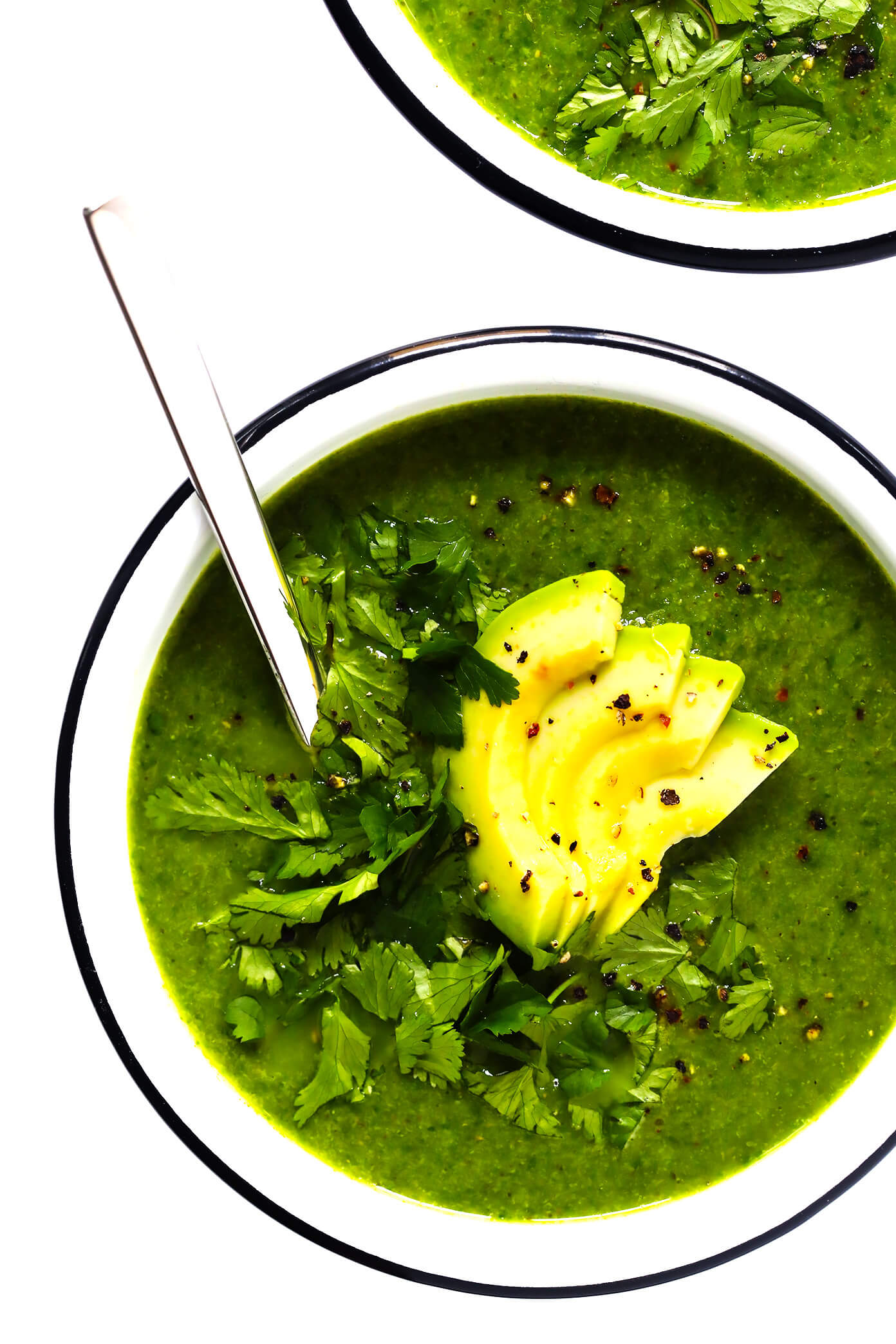 Also know in our house as the Post-Vacay, Gotta-Catch-Up-On-Those-Greens, Feel-Good, Detox Vegetable Soup. ?
Actually, we should probably say Post-Staycay Soup. Because with a grand total of 10 people coming to visit us in Barcelona this Spring, there's going to be much more staycationing than traveling for us happening around here — which I've gotta say — we are already loving!
As many of you saw on Instagram, our good friend, Sarah, flew over from Kansas City to come spend this past week with us. And we had a freaking blast showing her all around the city. We made the rounds to some of our favorite touristy sights, soaked up lots of warm sunshine down on the beach, walked 100,000+ steps together, found some fun live music, squeezed in a quick 2-day trip to Mallorca, and — best of all — just had fun chatting 24/7 and catching up on life together. And of course, in between all of that, we ate. And ate, and ate, and ate, and ate.
Because…vacation. And because…Barcelona.
Oh my goodness, no regrets though. We ate so much good food that week. But as always seems to be the case at the end of any vacation (or staycation), Barclay and I found ourselves making a beeline for the veggies and greens at the market afterwards. Then proceeded to go big on salads and stir-frys and smoothies all week long. But our favorite post-vacay meal actually ended up being this random soup that I improvised at the end of the week with our various green leftovers. It was super quick to make, chock-full of feel-good veggies and white beans, naturally gluten-free, and it felt and tasted great. Oh, and also? It was so green.  (Because — shhh — an entire bag of baby spinach was hidden in there!)
Anyway, we loved it so much that I had to share it with you. So whether you're detoxing from vacation, or just need more veggies in your life this week, grab some greens and let's make a batch!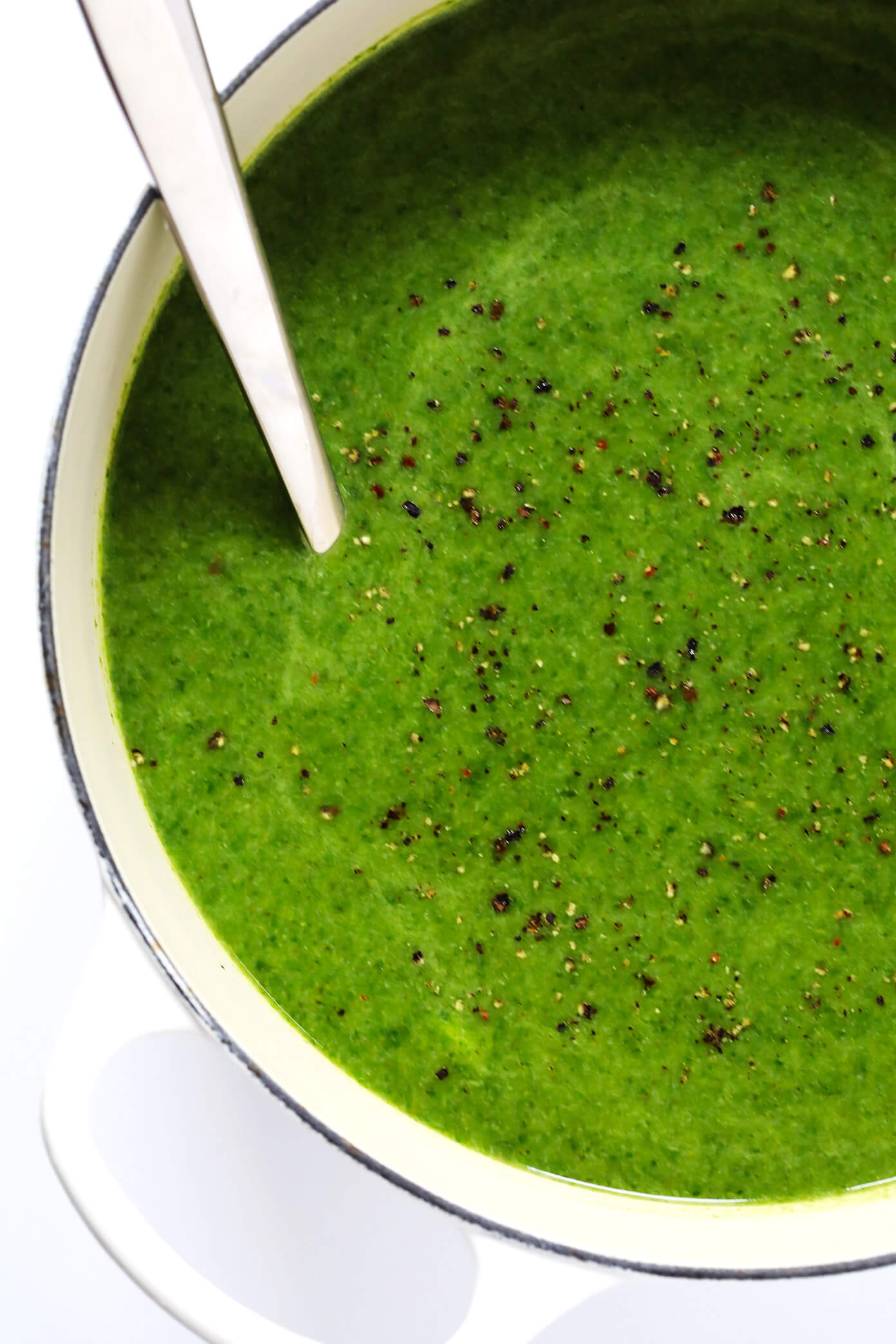 Since this truly was an "empty out the refrigerator" kind of soup, the recipe here is ultra flexible. In general, you'll need:
Broccoli or Cauliflower, which will be the base of the soup. You can use a combo of both (which is what I had on hand), or just pick one. Fresh or frozen. Or if you have any leftover roasted broccoli or cauliflower, that would be even better.

Greens of your choice. I just dumped an entire bag of baby spinach into our soup because we had it on hand (and the flavor is ultra-mild). But kale, cabbage, collards, or broccoli rabe could work well. If you're using a stronger-flavored green (like kale), I recommend using a little less to start, and then you can always add more, to taste.

White beans, such as canneloni, White Northern, or even garbanzo beans.

Onions, garlic, salt and pepper, because, always. 😉

Fresh lemon juice, which will brighten things up.

Ground cumin, to give this some depth of flavor.

A pinch of crushed red pepper flakes, just enough to give this a very subtle kick, not make it spicy.

Fresh cilantro and avocado, for serving. I'd say they're optional, but honestly, they're too good to pass up.
And finally…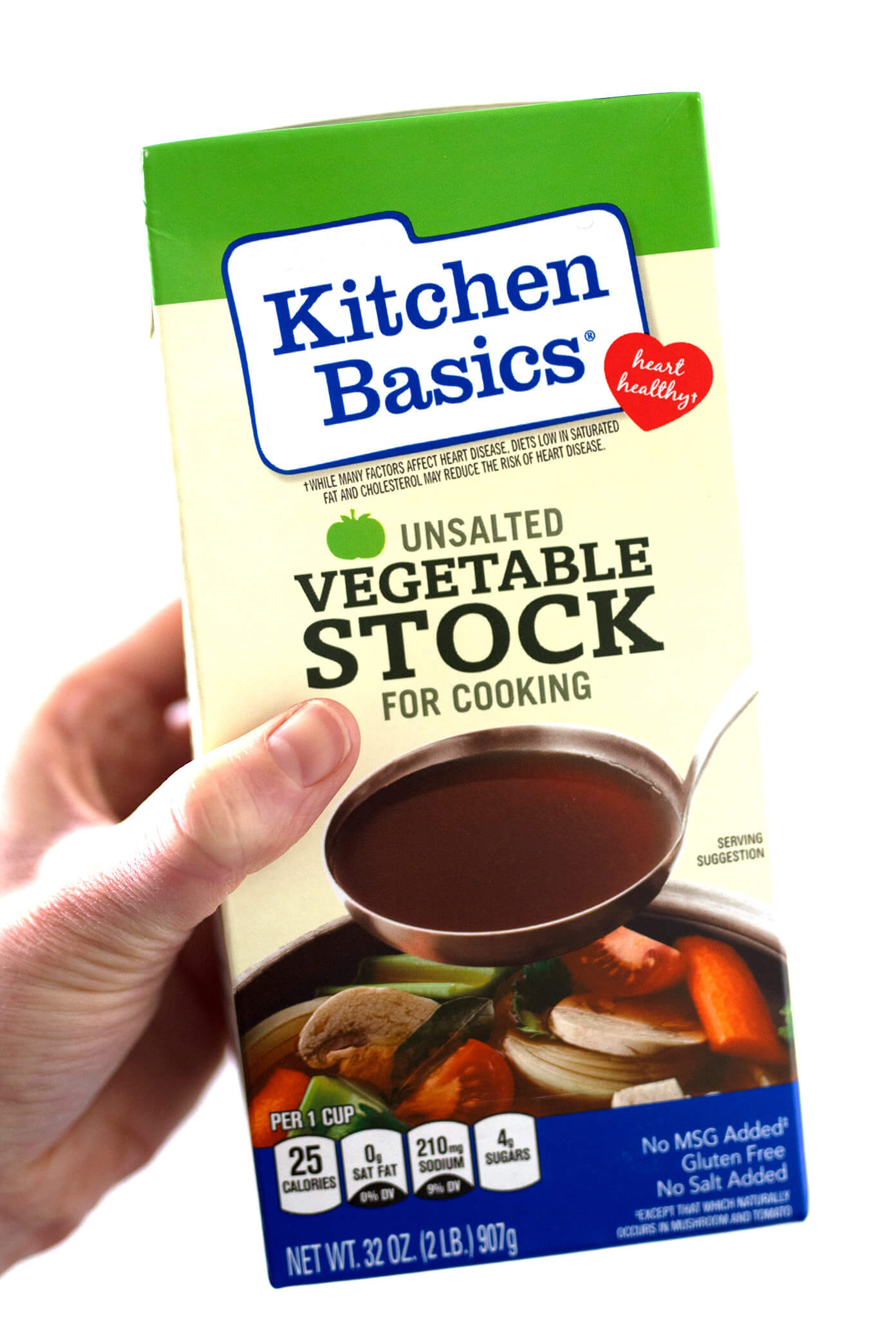 …lots of vegetable stock, to serve as the base of the soup. As you all well know by now, I'm a Kitchen Basics girl all the way. And living with my vegetarian husband, you'd better believe this Kitchen Basics Vegetable Stock is always stocked in our pantry. It's full of great flavor, naturally gluten-free, and is a fantastic base to my vegetarian soups.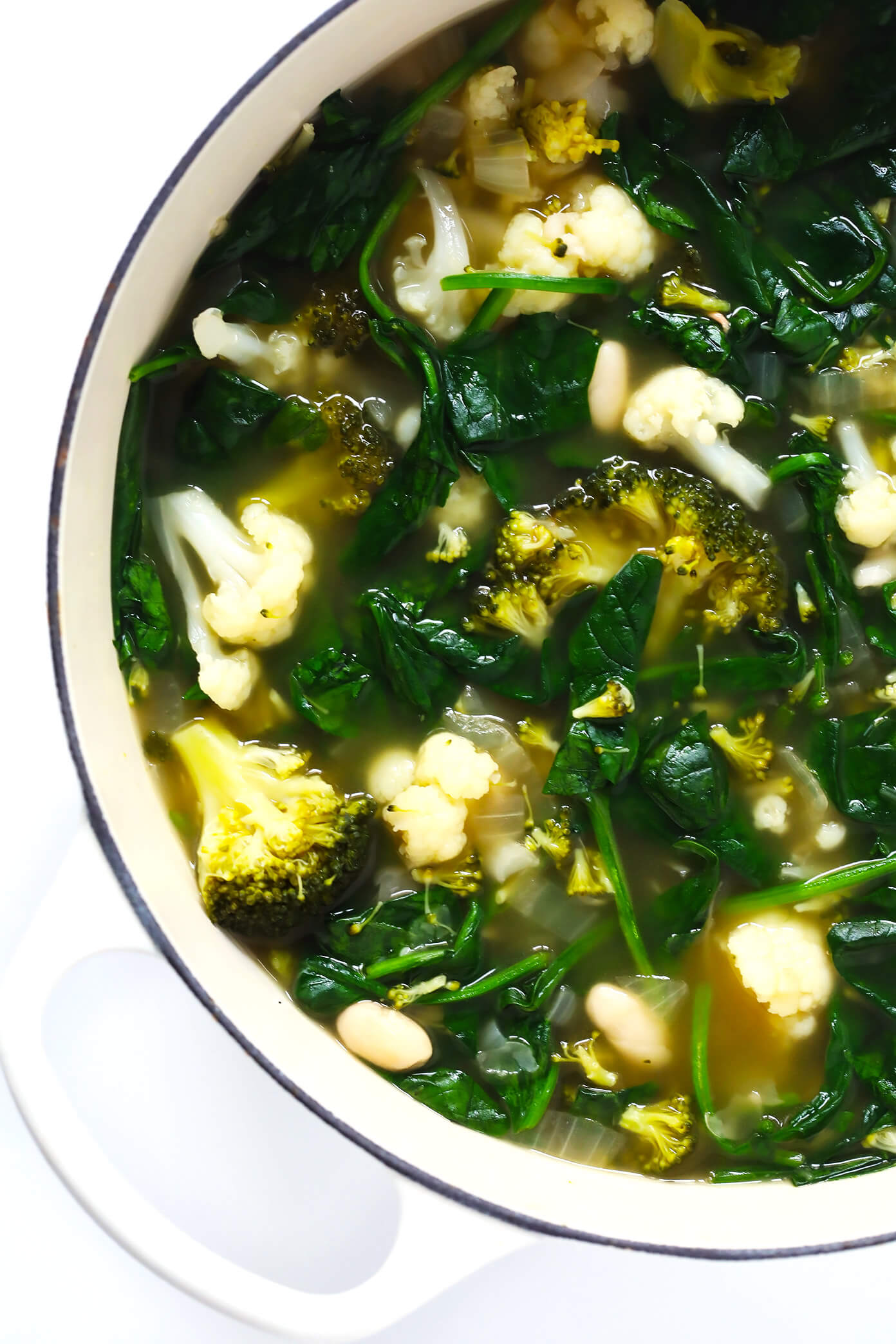 Simmer everything together in a large stock pot until the veggies are tender. Then stir in the greens at the end, and cook for a minute or two until softened. Then use an immersion blender (or a traditional blender) to puree the soup until it's completely smooth. Taste, and season with salt and pepper as needed.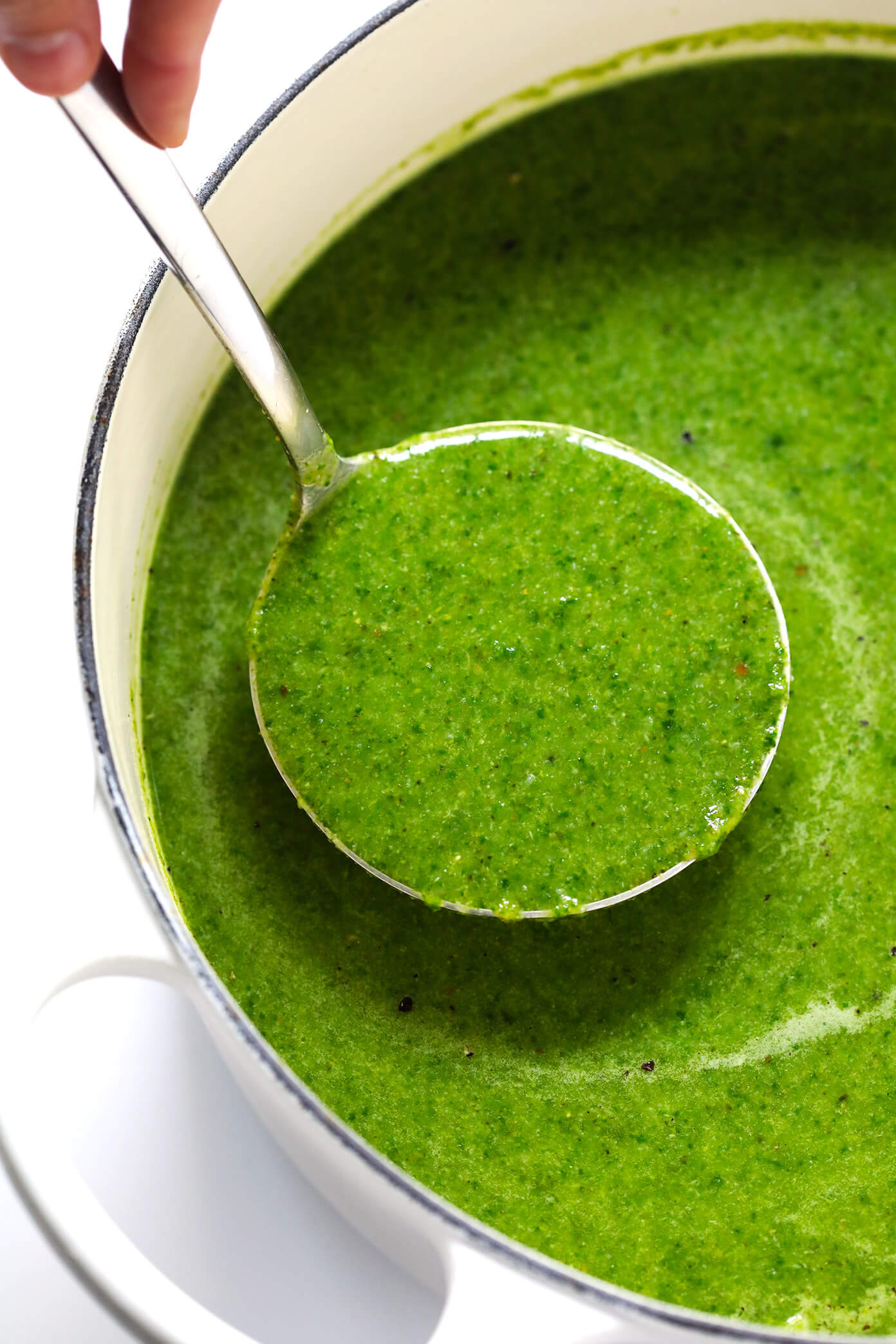 Then voila!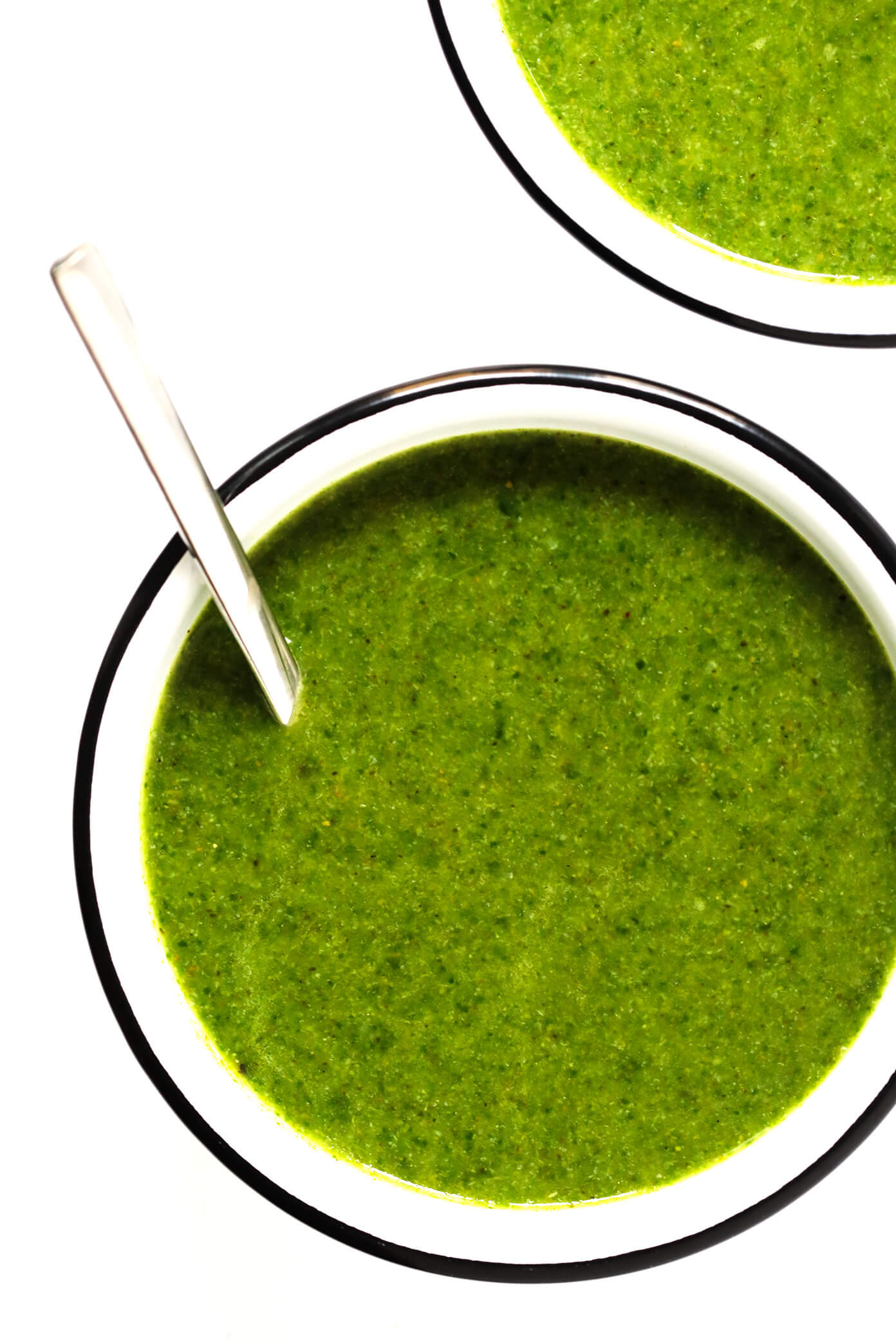 This gorgeous, fresh, feel-good soup will be yours to enjoy!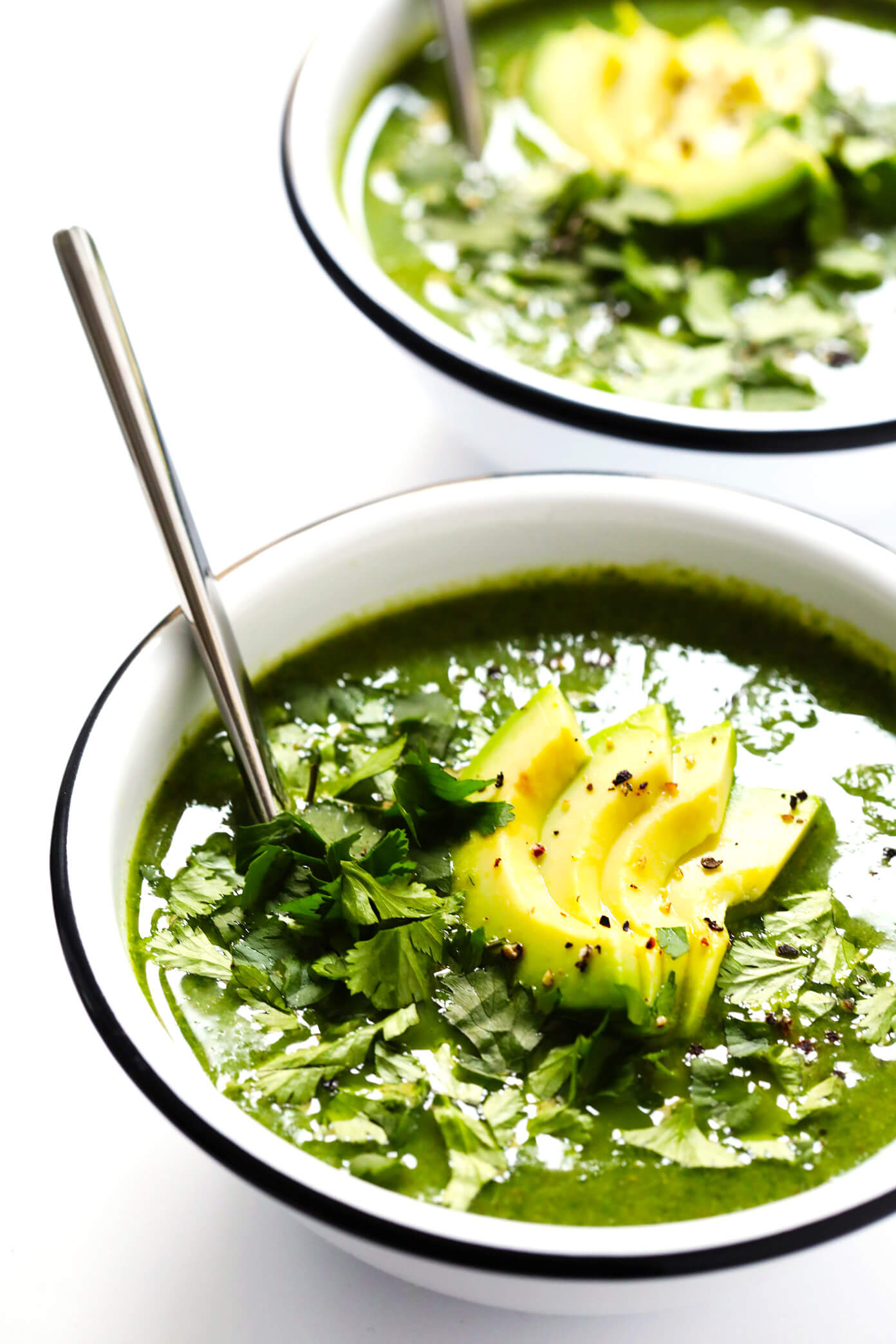 We served ours with sliced avocado and lots of fresh cilantro and an extra squeeze of lemon, which I fully recommend. Oh, and I also forgot to add seeds to these photos! Barclay and I both agreed that the soup tastes better with a bit of a crunch, so we alternated between sunflower seeds and pepitas and toasted walnuts each time we ate these leftovers.
Seriously, such a delicious way to get your greens. Hope you all enjoy!
Print

Green Goddess Soup

Prep Time: 10 minutes


Cook Time: 25 minutes


Total Time: 35 minutes


Yield: 6 –8 servings 1x
---
Description
This Green Goddess Soup is overflowing with feel-good veggies and greens, it's quick and easy to make, and tastes so wonderfully fresh and delicious.  Feel free to add/sub in any other leftover veggies or greens that you have on hand!
---
1 tablespoon

olive oil

1

small white onion, peeled and diced

4

cloves garlic, peeled and minced

8 cups

 Kitchen Basics Vegetable Stock

1

small head broccoli, chopped into bite-sized florets

1

small head cauliflower, chopped into bite-sized florets

1

(15-ounce) jar white beans, rinsed and drained

2 teaspoons

ground cumin

1

–

2

teaspoons sea salt

pinch of crushed red pepper flakes and freshly-cracked black pepper

6 cups

(about

5 ounces

) baby spinach

zest and juice of 1 lemon (about 2 tablespoons juice)

toppings: sliced avocado, chopped fresh cilantro, and/or toasted seeds (pepitas, sunflower seeds, etc.)
---
Instructions
Heat oil in a large stockpot over medium-high heat.  Add onion and sauté for 5 minutes, stirring occasionally, until softened and translucent.  Stir in the garlic and sauté for an additional 1-2 minutes, stirring occasionally, until fragrant.

Add in the vegetable stock, broccoli, cauliflower, white beans, cumin, 1 teaspoon sea salt, crushed red pepper flakes and black pepper, and stir until combined.  Continue cooking until the soup reaches a simmer.  Then reduce heat to medium-low, cover and simmer for 5-8 minutes, or until the broccoli and cauliflower are tender.  Stir in the spinach and cook for 1 minutes, or until it is slightly wilted.

Use an immersion blender (or transfer the soup in batches to a traditional blender) to puree the soup until smooth.

Stir in the lemon zest and juice until combined.  Then taste, and season the soup with additional salt and pepper if needed.

Serve warm, garnished with your desired toppings.  Or refrigerate in a sealed container for up to 3 days.
---
This post is sponsored by Kitchen Basics, maker of the stocks that I love and cook with regularly. As always, thank you for supporting the brands that help make this site possible.