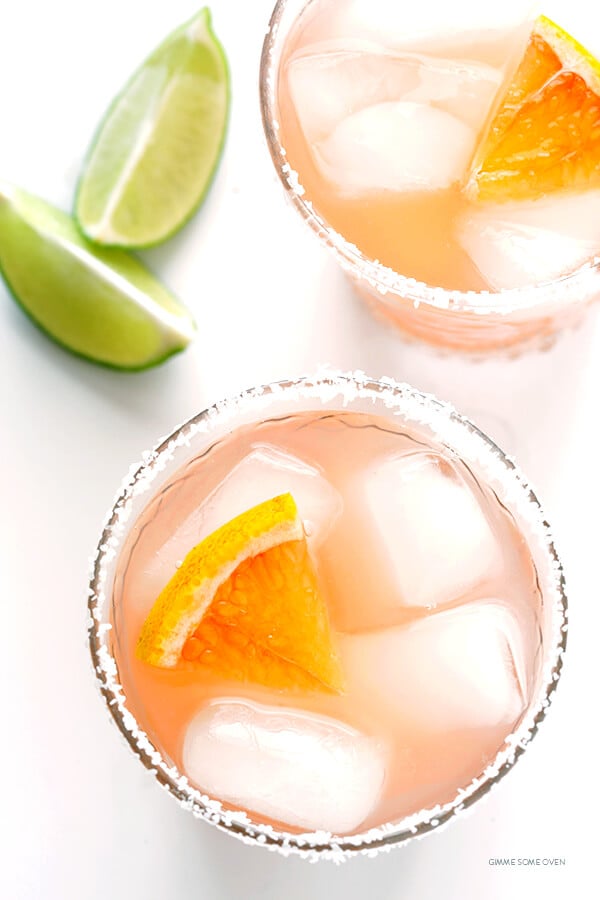 I have come to the recent conclusion that margaritas are my "happy" drinks.
Wine is my relax-and-feel-just-a-little-bit-classy drink. Beer is my kick-back-with-friends-and-have-a-good-time drink. Bourbon is my sip-and-savor-and-talk-about-real-stuff drink. Scotch is my feel-like-a-grownup(-and-the-peatier-the-better) drink. Piña coladas are my ultra-cheesy-but-gotta-order-one-each-time-I'm-on-a-beach drink. And the list goes on…
But margaritas?
I'm convinced it's nearly impossible to have a well-made margarita sitting in front of you and not have a good time. Maybe it's due to those cute salted rims that totally remind me of confetti. Maybe it's due to that brilliant mix of sweet and sour and salty flavors, mixed with tequila. (¡Tequila!)  Maybe it's due to the fact that margaritas almost always mean that chips and salsa are nearby. (Always a good thing.)
Whatever the reason, margaritas just make me happy. And as much as I will truly-madly-deeply love my classic margarita recipe, I still love experimenting regularly with other new flavors. My obsession this winter?
Grapefruit margaritas.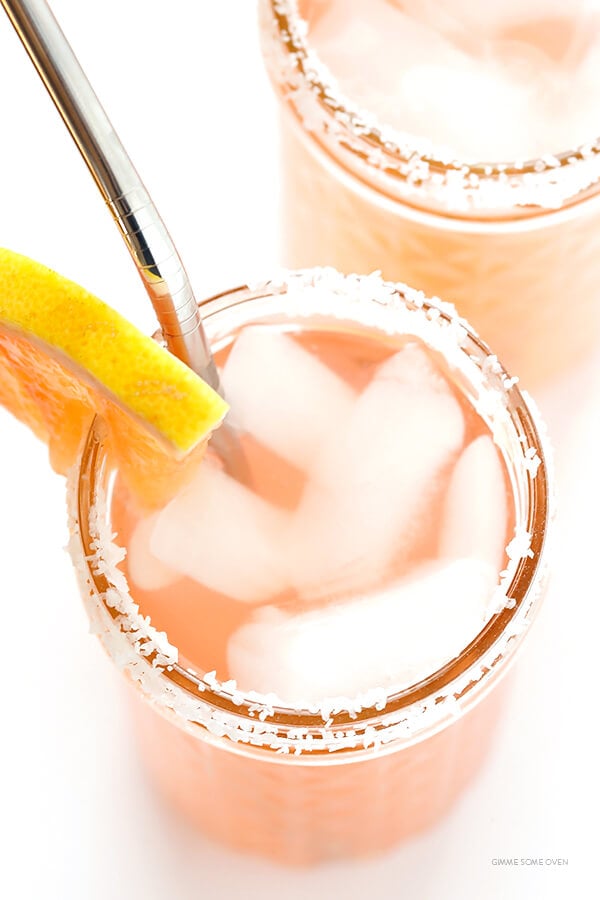 My food-blogging friend, Kathryne, has always sworn that grapefruit is the magical fruit that works well in just about any cocktail. And after putting her theory to the test over this past winter, I think that she's right. And I must say that I think it pairs exceptionally well with tequila in a good, fresh, homemade margarita.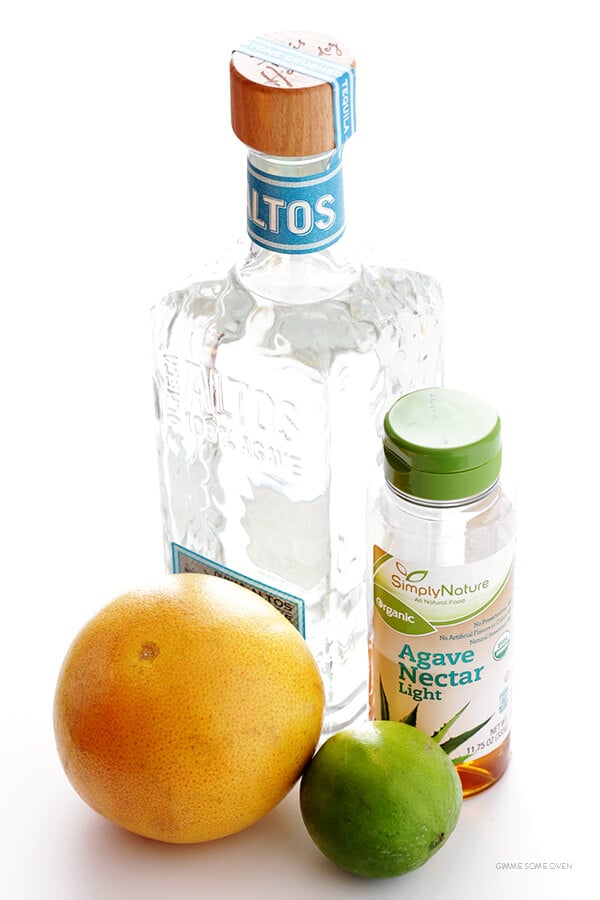 The ingredients you'll need to make one for yourself are simple:
tequila (any kind will do, but most margs are made with blanco)

orange liqueur (such as Cointreau, which I totally forgot to photograph – oops!)

agave nectar (to sweeten)

fresh grapefruit juice (or you can use store-bought juice if fresh ones aren't in season, see below*)

fresh lime juice (I don't drink margaritas without it!)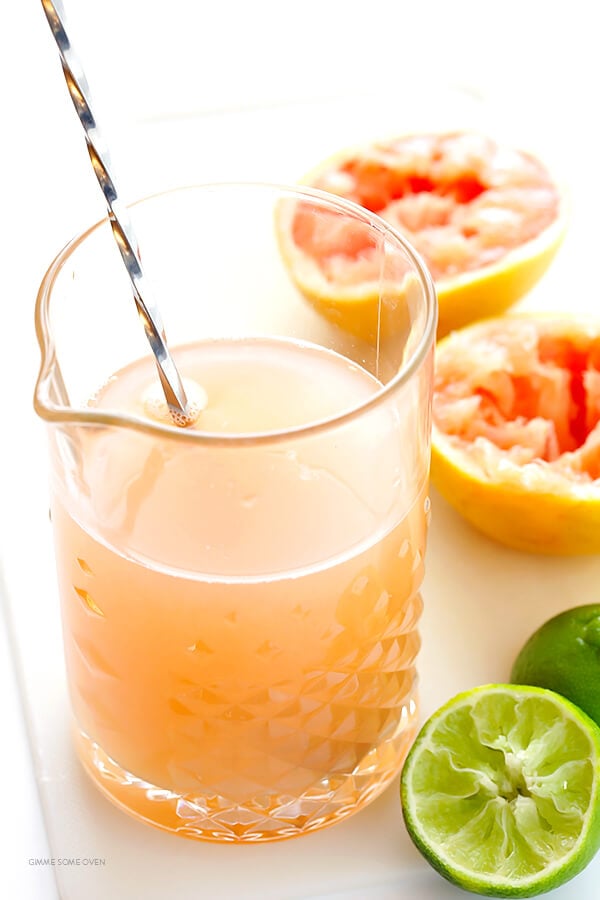 Just juice the fruit, and stir everything together…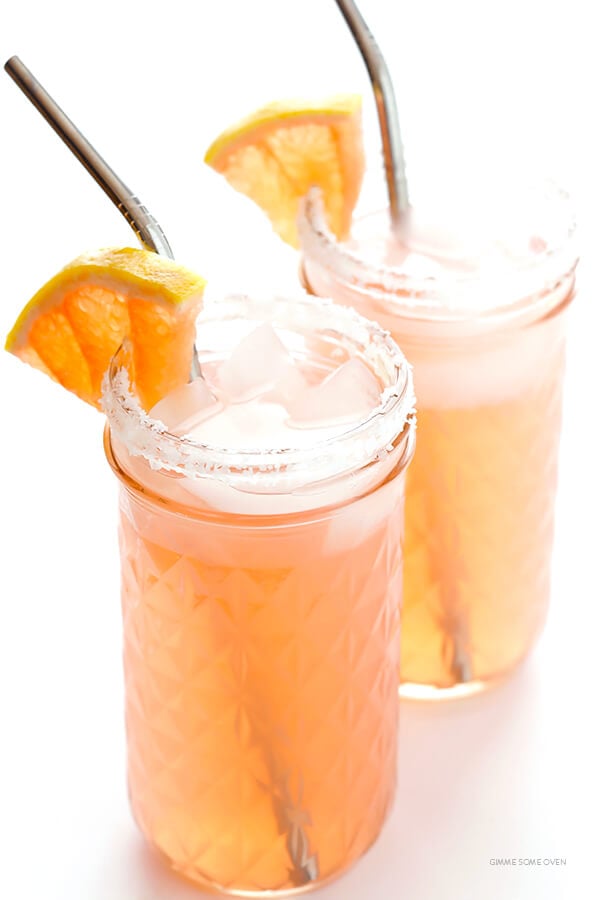 …and then you can either give it a good shake with some ice in a shaker, and/or just serve it over the rocks.
The sweetness is totally up to you on these. I generally prefer my margaritas a little tart, and especially love them so with the flavors of the fresh grapefruit juice. But feel free to just add in more/less agave to taste.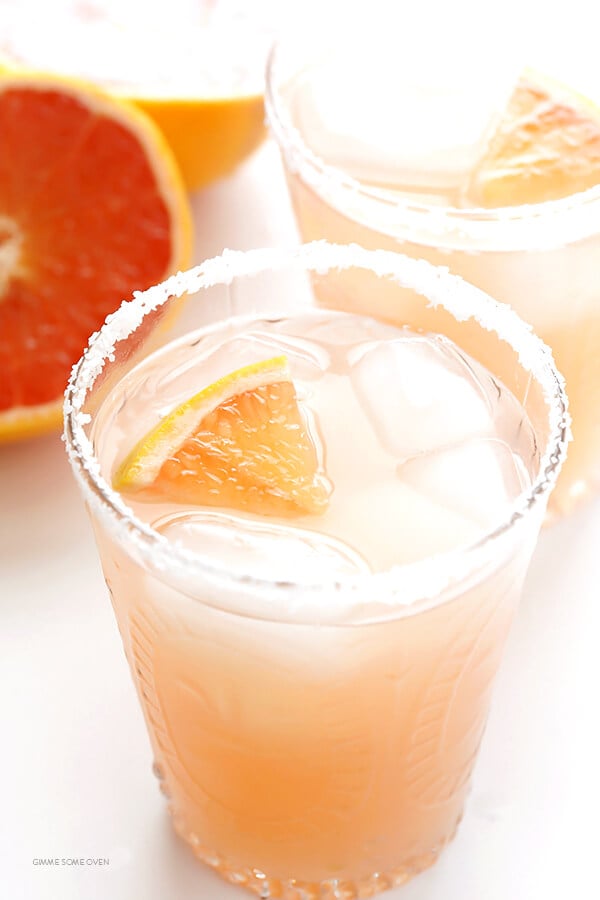 I would just recommend going ahead and juicing enough fruit for at least a double batch, because these guys are tasty, and I'm pretty sure you're going to want seconds. 😉
Cheers, everyone!
Print

Grapefruit Margarita

Prep Time: 5 minutes


Total Time: 5 minutes


Yield: 1 serving 1x
---
Description
This Grapefruit Margarita recipe is delicious and oh-so-refreshing when made with fresh grapefruit juice.
---
2 ounces

freshly-squeezed grapefruit juice

1 1/2 ounces

tequila, silver or reposado

3/4 ounce

Cointreau (or any orange liqueur)

3/4

 ounce freshly-squeezed lime juice

agave nectar for sweetening, to taste

ice

optional: lime wedge and salt for rimming the glass
---
Instructions
If you would like salt-rimmed glasses, begin by running a lime wedge (the juicy part) around the top rim of a glass.  Fill a shallow bowl with salt, and dip the rim in the salt until it is covered with your desired amount of salt.  Set aside.

Add grapefruit juice, tequila, lime juice and Cointreau to a cocktail shaker, and shake or stir until combined.  Taste, and if you would like it to be sweeter (most people do!), stir in a half teaspoon of agave, and then repeat as needed until the mix reaches your desired level of sweetness.

Fill glass with ice.  Pour in the margarita mixture over the rocks.  Serve immediately, garnished with an extra lime or grapefruit wedge if desired.
---