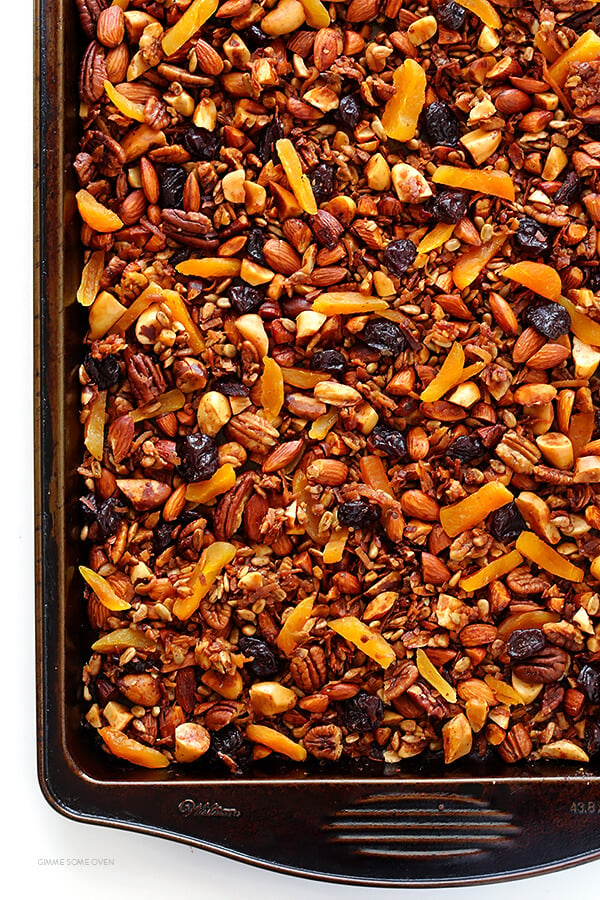 I never cease to be amazed by the power of good food in our lives.
It has the power to bring people together around a table. It has the power to nourish and quite literally fuel our lives. It has the power to inspire creativity and pride in those who prepare it. And you'd better believe it has the power to be freaking delicious for the lucky ones who get to eat it.
But more and more lately, I keep hearing stories about one of the most important purposes of good food — that it also has the power to heal.
Probably the most intense and life-changing — make that, life-saving — stories I've heard was about the power of good food was from my friend, Amie. I first met her at a blogging event about 4 years ago, and was immediately drawn to her bright, positive, energetic, and oh-so-friendly spirit. I had loosely followed her gluten-free blog for awhile, and knew that a change in her diet had helped her overcome some challenging health problems. But it wasn't until I started hearing the heartbreaking details of her story — that she was practically bedridden, suffering from chronic pain, unable to work or have a social life, being misdiagnosed and shuffled from doctor to doctor with no relief — that I realized how dramatically different life was for her so recently. And that this very intentional and brave change in her diet was what brought her back to being the (literally) full-of-life girl we all know and love today.
It really is extraordinary. And she's extraordinary. And I'm happy that after all of these years, she is now sharing the fullness of her story (seriously, the full version is worth the read), and everything she has learned about detoxing and fighting inflammation and how to reset your body, plus tons of the delicious clean recipes she now enjoys in her brand new cookbook, Eating Clean. And good news for us, it was released yesterday!! So to celebrate, I thought I'd share my favorite recipe from the book so far.
It's super quick and easy to make. It's made with totally clean ingredients (and no oats!). It's wonderfully delicious. And it's been my breakfast everyday this week. It's Amie's Grain-Free Granola!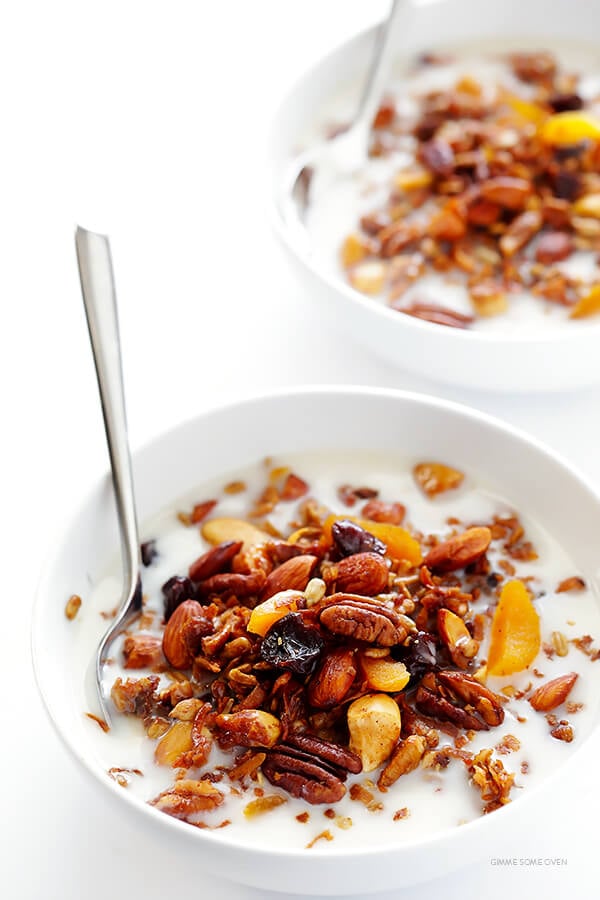 It's no secret that I'm a big granola fan. I'm always whipping up batches to enjoy for breakfast, snacking, or (my favorite) sprinkling on top of a little ice cream for dessert. But pretty much all of my granola recipes always include oats, which I know are tough for people on a grain-free diet.
So when I saw Amie's recipe in the book that was bursting with nuts and coconut and dried fruit galore, I had to give it a try.
And I'm so happy I did. 🙂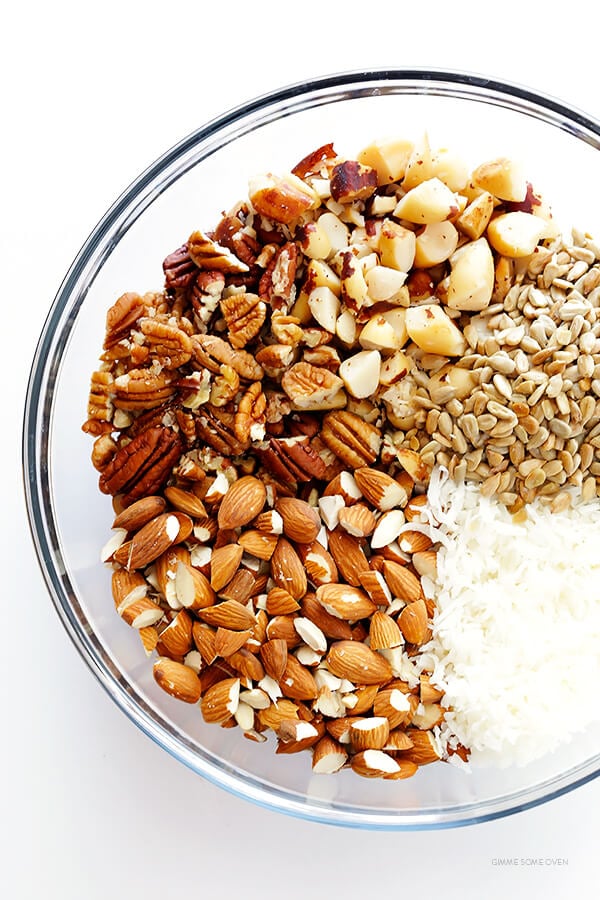 Let me start off by saying that this recipe is packed with protein! Instead of using just one kind of nuts, it calls for FOUR different kinds — which I absolutely loved. It was my first time cooking with Brazil nuts (which I hear are becoming all the rage lately), and they were so hearty and tasty! And all of those sunflower seeds almost fooled me into thinking they were oats, at first glance. So tasty.
(That said though, if you can't find all four kinds of nuts, feel free to just substitute in more of the other kinds, or whatever you have on hand.)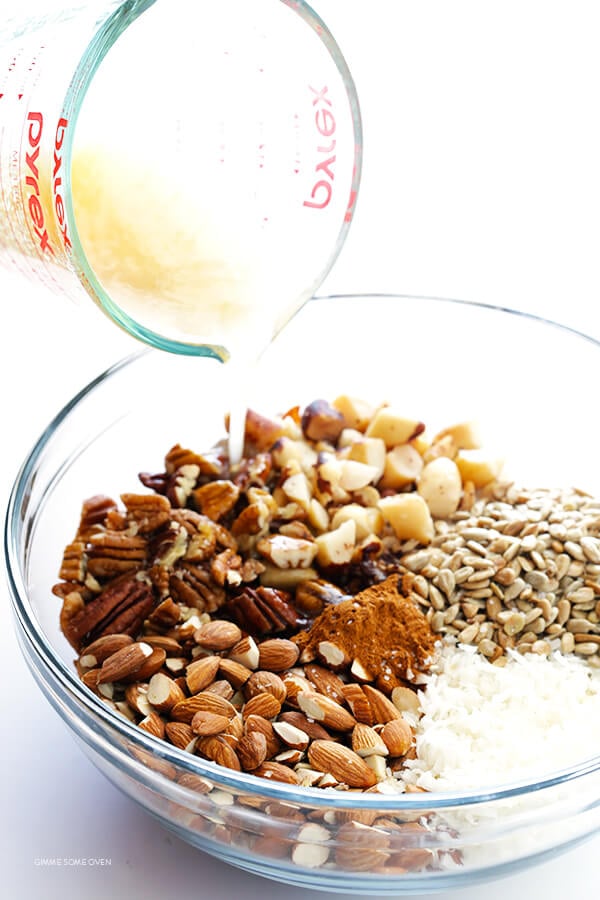 To make the granola, you just toss the nuts and coconut and cinnamon with a simple honey-sweetened syrup.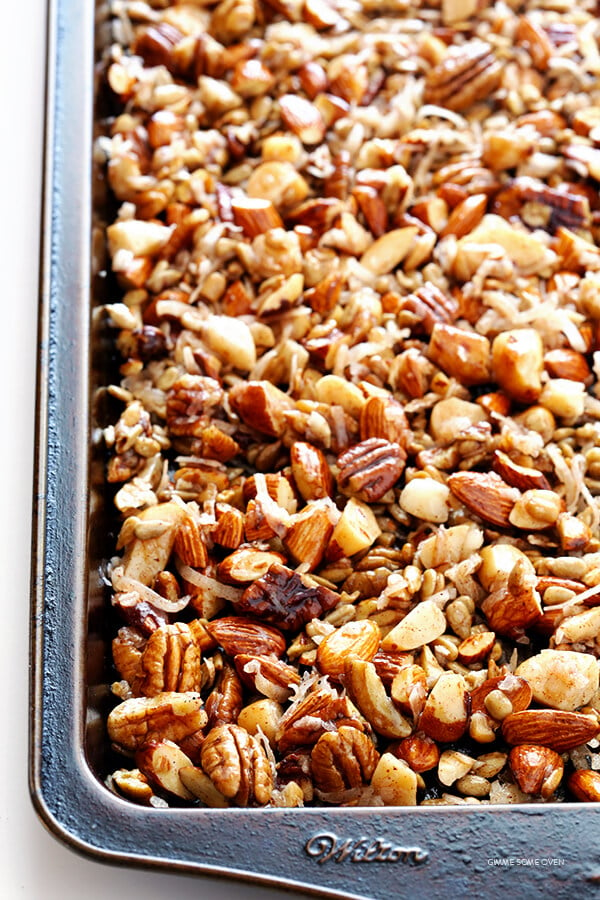 Toss everything together and spread it out evenly on a baking sheet. And then cook it up to toasted granola perfection.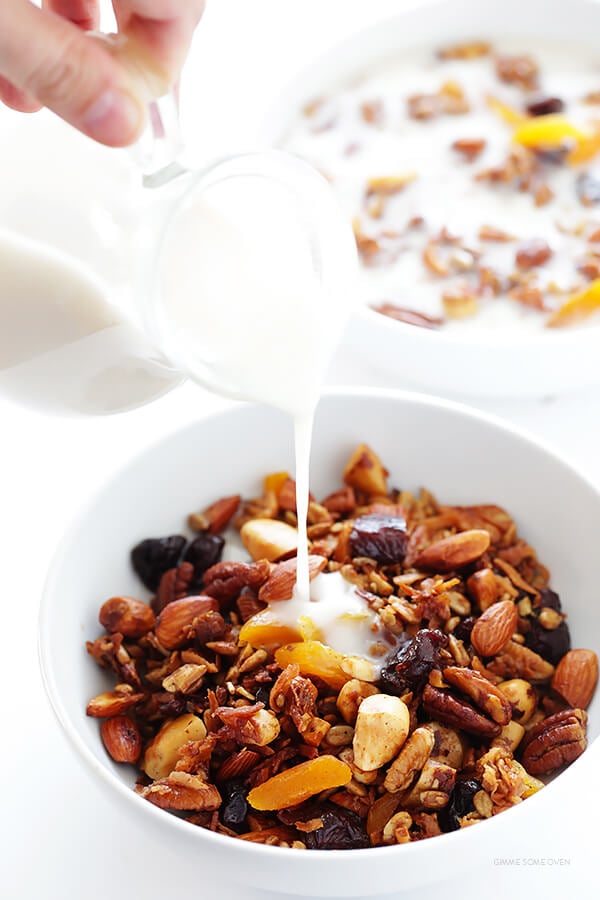 The result? Soooo tasty.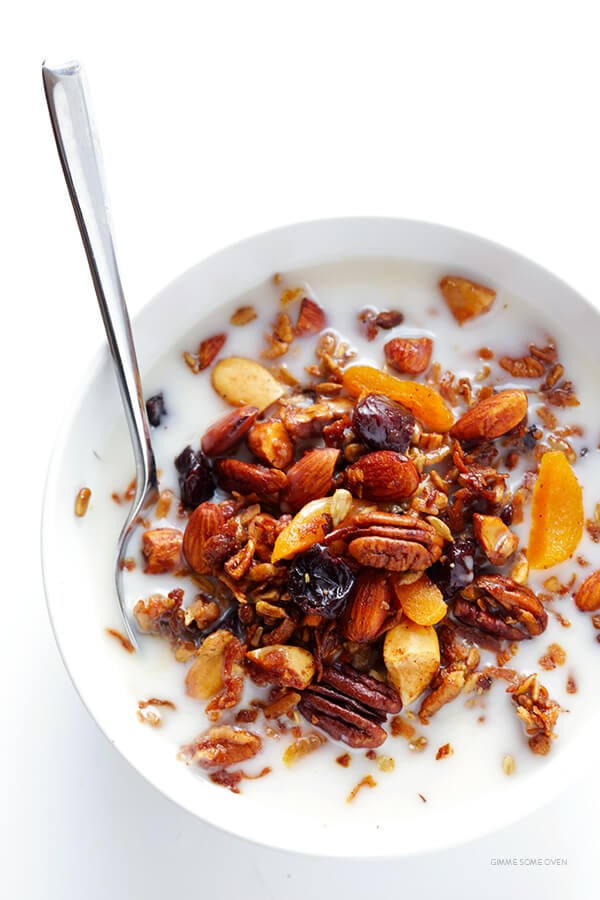 Seriously. I'm someone who usually likes to mix up my routine from day to day, but I've been eating this granola for 7 days straight and am still craving it every morning. It's sweet (but not too sweet), it's hearty and filling, and I love knowing that it's made entirely with ingredients I can feel good about.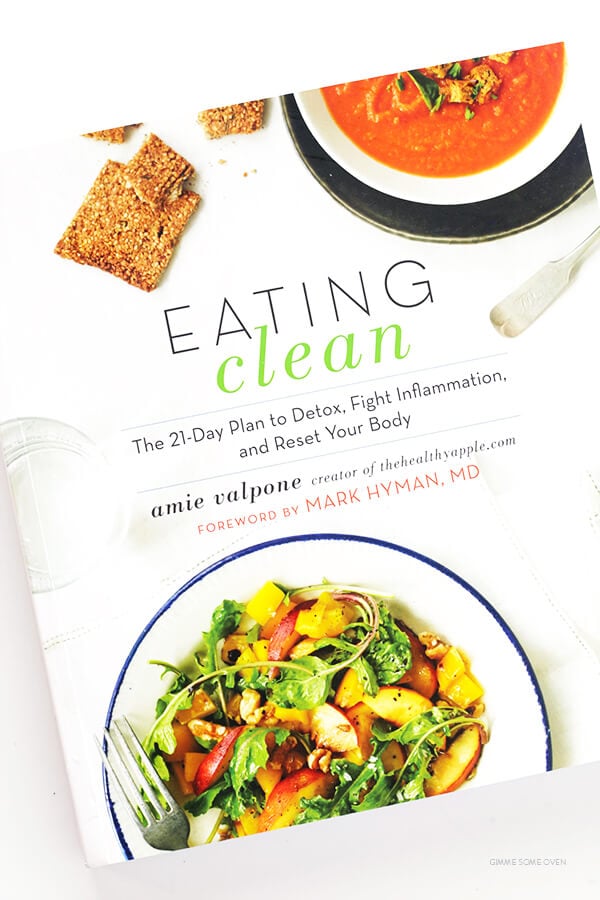 So big thanks for the great recipe, Amie, and I recommend everyone check out her book for more great new recipes. And I especially recommend it to everyone who's interested in learning more about eating a clean diet, because this book is far more than a cookbook. Nearly half of the book is full of Amie's well-researched advice on how to succeed with a 21-day elimination diet, how to reintroduce foods and pinpoint the good ones for each of us, how to travel and eat out and entertain on a clean diet, how to detox your personal care products and home and office, and so much more.
Cheers to the power of good food!
Print

Grain-Free Granola

Prep Time: 10 minutes


Cook Time: 25 minutes


Total Time: 35 minutes


Yield: 8 cups 1x
---
Description
This Grain-Free Granola recipe is easy to make, full of great flavor, and it's naturally completely gluten- and grain-free (and can also be made vegan).
---
1 1/2 cups

raw almonds, chopped

1 1/2 cups

unsweetened shredded coconut

1 cup

raw pecans, chopped

1 cup

raw Brazil nuts*, chopped

1 cup

shelled raw sunflower seeds

1 teaspoon

ground cinnamon

pinch sea salt

1/4 cup

melted coconut oil

1/4 cup

raw honey** or pure maple syrup

3 Tablespoons

water

1 1/2 teaspoons

pure almond extract

1 cup

chopped dried apricots

1/2 cup

chopped dried cherries
---
Instructions
Preheat the oven to 325°F.  Line a rimmed baking sheet with parchment paper.

In a large bowl, combine the almonds, coconut, pecans, Brazil nuts, sunflower seeds, cinnamon, and salt.

In a small bowl, whisk together the oil, honey, water, and almond extract.  Add the wet ingredients to the nut mixture and toss to coat.

Spread the granola on the prepared baking sheet in a single layer and bake for 25-30 minutes, or until golden brown, stirring halfway through.  Remove the granola from the oven and stir in the dried apricots and cherries.

Set aside to cool for 15 minutes before serving.  Store in a sealed container in the refrigerator for 3-5 days.
---
Notes
*If you can't find Brazil nuts, feel free to substitute an extra cup of pecans instead.
**If making this recipe vegan, use maple syrup instead of honey.
This recipe has been reprinted with permission from Eating Clean: The 21-Day Plan to Detox, Fight Inflammation, and Reset Your Body by Amie Valpone.