This Garlic Lovers' Spaghetti is quick and easy to make, it's packed with simple and ultra-garlicky Italian flavors, and it's absolutely delicious.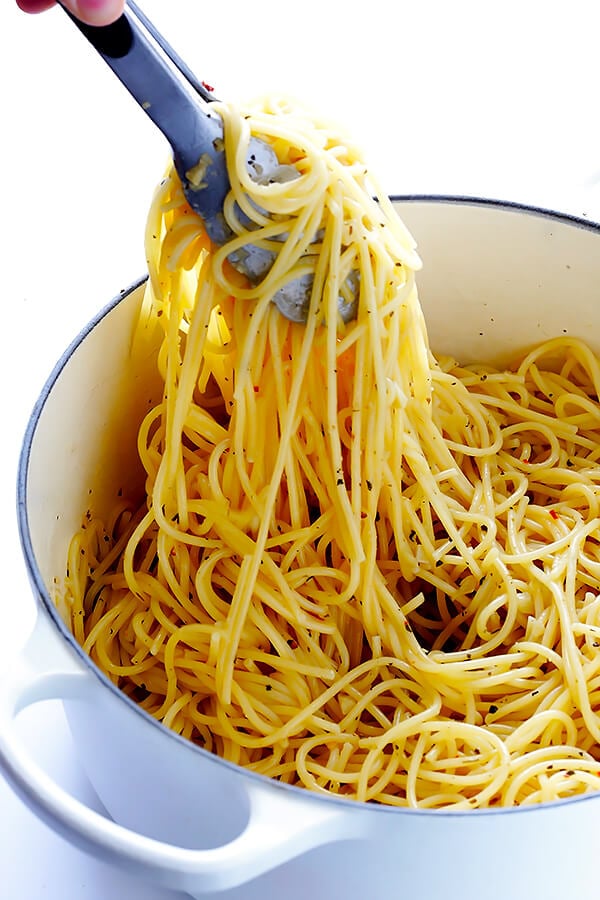 Ok, after sharing my favorite chicken parmesan recipe with you on Monday, I couldn't resist following it up with my all-time favorite spaghetti recipe. ♥
Guys, I've got to be honest with you. I know pasta seems to get a bad rap nowadays, and I try to make veggies and salads and whole-grain-y foods the star of my meals most of the time. But I've made my (happy) peace with the fact that pasta will forever and always be my favorite comfort food. And when the craving strikes, this is my tried-and-true recipe that I always turn to.
It's quick and easy to make. It's made with ingredients that I literally always have on hand. It's ready to go in the time it takes to boil your pasta water and cook the spaghetti. It pairs well with just about any protein or veggies on the side. It is wonderfully chocked full of SO MUCH GARLIC. And it is simply my favorite.
So grab some peppermints for afterwards, and let's make some!
Garlic Lovers' Spaghetti Recipe | 1-Minute Video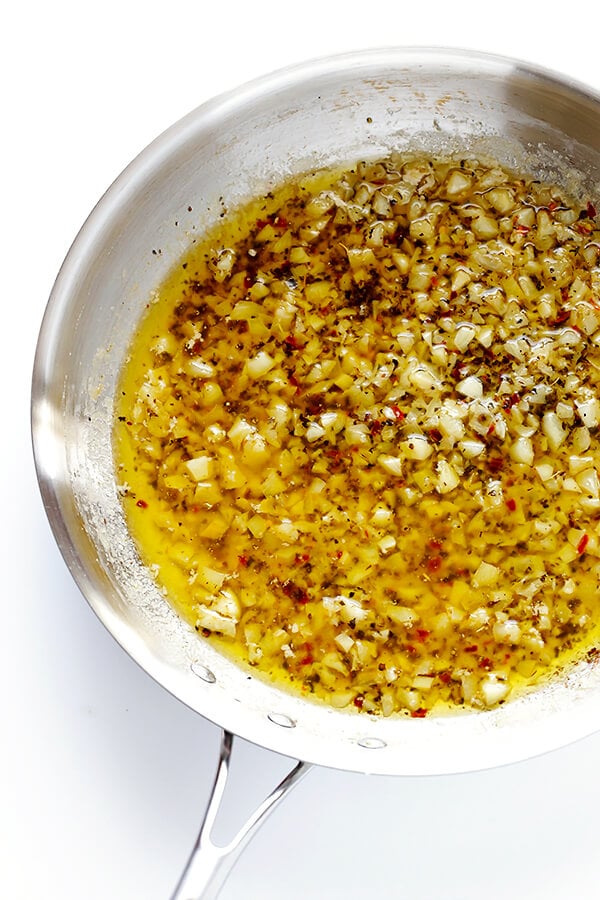 The recipe really is simple. While your pasta water is coming to a boil, get busy chopping so much garlic.  (<– Like, the more the absolute merrier. I generally aim for about 1 large head of garlic for a pound of spaghetti.)
Then melt some butter in a pan and saute the garlic, add in a little white wine, Italian seasoning, and some crushed red pepper and let it all simmer together to reduce a bit.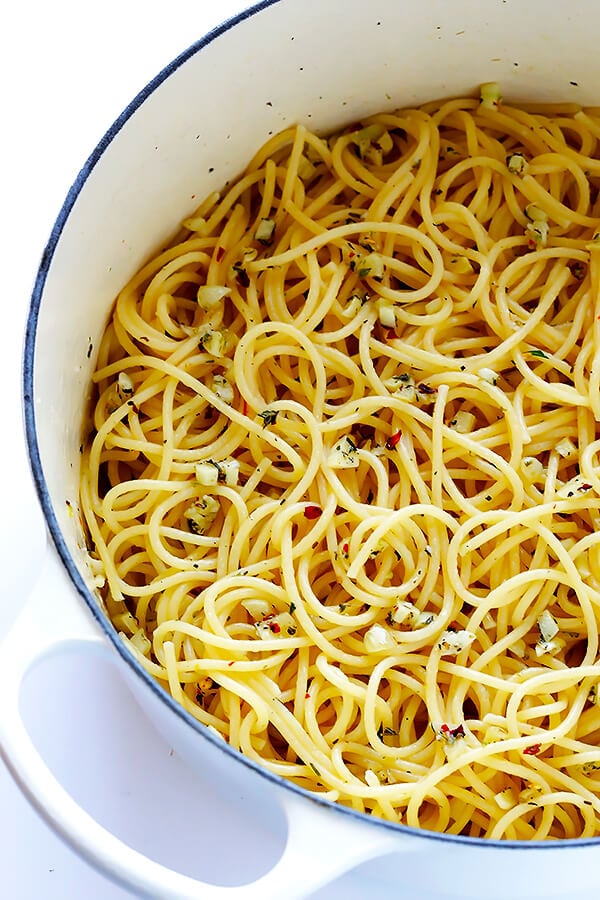 Then add it to your spaghetti, and voila!
I like topping mine with a little freshly-grated Parmesan and more crushed red pepper and black pepper (because I seem to be obsessed with everything peppery), but feel free to go with whatever sounds good to you. Oh, and if you're not into cooking with wine, just omit it and add in a little splash of pasta water when mixing in the sauce if need be.
Just don't skimp on the garlic, please, even if it seems like too much. I believe you'll thank me later. 🙂
I'll be back on Friday with a nice and healthy kale-y recipe. But until then, comfort food for the win!!
Print

Garlic Lovers' Spaghetti

Prep Time: 15 minutes


Cook Time: 10 minutes


Total Time: 25 minutes


Yield: 6 –8 servings 1x
---
Description
This Garlic Lovers' Spaghetti is quick and easy to make, packed with ultra-garlicky buttery flavor, and SO delicious!!
---
1

pound dry spaghetti (or any pasta shape will work)

1

large head of garlic (about

12

cloves), peeled and roughly-chopped

6 tablespoons

butter

1/2 cup

dry white wine

1 teaspoon

Italian seasoning, store-bought or homemade

pinch (each) of salt, freshly-cracked black pepper, and crushed red pepper flakes

optional toppings: freshly-grated Parmesan cheese, extra black pepper, extra crushed red pepper flakes
---
Instructions
Cook pasta in a large generously-salted stockpot of boiling water al dente according to package instructions.  Drain and set aside.

While the pasta water is heating, melt the butter in a large saute pan over medium heat.  Add the garlic and saute for 4-6 minutes, stirring occasionally, until it is fragrant and just barely starts to brown.

Slowly add in the white wine, Italian seasoning, salt, pepper, and crushed red pepper flakes.  Reduce heat to medium-low and simmer for 5-10 minutes, or until the pasta is cooked and ready to go.  Taste, and season with extra salt and/or pepper and/or crushed red pepper flakes if needed.

Once the pasta is cooked and drained, return it to the stockpot and add in the garlic-butter mixture.  Toss until combined.

Serve immediately, garnished with extra toppings if desired.
---