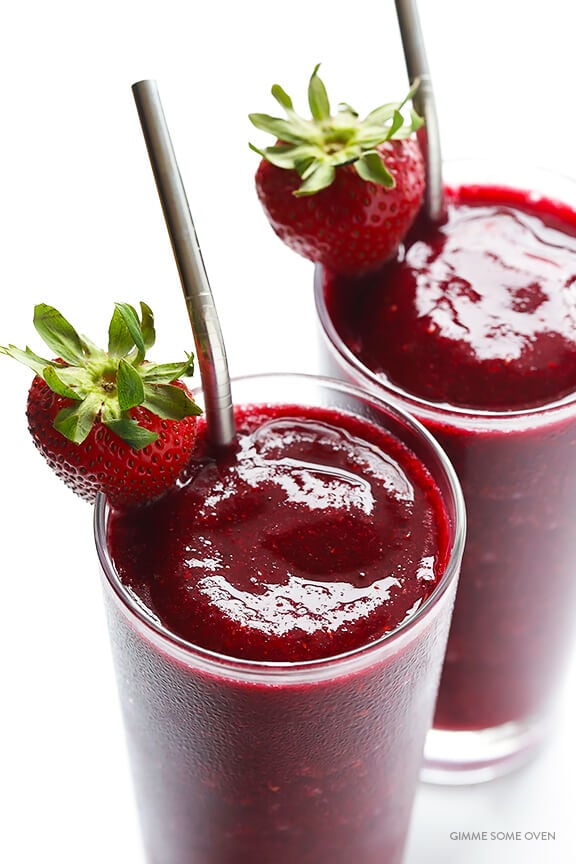 So, pretty sure I woke up with a lovely sniffly, sneezy, cough-y, achy, all-I-want-to-do-is-rest summertime cold this week, and I'm not too happy about it.
Because if you ask me, those words — summertime and cold — do not belong together.
But apparently this summer for me, they do.
So while the rest of the world has been out enjoying the sunshine and swimming pools and late-night deck parties, I've been nestled inside burrowed beneath a quilt with my cinnamon hot tea counting down the hours until a very early bedtime while the sun's still out. Not quite my idea of summer lovin', but a girl's gotta do what a girls' gotta do to get well soon.
That said, I do have a very summer-y recipe ready to share with you today that I made earlier this week — frozen sangria!! Trust me, these two words definitely belong together. This recipe is ridiculously quick and easy to make, it can be blended immediately before serving (vs. having to marinate for hours like traditional sangria), and it is a perfectly refreshing and delicious treat for the summertime.
Let's make some…
Frozen Sangria Recipe | 1-Minute Video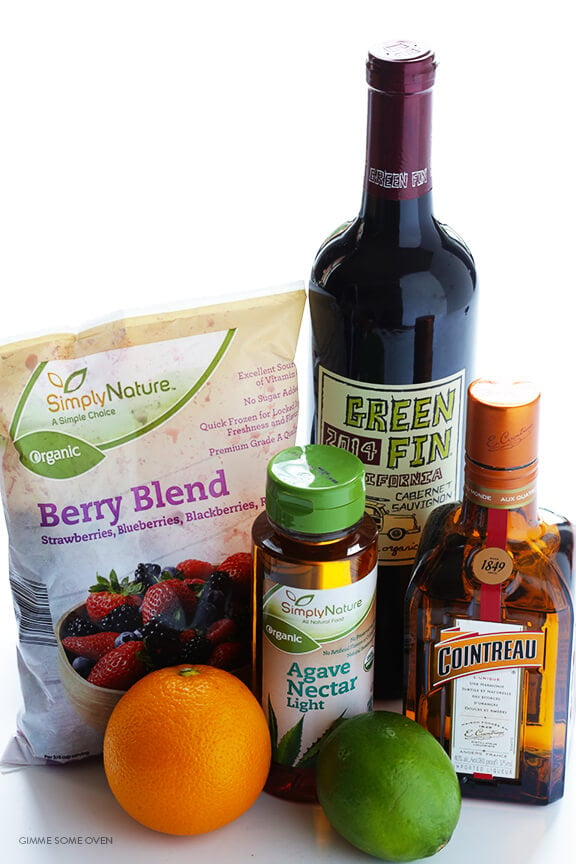 The idea for this sangria actually came about somewhat by accident, when I realized I had a surplus of frozen berries in the freezer. I was about to dump a bag in a pitcher with some wine to let them soak for a few hours to make sangria, when it suddenly occurred to me that I could try and blend up a frozen sangria.
I don't know how this had never occurred to me before!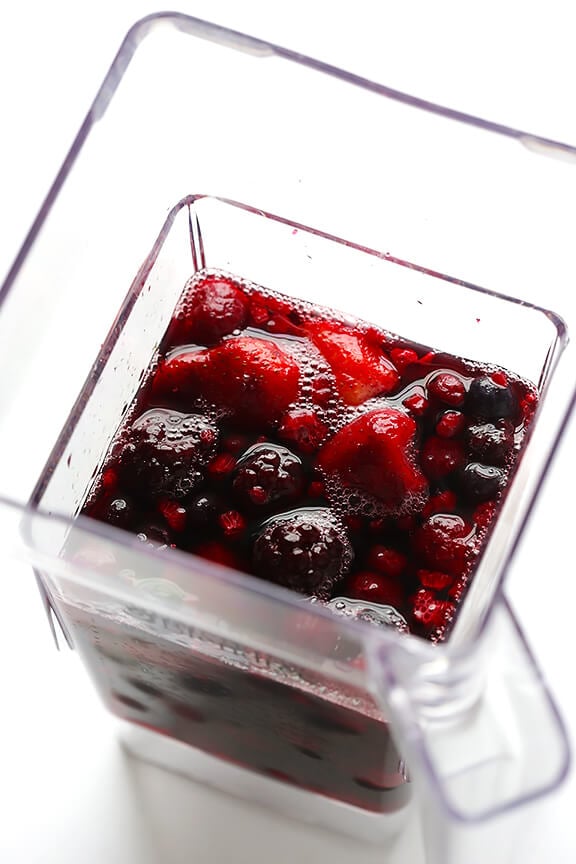 I love sangria, and I love frozen drinks, so I felt like this had mega potential. Turns out, it was a mega success.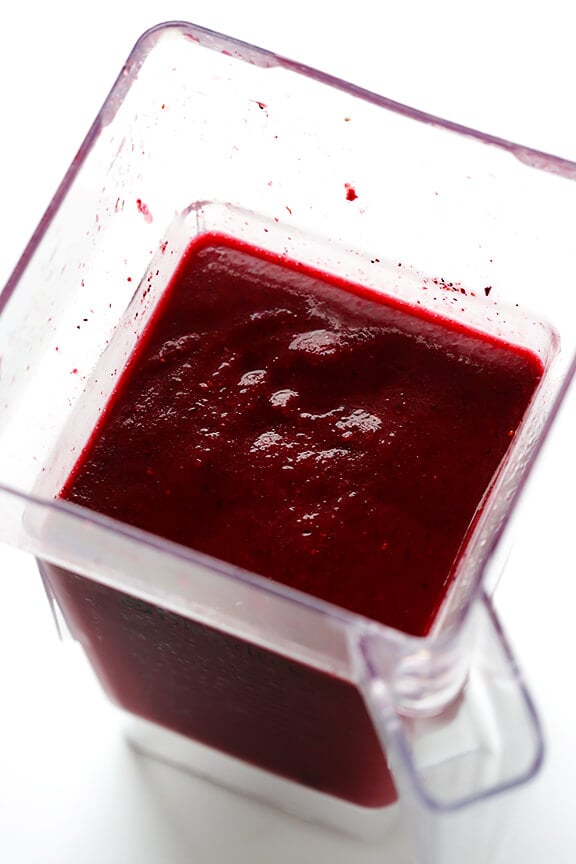 To make the sangria, I simply added some chilled dry red wine (you can use cheap wine in sangria), a pound of frozen mixed berries (or you could use just about any frozen fruit), an orange, some lime juice, and a good splash of Cointreau (or you could use brandy) together, and then blended them up until the mixture was nice and smooth. Then I added a few tablespoons of honey to sweeten it up to taste, along with a few extra ice cubes to thicken it up.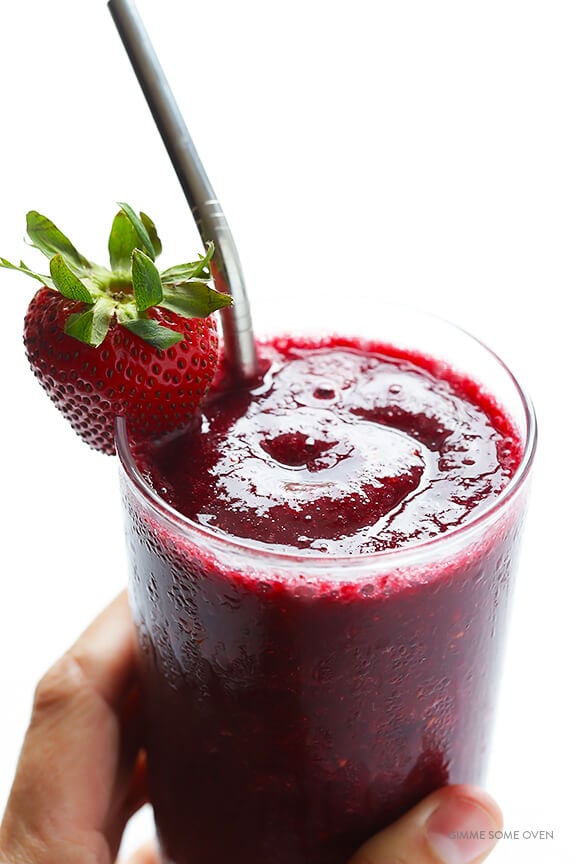 And literally, within minutes, the frozen sangria was ready to serve. And it was delicious. Definitely a little more overtly fruity than typical sangria, but I actually loved the flavor balance and the freshness that all of the fruit brought to the drink. And hey, with all of that good-for-you fruit in there, we were easily able to justify going back for seconds — you know, to help reach our quota of fruit servings for the day, right?
Actually, with all of that vitamin C and antioxidents in there, I'm starting to think maybe I should make another batch to help kick this cold. (What's that they say? A glass of sangria a day keeps the doctor away…?)  🙂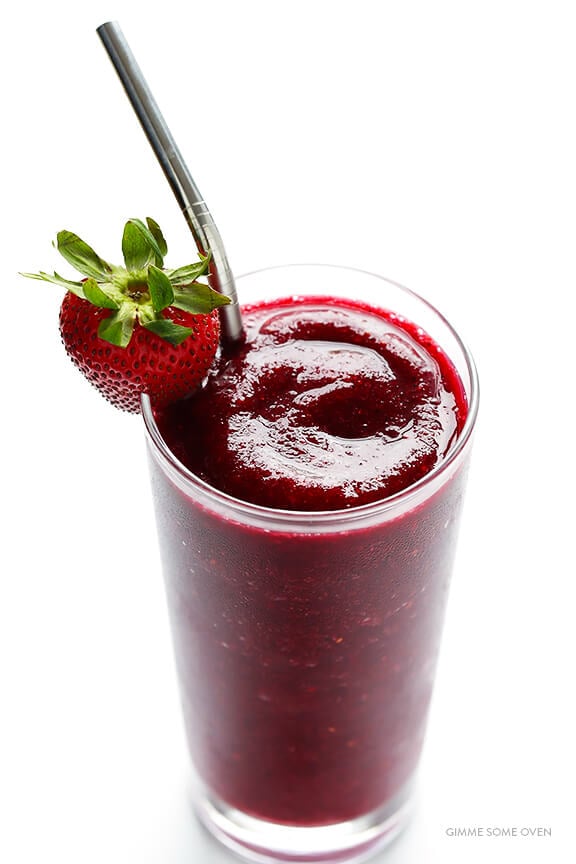 Seriously, though, if you love sangria in the summertime, I highly recommend grabbing whatever wine and frozen fruits you have in the house and giving it a try. I think you're going to summer-love it.
Print

Frozen Sangria

Prep Time: 5 minutes


Total Time: 5 minutes


Yield: 4 servings 1x
---
Description
This frozen sangria recipe is quick and easy to make, it can be blended immediately before serving, and it's wonderfully refreshing and delicious!
---
1

pound (16 ounces) frozen mixed berries

1

orange, peeled

1 2/3 cups

dry red wine

1/3 cup

Cointreau (or any orange liqueur, or brandy)

2 Tablespoons

freshly-squeezed lime juice

1

–

2

Tablespoons sweetener (I used honey)

ice, if needed to thicken
---
Instructions
Add all ingredients to a blender, and pulse until smooth.  Add a handful or two of ice, if needed, to thicken.  Taste, and add extra sweetener if needed.

Serve immediately.
---