This simple 4-ingredient mint margaritas recipe is brightened up with a hint of fresh mint and tastes so refreshing and delicious!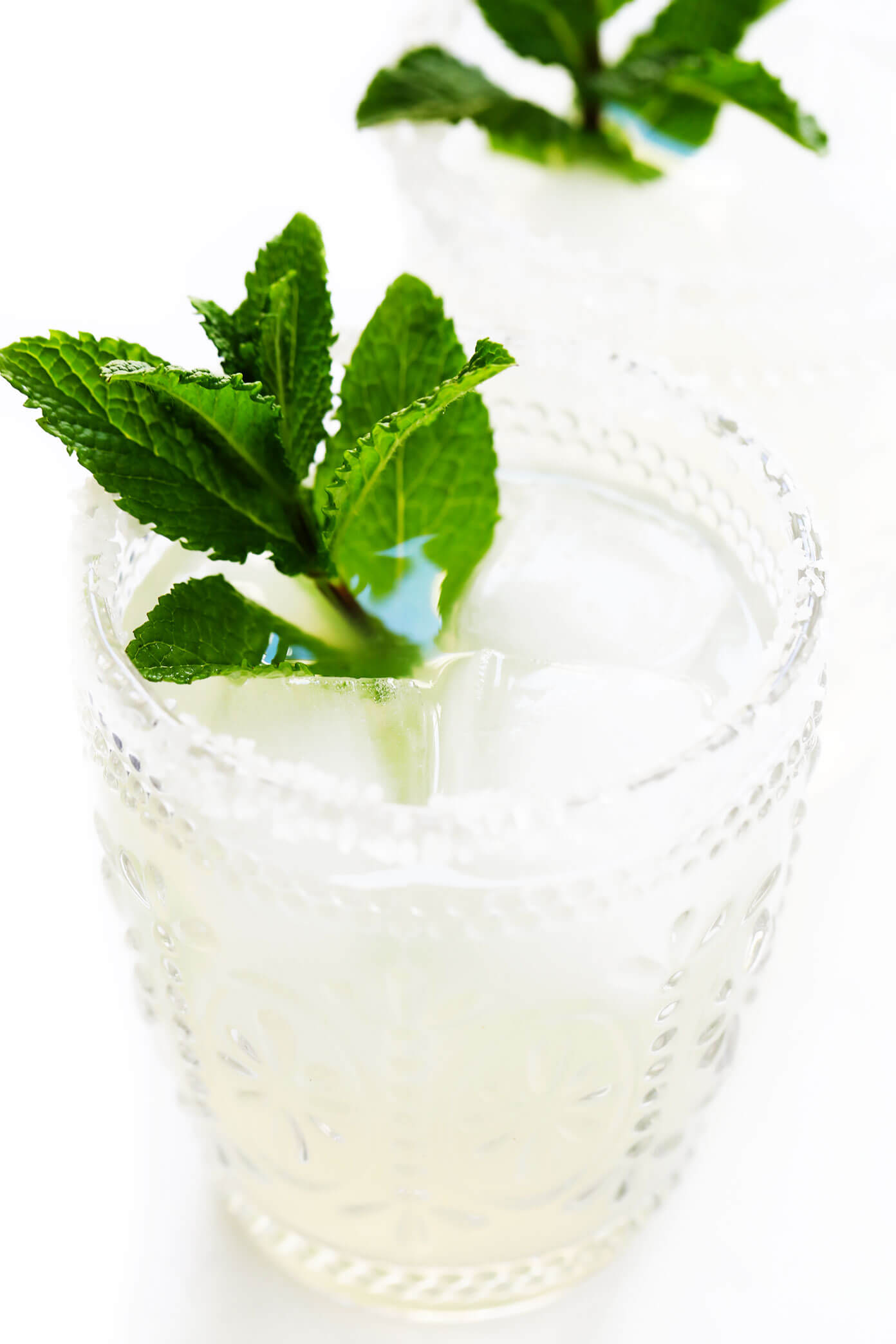 Hey hey, it's my birthday! Which — as I note every year — conveniently falls a few days before Cinco de Mayo. So to celebrate, I made margaritas!
Specifically, fresh mint margaritas. ♡♡♡
As I mentioned earlier this week, I've been having a bit of a moment this spring with our little balcony herb gardens here in Barcelona, snipping off a few sprigs of mint or rosemary or basil or cilantro each day to add to pretty much everything we've been eating and drinking. And one particular evening this past month, when I couldn't decide between making mojitos or margs to go with our meal, I decided to instead just try muddling some mint into my classic margarita recipe. And turns out — mint margaritas are delightful!
I mean, I'm down for a good mint and citrusy combo anytime. (Case in point — this sunny salad that I posted earlier this week.)  But I was pleased to find that fresh mint plays well with tequila and mezcal too, giving these margaritas a refreshing little lift. I also muddled a few little jalapeño slices into our margs for an extra kick, which I highly recommend if you enjoy a good spicy margarita. But either way, the fresh mint was a lovely, simple, fun extra touch. And perfect for springtime and Cinco de Mayo (or Dos de Mayo) celebrating!
So grab a bunch of fresh mint, and let's mix up a quick round together!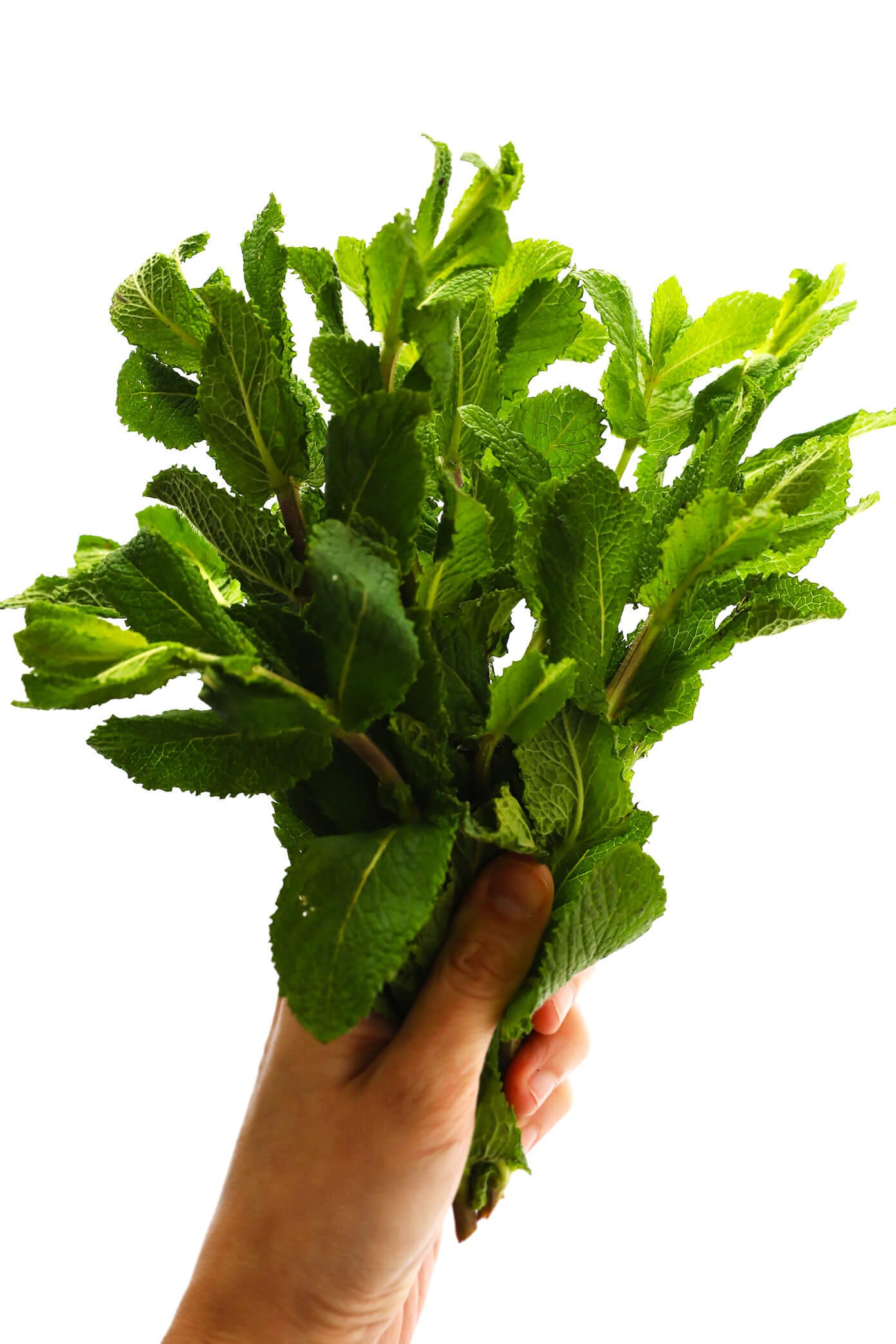 Fresh Mint Margarita Ingredients:
To make these fresh mint margaritas, you will need:
Fresh mint: You can really use as much or as little as you would like. I recommend at least one good-sized sprig per serving, plus maybe an extra for garnish if you would like.

Tequila or mezcal: You know that I'm always partial to mezcal, but tequila is more traditional and delicious too.

Freshly-squeezed lime juice: Key words: freshly squeezed.  I'm a big believer that freshly-squeezed lime juice makes all the difference in good margaritas. (And highly recommend this citrus juicer to make the process a breeze.)

Orange liqueur: Cointreau is my go-to, but Grand Marnier is also delicious, or you can use a good-quality Triple Sec.
Also optional:
Agave: I don't usually use this, but if you would like to sweeten up your margs a bit, you're always welcome to stir in some agave syrup.

Kosher salt: To salt the rims of the glasses. (I also like to mix in some Tajin with the salt for a kick.)

Additional lime slices/wedges and fresh mint: For garnish.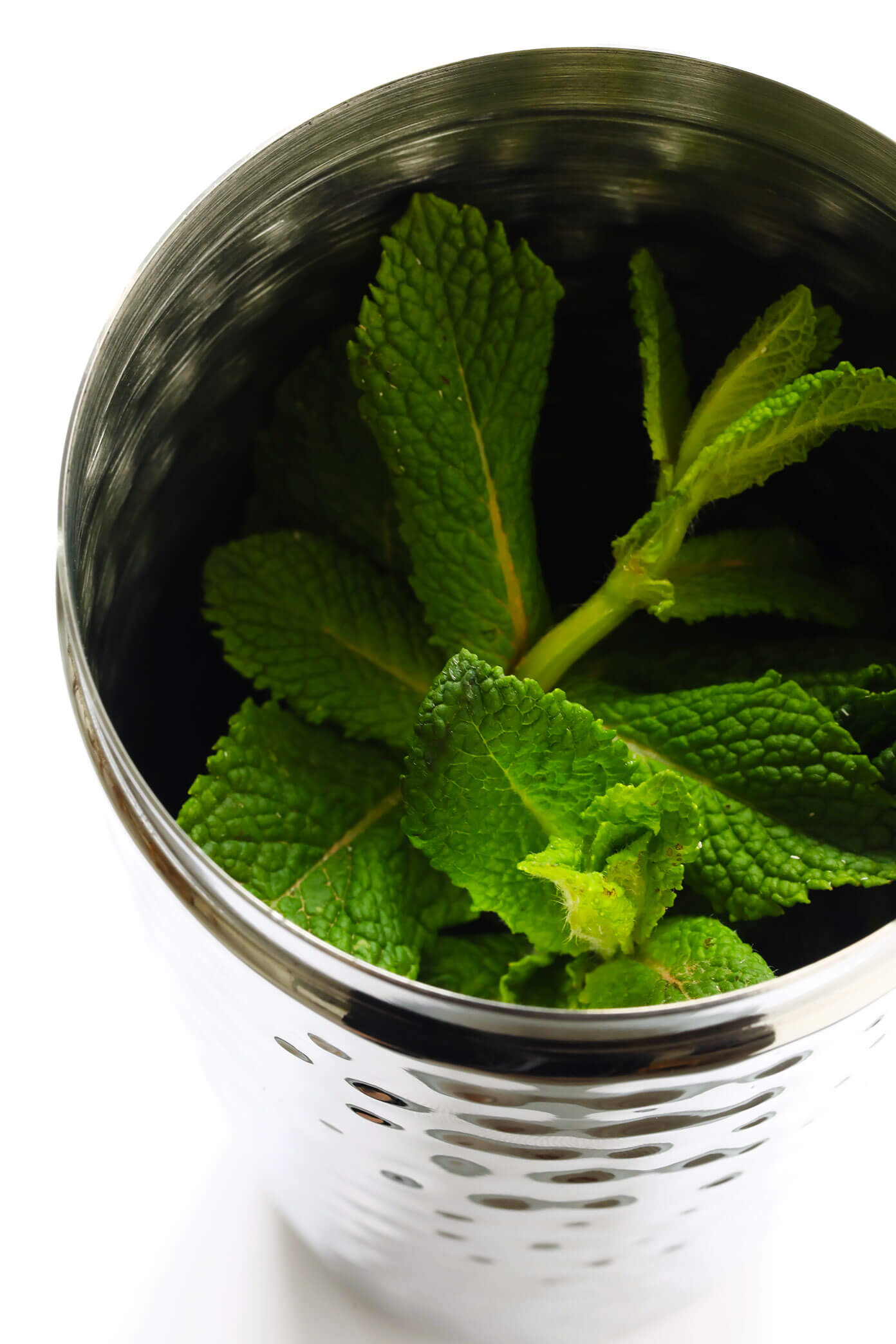 How To Make Mint Margaritas:
Super simple! Just…
Prep your glasses: If you would like to salt the rim of your glass, run a juicy lime wedge around the rim. Then dip the rim of the glass in coarse Kosher salt, and set aside.

Combine your ingredients in a cocktail shaker: Add the fresh mint, tequila (or mezcal), orange liqueur, lime juice and a few ice cubes.

Muddle the mint. Using a cocktail muddler or the end of a wooden spoon, muddle the mint briefly to release its oils.

Shake it, shake it, baby: Then give the mixture a good shake for 10 seconds or so until it is chilled.

Strain and serve on the rocks. I recommend serving margaritas with large ice cubes so that the ice doesn't dilute the drink too quickly. (But really, any ice cubes will do.)  Just pour the drink over the ice, garnish with a sprig of mint and/or an extra lime wedge if you'd like, and cheers!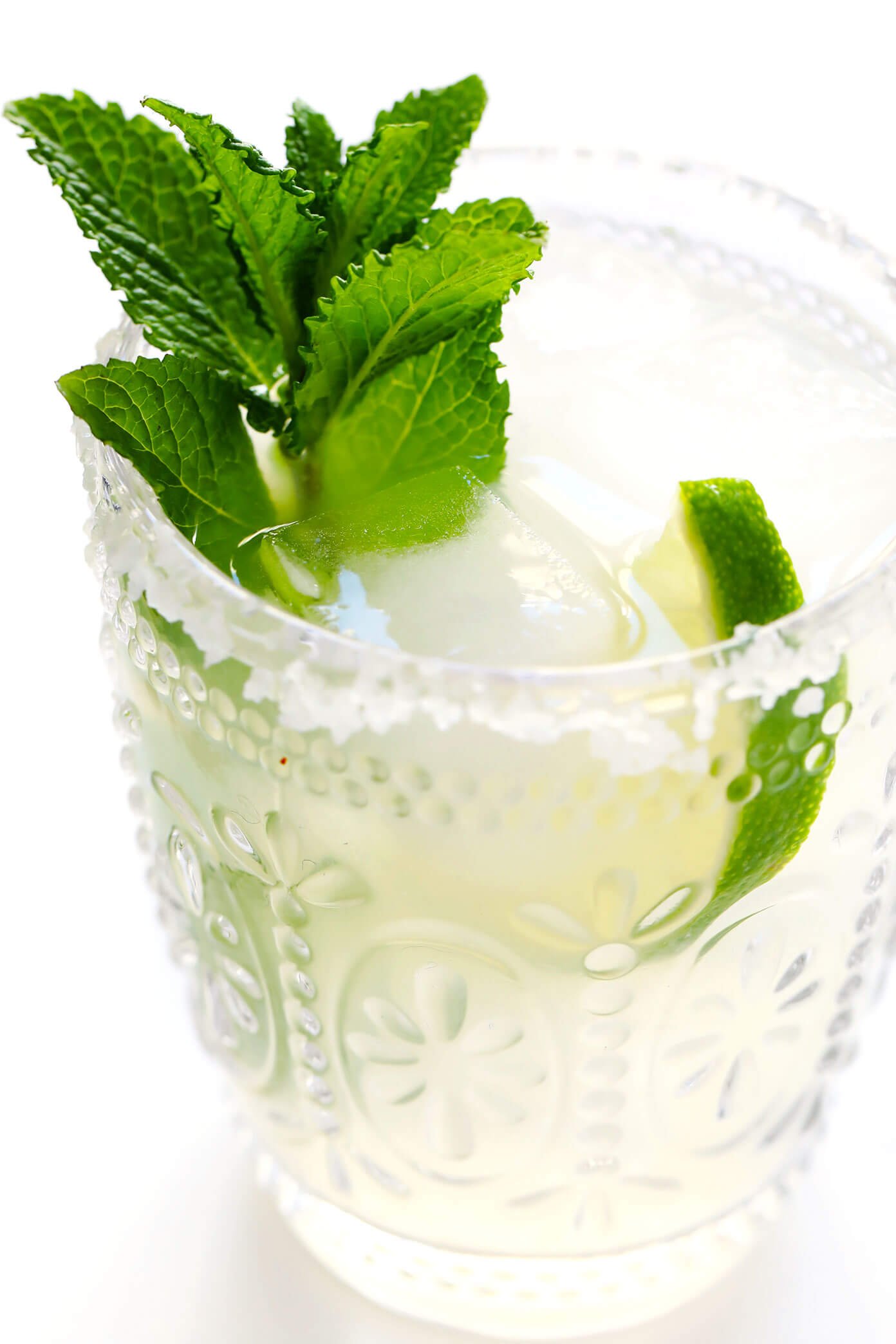 Possible Variations:
Want to mix things up? Feel free to…
Add a few slices of jalapeño or serrano peppers: Either muddle them with the mint or just gently stir them into the glasses for an extra kick.

Add in some fresh ginger: I also tried this with one batch and it was delicious.  Just thinly slice a few rounds of fresh ginger and muddle them in with the mint. So good.

Add fruit or veggies: Of course, mint would also pair well with just about any kinds of fruit in your margaritas, as well as any cocktail-friendly veggies, such as cucumbers or carrots.
More Margarita Recipes:
Looking for more margarita inspiration? Here are a few more of my favorite margarita recipes:
Classic Margaritas

Mezcal Margaritas

Grapefruit Margaritas

Fresh Strawberry Margaritas

Spicy Cucumber Margaritas

Apple Cider Mezcal Margaritas

Gin Margaritas (Margatinis)
Print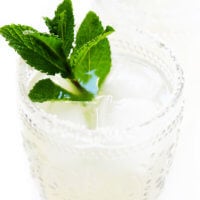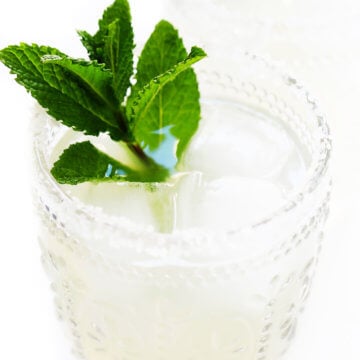 Fresh Mint Margaritas

Prep Time: 5 minutes


Total Time: 5 minutes


Yield: 1 serving 1x
---
1 1/2 ounces

tequila (or mezcal)

1 ounce

 Cointreau (or your preferred orange liqueur)

3/4

 ounce freshly-squeezed lime juice

1

–

2

sprigs of fresh mint

ice

optional: coarse salt for rimming the glasses, agave for sweetening, extra mint and lime wedges for garnish
---
Instructions
If you would like salt-rimmed glasses, begin by running a lime slice (the juicy part) around the top rim of a glass.  Fill a shallow bowl with salt, and dip the rim of the glass in the salt to coat with salt.  Set aside.

Add tequila, Cointreau, lime juice, mint sprigs and a few ice cubes to a cocktail shaker.  Using a cocktail muddler or the end of a wooden spoon, muddle the mint briefly.  Cover and shake vigorously for 10 seconds, or until the drink is chilled.  Then give it a taste, and add in extra sweetener or mint if desired.

Fill your serving glass with ice.  Pour in the margarita mixture over the rocks.  Serve immediately, garnished with an extra lime wedge and/or sprig of mint if desired.
---
This post contains affiliate links.