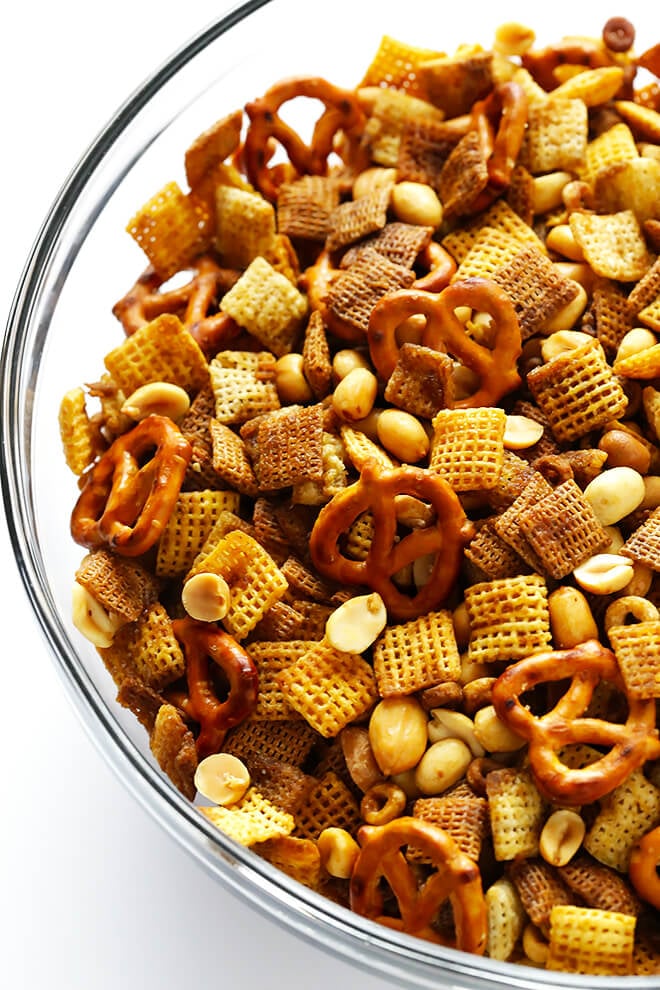 It's no secret that I have a bit of a thing for homemade Chex Mix.
It's been my favorite snack to munch on ever since I was a kid. I make huge batches each year (including four this past weekend!) to give out as gifts to friends and family around the holidays. And as of now, I've posted — not one, not two, not three, but now — four Chex Mix recipes here on the blog, including my Slow Cooker Chex Mix recipe that continues to (um, surprisingly!) be one of the top recipes on Gimme Some Oven.
So much Chex Mix!!!
That said, of all the flavors I've tried, I've gotta be honest and say that about 90% of the time I stick with my own original recipe. Which is based off of the original Chex Mix recipe on the box, but — ahem — kicked up a big notch. Because when it comes to good Chex Mix, I'm a big believer that the more of that magical, zesty, bold sauce — the better.
So for anyone looking for a killer Chex Mix recipe this season, allow me to introduce you to my go-to recipe.
I call it my EXTRA-Bold Chex Mix. ♡
Extra-Bold Chex Mix Recipe | 1-Minute Video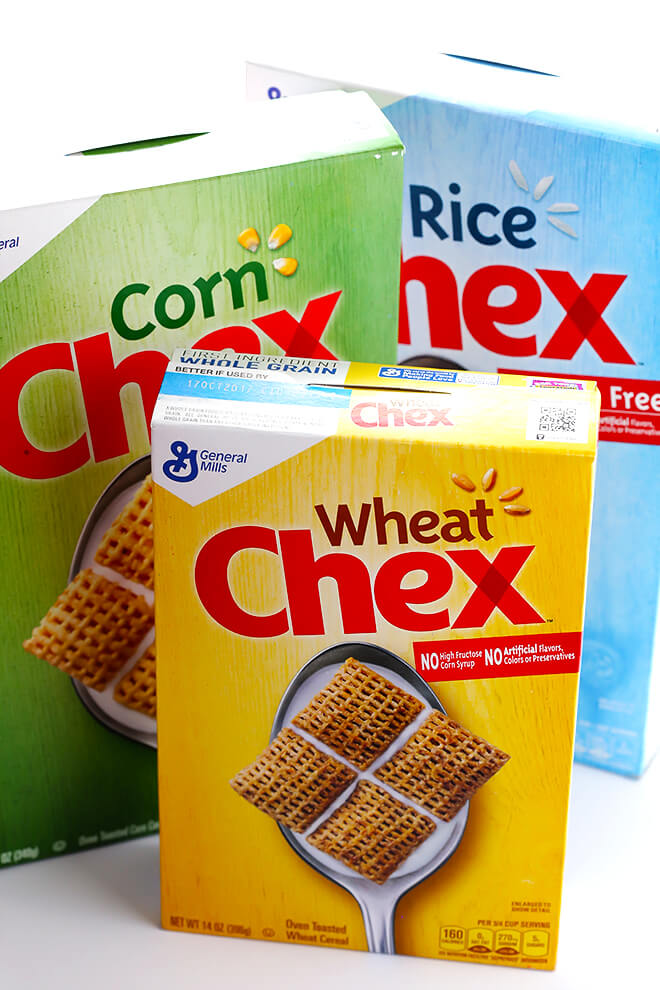 Like I said, I literally made four batches of this stuff over the weekend. So I figured I'd snap a few photos during a batch to show you how zee Chex Mix and I roll.
First off, you've gotta start with the rockstar ingredients — All The Chex.
Well, back in the good ol' days, these were the only three kinds of Chex. Now there are apparently all kinds to choose from at the store. But for my extra-bold mix, I prefer to stick with the holy trinity of Chex — wheat, rice, and corn.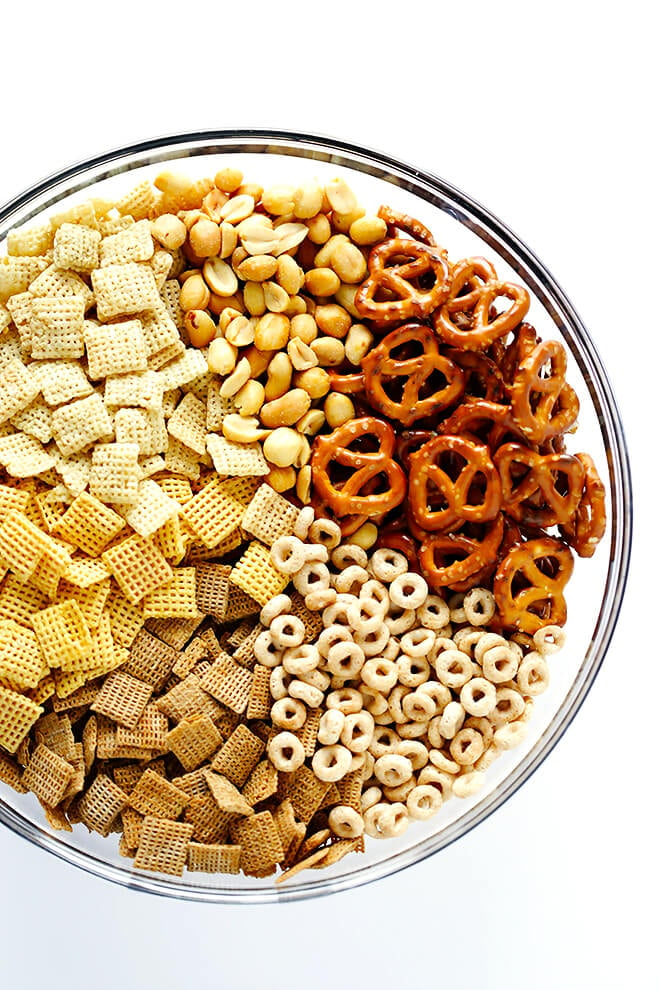 You're welcome to add whatever other crunchy ingredients to the mix that you'd like. Or you can definitely add in chopped dried fruit, M&Ms, or crackers after the mix has baked. But I tend to stick with what I grew up with — Cheerios, pretzels, and party peanuts. (Pro tip — I especially recommend adding those O's. They tend to soak up tons of the sauce and get extra flavorful.)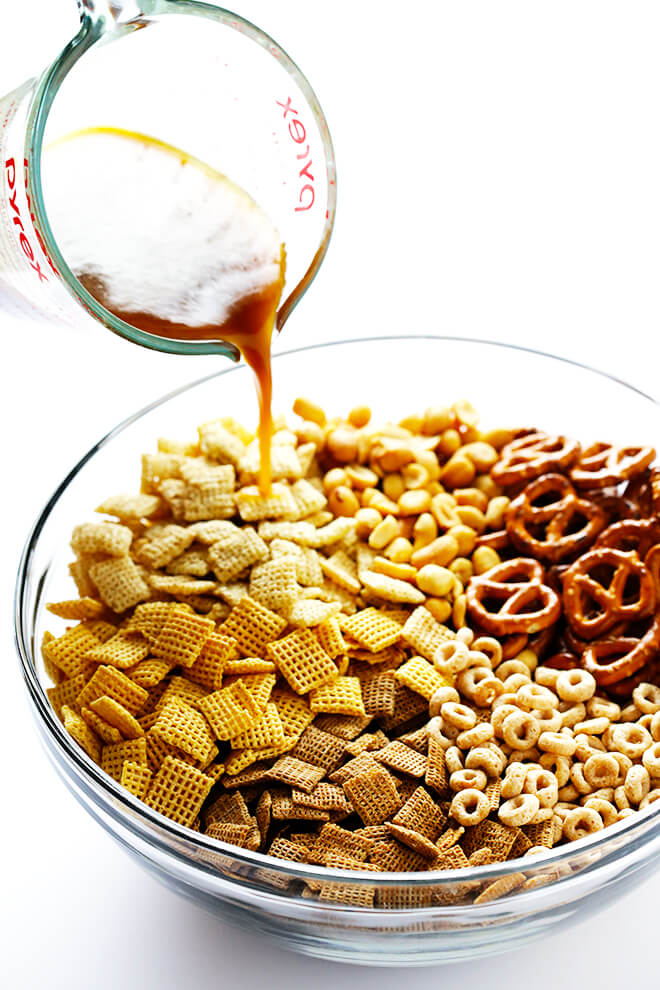 Then, they key to this "Extra-Bold"-ness is all in the sauce. I don't know about you, but I always felt like the original recipe was good, but never quite included as much of that zesty, buttery worcestershire-garlicky-seasoned-salty sauce. So over the years, I've upped and upped my amounts of sauce until I feel like I've found my happy sauce place.
And the result?!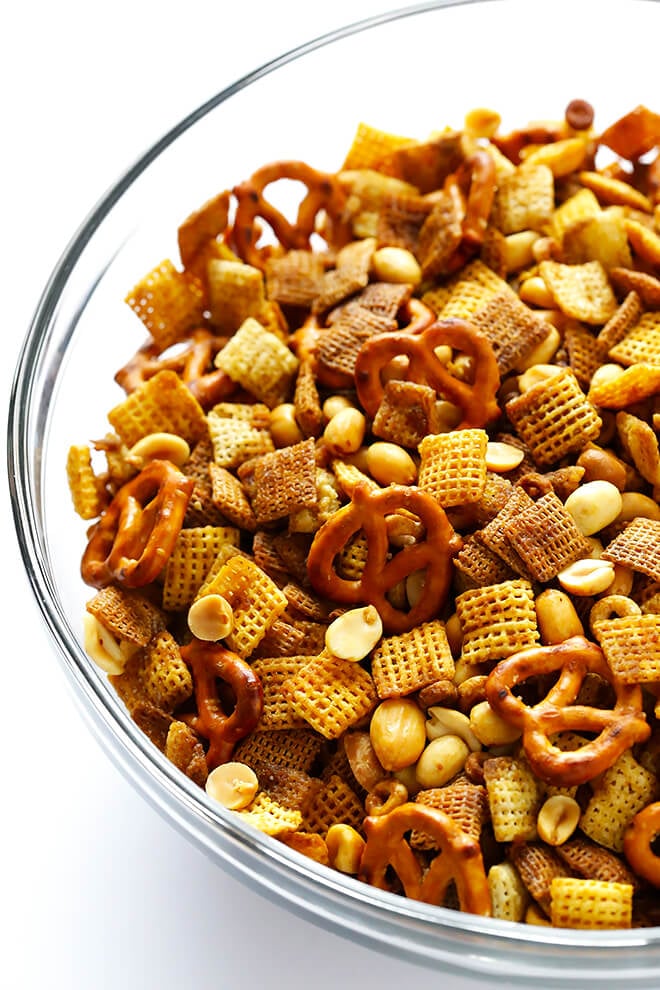 Seriously the most irresistible batch of Chex Mix you've ever tried.
So give it a try! 🙂
Print

Extra-Bold Chex Mix

Prep Time: 10 minutes


Cook Time: 5 minutes


Total Time: 15 minutes


Yield: 24 servings 1x
---
Description
This Extra-Bold Chex Mix recipe is made just the way I like it — with lots and lots of extra-zesty sauce.
---
9 cups

Chex cereal (I used equal parts corn, rice, and wheat Chex)

2 cups

mini pretzels

1 cup

Cheerios

1 cup

peanuts

1/2 cup

(

1

stick) butter, melted and hot

1/3 cup

worcestershire sauce

1 1/2 Tablespoons

seasoned salt

1 teaspoon

garlic powder
---
Instructions
Add the Chex, pretzels, Cheerios, and peanuts together in a large microwave-safe mixing bowl, and gently stir a bit to combine.

In a separate bowl, whisk together the melted butter, worcestershire sauce, seasoned salt and garlic powder together until combined.  Drizzle half of the sauce evenly over the Chex mix.  Then give the mix a gentle stir to combine.  (I like to stir with a rubber spatula, to help prevent breaking the Chex.)  Repeat by drizzling the remaining sauce over the Chex mix, and stir again until combined.

Microwave uncovered on high 5 to 6 minutes, thoroughly stirring every 2 minutes.

Spread the mix out on parchment paper or paper towels until it has cooled to room temperature. Store in airtight container for up to 3 weeks.
---