Learn how to make the famous "everything" seasoning blend with just 5 easy ingredients! It's a super-versatile seasoning blend that can kick all sorts of recipes up a delicious notch.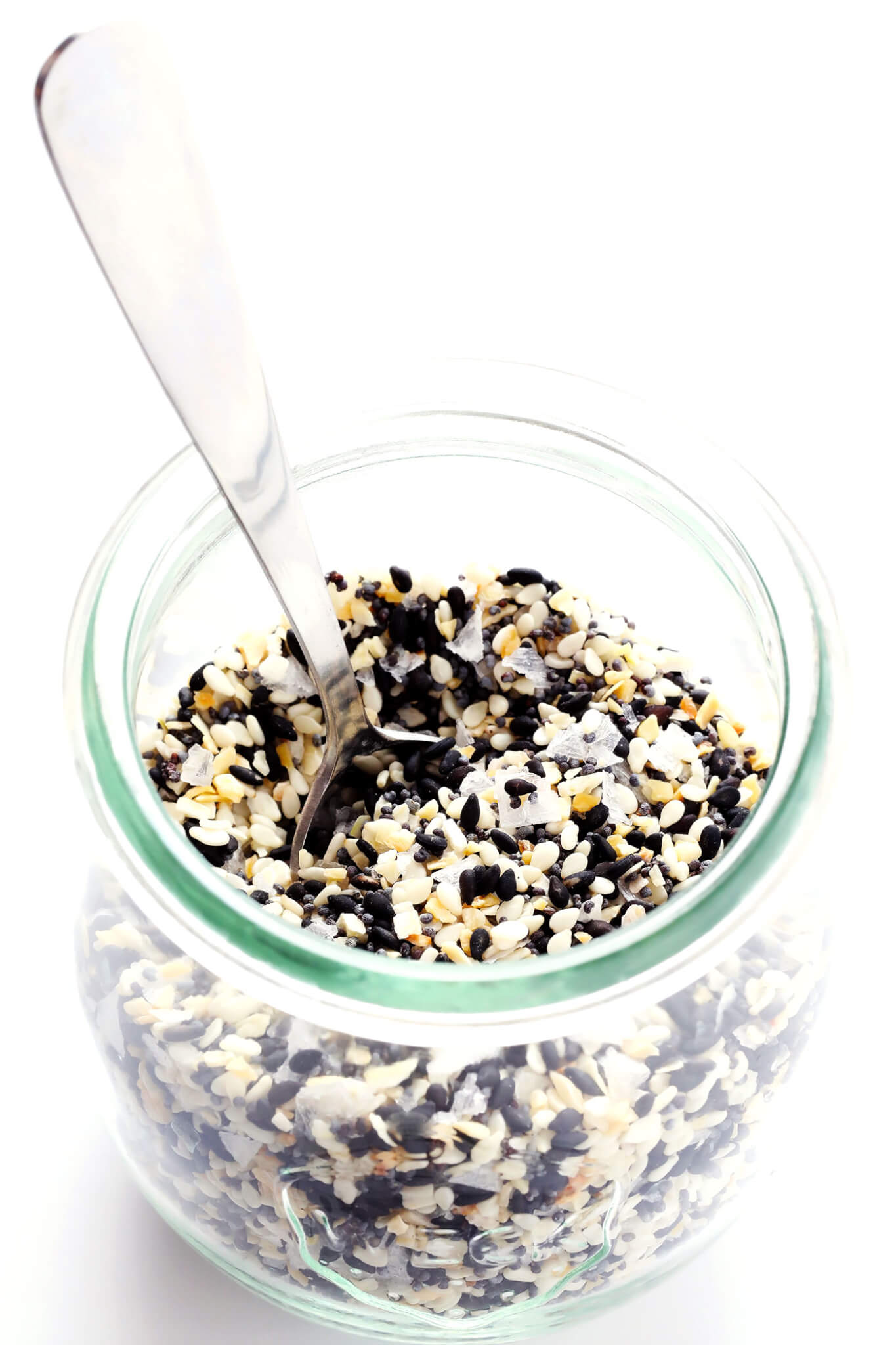 Raise your hand if you love everything bagel seasoning as much as I do!
? ? ?
Yep. That irresistible savory seasoning has been my go-to pick at bagel shops for most of my life. But the good news is that it's also incredibly quick and easy to make at home with just 5 ingredients. And, it also happens to be incredibly versatile beyond the bagel.
For example, sprinkled on chicken or fish or roasted veggies or baked potatoes or avocado toast? Delish. Whisked into salad dressings or stir-fry sauces? So easy. Stirred into guacamole or hummus or creamy dips? Like, whoa. Tossed with popcorn? YES. Or — of course — if you happen to have plain bagels at home and are wanting to kick them up the "everything" notch, you can always just spread some melted butter or cream cheese on top of your bagel and then sprinkle on this seasoning for the win.
Seriously, I'm convinced this mix deserves a spot in just about every spice drawer. So here's how to make it!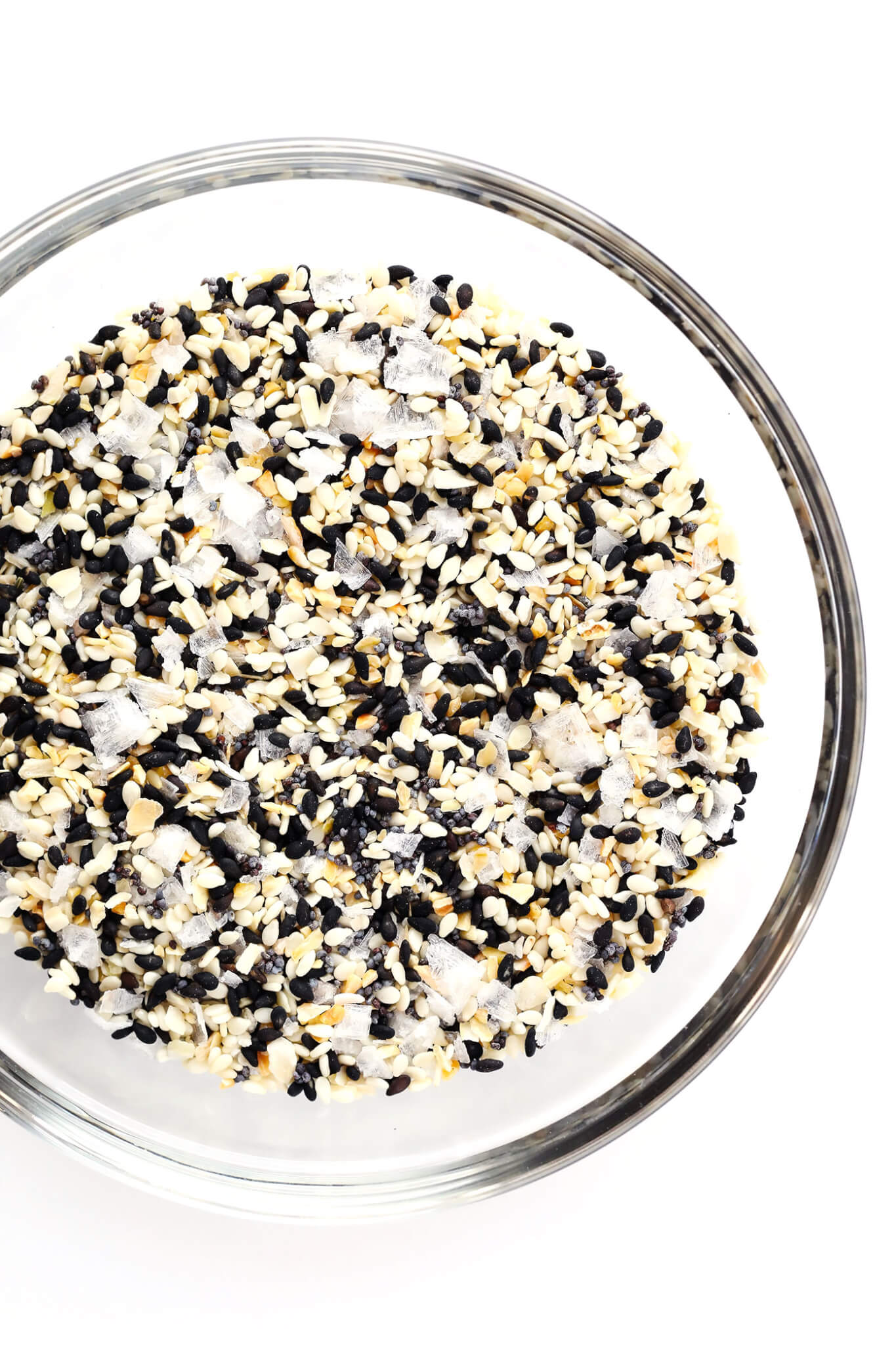 (This post contains affiliate links.)
First, gather your spices. You'll need:
sesame seeds (I like to use a combination of white and black sesame seeds)

poppy seeds

dried minced garlic

dried minced onion

flaked sea salt (I love this brand, or you could use Kosher salt)
Whisk them all together until combined. Then store the seasoning blend in a sealed jar or bottle for up to 3 months.
But wait! Here's the catch to extra-flavorful everything seasoning… ? ? ?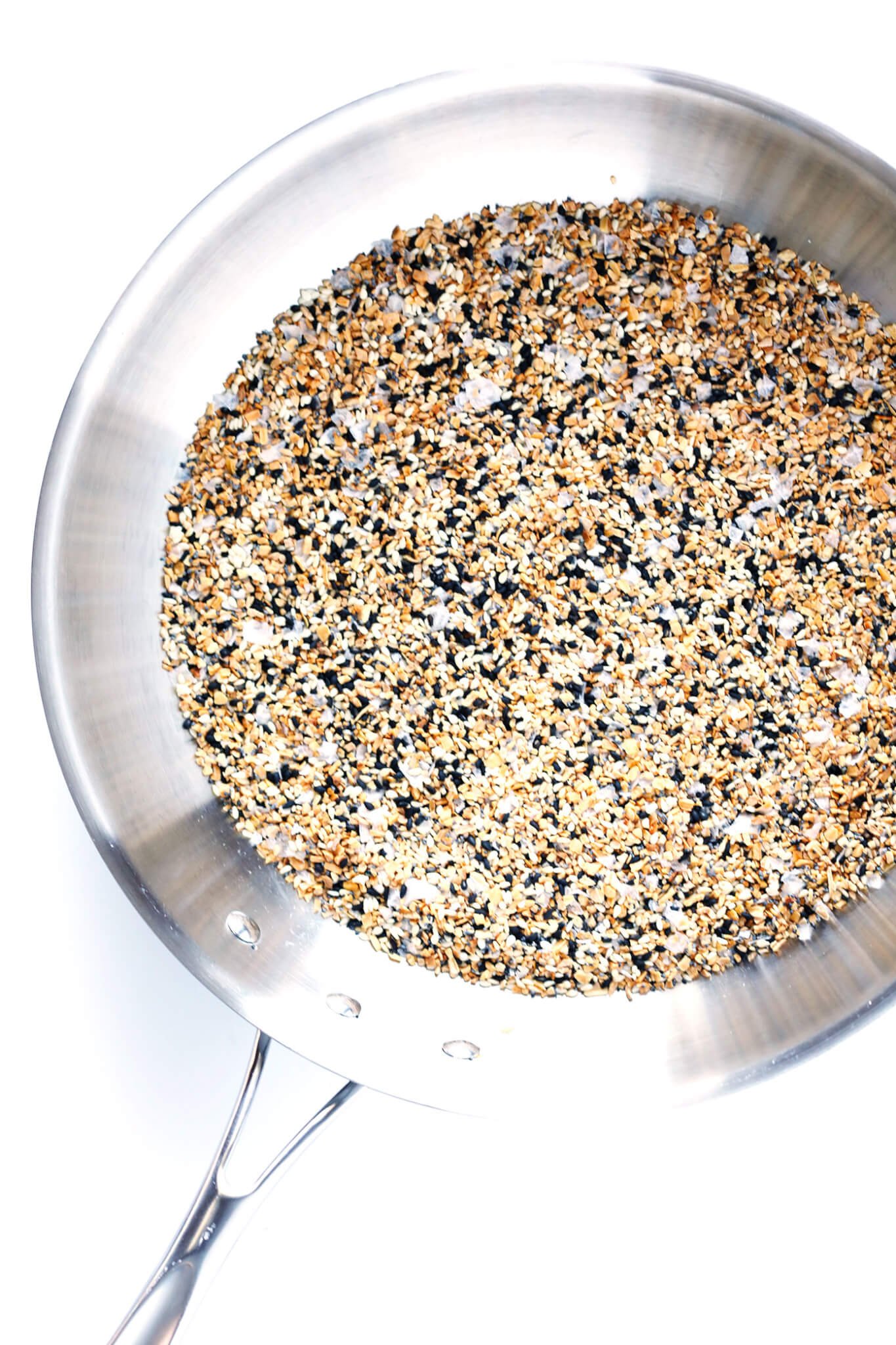 …for maximum flavor, this seasoning blend tastes the best toasted.
So, if you are going to use the everything seasoning blend in an uncooked recipe — say, sprinkled on top of a dip or stirred into a potato salad or tossed with popcorn or something — then I highly recommend toasting the seasoning a bit first. Simply toast it in a sauté pan (or in the oven) for a bit until the seasoning blend is fragrant and starts to look lightly golden and toasted. And then — voila — it will be even more flavorful when added to your recipe.
However, if you are going to use the everything seasoning blend in a cooked recipe — say, the "everything" baked chicken pictured below, or roasted sweet potatoes, or pita chips or something — then it's best to add the seasoning blend without toasting it first, so that it's only cooked once (and doesn't burn).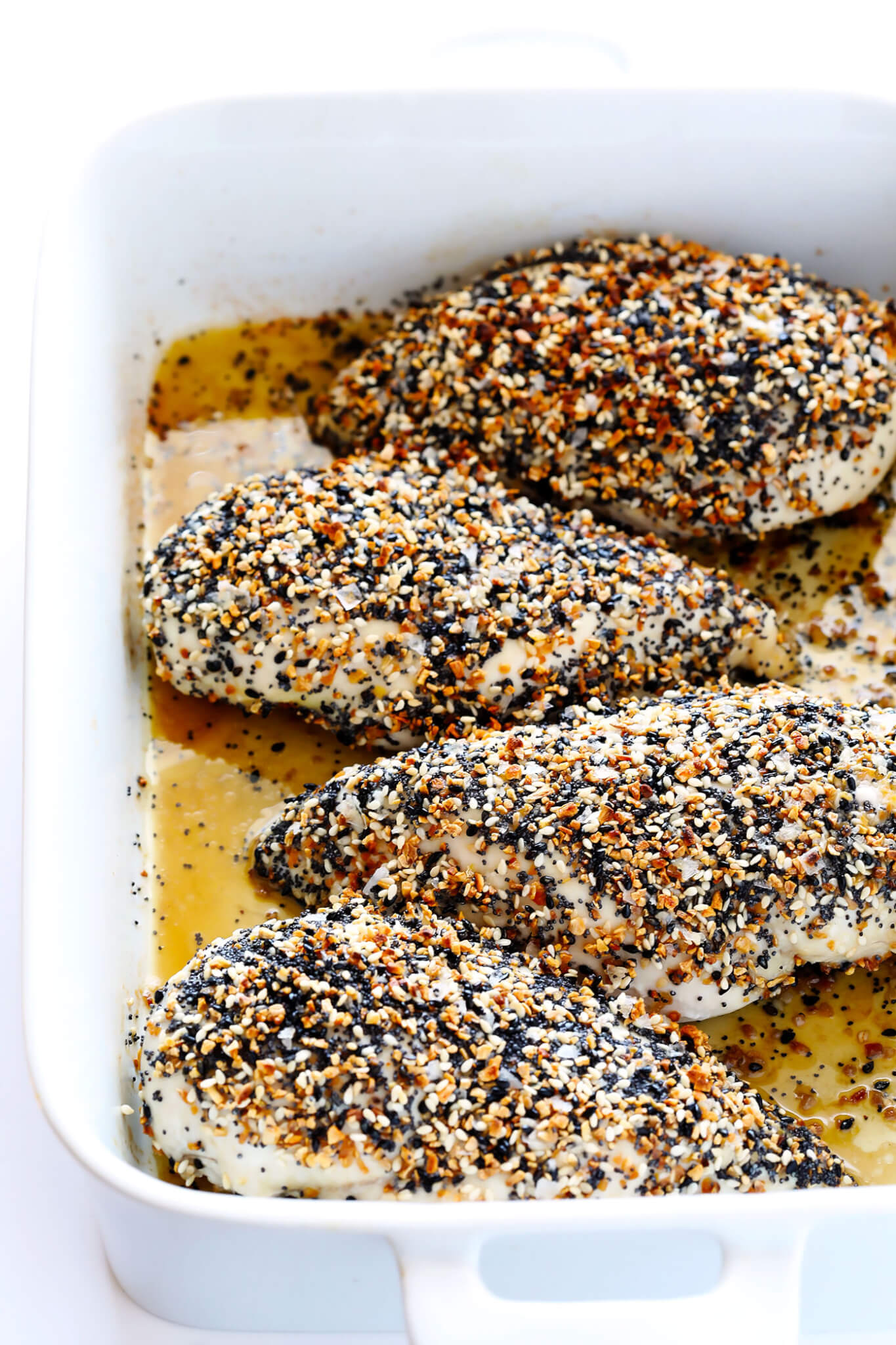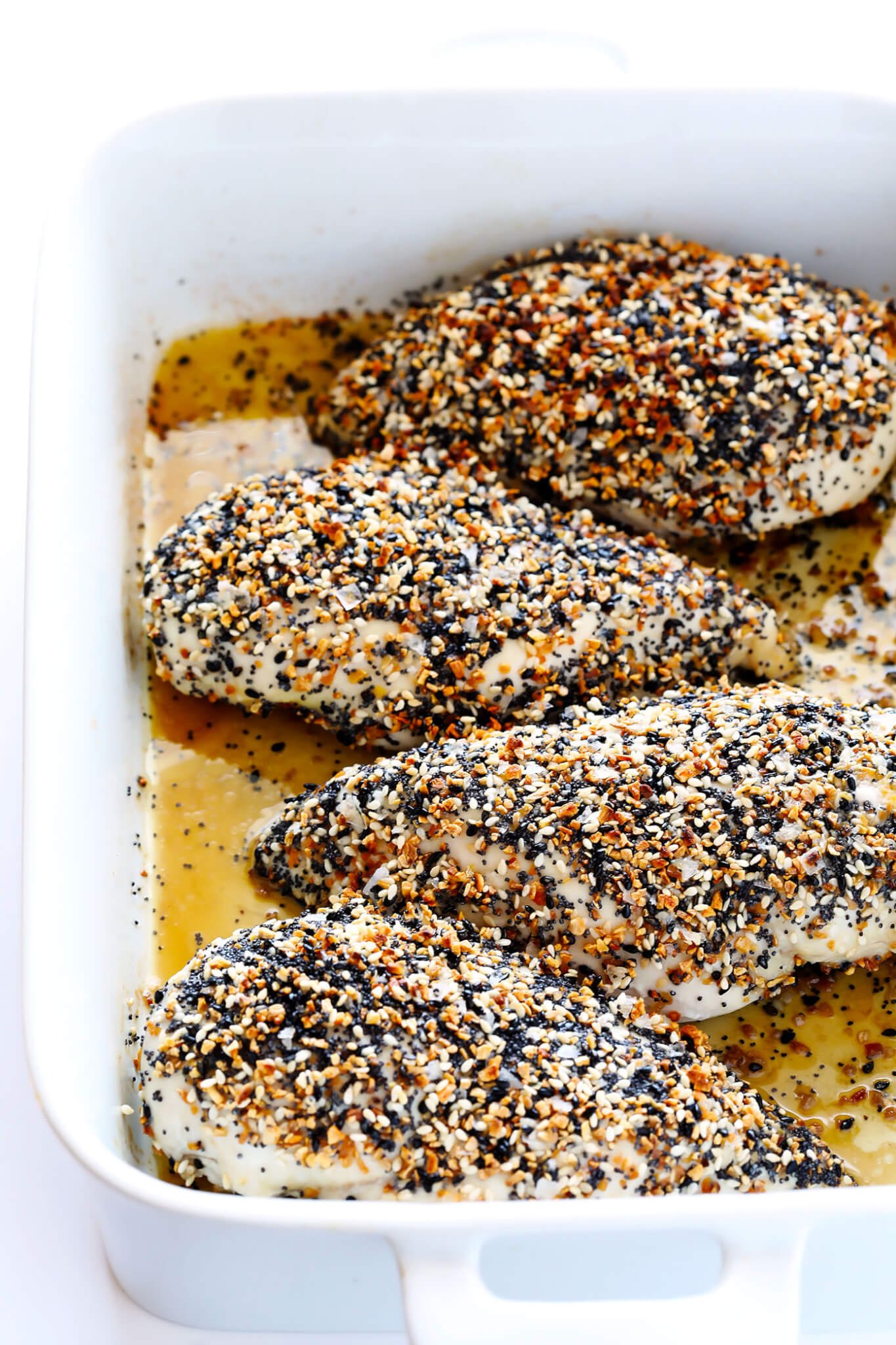 Easy peasy. And seriously…SO GOOD.
So get creative with this recipe and venture beyond the bagel! And as always, be sure to report back with any of your recommendations if you discover new uses for the seasoning blend that we all should try.
Enjoy, everyone!
Print

Everything Bagel Seasoning

Prep Time: 2 minutes


Cook Time: 5 minutes


Total Time: 7 minutes


Yield: 1 /2 cup 1x
---
Description
This Everything Bagel Seasoning blend is quick and easy to make with 5 simple spices, and it is super-delicious when incorporated to all sorts of recipes beyond the bagel!  Be sure to toast the seasoning mix briefly if you are using it in an un-cooked recipe or as a finishing seasoning.
---
2

 tablespoons sesame seeds (I used half white, half black sesame seeds)

2 tablespoons

 poppy seeds

1 1/2 tablespoons

 dried minced garlic

1 1/2 tablespoons

 dried minced onion

1 tablespoon

 flaked sea salt
---
Instructions
Stir all ingredients together in a small bowl until evenly combined.

Use immediately*, or store in a sealed jar for up to 3 months.
---
Notes
*If you are using this seasoning blend in a recipe in which it will not be cooked, I highly recommend giving the seasoning blend a quick toast before sprinkling or stirring it into your recipe.
To do so, heat a large sauté pan over medium heat.  Add your desired amount of the seasoning blend.  Then cook over medium heat, stirring frequently, until the seasonings are fragrant, and the garlic and onion and sesame seeds are lightly golden and toasted.  (Be careful that they do not burn.)  Transfer the seasonings to a separate plate to cool.  Then use immediately.