This post is sponsored by Blue Diamond Almonds.
Ever since returning from our road trip to the Eaux Claires music festival last weekend, I've been on a mission to eat As Many Vegetables As Possible. Because, oh my goodness…
Bon Iver? Sufjan Stevens? The National? The Staves? Elliot Moss? The Lone Bellow? Charles Bradley? Sturgill Simpson? Sylvan Esso? The Tallest Man On Earth? And — my new fav — Polica?
Yes, please.
Two days spent outside in 90-degree heat without shade? With more beer tents than I could count, yet mile-long lines for an extra-healthy selection of cheese fritters and funnel cakes and snow cones? Followed by a midnight run to the university cafeteria where we encountered a very nutritious "mac and cheese" pizza?
Mmmm, let's just say that vegetables and music festivals apparently don't go together in Wisconsin.
So, as soon as I returned home, I made a mega run to Trader Joes and made it my mission to load up the cart with all things green.  One of the resulting recipes was this easy quinoa bowl that was packed with tons of delicious superfoods, and topped with an easy Asian vinaigrette, and ready to go in less than 30 minutes.
I call it — super-good.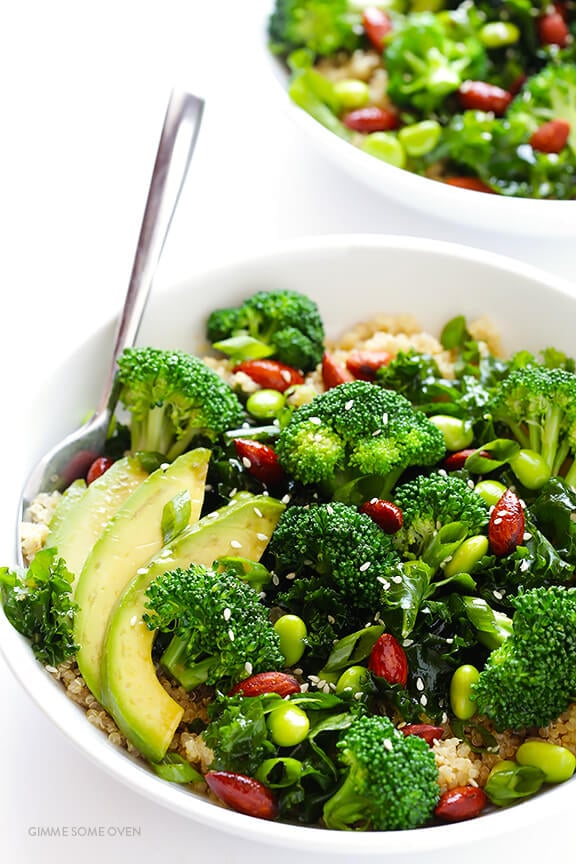 As you can see, this bowl is literally overflowing with many of my favorite seasonal superfoods — steamed broccoli, sliced avocado, chopped kale, edamame, and quinoa galore. And since I decided to top it with an easy sesame vinaigrette, I thought it only appropriate to throw in one of my favorite obsessions snacks as of late…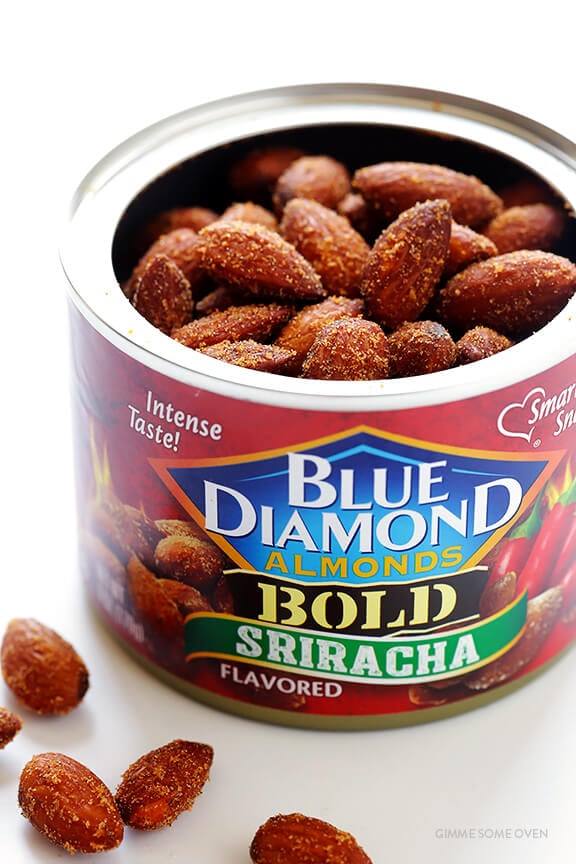 SRIRACHA ALMONDS!!!
Oh my goodness, I cannot get enough of these guys lately. I brought them along on said road trip to Wisconsin, and let's just say that they were one of the only things keeping me awake on the final stretch of our 8-hour drive home after a very long weekend. So. Freaking. Good. And also, guaranteed to wake you up a little. 😉
So I added some into the quinoa bowls for some protein and a little extra "kick"…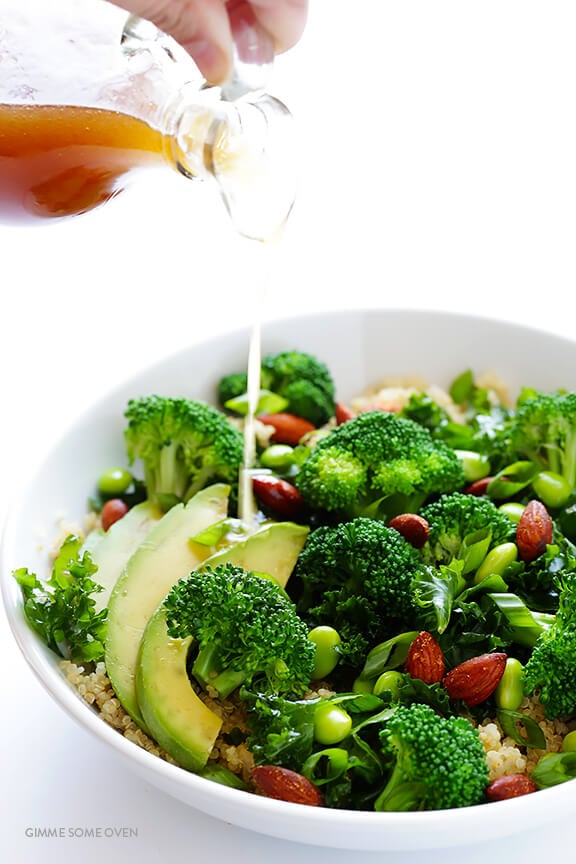 …then drizzled a simple vinaigrette over the bowls…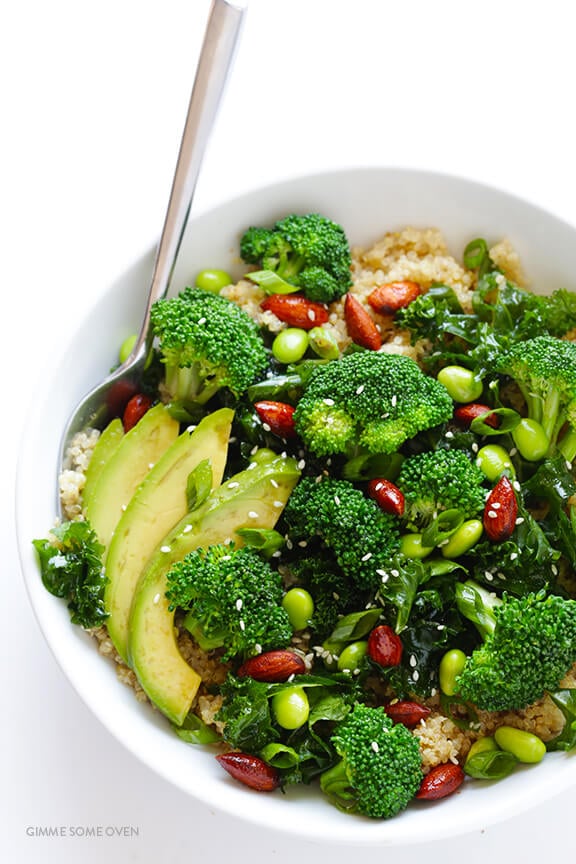 …and a beautiful, delicious, and oh-so-green dinner was served.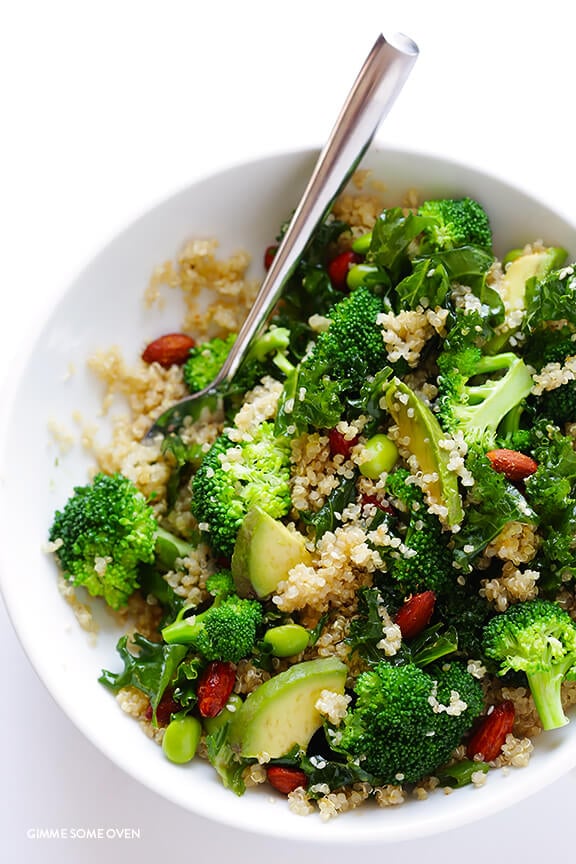 I absolutely loved this meal. So fresh, so full of flavor, and — as my friend, Kathryne, likes to say — definitely a "feel-good" kind of meal.
Oh veggies, I missed you. 🙂
Print

Easy Superfood Quinoa Bowl

Prep Time: 10 minutes


Cook Time: 20 minutes


Total Time: 30 minutes


Yield: 4 servings 1x
---
Description
This Easy Superfood Quinoa Bowl is loaded up with fresh green superfoods, topped with a simple sesame vinaigrette, and sprinkled with Sriracha almonds.
---
Easy Superfood Quinoa Bowl Ingredients:
6 cups

 cooked quinoa*

1

medium head of broccoli, florets removed and chopped into bite-sized pieces

2 cups

frozen shelled edamame

4 cups

chopped kale

1

avocado, peeled, pitted and sliced

1/2 cup

Blue Diamond Almonds (I used Blue Diamond Sriracha Almonds)

1

batch Sesame-Soy Vinaigrette (see below)

toasted sesame seeds or chia seeds, for garnish
Sesame-Soy Vinaigrette Ingredients:
1/3 cup

neutral-flavored cooking oil (i.e. vegetable oil, grapeseed oil, etc.)

1/4 cup

 rice wine vinegar

1 tablespoon

honey (or agave, to make this vegan)

2 teaspoons

soy sauce

1/4 teaspoon

sesame oil

pinch of salt and black pepper
---
Instructions
Bring a large stockpot of water to a boil (while the quinoa is cooking in a separate pan).  Add broccoli florets and cook for 1-2 minutes until tender and vibrant green.  Remove with a slotted spoon, and transfer to a separate plate and set aside.  Add shelled edamame to the boiling water and cook for 5 minutes.  Remove with a slotted spoon and transfer to the plate with the broccoli.

Meanwhile, add the kale to a large mixing bowl along with 2 tablespoons of the vinaigrette.  Use your hands to massage the vinaigrette into the kale for 1-2 minutes, or until the kale is soft and turns a darker green.  Set aside.

Once your quinoa is cooked, portion it out equally among 4 serving bowls.  Top each with equal portions of the broccoli and edamame, kale, sliced avocado, and almonds.  Then drizzle each equally with the vinaigrette, and sprinkle with sesame seeds or chia seeds for garnish.  Serve warm.

*I recommend cooking quinoa in chicken or vegetable stock for extra flavor.  See my tutorial here for how to cook quinoa.
---
This post is sponsored by Blue Diamond Almonds. I am partnering with Blue Diamond Almonds to bring you some delicious new recipes this year, and all opinions are my own as always. Thanks for supporting the brands who help make this site possible!