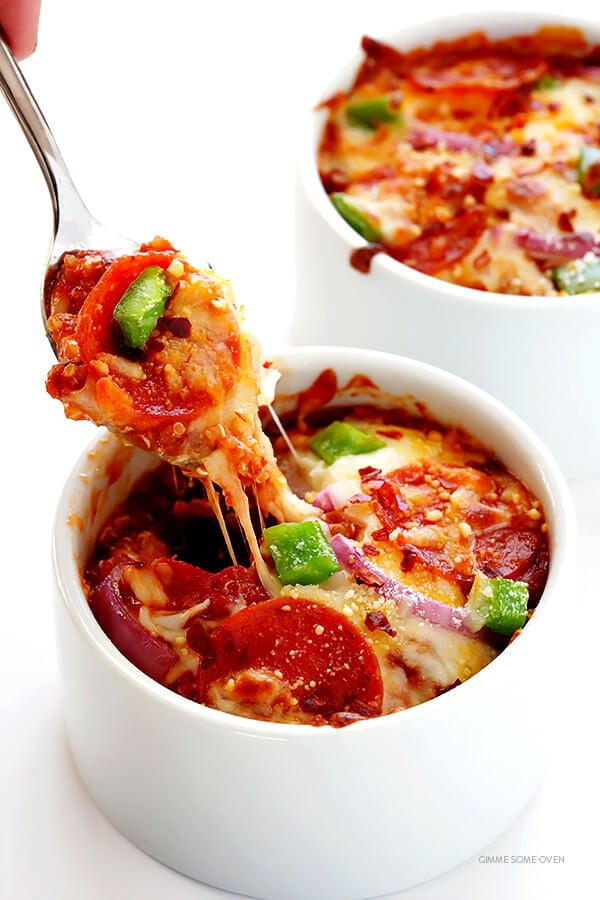 Annnnnd, the countdown is on.
Ten days until Barclay and I leave for New Zealand!!! And I can't WAIT!
I can't wait to meet all of B's Kiwi relatives who are coming together for a big reunion at a beautiful National Park campground (complete with a family jam sesh, since apparently everyone's musical). I can't wait to take our time (nearly 4 weeks) adventuring all over both islands, visiting the long list of towns and hikes and restaurants and coffee shops that some dear friends have recommended. I can't wait to soak up lots of quality downtime with this cute guy, especially after some extra busy schedules we've had these past few months. And — I must admit — after a brutal winter week here in Kansas City, I can't WAIT to cross the equator and have it be summer down there!!!
My swimsuit and flip flops are already packed. 🙂
Still, I've been working hard to get ahead and create a bunch of winter-friendly recipes to share here on the blog while I'm gone. And oh my goodness — I had initially scheduled this one to be posted in mid-February, but I couldn't wait another second to share it with you. Because I'm convinced I have stumbled upon a winner here.
They're everything we all love about a good slice of pizza. They're made healthier (and also gluten-free) with lots of protein-packed quinoa. They're 100% easy to customize with all of your favorite pizza ingredients. They're quick and easy and actually really fun to make. And oh my goodness — THEY ARE GOOD.
Meet my new favorite Easy Quinoa Pizza Bowls!
How To Make Easy Quinoa Pizza Bowls | 1-Minute Video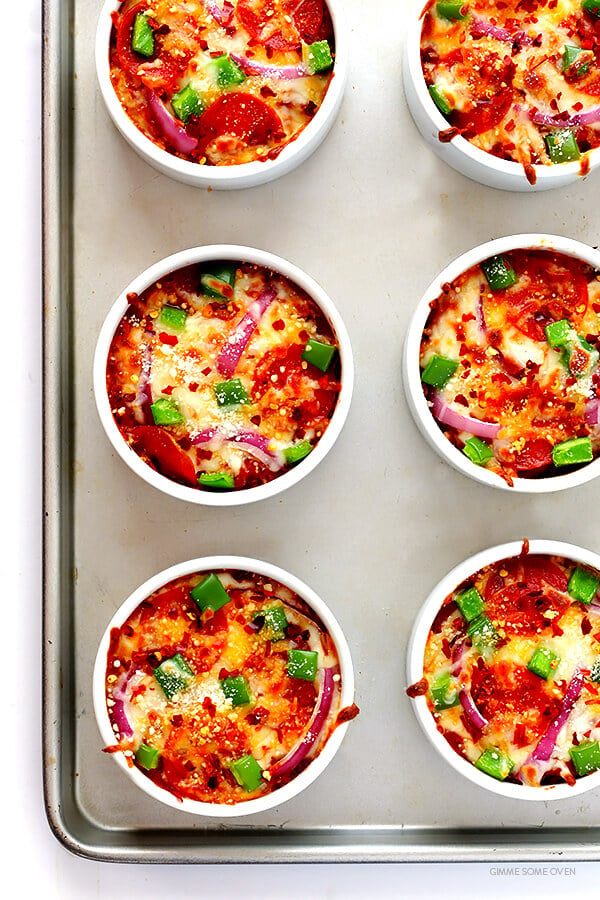 Everyone seems to be obsessed with anything that's served in a bowl lately, and I'll admit I'm no exception. There's something about digging a spoon into a big bowl of deliciousness that is oh-so-comforting. (And as a food stylist, I'll also add in that bowls are oh-so-pretty!)
So when I was craving pizza the other day, I randomly decided to try tossing all of my favorite pizza ingredients into a new set of ramekins I just bought. (<–That's an affiliate link, for anyone in the ramekin market. I totally recommend them!)  I'm a big fan of pepperoni (always), green pepers, red onions, mushrooms, mozz, and Parm. In lieu of crust, though, I just cooked up a quick batch of quinoa, stirred it together with my favorite pizza sauce, and then added that to the mix.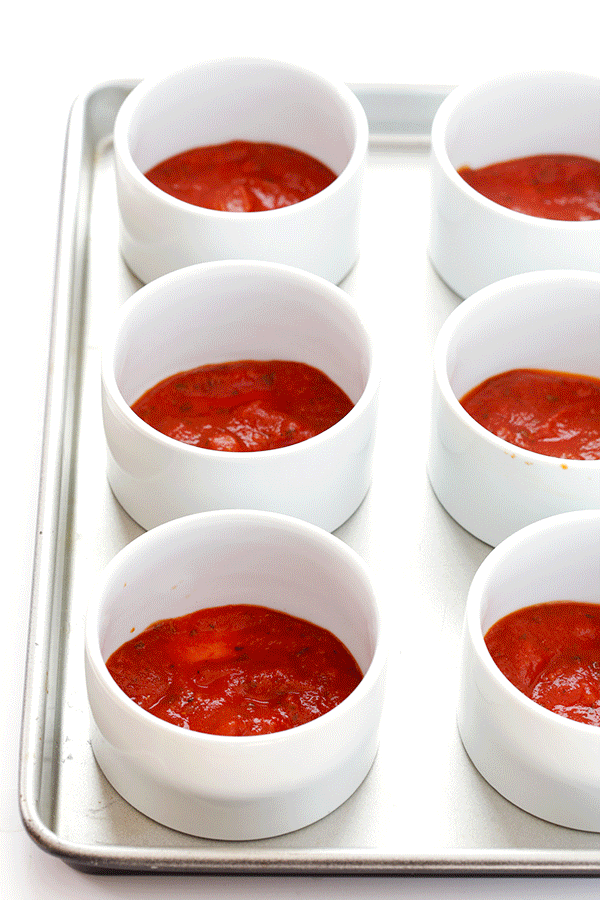 So I layered everything up, then baked them nice and hot until the cheese was bubbly. Then I finished them under the broiler for another minute or two, until the cheese got nice and golden brown…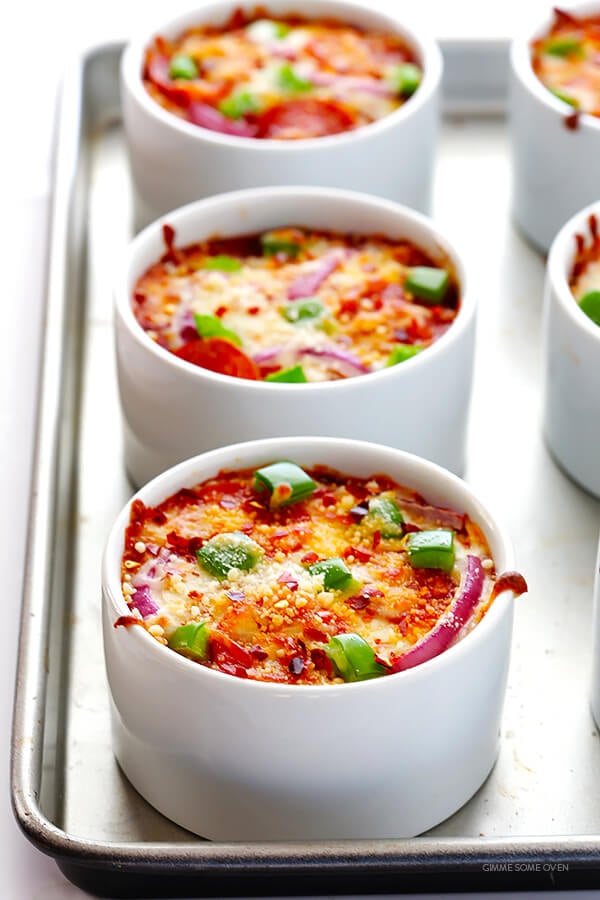 …and then finished them off with a little extra Parmesan and crushed red peppers. And the result?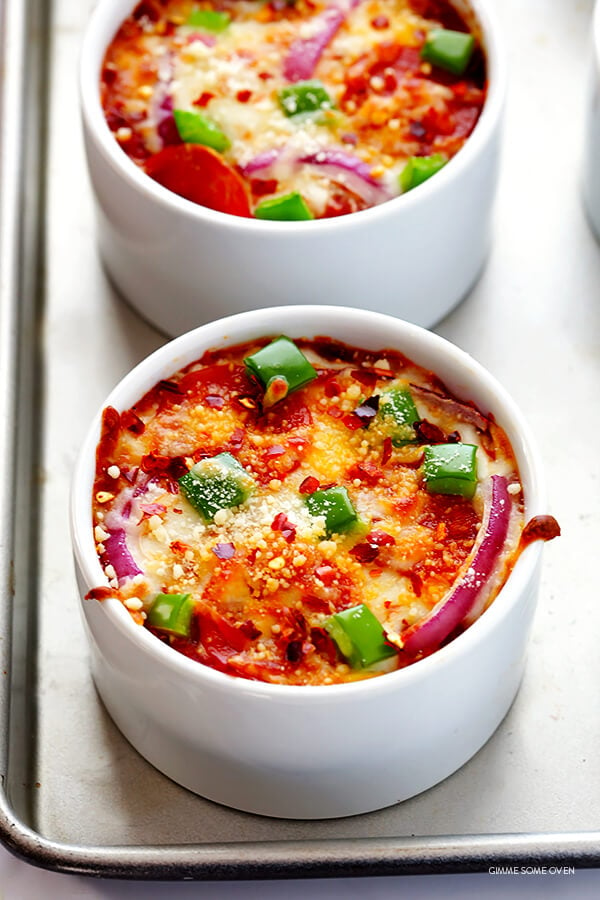 Pure love. 🙂
Oh my goodness, these little bowls were incredible!!! I mean, first off, I think they're incredibly cute and make for a really fun presentation. I loved how much quinoa I was able to stuff in them. And they totally satisfied my pizza craving!!!
And as opposed to having to commit to one or two toppings when you order a whole pizza, you can totally customize each individual bowl with the toppings you'd like. So if everyone in the family has a different topping preference? Bring it on! Or if you're looking for a fun party idea? Set up a DIY pizza bowl kit and let them all make their own!
Seriously, these are too fun, and too good to pass up. So grab your favorite pizza toppings and some oven-proof ramekins (or hey, you could even make this one big casserole in a baking pan!), and give this recipe a try soon!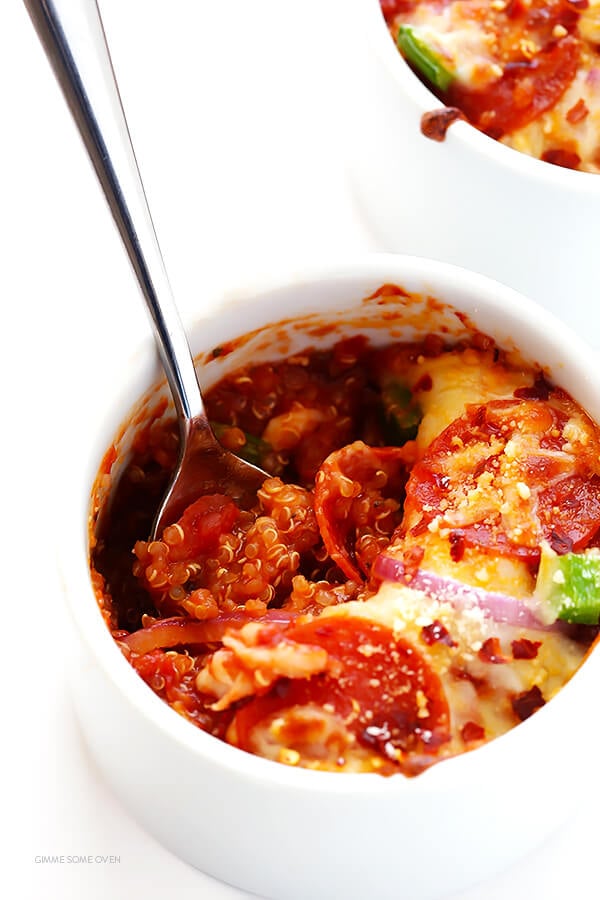 Print

Easy Quinoa Pizza Bowls

Prep Time: 15 minutes


Cook Time: 20 minutes


Total Time: 35 minutes


Yield: 6 servings 1x
---
Description
These Easy Quinoa Pizza Bowls are fun to make and customize with your favorite ingredients, they're full of protein-packed quinoa (that also makes them gluten-free!), and they're TOTALLY delicious!
---
1 cup

(dry) quinoa

2 cups

chicken or vegetable stock

2

(14-ounce) jars pizza sauce

2 cups

(

8 ounces

) shredded Mozzarella cheese

2

–

3

cups of your favorite pizza toppings (I used pepperonis, diced green peppers, diced button mushrooms, and thinly-sliced red onions, but see other ideas below*)

optional toppings: grated Parmesan cheese, crushed red peppers
---
Instructions
Preheat oven to 425°F.

Cook quinoa in the chicken or vegetable stock according to package instructions.  (Or you can use this tutorial for how to cook quinoa.)

When the quinoa has finished cooking, fluff the quinoa with a fork.  Then stir about 1/2 cup pizza sauce into the quinoa until evenly combined.  Set aside.

Lightly spray 6 large (10-ounce) oven-safe ramekins with cooking spray.  Place the ramekins on a large baking tray.

Spread about 2 Tablespoons of pizza sauce evenly over the bottom of each ramekin.

Layer each with about 1/4 cup of quinoa, and spread with a spoon to flatten.

Layer each evenly with pinch of shredded Mozzarella.

Layer each with a single layer of pizza toppings.

Repeat by layering each with another layer of sauce, quinoa, Mozzarella, pizza toppings, followed by a final layer of Mozzarella.  The ramekins should be full but not overflowing.

Transfer the baking sheet full of ramekins to the oven, and bake for 20 minutes, or until the cheese is melted and the ingredients are heated through.  At this point, you can either remove the pizza bowls from the oven.  Or if you'd like to get the cheese extra golden on top, you can turn the oven to "broil".  Then — keeping a close eye on the cheese so that it does not burn — broil the pizza bowls until the cheese is golden on top.

Remove and sprinkle each pizza bowl with a pinch of Parmesan cheese and crushed red peppers, if desired.  Serve immediately.
---
Notes
*Feel free to swap in your favorite pizza toppings here.  As goes with traditional pizza, just be sure that they are chopped or cooked (if needed, such as for sausage, etc.) if needed before adding them to the pizza bowls.