This post is sponsored by Old El Paso.
One of the things that has amused me most about becoming a food blogger is hearing people say they are "intimidated" to cook for me. Somehow I've heard that four times this month. And while I suppose I understand, it always makes me laugh. Because oh my goodness, my friends will be the first to tell you…
I am the last person anyone should feel intimidated to cook for!
Why?!
Well first off, whenever anyone drops the "i" word, my first response is always incredulous — "Have you seen the recipes on my blog?!" Hellooooo. 🙂  Pretty much the only recipes I make are those that fall into the quick and easy and non-intimidating category. And I love it that way. I mean, I will happily accept your invite to a gourmet 8-course feast at a 5-star restaurant anytime. But I feel much more comfortable around simple, fresh, delicious meals that have been prepared by hands I know.
I also get so ridiculously excited when someone else serves me a homemade meal that I will eat just about anything I'm served. That's right — anything. I'll taste-test your first time experimenting with a new dish. I'll gladly enjoy some of the leftovers in your fridge. Hey, I'll even choke down some hamburger and mayo and olives if they show up on my plate. Because if my friends were the ones cooking them up (and I didn't have to), I'm all in. And more than anything, probably just thrilled to be sharing a meal together, which is about my favorite thing on earth.
Anyway, speaking of non-intimidating food, let's talk about these fabulous shrimp tacos I made this week. Guys, they're nothing super special or fancy — just tortillas filled with taco-seasoned shrimp, mango salsa, and an easy crema on top. But I'm telling you, they are delicious.  Absolutely my kind of comfort food.
Let's make some!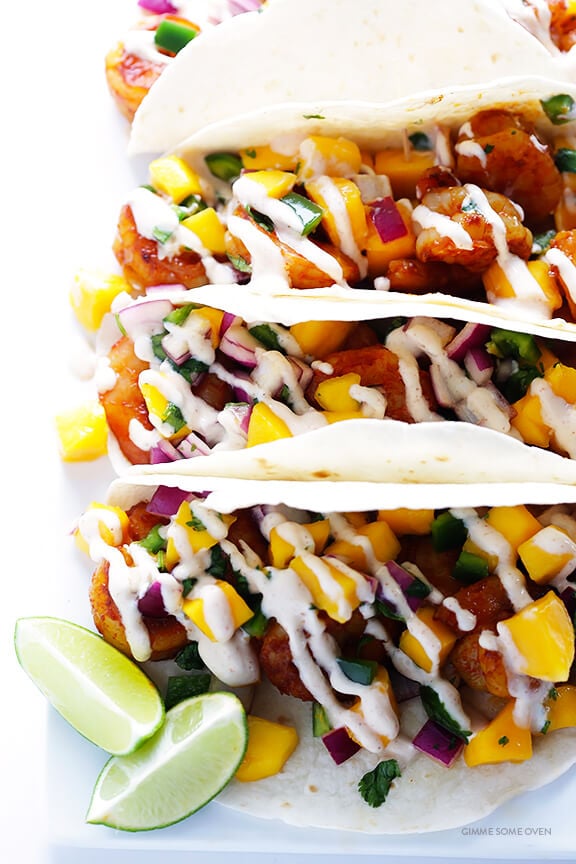 I almost hesitated to post this recipe because these tacos are, in fact, so simple.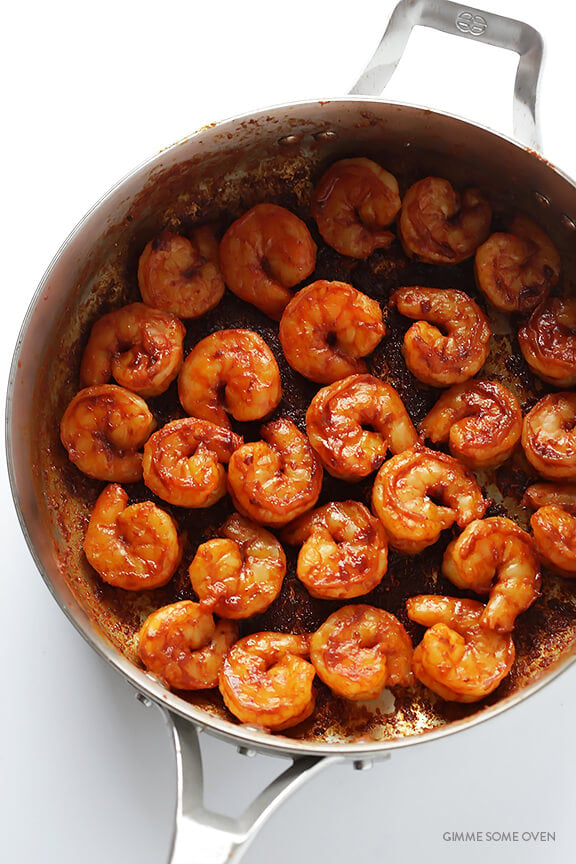 Literally just saute up a pound of shrimp with my favorite Old El Paso Taco Seasoning…
(I recommend using the spicy version if you want an extra kick!)
Whip up a batch of my favorite 5-Ingredient Mango Salsa…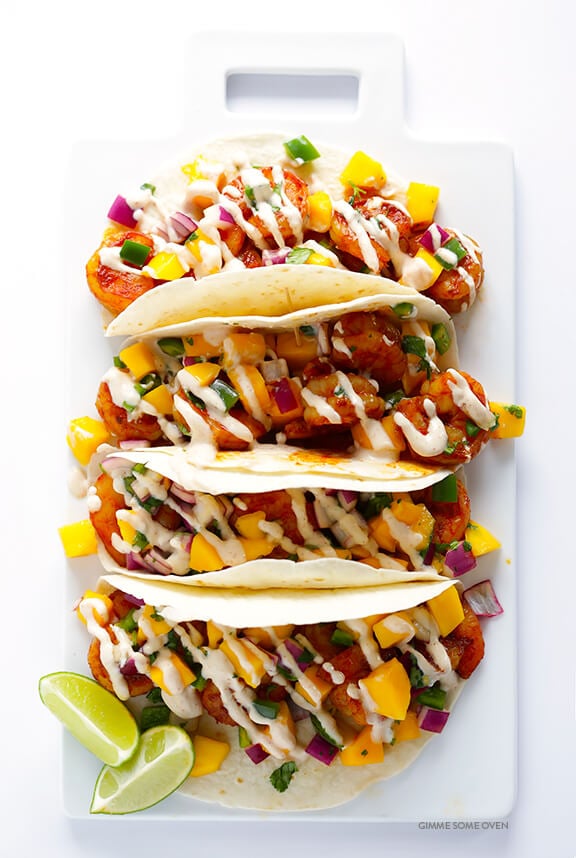 Then grab some flour tortillas and fill 'em up, and drizzle on a simple Greek yogurt "crema" that's seasoned with some lime juice, chili powder, and a little honey for sweetness.
These tacos are sweet, they're savory, they're fresh, they're quick and easy, and — I'm telling you — they are pretty much going to disappear in a heartbeat once you serve them. Totally non-intimidating, and totally good.
Just how I like 'em.
Print

Easy Mango Shrimp Tacos

Prep Time: 15 minutes


Cook Time: 5 minutes


Total Time: 20 minutes


Yield: 6 –8 servings 1x
---
Description
These Easy Mango Shrimp Tacos are quick and simple to make, full of great flavor, and sure to be a crowd favorite!
---
Easy Mango Shrimp Taco Ingredients:
1

pound large shrimp, peeled and deveined

1

packet Old El Paso Taco Seasoning

1 tablespoon

olive oil

1

package Old El Paso (Small) Flour Tortillas

1

batch 5-Ingredient Mango Salsa

1

batch Sweet Chili Lime Crema

optional toppings: crumbled queso fresco, sliced avocado, extra chopped cilantro
Sweet Chili Lime Crema Ingredients:
1 cup

plain Greek yogurt or sour cream

juice and zest of 1 lime

1 teaspoon

honey

1/2 teaspoon

chili powder

pinch of salt
---
Instructions
To Make The Easy Mango Shrimp Tacos:
Toss the shrimp in a large bowl with the taco seasoning until the shrimp are evenly coated.

Heat olive oil in a large saute pan over medium-high heat.  Add shrimp and saute for 4-6 minutes, stirring occasionally, until the shrimp are completely cooked through and opaque inside.  Remove from heat, transfer the shrimp to a separate plate, and set aside.

To assemble your tacos, portion the shrimp evenly between 6-8 flour tortillas, topped with a few spoonfuls of mango salsa.  Then drizzle with the sweet chili lime crema to taste.  Add optional toppings if desired.  Serve warm.
To Make The Sweet Chili Lime Crema:
Whisk all ingredients together until combined.  Taste, and add extra salt or honey if needed.
---
This is a sponsored post in partnership with Old El Paso. I am partnering with them this year to bring you more delicious fresh and easy Mexican recipes, and all opinions are my own as always. Thanks for continuing to support the brands who help make this site possible!