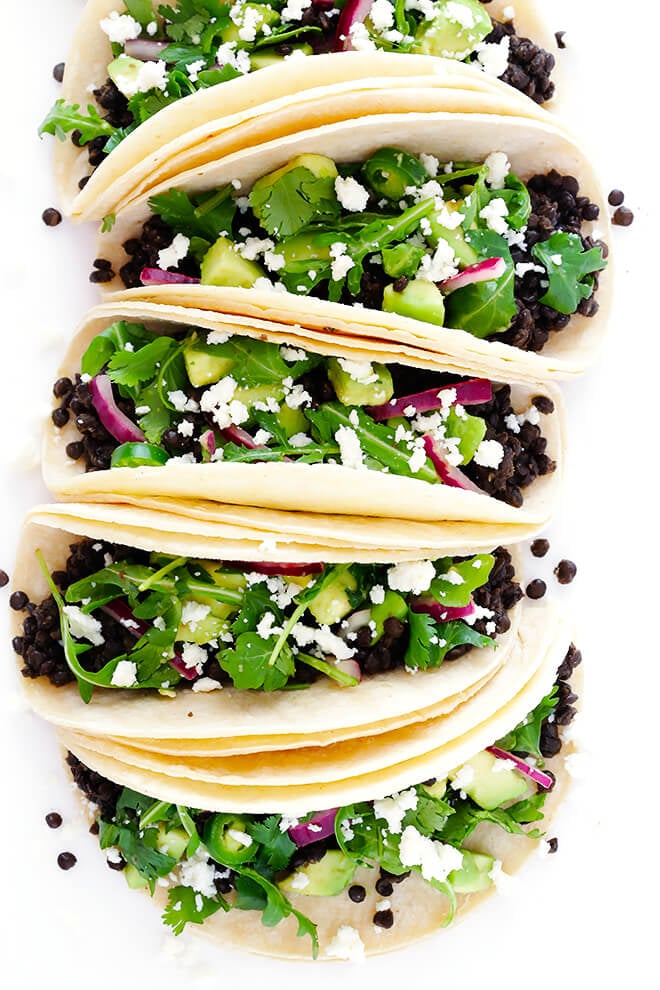 Happy New Year, everyone! ♡
Wow, I can't believe how much has changed in the past ten days since I last shared a new recipe with you. There's suddenly now a ring on my finger (and the most incredible feeling of joy and peace settling into my heart as that reality becomes more real each day), my sister has booked a plane ticket to Kansas City to go wedding dress shopping together in two weeks, I've signed on the dotted line to let go of my sweet apartment six months from now, Barclay and I have started a Pinterest board to brainstorm ideas on how to update his tiny kitchen so that it can become the new Gimme Some Oven headquarters (first order of business: fixing his oven so that it actually works!), we have booked tickets to go to Spain at the end of the month to scout out a potential big dream of ours (more details soon), and — wow — it pretty much feels like all of the big life changes have kicked into gear and are suddenly happening at once around here.
But — oh my goodness — every chaotic bit of it makes my heart so incredibly happy.
And so thankful.
Because, man, I've been there on new year's days that felt far from happy, when it felt like a tremendous act of faith to hope and dream for the year ahead. And even this year, I'm so acutely aware of the friends in my life who find themselves in those sort of seasons, and all of my love goes out to them as they're navigating the dark times and hopes for brighter days ahead. It's that wild and humbling balance of life, right? How some of the most beautiful and brutal moments in life collide at the same time in our worlds?
Well, wherever this new year finds you — whether life has given you a season full of joy and energy for the year ahead, or whether you're in a season when hope feels hard and it's a win just to get through each passing day — know that I'm sending each of you all my love this week. And all of my hope for a brighter and beautiful year ahead. And a big new year's hug-through-the-screen to hopefully get 2017 off to a good start.
Because I don't know about you, but after a hard 2016, I think the world needs all of the extra hugs it can get this year.
As promised, I have a month of feel-good recipes ready for you to help get the year off to a healthy start, beginning with this seriously delicious new taco recipe that I've been waiting for weeks to share with you. Even if you're not usually a lentils person, trust me, you have got to try these. ♡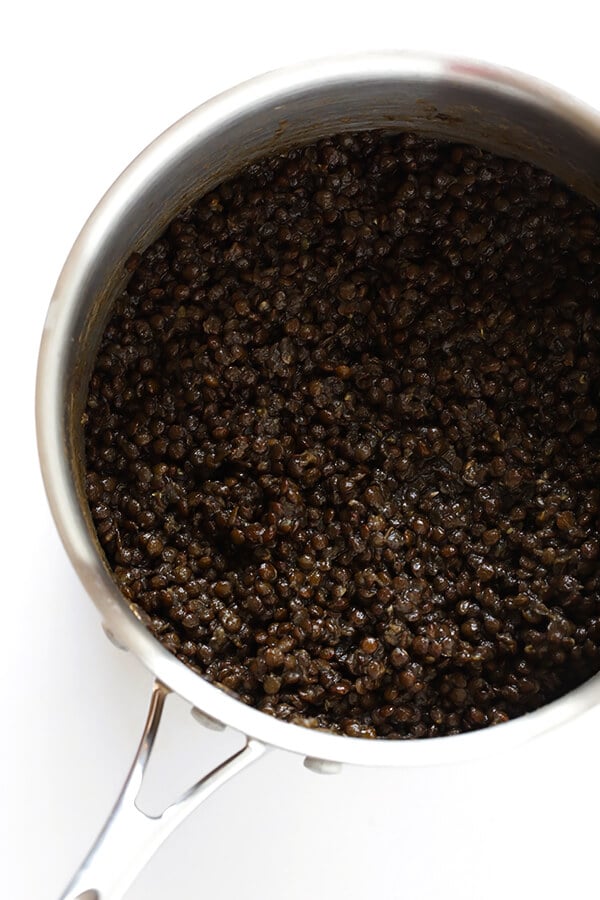 Truly. I had to make myself stop stealing spoonfuls of these lentils so that they could actually make it into the tacos. Because they are so good.  And so incredibly easy to make! Seriously, this whole recipe can be ready from start-to-finish in just 30 minutes.
Just pop the lentils on the stove to simmer until they're nice and tender…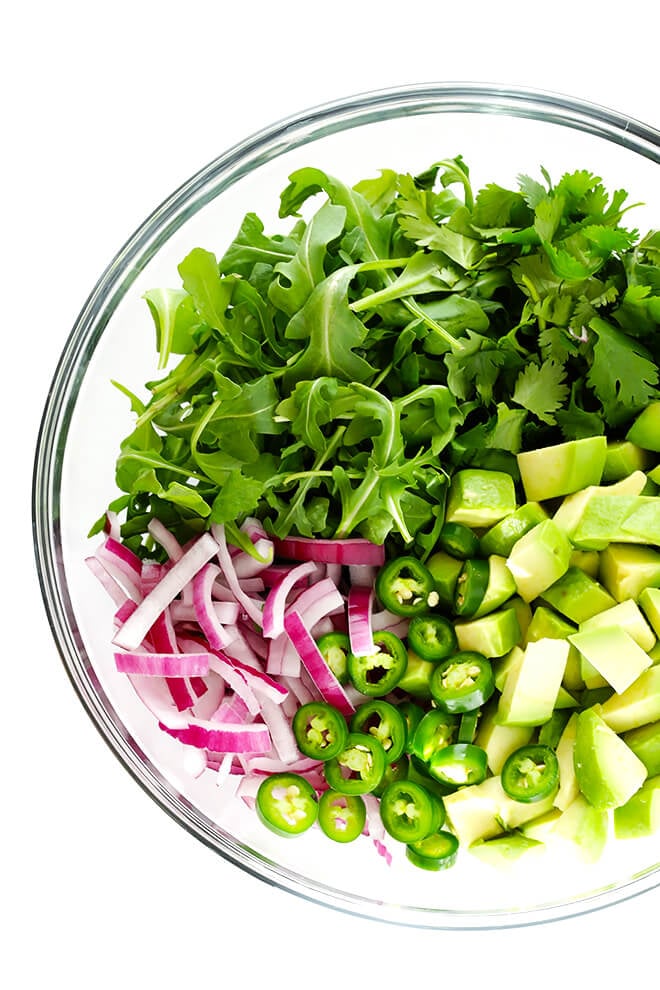 And then while the lentils are cooking, dice up a few avocados and toss them with your favorite green (and purple) fixin's to go on top. I went with lots of fresh arugula and cilantro, sliced red onion, and some thinly-sliced serrano pepper, all tossed in lime juice. (<– Nix the serrano pepper if you want less heat, or core and dice a jalapeño pepper as a milder option.)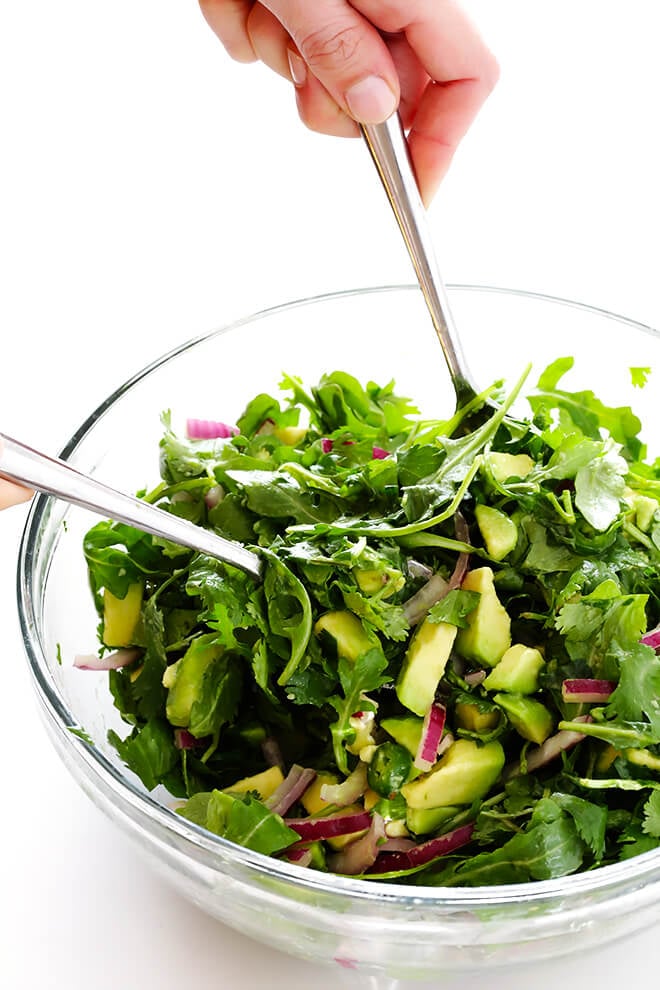 Toss everything together…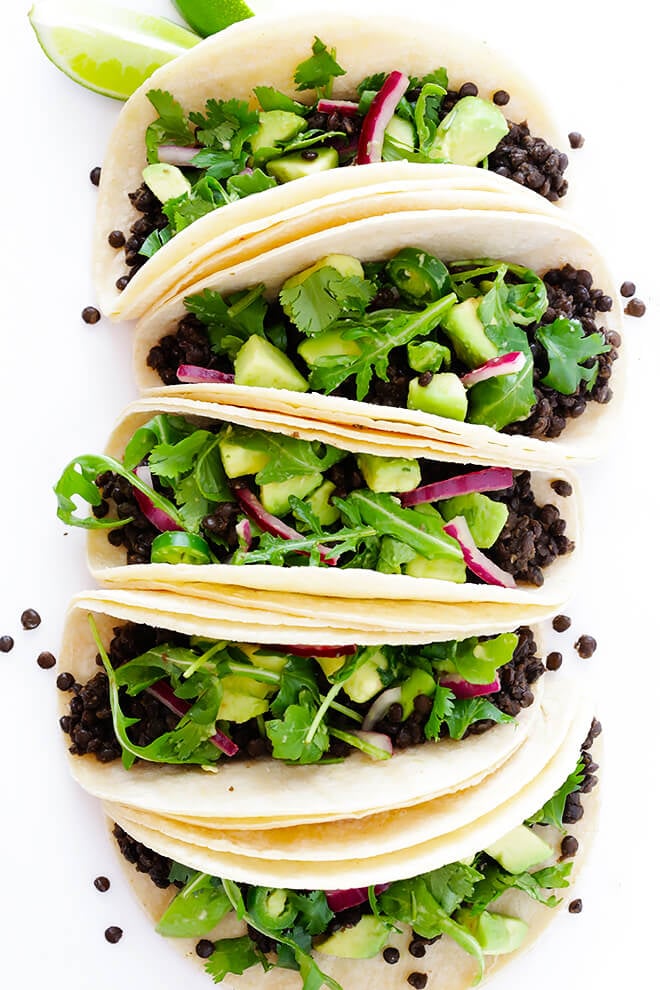 Then once your lentils are cooked and ready to go, spoon them into some corn (or flour) tortillas, top them with the avocado mixture, and you're good to go!
I liked serving mine with some crumbled queso fresco, which balances out all of those flavors perfectly. But if you're looking to make these tacos vegan or dairy-free, just leave out that step.
Seriously, all of these fresh and zesty flavors pair so perfectly together, those lentils make the tacos extra-hearty and filling (trust me, you meat-eaters won't miss a thing!), and they are downright delicious.  The perfect meatless meal to get your new year's off to a lighter and delicious start. ♡
Stay tuned for more feel-good recipes coming your way this month, and I wish you all a hopeful first week of the year ahead!
Print

Easy Lentil and Avocado Tacos

Prep Time: 5 minutes


Cook Time: 30 minutes


Total Time: 35 minutes


Yield: 8 –10 servings 1x
---
Description
These Easy Lentil and Avocado Tacos are quick and simple to make, full of fresh feel-good ingredients, and SO incredibly delicious!
---
Lentil Avocado Tacos Ingredients:
1

batch zesty lentils (see below)

2

ripe avocados, peeled, pitted, and diced

1

large handful fresh baby arugula

1 cup

roughly-chopped fresh cilantro leaves

quarter of a small red onion, peeled and thinly-sliced

1 tablespoon

fresh lime juice

(optional) 1 serrano pepper, thinly sliced

corn or flour tortillas

(optional) crumbled cotija cheese or queso fresco
Zesty Lentils Ingredients:
1 cup

uncooked black (beluga) or green (French) lentils

2.5 cups

vegetable or chicken stock

1/2 teaspoon

garlic powder

1/2 teaspoon

ground cumin

pinch of salt and black pepper
---
Instructions
To Make The Tacos:
Prepare the lentils as instructed below.  Set aside.

In a large bowl, add the avocado, arugula, cilantro, red onion, lime juice and serrano pepper (if using).  Toss gently until combined.

Assemble the tacos by filling your tortillas with lentils, topped with the avocado mixture, then sprinkled with the crumbled cheese (if using).  Serve immediately.
To Make The Lentils:
Rinse the lentils with water in a fine-mesh strainer, picking out and discarding any little stones that may have snuck in there.  Transfer the lentils to a medium saucepan, add the stock, garlic powder, ground cumin, salt and pepper, and stir to combine.  Cook over medium-high heat, until the mixture reaches a boil.  Reduce heat to medium-low and simmer for 20-25 minutes, stirring occasionally, until the lentils are tender.  Drain, and set aside.
---