They weren't kidding when they named it March Madness.
My loft in downtown Kansas City happens to be just a few blocks away from the Sprint Center, where the men's basketball Big XII tournament was in full swing last week. And the energy around here was crazy!! Everywhere I turned, fans were milling around the streets, proudly sporting their team's colors and scouting out a place to watch the next game. And their cheers all day (and all night) long were my soundtrack for the week, echoing off the buildings and in through my open windows. And you'd better believe that everyone from KC was cheering extra loud for our Kansas Jayhawks, who are still moving forward in the #1 seed. (Rock chalk!)
Of course, many of my neighbors are not a fan of the madness that takes over downtown (and specifically, our parking lots) each spring. But I always find it really fun, and love the energy it brings to the neighborhood. And while I'm the first to admit I'm a "social sports fan", and have watched a grand total of about 1.2 games so far this entire season, I'm totally there when it comes to watching the tournament games with all of our friends. And of course, I'm also totally there with a snack to share.
So today, I'm sharing a new one — Easy Enchilada Cups.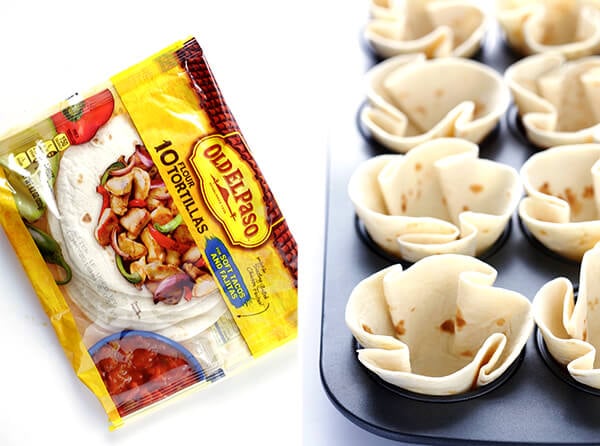 These guys came about thanks to a good ol' spring cleaning of the fridge and pantry, where I discovered that (like always) I had an inordinate amount of enchilada sauce, beans, and tortillas on hand. I thought about making some enchiladas, but wanted to try something a little more finger-food-friendly for game day. So I decided to experiment and see if I could transform a bag of flour tortillas into a pan of little baked tortilla "cups".
Turns out, they worked like a charm! I just poked the tortillas into standard-sized muffin cups, and then baked them up until crispy.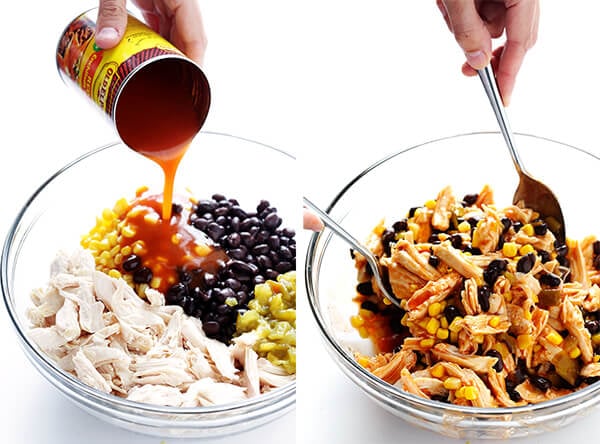 Then I whipped up a simple enchilada filling mixture with rotisserie chicken, corn, black beans, chopped green chiles, and a can of enchilada sauce. (You could nix the chicken and add in your favorite cooked protein, like steak or fish or shrimp, and/or add in some cooked vegetables for a different twist!)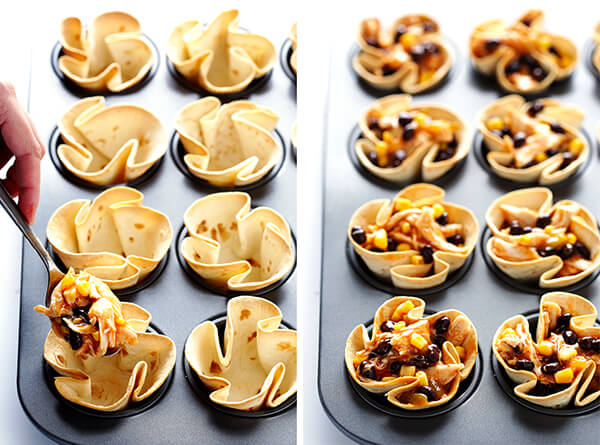 Then I filled the cups with the mixture…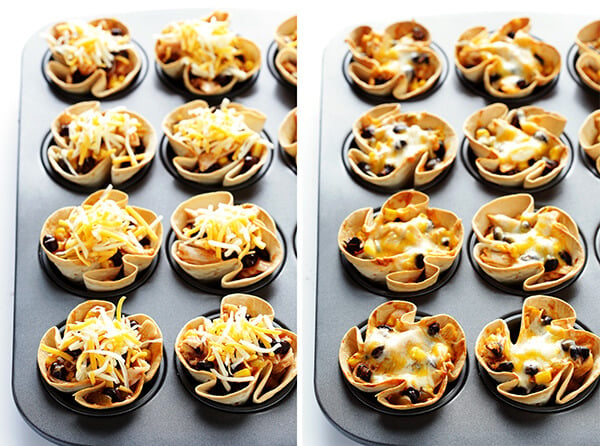 …and topped them each with a pinch of cheese, and then baked the cups until everything was warmed through and melty.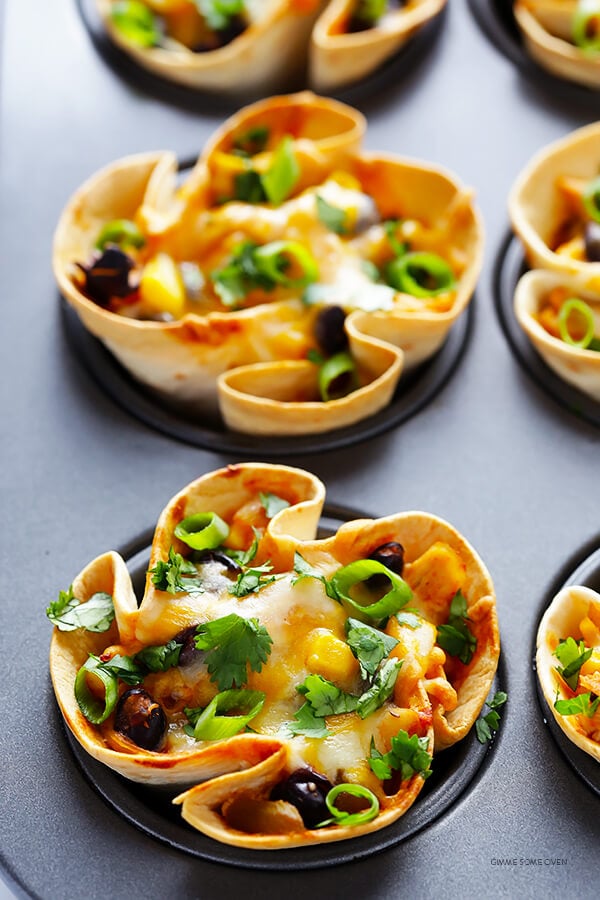 Then once they were cooked up, I topped them with some cilantro and green onion, and — voila! — they were ready to go!
So cute, eh?
And even more fun, so easy to eat with your hands! They're definitely a little juicy inside with all of that tasty enchilada sauce, so you might serve them with a place or some good napkins in tow. But there's definitely no forks needed, which is how I roll for game day entertaining. 😉
Enjoy!
Print

Easy Enchilada Cups

Prep Time: 15 minutes


Cook Time: 20 minutes


Total Time: 35 minutes


Yield: 10 servings 1x
---
Description
These Easy Enchilada Cups are quick and simple to make, easy to customize with your favorite enchilada ingredients, and totally delicious!
---
1

(10-count) package Old El Paso Small Flour Tortillas

1

(10-ounce) can Old El Paso Red Enchilada Sauce (or you can use my homemade enchilada sauce)

1

(14-ounce) can black beans, rinsed and drained

1

(4-ounce) can Old El Paso chopped green chiles

2 cups

shredded cooked chicken (*or other desired filling, see options below)

½ cup

whole-kernel corn

1 cup

shredded Mexican-blend cheese

¼ cup

chopped fresh cilantro

¼ cup

thinly-sliced green onions
---
Instructions
Heat oven to 350°F.

Tuck each of the tortillas into the cups of a standard-sized muffin pan, gently pleating the edges of the tortillas so that they fit snugly inside each cup, careful not to let the tortillas fold too closely into the middle (since we'll need an opening for the filling later).  Bake for 10-12 minutes, or until the tortilla cups have hardened slightly on all sides.  Remove and set aside.

While the tortillas are baking, combine the enchilada sauce, black beans, green chiles, chicken, and corn together in a large mixing bowl.  Toss until the ingredients are evenly combined.

Once the tortilla cups are ready, carefully spoon the filling into each cup until it is filled nearly to the brim.  Place a pinch of cheese on top of each tortilla cup.  Then return the pan to the oven and bake for 15 minutes, or until the cheese is melted and the filling is warmed through.

Remove from the oven, and sprinkle the top of each cup evenly with cilantro and green onions.  Serve warm.
---
Notes
*Feel free to substitute 2 cups total of another cooked protein (steak, fish, shrimp, etc.) and/or cooked vegetables in place of the chicken.