Two nights ago, I hosted what has become one of my favorite annual traditions — Neighborsgiving!
And thanks to my wonderful neighbors — it was awesome.
And thanks to a few super easy recipes — my prep for the party was amazingly stress-free. Which was doubly awesome.
The theme of the night was a Thanksgiving-ish potluck. And since we had nearly 40 people who had rsvp-ed that they were coming, I knew from experience with this group that there would be more than enough food to go around. And since most people had volunteered to bring some sort of side dishes, I decided to just set out a few BotaBoxes for drinks, make a batch of homemade apple cider, assemble some super-easy cranberry baked brie bites as an appetizer to pass out as everyone arrived (recipe coming soon!), and then make one of my all-time favorite autumn classics for dessert.
Because you can never go wrong with a homemade apple crisp. 🙂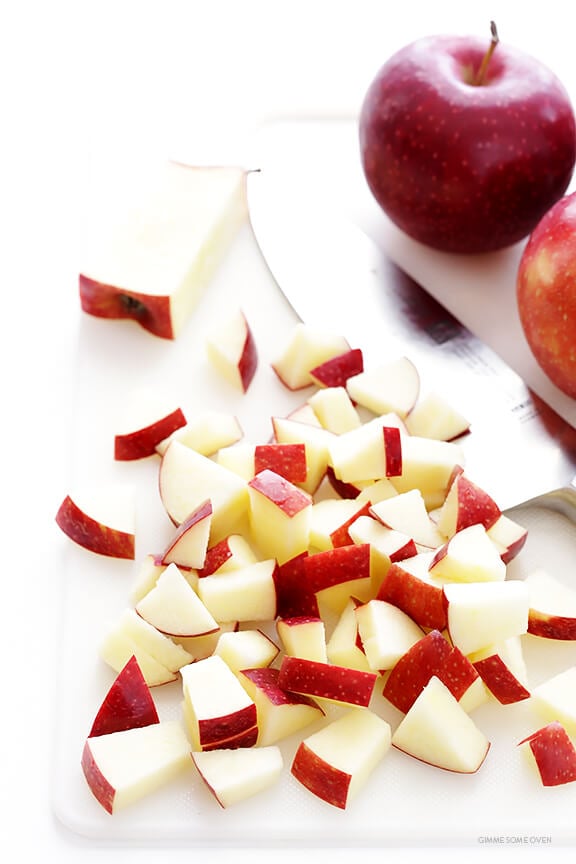 Last week, I actually had a surprise box of apples show up in the mail from Harry & David, which I had to quickly snatch from our mail room before our building manager devoured them all. (I think I win the award for the most temptingly-delicious mail in our building!)  And of course, I immediately knew what I wanted to do with them.
Crisp time!!!
Usually I just throw in a little-of-this and a little-of-that when making fruit crisps. But this time, I decided to do an apple-ish spin on my Easy Blueberry Crisp recipe, since it's naturally gluten-free and delicious.  It can also naturally be vegan, but I decided to sub in melted butter for coconut oil for a little treat because it was Friendsgiving. 😉
Making the crisp was easy! I just chopped up a bunch of apples with the skin on (which I think is pretty, but you can peel the apples if you'd like). Then tossed them with a bunch of cinnamon and a little lemon juice.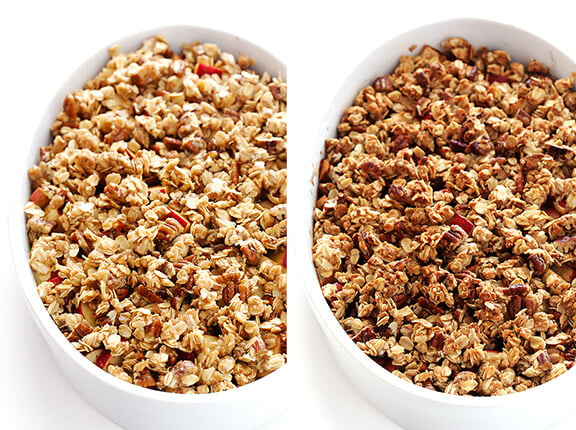 And then whipped up this tasty oatmeal-nut topping, which is sweetened with maple syrup and a hint of extra cinnamon, and made with gluten-free almond meal. (Or you can also sub in any kind of flour if you're not making it gluten-free.)
Then I baked it up until the top was extra crispy and the apples were extra soft…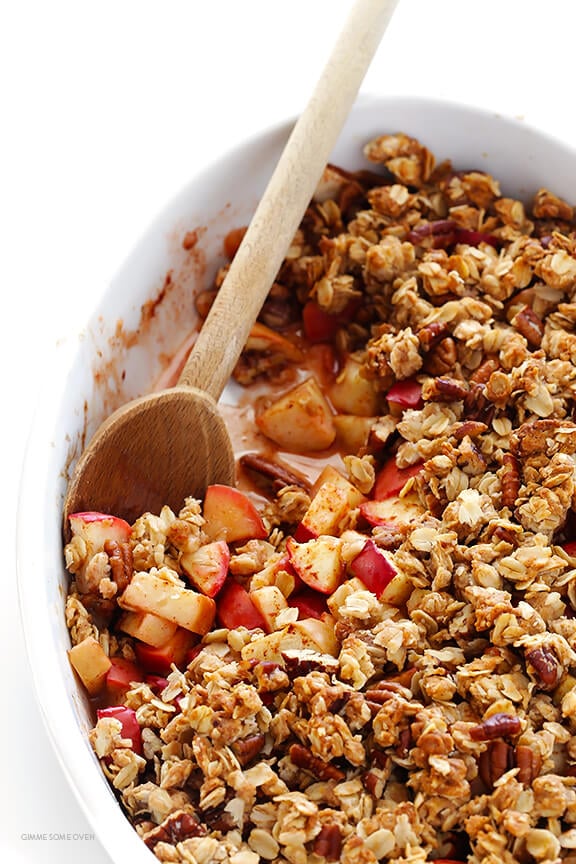 …and then we dove in. I mean, just look at that red deliciousness! (<– Hehe, food humor!)
Really, this recipe was everything I love about a good, comforting apple crisp. It was blissfully easy to make (you could even chop the apples and assemble the topping in advance), it was cinnamon-spiced (but not so much so that you couldn't taste the apples), it was the perfect mix of super-crispy and super-soft, and it was a hit at the party. 🙂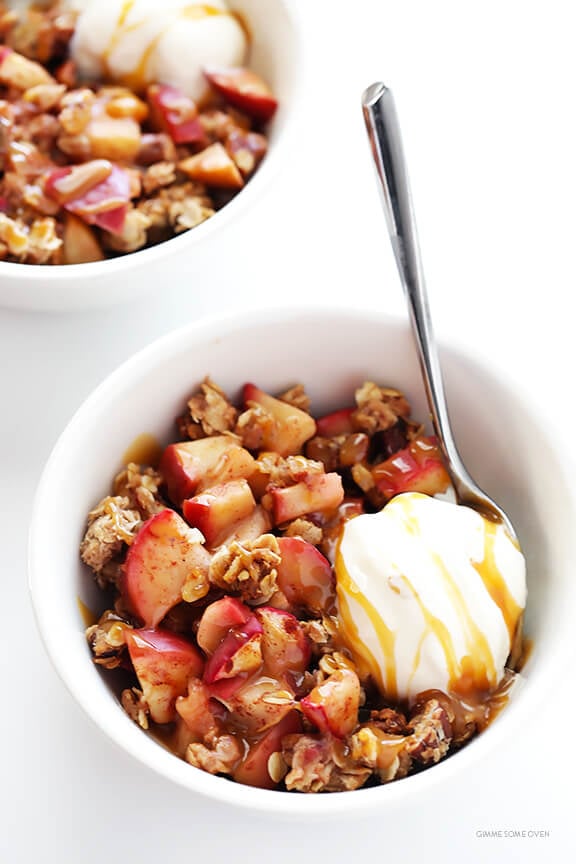 We went a little indulgent and served it with ice cream and caramel sauce for drizzling. But if you're going a healthier route, I can assure you that this recipe tastes just as delicious on its own. 🙂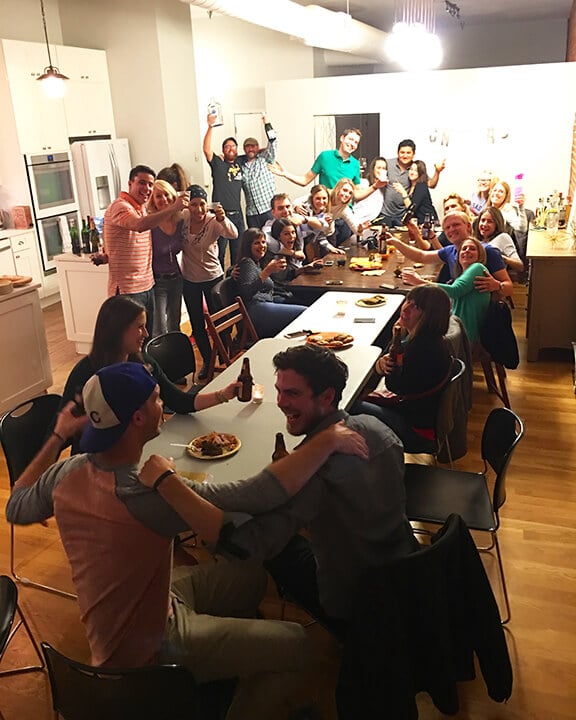 So a big cheers to easy recipes and easy entertaining, made all the better by my amazing neighbors. It's easy to be thankful this month for good nights like these. 🙂
Print

Easy Apple Crisp

Prep Time: 15 minutes


Cook Time: 35 minutes


Total Time: 50 minutes


Yield: 8 –10 servings 1x
---
Description
This Easy Apple Crisp recipe is made with simple ingredients, it's naturally gluten free (and vegan, if desired), and it's absolutely delicious!
---
1 cup

old-fashioned oats (use certified gluten-free oats if making this recipe GF)

1/2 cup

 almond meal*

1/2 cup

 chopped pecans or walnuts

1 1/2 teaspoons

ground cinnamon, divided

1/4 teaspoon

salt

1/4 cup

maple syrup

1/4 cup

melted butter (or coconut oil, if making this recipe vegan)

4

apples, cored and diced (about

5

–

6

cups)

2 teaspoons

freshly-squeezed lemon juice
---
Instructions
Preheat oven to 350 degrees F.

Add oats, almond meal, nuts, 1/2 teaspoon cinnamon, and salt to a mixing bowl, and toss until combined.  Add maple syrup and melted butter (or coconut oil), then toss until combined.  Set aside.

In a separate bowl, combine the apples, lemon juice and remaining 1 teaspoon cinnamon, and toss until combined.  Spread the apple mixture evenly into a greased 8×8-inch or 9×9-inch pan, then sprinkle the oat mixture evenly on top of the apples.

Bake for 35-40 minutes, or until the topping is crisp and golden and the apples are soft and cooked through.  Serve immediately.  (I served mine with ice cream and a drizzle of caramel sauce.)

Or let the apple crisp cool to room temperature, then cover and refrigerate for up to 3 days.
---
Notes
*If you can't find almond meal at the store, you can pulse almonds in a food processor until fine to make almond meal.  OR, you can substitute in white whole wheat flour (or all-purpose flour) in place of the almond meal.
Recipe adapted from Bread and Wine by Shauna Niequist.