This post is sponsored by Blue Diamond Almonds.
There is so much celebrating happening in my world lately!
Seriously, it seems like nearly every week, I get news that some friend has just accepted a new job, or announced a pregnancy, or bought a new house, or finished that screenplay, or completed that renovation, or tied the knot…you name it. The good news seems to keep on comin'. And you'd better believe we like to celebrate when it does. 🙂
This past weekend was no exception. Literally every single day was a party!
On Friday, I hosted a happy hour (that turned into a hey-let's-pop-open-a-third-round-of-wine-and-order-pizza-and-hang-out-until-late-kind-of-par-tay) to celebrate the sweet engagement of one of my longest-time friends in Kansas City. Then on Saturday, we road-tripped it to my college town to cheer on one of my old friends and former bandmates who tied the knot in a beautiful outdoor ceremony, after which we ate local bbq and caught up with college friends and danced with the fireflies until late in the summer evening. Then on Sunday, we celebrated the belated birthday of one of my favorite neighbors with nachos and margaritas and hilarity and deep conversations about where we're heading in life, which of course is one of the zillion reasons I love this girl. And then I wrapped the whole weekend up by starting to pack for my trip to Costa Rica this week, where I absolutely cannot wait to be reunited with my old host family and speak Spanish and eat pineapple together and road trip to the beach and catch up on all of that life that's happened the past 10 years.
Man, so many thanks to be thankful for lately.
Speaking of celebrating, I'm also pretty darn pleased with this granola recipe that I have to share with you today. I don't think you can ever go wrong with chocolate and cherries in life, but getting to enjoy them first thing in the day with a protein-packed, maple-sweetened granola may just be my favorite way to enjoy them. And there's a bonus giveaway to go along with this recipe!! It's a super simple one. Take a few minutes to complete this survey, leave a comment below saying that you did, and you'll be automatically entered for a chance to win a $100 Visa gift card.
Pretty great way to begin a Monday, eh?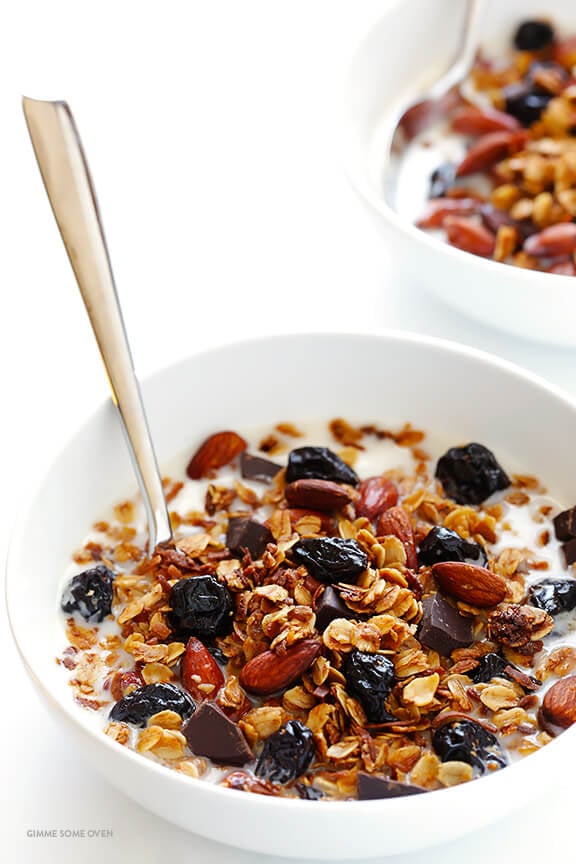 It's no secret that I've been on a big granola kick this year. It's so ridiculously easy to make at home. And it's so fun to experiment with new mix-ins.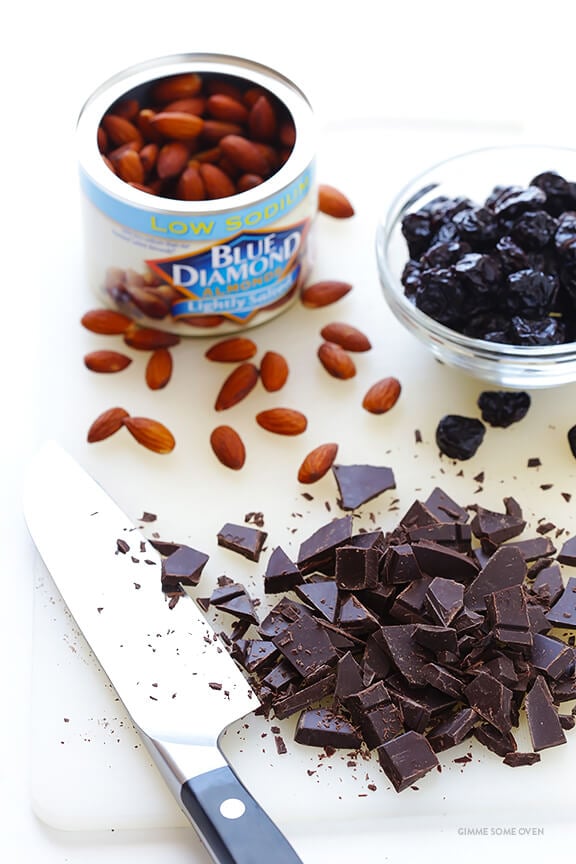 For this batch, I decided to go with a classic ingredient combo — dried cherries, dark chocolate and almonds.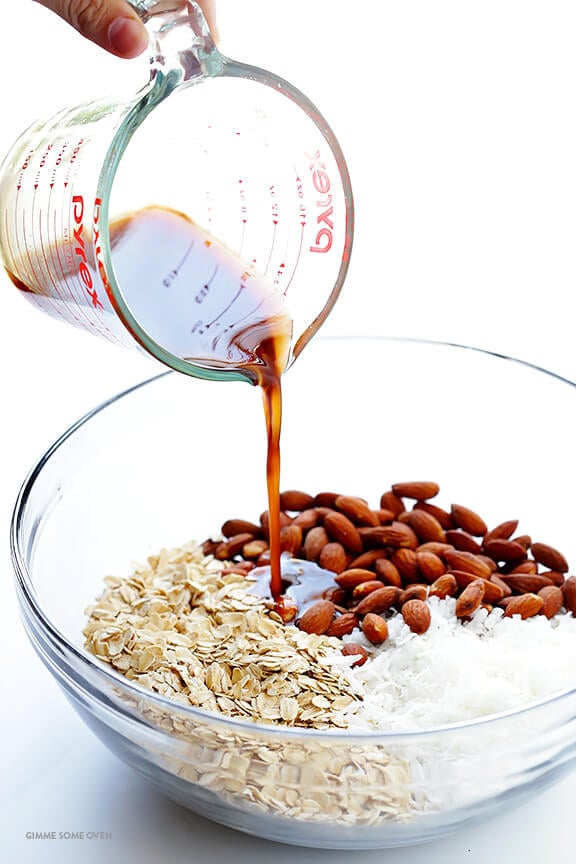 The recipe is basically a riff on my favorite carrot cake granola, which is deliciously sweetened with maple syrup and crisped up with some melted coconut oil. So to make it, just combine some oats (use gluten-free oats if making this GF), Blue Diamond Almonds (I used the lightly-salted almonds), and shredded coconut. Then pour on a mixture of maple syrup, coconut oil, ground cinnamon, vanilla extract and salt…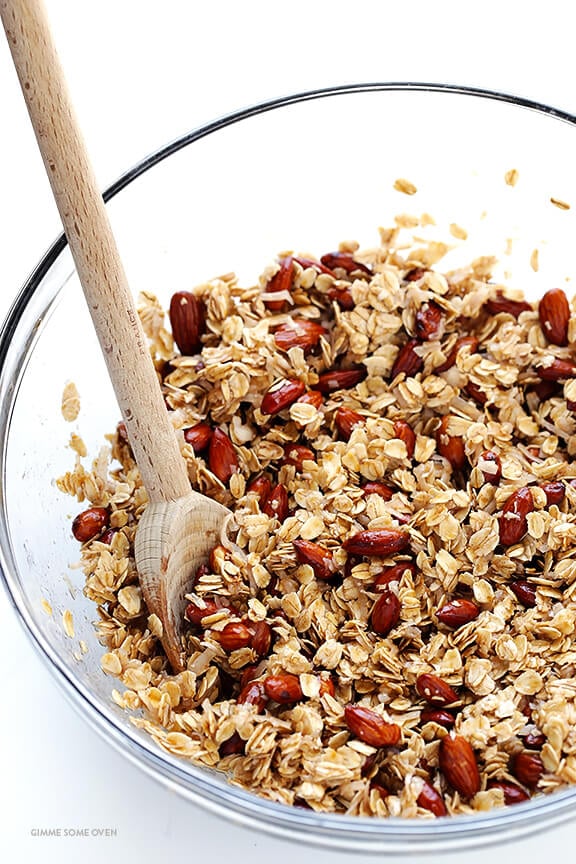 …toss to combine…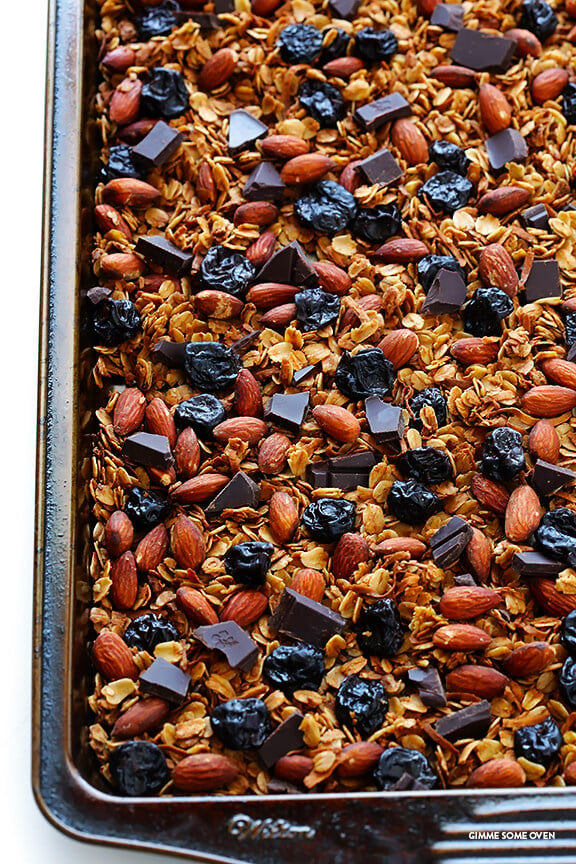 …and then bake it up to crispy perfection, giving it a good stir halfway through baking. Let the granola cool to room temperature, then mix in your dried cherries and chocolate.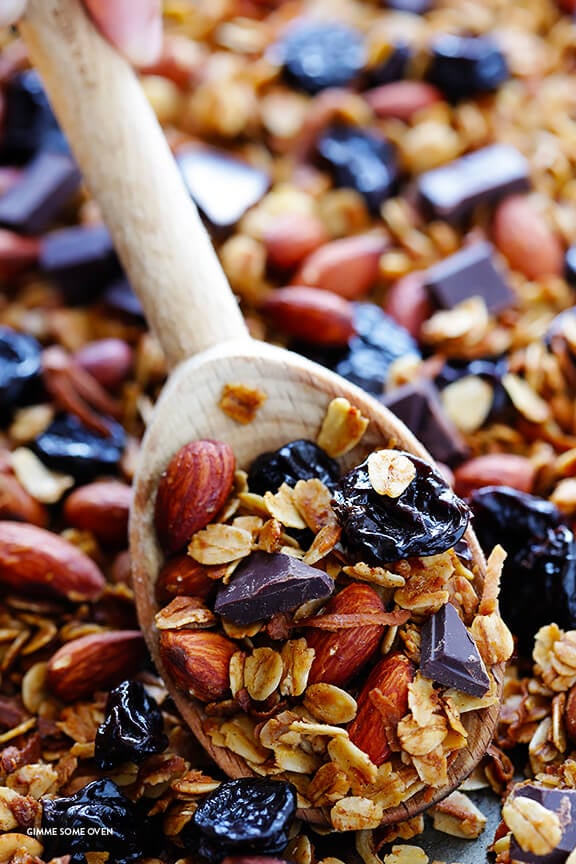 I mean, who can resist that?!?
It's the perfect treat to keep on hand for breakfast or snacks throughout the day, or also to bag up and give away as gifts. (Which I did with the last batch, and received some rave reviews from friends!)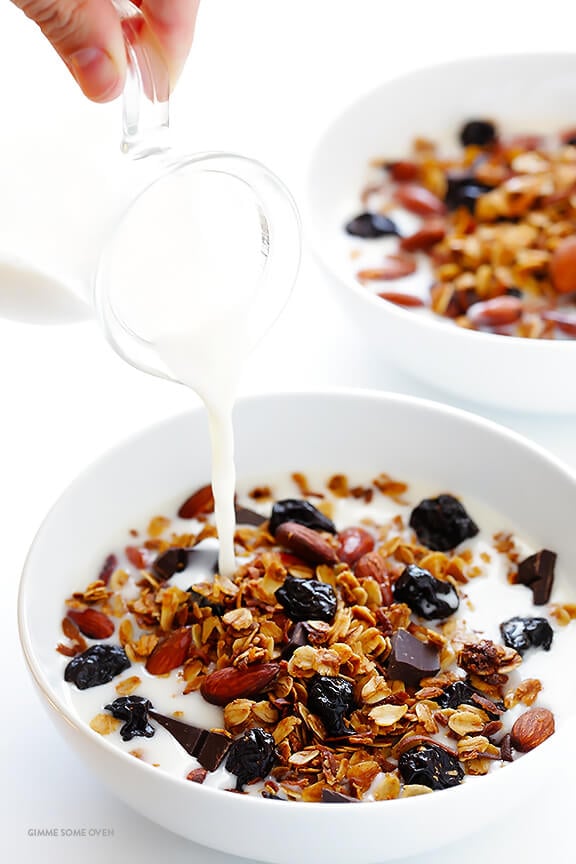 Or if you can't wait, go ahead and grab some milk or yogurt and serve it up right away!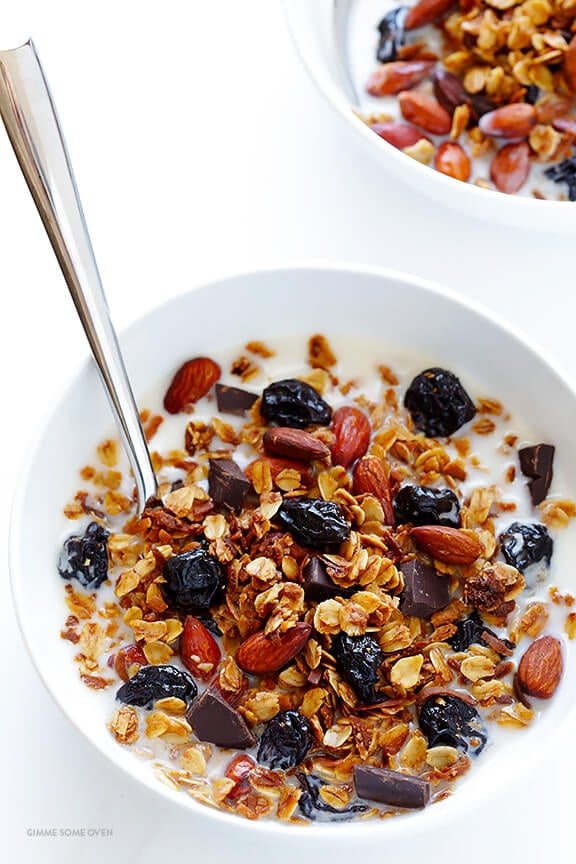 With those sweet dried cherries and rich dark chocolate, this recipe is definitely a treat. Perfect for celebrating those everyday good moments of life. And hey — perfect for snacking on as you take this reader survey!!
Again, in order to enter the giveaway, just complete the survey (which should only take a few minutes), come back to this blog post and leave a comment saying that you did (being sure to enter your email address in the comment form), and you'll be automatically entered in a giveaway to possibly win a $100 gift card. The giveaway will close at midnight on Monday August 31, 2015, and we'll announce the winner later that day.
Thanks so much for participating, and hope you enjoy this granola!
Print

Dark Chocolate Cherry Granola

Prep Time: 10 minutes


Cook Time: 25 minutes


Total Time: 35 minutes


Yield: 6 –8 servings 1x
---
Description
This Dark Chocolate Cherry Granola recipes is easy to make, full of protein, maple-sweetened, and tastes like such a treat!
---
2 cups

 old-fashioned oats (use certified gluten-free oats if making this GF)

1 cup

Blue Diamond Almonds (I used Blue Diamond Lightly Salted Almonds)

1/2 cup

shredded or shaved coconut

1/4 cup

maple syrup

1/4 cup

melted coconut oil

1/2 teaspoon

ground cinnamon

1/4 teaspoon

vanilla extract, store-bought or homemade

1/2 teaspoon

salt

1 1/2 cups

dried cherries

4 ounces

dark chocolate chunks
---
Instructions
Heat oven to 350°F.  Spray a large baking sheet with cooking spray, or line it with parchment paper.  Set aside.

Combine the oats, almonds, coconut in a large mixing bowl.  In a separate bowl, whisk together the maple syrup, melted coconut oil, cinnamon, vanilla extract, and salt together until smooth.  Pour the maple syrup mixture over the oats mixture, and toss until everything is evenly mixed.

Spread the granola mixture out evenly on a greased baking sheet and bake for 25 minutes, pulling the mixture out at the halfway point and giving it a good stir before the final round of baking.  Remove and let cool until the granola reaches room temperature.  Stir in the dried cherries and chocolate and toss to combine.

Serve immediately, or store in a sealed container for up to 2 weeks.
---
This is a sponsored post in partnership with Blue Diamond Almonds. I am partnering with Blue Diamond to bring you delicious new almond-based recipes this year, and all opinions are 100% my own as always. Thanks for continuing to support the brands who help make this site possible!