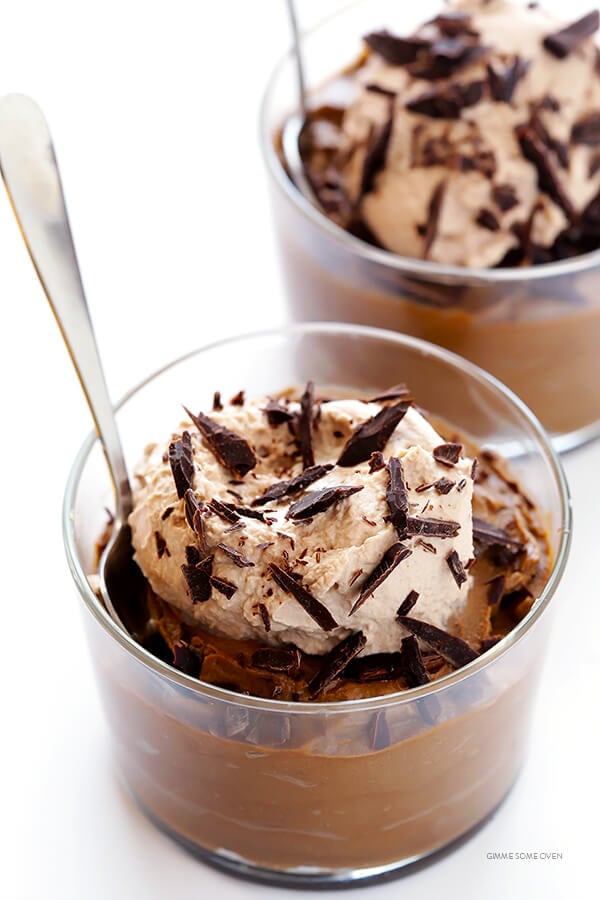 Last year when Kathryne and I were living in Austin for a month, we spent basically as much time as possible hanging out with our favorite people there — Jeanine and Jack, the talented duo behind Love & Lemons.
And we had the best time together.
From taking a tour all around town eating at some of J & J's favorite restaurants, to enjoying a (cute modern) glass of wine together after work in their gorgeous kitchen, to bringing in vegetarian take-out while we overanalyzed The Bachelor on Monday nights, to endless conversations about food and blogging and small business, to just having fun and catching up on life together in Austin — I think it's safe to say that time with these two was one of the absolute highlights of our month there. (And also the few times we've been back to visit since!)
That said, the other huge conversation topic during our time there was the fact that Jeanine and Jack were in the throes of finishing up their very first cookbook together. Each day, they were working like champs to test and photograph tons of delicious new recipes for the book. And with Jeanine's incredible eye for design and love for fresh vegetarian recipes, paired with her talented husband behind the camera photographing it all, Kathryne and I knew this book was going to be impressive. But oh man, when this book arrived on my doorstep last month, my socks were even more knocked off than I thought possible.
This cookbook is positively stunning.
And after cooking from it this past month, and recommending it to a few dozen close friends already, it's about dang time I pulled together a post to tell you all about it too. And to tell you about this dark chocolate avocado mousse that you need to make from it too.  ♥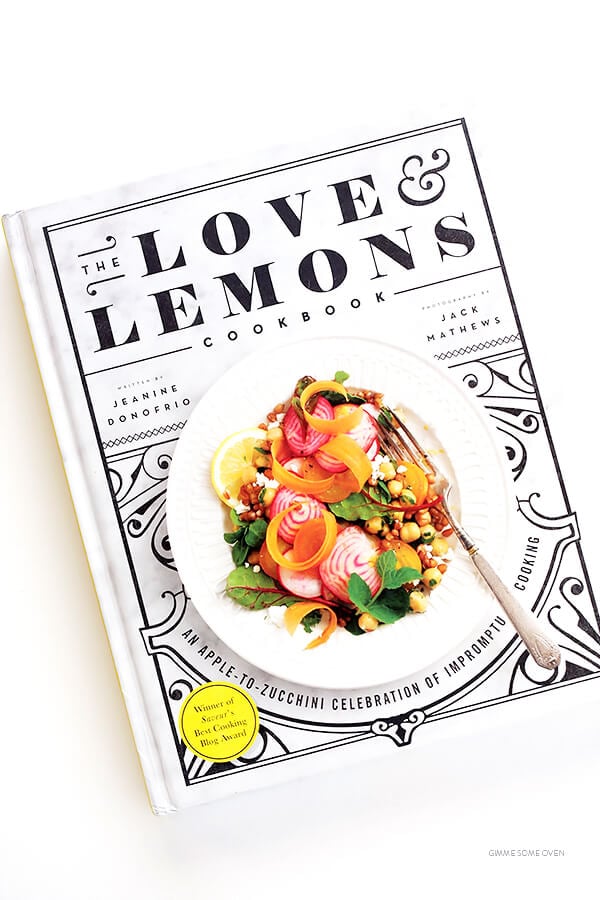 As comes as no surprise, this book is absolutely lovely. Those of you who follow Love & Lemons probably already know that Jeanine was a graphic designer long before she ever began her food blog. So she worked hand-in-hand with one of her favorite designer friends in Austin to create a book that would look gorgeous on any coffee table, and inspire you with beautifully laid-out recipes as you cook from it. And that mission was certainly accomplished.
I can also attest that the recipes are just as delicious as they are beautiful. As the title says, the book is "an apple-to-zucchini celebration of impromptu cooking", and it is structured accordingly with a chapter devoted to farmers market finds from apples to artichokes to asparagus to avocados and beyond. The recipes are all vegetarian and fresh and minimal and healthy, as is Jeanine's signature style, and there are also instructions for how to modify the recipes to make them vegan and/or gluten-free (if they already aren't).
Also helpful? All of the gorgeous charts and tutorials that Jeanine included throughout the book. She'll teach you how to improvise your own hummus, smoothies, pestos, salsas and more. She'll show you how to clean and prep fresh artichokes like a pro. She'll show you how to make the perfectly soft kale salad. And…well, you'll just have to check out the book to learn more.
In a nutshell, I just can't recommend this one enough. I think you're all going to love it, and I can't wait for you to get your hands on a copy! It's such an inspiration! 🙂
Alright, well let's move onto this mousse.
As I mentioned on Snapchat the other day (@gimmesomeoven), I dog-eared more than half of the book at first glance. But the first recipe that I couldn't wait to make was this dark chocolate avocado mousse. It was in the avocado chapter (of course, the first chapter I opened), and included really simple ingredients that I surprisingly already had on hand.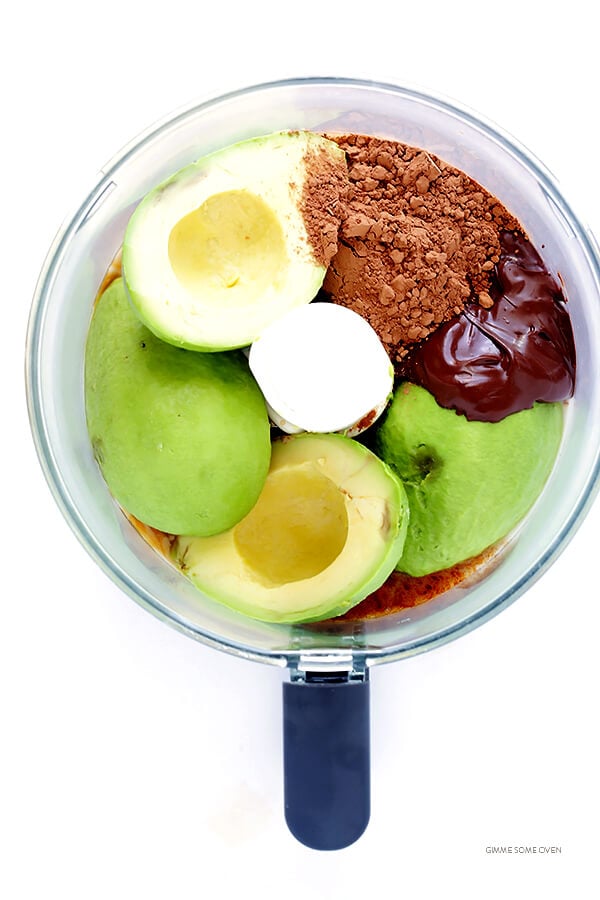 So I tossed them in the food processor, and pureed them until combined…
…and literally within less than 5 minutes, this mousse was ready to go. Whaaa? I mean, she recommends chilling it for at least an hour, but as far as prep was concerned, this was a 5-minute mousse. Extraordinary.
And even more extraordinary?
The texture was perfectly mousse-y. I had no idea that avocados could make that happen, but they did! The texture was thick and creamy and felt oh-so-decadent, but the fun secret was that it was made with healthier fresh ingredients and naturally sweetened with maple syrup. And it tasted wonderfully rich and chocolatey.
I served it to Barclay for dessert later that evening with some chocolate whipped cream on and chocolate shavings on top, and he agreed that it was a total winner. (Which was good, since he had heard me gush about this cookbook ever since it had arrived.)  😉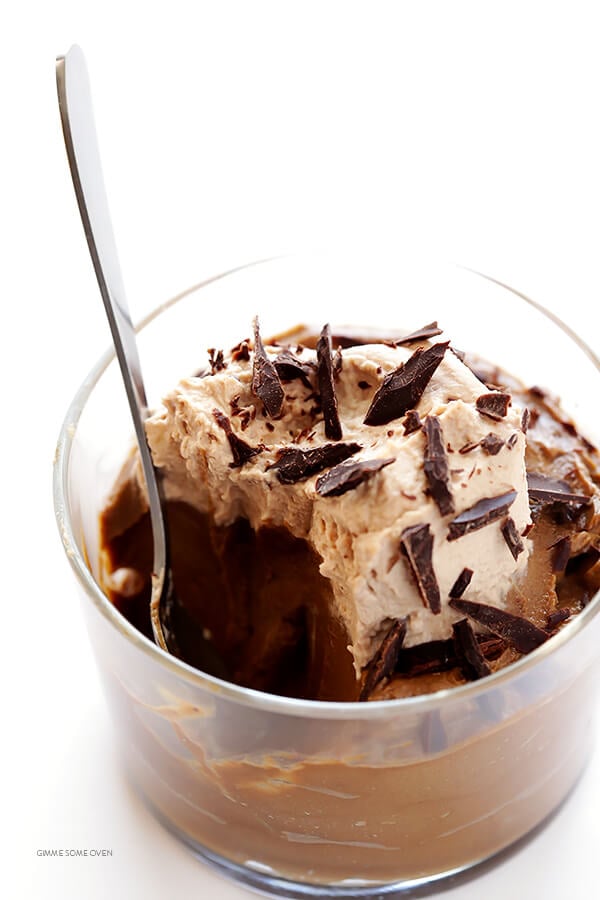 Definitely an awesome easy dessert that will impress a crowd, but also one that you can feel great about serving. Plus, did I mention that it only took like 5 minutes to prep?!? My kind of recipe indeed. 🙂
So big congrats to Jeanine and Jack on this incredible work of art, and I hope that you all enjoy it as much as I have!
Print

Dark Chocolate Avocado Mousse

Prep Time: 10 minutes


Total Time: 10 minutes


Yield: 4 servings 1x
---
Description
This Dark Chocolate Avocado Mousse is quick and easy to make in the food processor, made with healthier ingredients, and it tastes absolutely decadent!
---
2

very ripe avocados

4 ounces

70% cacao baking chocolate, melted*

1/4 cup

unsweetened cocoa powder

1/3 cup

almond milk

1/3 cup

maple syrup

1/2 teaspoon

vanilla extract

1/4 teaspoon

ground cinnamon

sea salt

optional toppings: chocolate whipped cream or coconut whipped cream** (see below), roughly-chopped dark chocolate, berries, nuts, etc.
---
Instructions
In a food processor, combine the avocados, melted chocolate, cocoa powder, maple syrup, almond milk, vanilla, cinnamon and a pinch of salt.  Puree until creamy.  Spoon the mousse into 4 small ramekins and chill for at least 1 hour.

Serve the mousse topped with a dollop of whipped cream and/or your desired toppings.
---
Notes
*If making this vegan, be sure to use dairy-free chocolate.
**I made chocolate whipped cream by adding 1 tablespoon unsweetened cocoa powder to this recipe for homemade whipped cream.  You could also do the same with this recipe for coconut whipped cream (vegan).  Or…you could leave out the cocoa and just make traditional whipped cream or coconut whipped cream.  🙂
This recipe was used with permission from Love & Lemons.  I adapted the toppings slightly.