My all-time favorite Mexican-inspired pork carnitas recipe…made extra easy in the slow cooker! They're crispy, juicy, full of great flavor, and irresistibly delicious. (This post contains affiliate links.)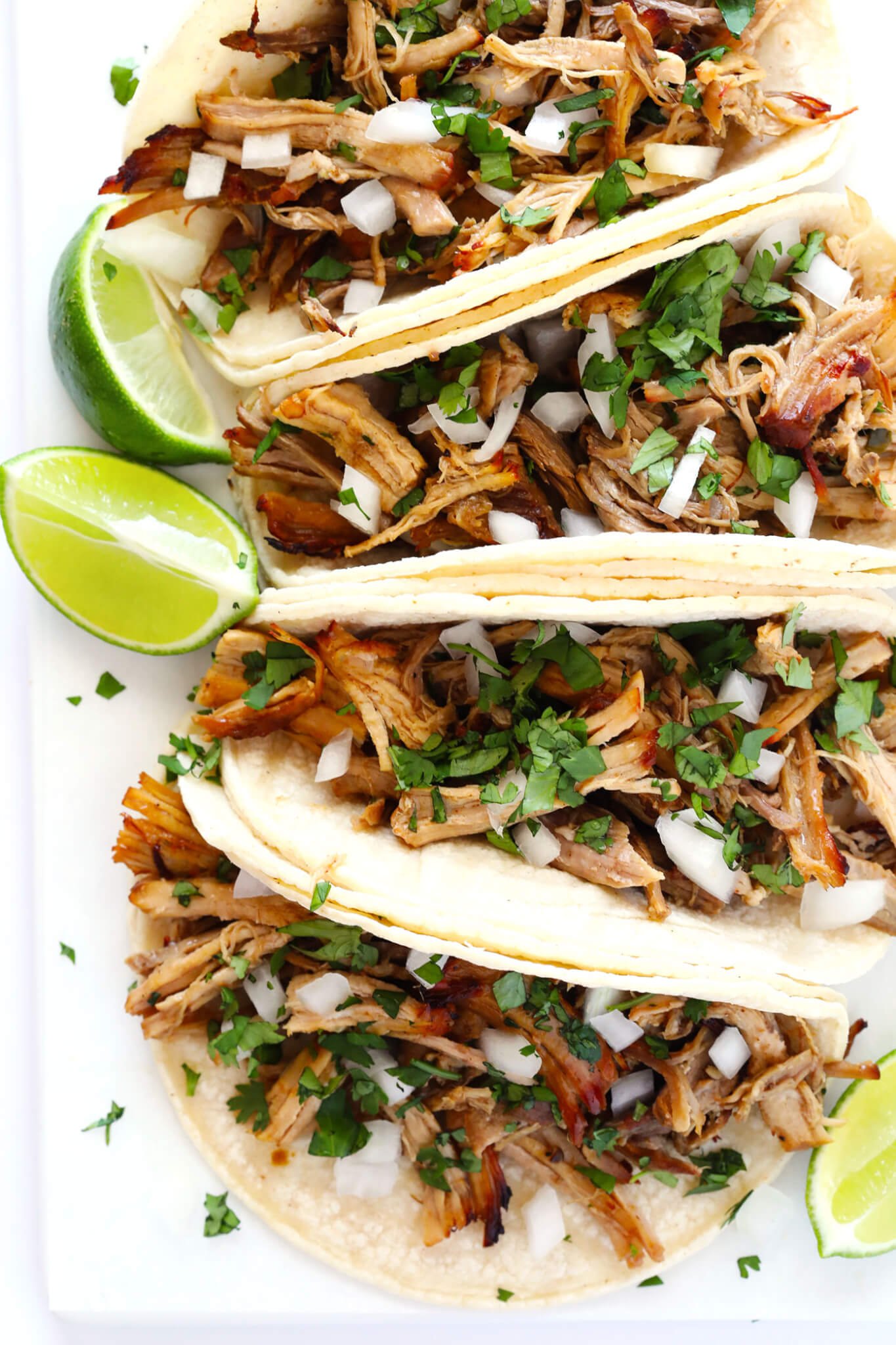 Happy Monday, friends!!
I hope that you all had a lovely Easter weekend, and that it filled your spirits with some extra hope and joy, and that you got to share some good time around the table with those you love. I ended up making a last-minute decision to drive home to Wichita to see my family for the weekend, with a fun little detour tucked in there to go see Patty Griffin, Sara Watkins and Anais Mitchell all share the stage on Saturday evening on the way home, which was absolutely delightful. Then Sunday morning we celebrated a snowy Easter at the church where I grew up, followed by a big traditional brunch afterwards, where my mom surprised me by making this spring veggie egg casserole that I posted last week. So fun!
That said, though, it wouldn't have been a trip to Wichita without a trip out for some of our favorite Mexican food for lunch on Saturday. Which my friends and I promptly followed by another Mexican dinner in Hutch that evening. Which I then followed up, upon returning home last night, by warming up some frozen leftovers of my favorite 5-Ingredient white chicken chili for dinner. Because who doesn't want to have Mexican food three times in 48 hours, right?!
Well to continue the Mexican streak, I thought I'd re-share an old recipe on the blog today that still continues to be one of my all-time favorites. I made again for the hundredth time last week, and snapped some new photos along the way so that you could see the step-by-step process. And yet again, I was blown away by how incredibly easy and delicious it was. And the thanks all goes to my magical slow cooker (and, oh, a few minutes under the broiler).
So guys, if you haven't already tried these, it's time. It's time to try my Crispy Slow Cooker Carnitas.
Crispy Slow Cooker Carnitas Recipe | 1-Minute Video
I first posted the recipe for these crispy carnitas when I first figured out how to make them in the crock pot back in 2012. (Original photo below!)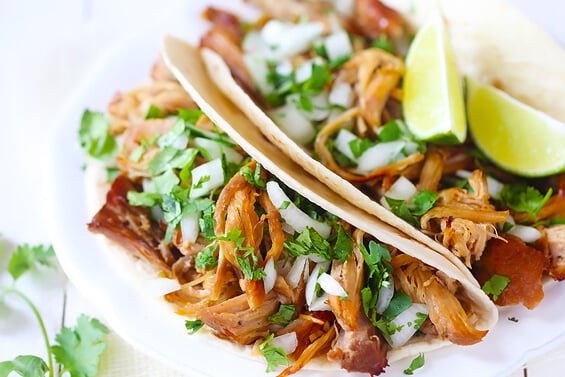 Years before, one of my friends from Mexico taught me how to make carnitas the authentic, traditional way. And while I remember them being delicious, I also remember standing around for hours in the kitchen, babysitting the meat on the stove and then after turns upon turns upon turns in the oven. Definitely gave me a new appreciation for the carnitas I've enjoyed at restaurants for so many years — and admittedly had me eating them "out" much more than taking the time to cook them myself.
But.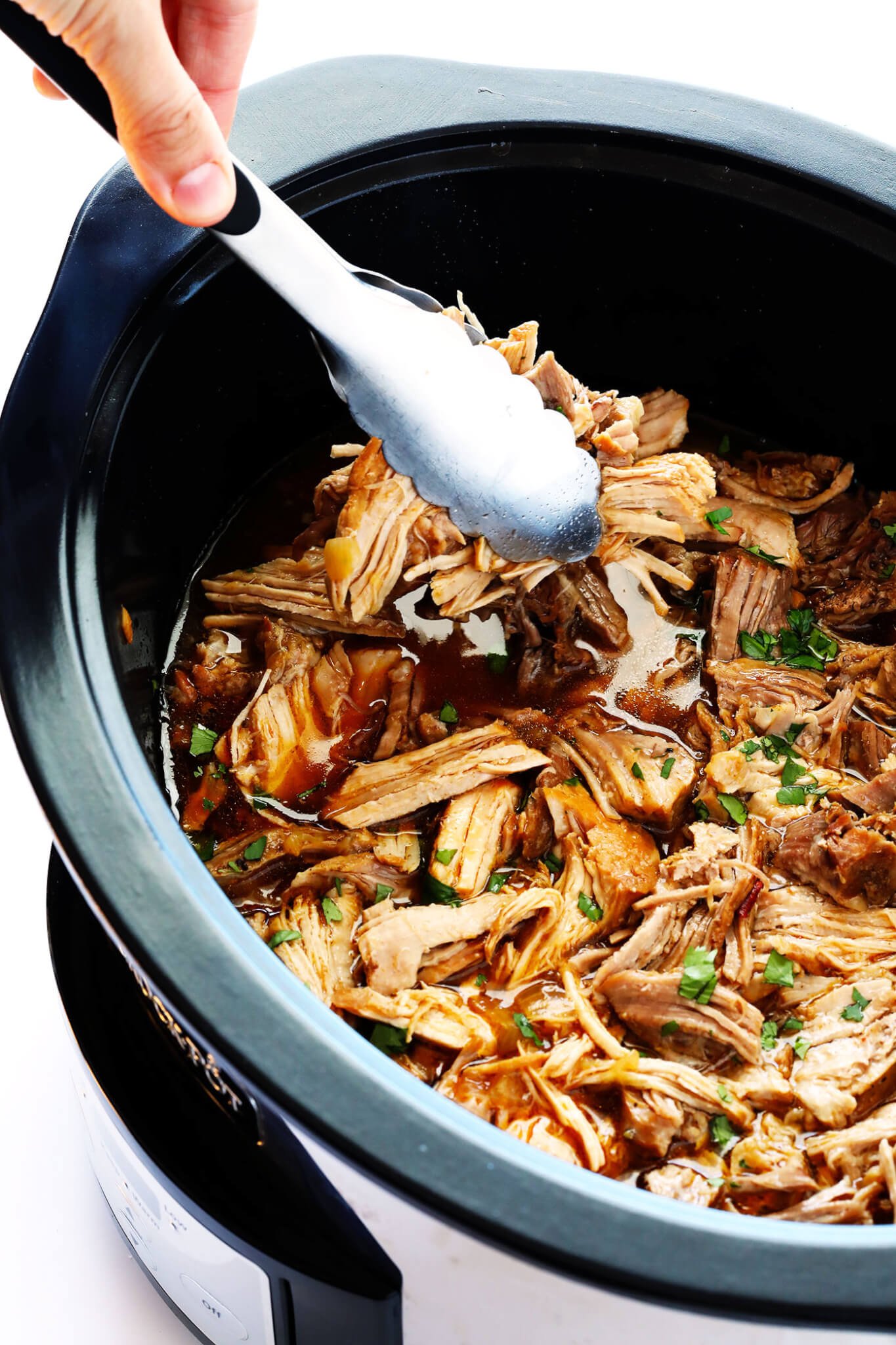 This slow cooker method became a total game changer.
Turns out that if you add the pork to your slow cooker with a handful of tasty seasonings, the meat is extra-juicy and tender and flavorful. Then you just shred it up with a fork, and toss it in the juices.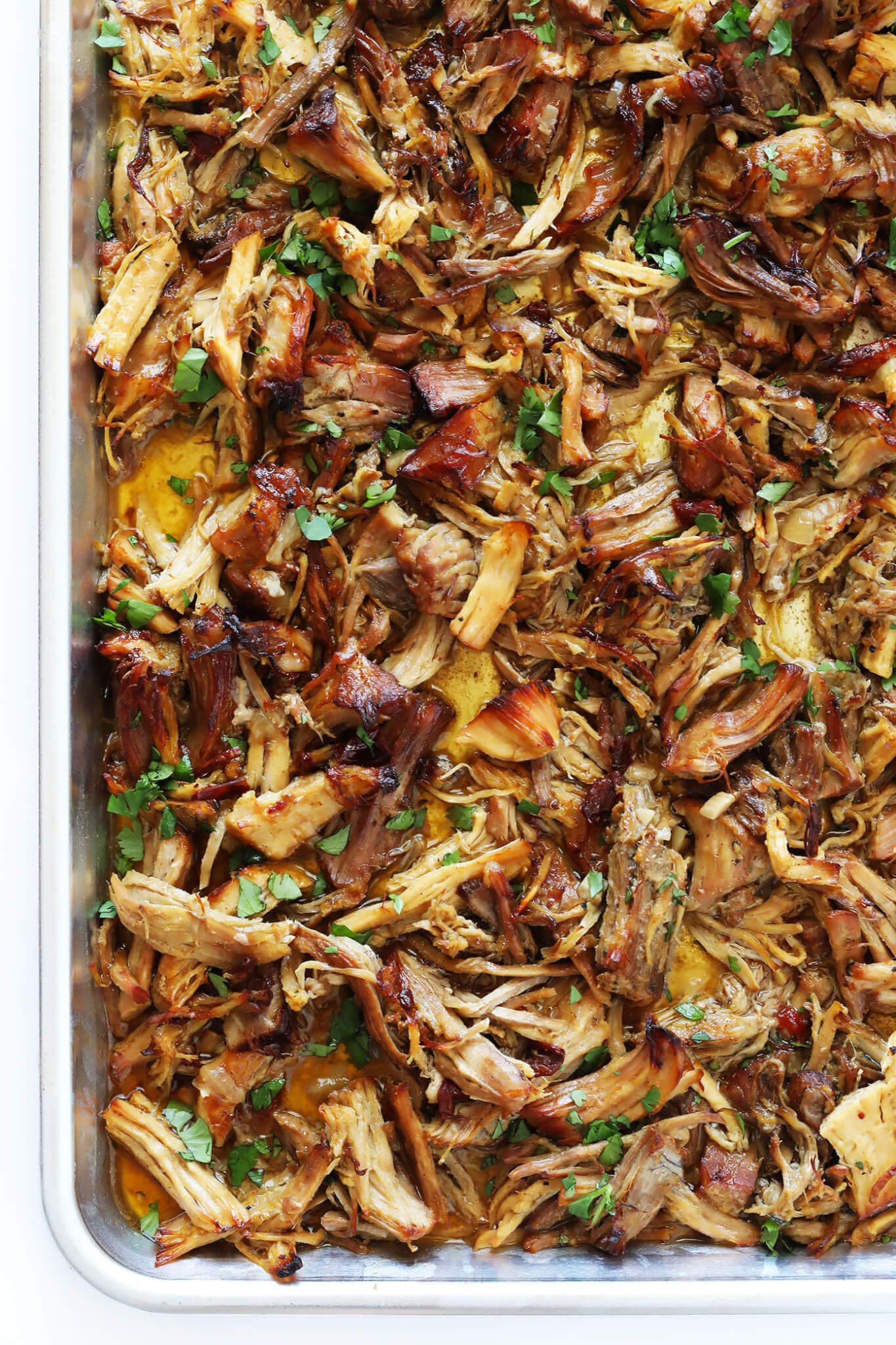 And, well, you could just stop right there and eat it. But this is where the "crispy" trick comes in.
To get all of those browned, crunchy, deliciously crispy burnt ends on your carnitas, simply spread them out in a single layer on a foil-covered baking sheet (or two, you want the pork in a single even layer). Then pop it under the broiler for 5 minutes until the ends get nice and crispy, take it out, toss it with some of the leftover juices in the slow cooker. Pop it back under the broiler for 5-ish more minutes, toss it with some more juices (and I added a handful of chopped cilantro)…and then voila.
This deliciousness is ready to serve.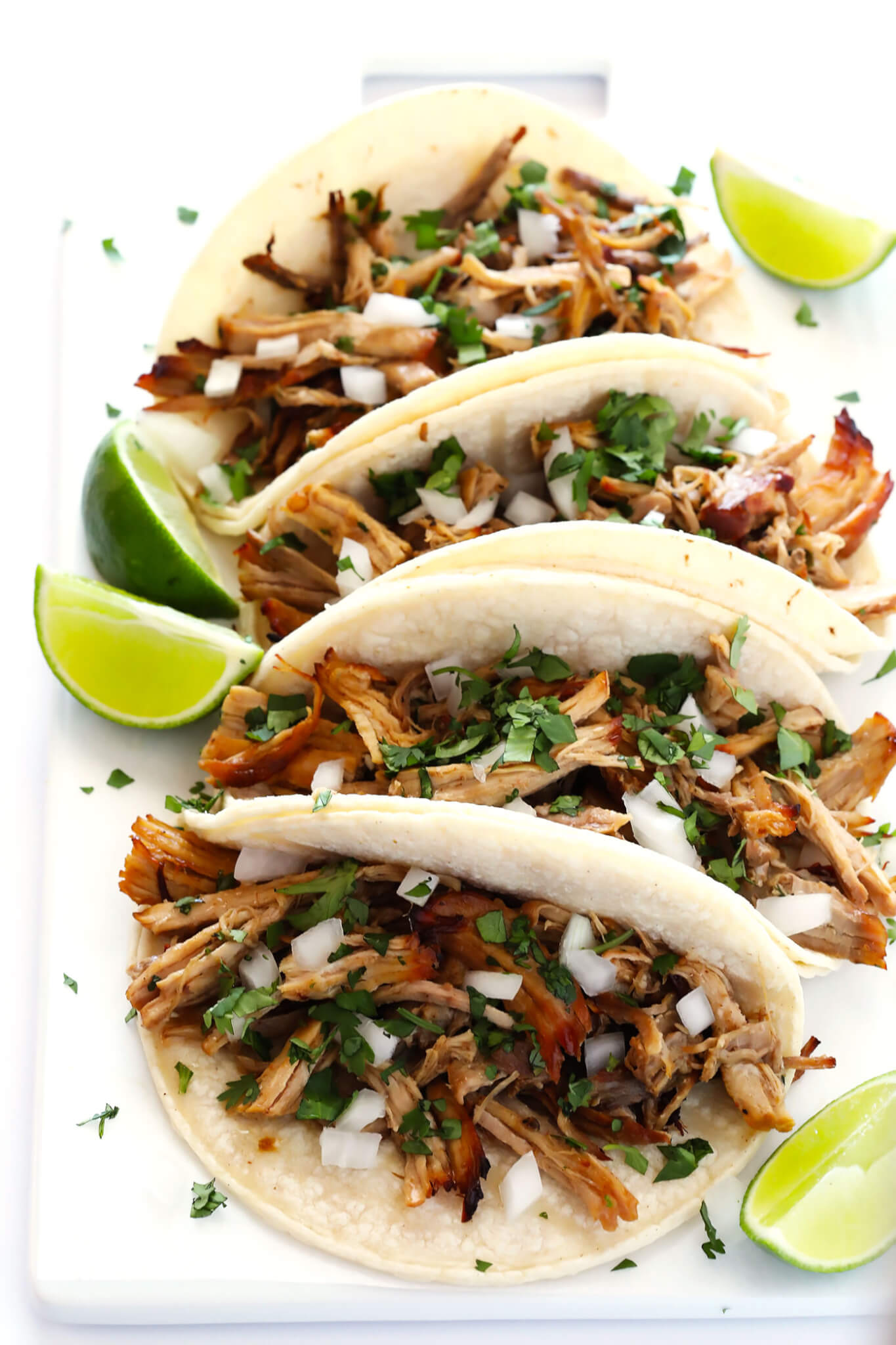 It goes perfectly in tacos, burritos, quesadillas, salads, this freaking amazing soup…
…or hey, no one's stopping you if you want to just dive in with a fork and eat it plain. 😉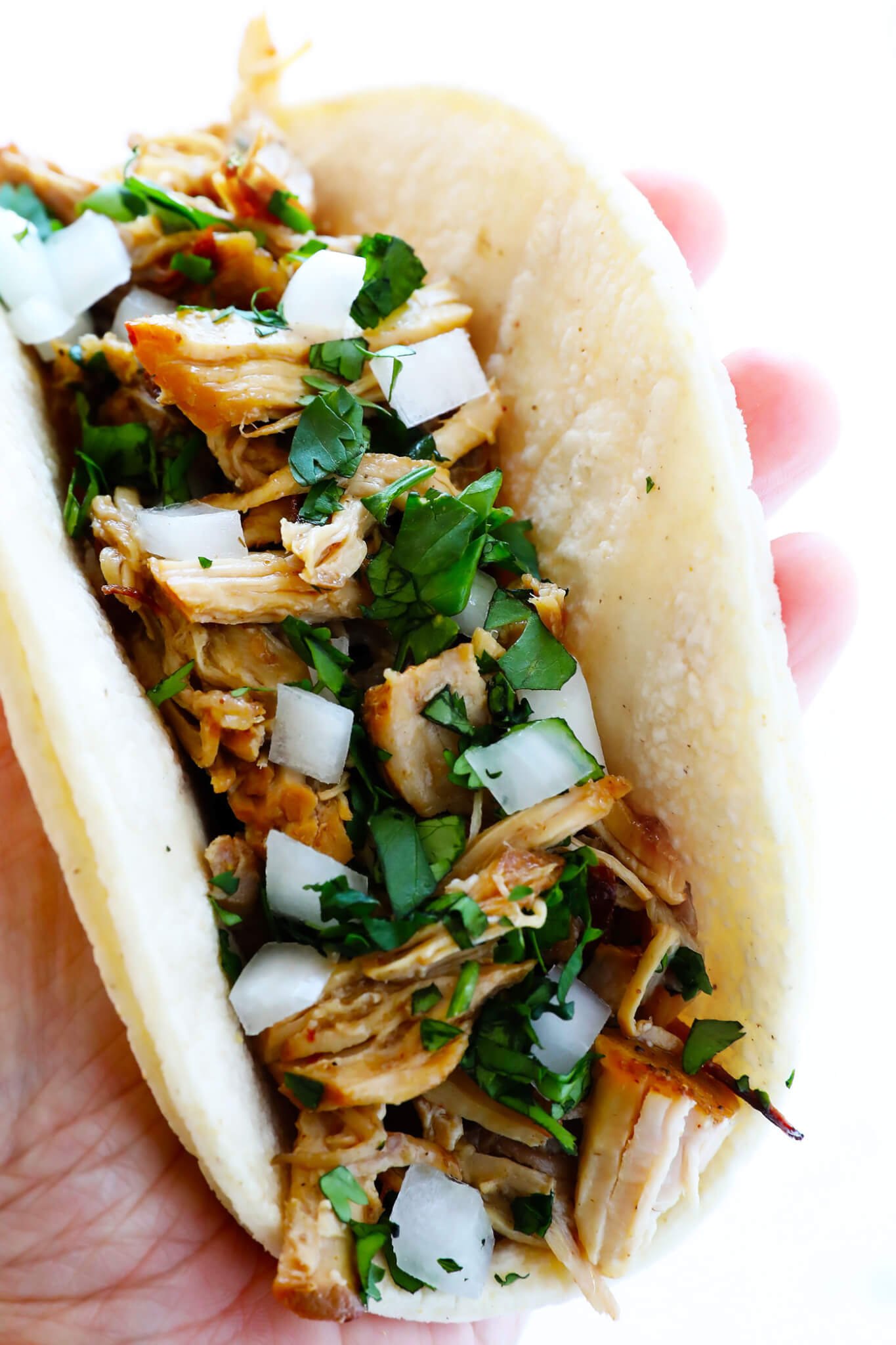 However it's served, I'm convinced that this shortcut method tastes just as delicious as the traditional method for making crispy carnitas. And bonus — you get to know exactly what goes into it, you can customize the recipe to make it as spicy or mild as you'd like, and this recipe makes a good-sized batch for a party or for leftovers. So you can stretch it out for many a delicious meal. 🙂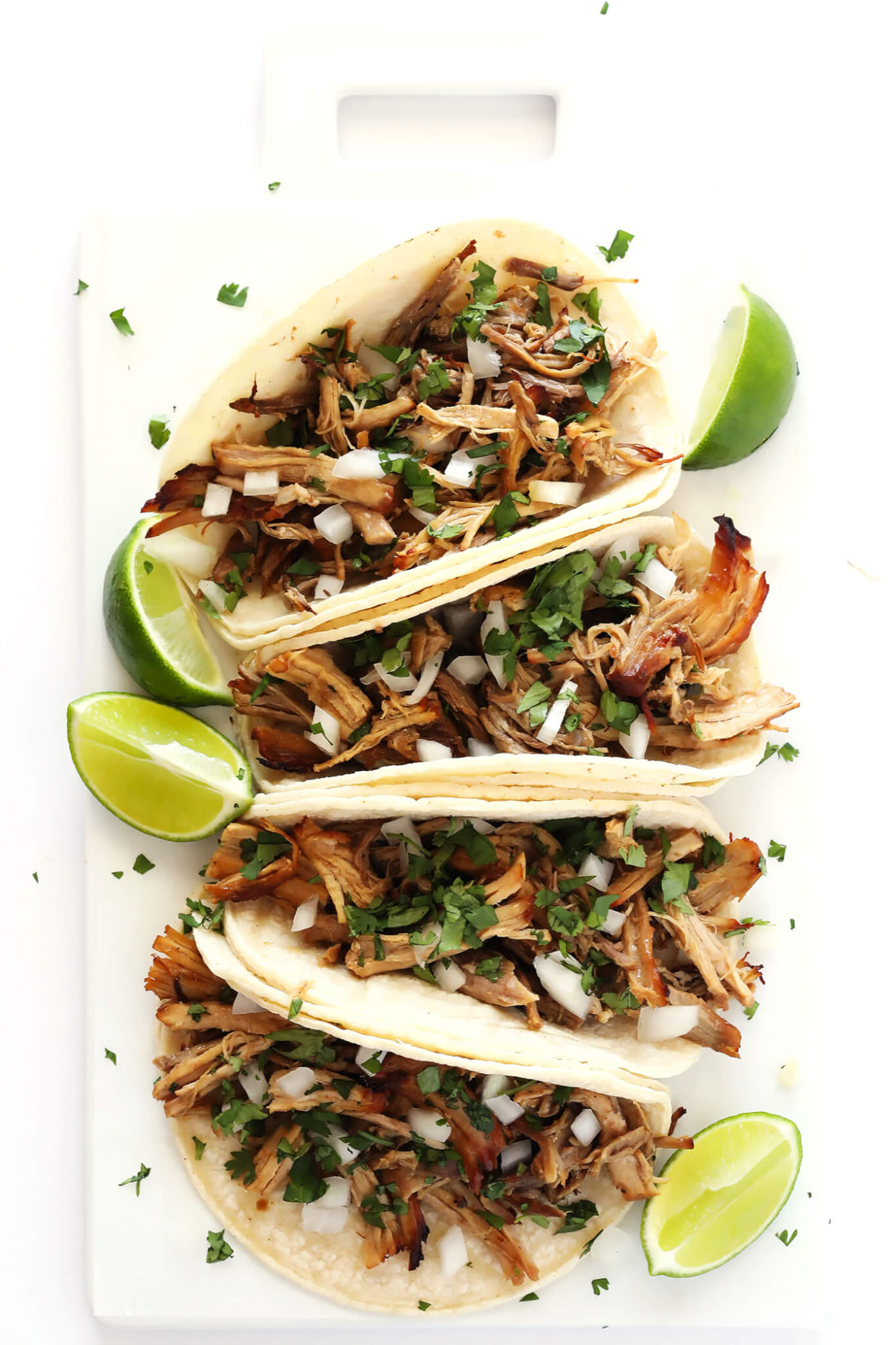 So grab a big crock pot, and give it a try!
And if you end up eating this Mexican treat for three meals in a weekend, know that you've got my full support. 😉
Print

Crispy Slow Cooker Carnitas

Prep Time: 10 minutes


Cook Time: 360 minutes


Total Time: 370 minutes


Yield: 0 Serves 6-8 1x
---
Description
A flavorful and easy way to make tender, juicy, and crispy carnitas using your slow cooker!
---
1

(4-5 pound) lean boneless pork roast, excess fat trimmed, cut into

3

-inch chunks

1 cup

beer (or chicken stock)

1

medium white onion, diced

4

cloves garlic, peeled and minced

1 tablespoon

 chipotle powder (or

1

chipotle in adobo sauce, minced)

2 teaspoons

ground cumin

1 teaspoon

black pepper

1 teaspoon

chili powder

1 1/2 teaspoons

fine sea salt
---
Instructions
Add all ingredients to a large slow cooker, and give the mixture a stir to combine. Cook on low for 6-8 hours or on high for 4-5 hours until the pork is completely tender and shreds easily with a fork.

Once the pork is cooked, preheat your broiler to high heat and prepare two baking sheets with aluminum foil. Use a fork to shred the meat into bite-sized pieces, and then use a slotted spoon to transfer it to the prepared baking sheets, spreading the pork in an even layer and leaving the juices behind in the slow cooker.  (Don't discard the juices, we're going to use them later!)

Place one sheet under the broiler for about 5 minutes, or until the edges of the pork begin browning and crisping up. Remove the sheet from the oven, then ladle about 1/4 cup of the juices from the slow cooker evenly over the pork, and then give it a good toss with some tongs.  Broil for an additional 5 minutes to get the meat more crispy. Then remove and ladle an additional 1/4 cup of broth over the crispy pork.

Repeat with the other baking sheet of pork.

Serve immediately in tacos, burritos, salads, or whatever sounds good to you!  This pork can also be refrigerated in a sealed container for up to 3 days, or frozen in a sealed container for up to 3 months.
---
Equipment
Crock-Pot (6 Quart)

Buy Now →

Chili Powder

Buy Now →

Chipotle Powder

Buy Now →

---
Notes
*This recipe was edited in August 2017.  The initial version called for searing the pork before adding it to the slow cooker.  But I realized that step isn't actually necessary, since the pork crisps up in the broiler after cooking.  🙂 Enjoy!