This Creamy White Chicken Chili recipe only takes about 30 minutes to make, and it's full of the most delicious, creamy, comforting flavors.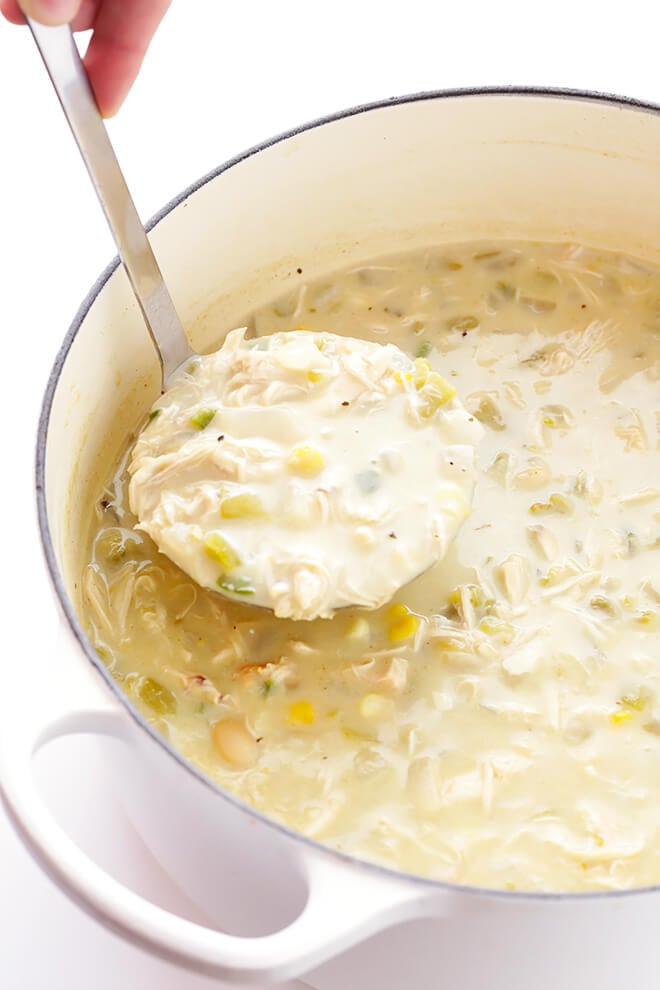 Today, I'm digging into the blog's old recipe archives to pull back up an oldie-but-goodie classic recipe that I absolutely cannot live without:
Warm, comforting, zesty, always-hits-the-spot Creamy White Chicken Chili. ♥
I don't know about you all, but this soup was a regular in our home growing up ever since I can remember. (<– Well, made with cream of chicken soup back then, holla to the 80s!)  And even back in my pickiest-eating years, I always absolutely loved our white chicken chili nights. They were one of first forays into eating Mexican food (yeah!), and they were also Mom's sneaky way to teach me to like beans (well-played). But I think that my sister and I probably loved our white chicken chili nights most because they were the only time that we were allowed to make our own "bowls" for our soup. Mom would give us a stack of soft flour tortillas and we would poke them into little liners for everyone's bowls, then we would "ooh" and "ahh" as she ladled in the soup and we marveled at how pretty everything looked.
Mmmm, white chicken chili nights were always good nights.
Anyway, I still love this soup today just as much as I did back then, although my mom and I have updated our recipe since to nix the canned soups. But it's still just as delicious and cozy and comforting as ever. And bonus? It's also just as quick and easy to make as ever, and can be ready to go on the table in just about 30 minutes. Perfect.
The BEST Creamy White Chicken Chili Recipe | 1-Minute Video
So, did anyone else grow up making these tortilla bowls, or was our family the only one? We never baked or fried them — just pressed flour tortillas into our bowls, and then added them to our bites especially as they got nice and warm and soft. So easy, and so good!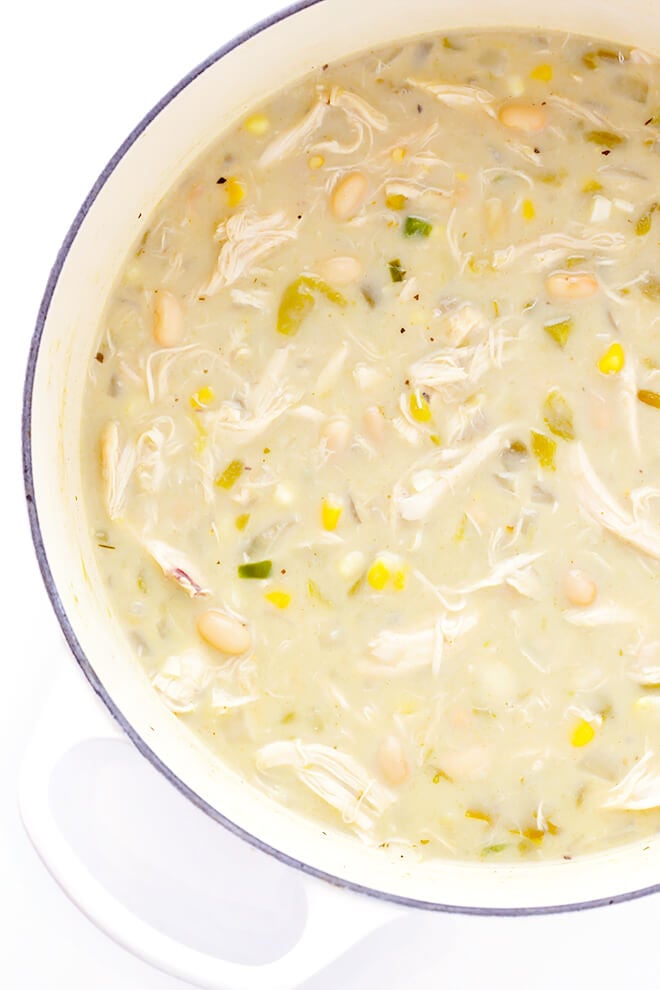 Another joy of this classic recipe is that it's also really easy to tweak to your preferences. Like a spicier soup? Feel free to leave in the jalapeno seeds, or add in an extra. Like a thinner soup? Leave out the flour, and it'll be nice and brothy. Like a gluten-free soup? You're welcome to leave out the flour, and thicken it with a cornstarch slurry if you'd like (or just leave that part out). Like a meatless soup? Sub in an extra can or two of beans, in place of the chicken.
The choices are all yours. ♥
Enjoy, friends!
Print

Creamy White Chicken Chili

Prep Time: 5 minutes


Cook Time: 30 minutes


Total Time: 35 minutes


Yield: 6 –8 servings 1x
---
Description
A delicious, easy and "lighter" take on classic White Chicken Chili. Always a crowd-pleaser, and always so comforting!
---
1 tablespoon

 olive oil

1

small white onion, diced

1

jalapeño, cored and chopped

4

cloves garlic, minced

1/4 cup

all-purpose flour

3 cups

chicken stock

3

–

4

cups shredded cooked chicken

2

(4-ounce) cans chopped green chiles

2

(15-ounce) cans Great Northern beans

1/2 cup

whole-kernel corn (optional)

1 tablespoon

cumin

2 cups

warmed milk (I used 2%)

Kosher salt and black pepper, to taste*

optional "tortilla bowls": flour tortillas**

optional garnishes: shredded (or ribbon-ed) Monterrey Jack cheese, sliced avocados, sour cream, chopped fresh cilantro
---
Instructions
Heat oil in a large stockpot over medium-high heat. Add onion and jalapeño, and sauté for 5 minutes, stirring occasionally, until the onion is soft and translucent. Add the garlic and sauté for an additional 1-2 minutes until fragrant.  Stir in the flour until it is evenly combined and sauté for 1 more minute, stirring occasionally.

Gradually add in the chicken broth, stirring until combined.  Then stir in the cooked chicken, green chiles, white beans, corn (if using), and cumin. Continue cooking until the soup reaches a simmer, then reduce heat to medium-low and continue simmering for about 5 minutes.  Stir in the warm milk until combined.  Then give the soup a taste, and season generously with salt and pepper to taste.

Serve warm in bowls (adding tortilla "bowls" if you'd like), topped with your desired garnishes.
---
Notes
*I used 1 heaping teaspoon of salt, and about 1/4 teaspoon black pepper.  But salt levels will vary depending on your preference, plus the brand of chicken stock that you use.
**I used large soft flour tortillas to make tortilla "bowls" for my soup.
Recipe slightly updated December 2016.