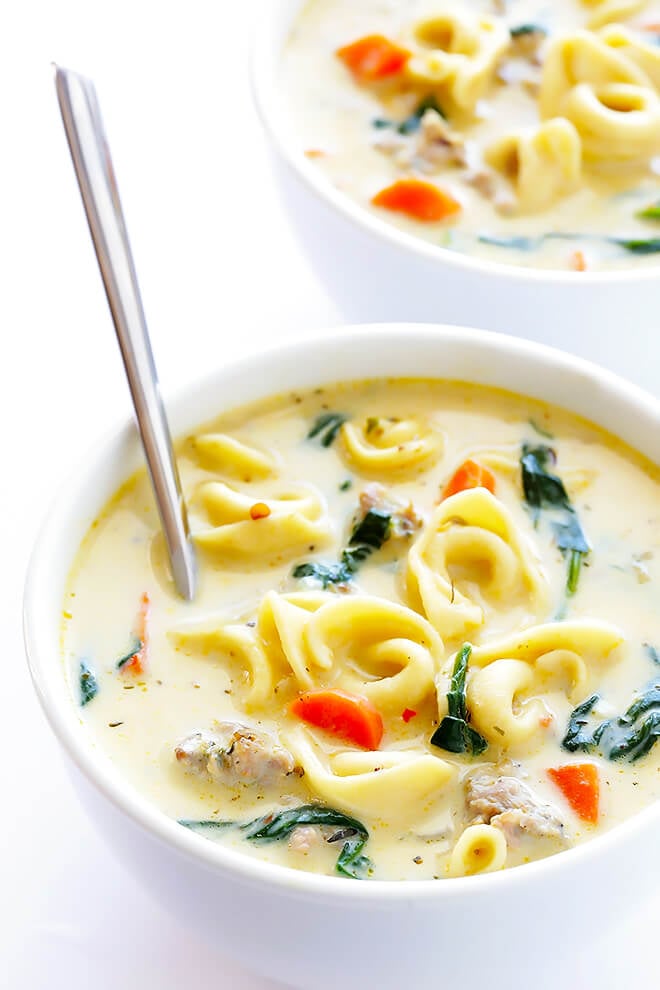 So, yesterday I swung by Target to pick up a quick prescription…and drove away with a car overflowing with all things "Fall".
Because, Target.
I had even promised myself that — in the 10 minutes I needed to wait before my prescription was ready — I'd just make a quick lap around the store and pickup the handful of things that I really needed. But sure enough, those brilliant Target marketing geniuses had transformed the entire store into a magical, warm, yummy burst of autumn. And within 10 minutes, somehow a pumpkin spice latte, a super-cozy gray cardigan, a pretty scarf, and — not one, not two, but — three autumn candles made their way into my basket. Then just to emphasize the point, the checker literally said, "Oooooh, so looks like you found a little something while you were waiting!"
Of course, Target.
You know what you do. 😉
I rationalized that maybe this was what was needed to finally help my summer-lovin' self transition into this new season. So with the weather being all drizzy and cloudy once I got home, I decided I might as well go all-in and embrace the Fall-ness. So I put on my new cardigan, lit my candle, put on some autumn tunes, and pulled up Pinterest to find the most comforting, warm soup recipe I could find. The first recipe that caught my eye was a yummy-looking creamy tortellini soup recipe from my friend, Katerina. Coincidentally, I already had a leftover package of tortellini soup and some spinach in the fridge. And something about a creamy soup just sounded perfect for the day. So I decided to tinker around with the recipe and give it a try.
It was love at first bite. ♥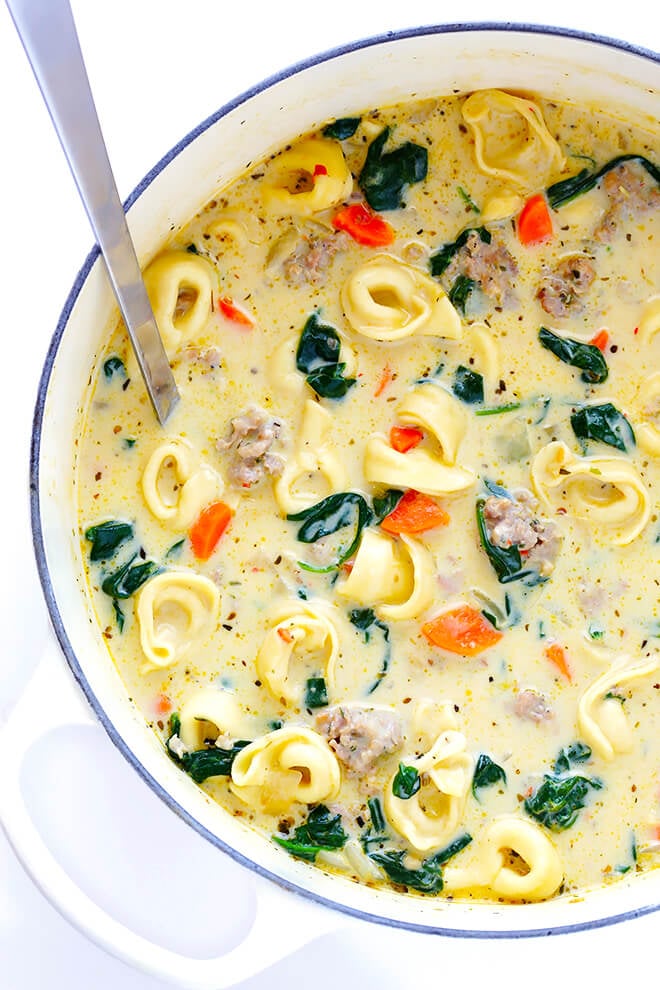 Granted, I'm not usually in the habit nowadays of adapting recipes closely from other bloggers. But this creamy tortellini soup recipe was one that has caught my eye a few times before on Pinterest and always looked sooooo luscious and comforting, so I was excited to give it a try.
That said, I've also had my 7-ingredient Zuppa Toscana Soup on the brain lately, and had specifically been craving a creamy soup with some good, flavorful Italian sausage. So at the last second I decided to swing by my neighborhood Italian market and pick up some of my favorite sausage to add to it. And then ended up tinker with the recipe a little bit to make it work. And the resulting soup was so dang good…that I had to share it with you!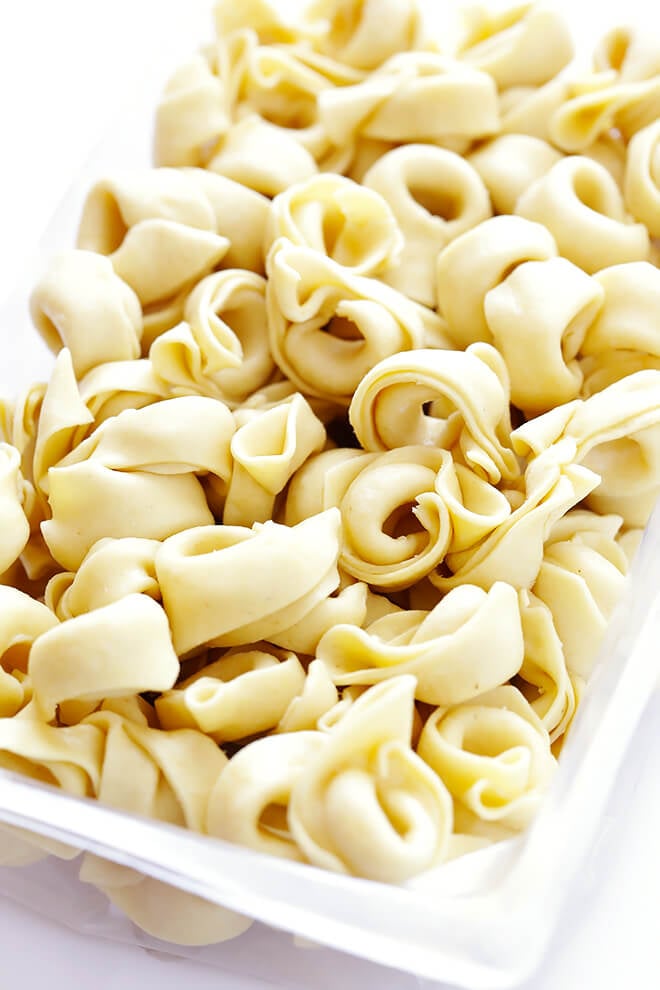 The main ingredient, of course, is some good tortellini. I just used a package of simple refrigerated cheese tortellini, but spinach or even something fun like butternut squash tortellini would also be delicious. (Feel free to also use frozen!)
Then I also recommend finding some good-quality Italian sausage. You can cut up some links if you'd like, but I picked up ground spicy Italian sausage and just sauteed that. (If you like spicy sausage, I highly recommend using that in this soup! Otherwise, mild sausage also works just as well.)  Then I used a little bit of the leftover grease to saute some onions, carrots and garlic. And instead of using heavy cream, I just stirred in some flour, and then added lots of chicken stock, and then poured in some milk at the end to make things nice and "creamy".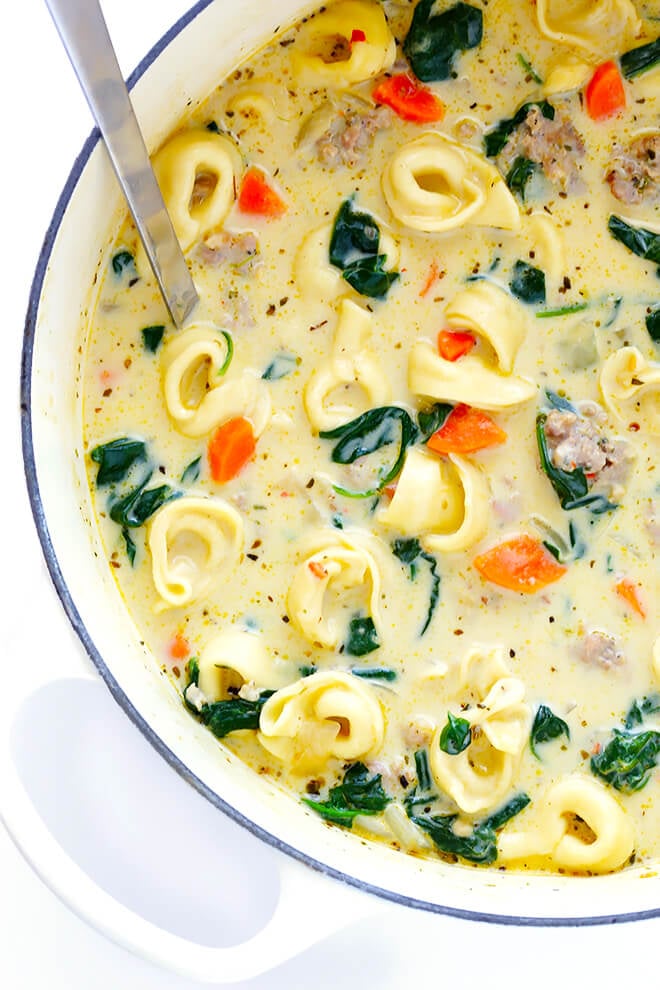 I mean, if you're really feeling indulgent, you're welcome to add half and half or some heavy cream, in place of milk. But this soup will still be nice and thick and creamy even with out it.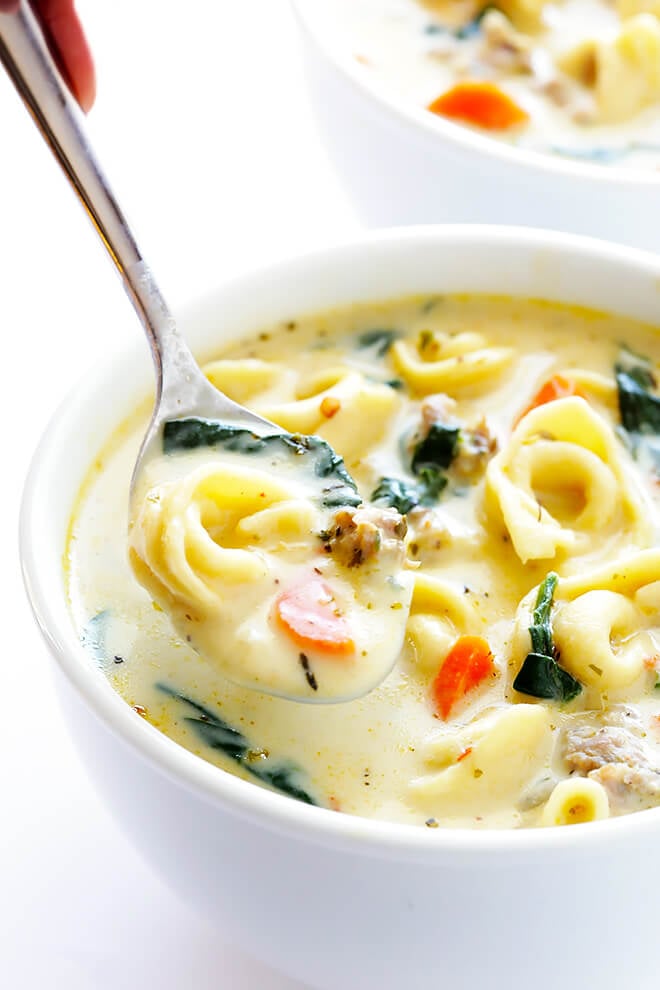 Also, I'd mention that another important reason to buy some good-quality Italian sausage is that the sausage is really the main ingredient that gives this soup its flavor here. So find a good one. 🙂  If your sausage happens to be a extra greasy, though, feel free to rinse it through a strainer for a few seconds after it has cooked (before you add it back into the soup).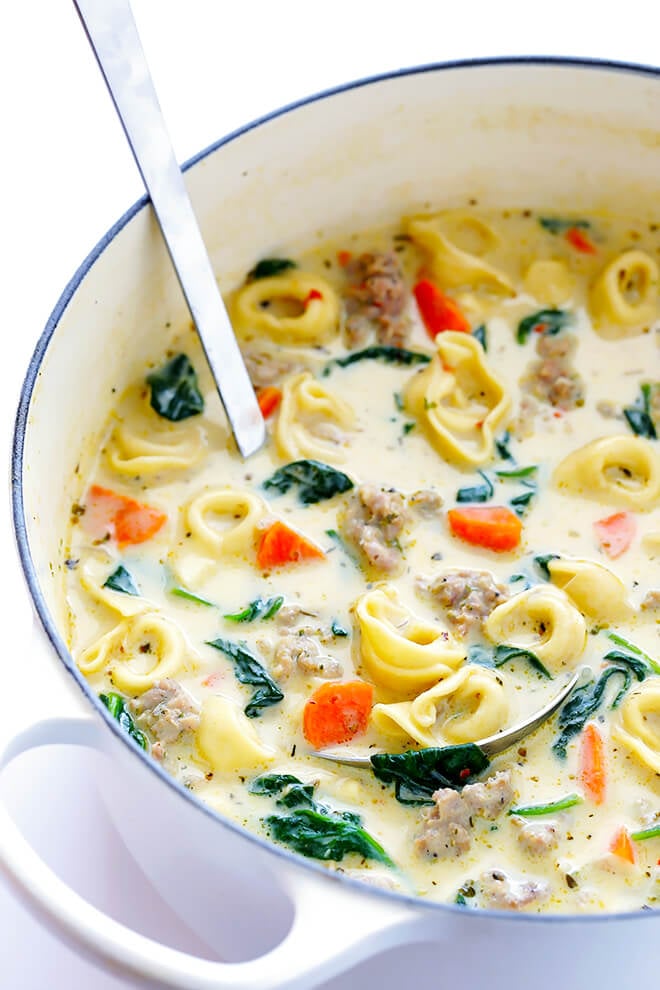 So needless to say, this bowl full of soup with its velvety creamy broth, spicy sausage, tons of greens, and melt-in-your-mouth cheesy tortellini was bound to be a hit. And sure enough, it was (what some of you readers seem to like to call) a total Pinterest win. 😉  So big thanks to Katerina for the inspiration, and hope that you all enjoy this one on a chilly day just as much as I did.
Print

Creamy Tortellini and Sausage Soup

Prep Time: 5 minutes


Cook Time: 25 minutes


Total Time: 30 minutes


Yield: 6 –8 servings 1x
---
Description
This Creamy Tortellini and Sausage Soup is quick and easy to make, full of great flavor, and so rich and creamy and comforting.
---
1.25

pounds ground Italian sausage

1

small white onion, peeled and diced

2

large carrots, peeled and diced

4

garlic cloves, minced

1/4 cup

white-whole wheat flour (or all-purpose flour)

6 cups

chicken stock

1

(10-ounce) package refrigerated cheese tortellini

5 ounces

greens of your choice (I used a mixture of spinach, collards and baby kale)

2 cups

milk (*see recommendations below)

salt and pepper
---
Instructions
Cook Italian sausage in a large stockpot over medium-high heat until browned, crumbling it as it cooks.  Using a slotted spoon, transfer the cooked sausage to a separate plate and set aside.**  Reserve two tablespoons of grease in the pan, discarding the rest.  (Or if there's not that much grease remaining, add olive oil to make up the difference.)

Stir in onions and carrots, and saute for 4-5 minutes or until the onions are soft and translucent, stirring occasionally.  Add in the garlic and saute for an additional 1-2 minutes, or until fragrant, stirring occasionally.  Stir in the flour until it's evenly coating the veggies, and cook for an additional 1 minute, stirring occasionally.

Gradually add in the chicken stock, and stir to combine.  Continue cooking until the mixture reaches a simmer.  Then reduce heat to medium-low and simmer for 5 minutes.

Stir in the cooked sausage, tortellini, spinach, and milk, and continue simmering for 4-5 minutes, or until the tortellini is al dente.

Taste, and season with salt and pepper to taste.  (I added in about 1 teaspoon salt, 1/2 teaspoon black pepper.)

Serve immediately.  Or refrigerate in a sealed container for up to 3 days.***
---
Notes
*I used low-fat milk in this recipe, but you're welcome to sub in some half and half or heavy cream (for all, or part of the 2 cups of milk) if you'd like an even creamier soup.  🙂
**If you'd like a less-greasy soup, you're also welcome to transfer the cooked sausage to a colander and briefly rinse the sausage with water to drain off any extra grease.  Then, just use oil in place of the grease to cook the onions, etc.
***If the soup soaks up most of the broth in the refrigerator, feel free to stir in a little extra chicken stock when you reheat it.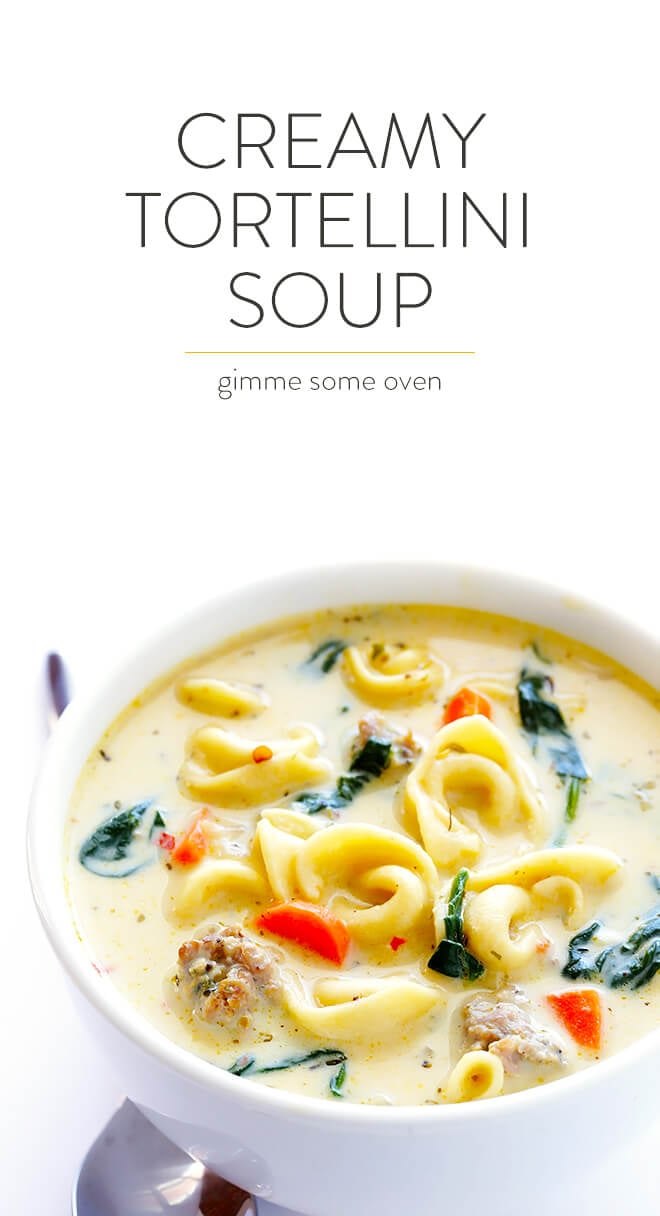 This post contains affiliate links.