This dreamy Creamy Rosé Pasta recipe is made with lots of roasted tomatoes, spinach, garlic, basil and Parmesan. And it's tossed with the most delicious creamy sauce, made with half a bottle of rosé wine. Perfect for a date night in!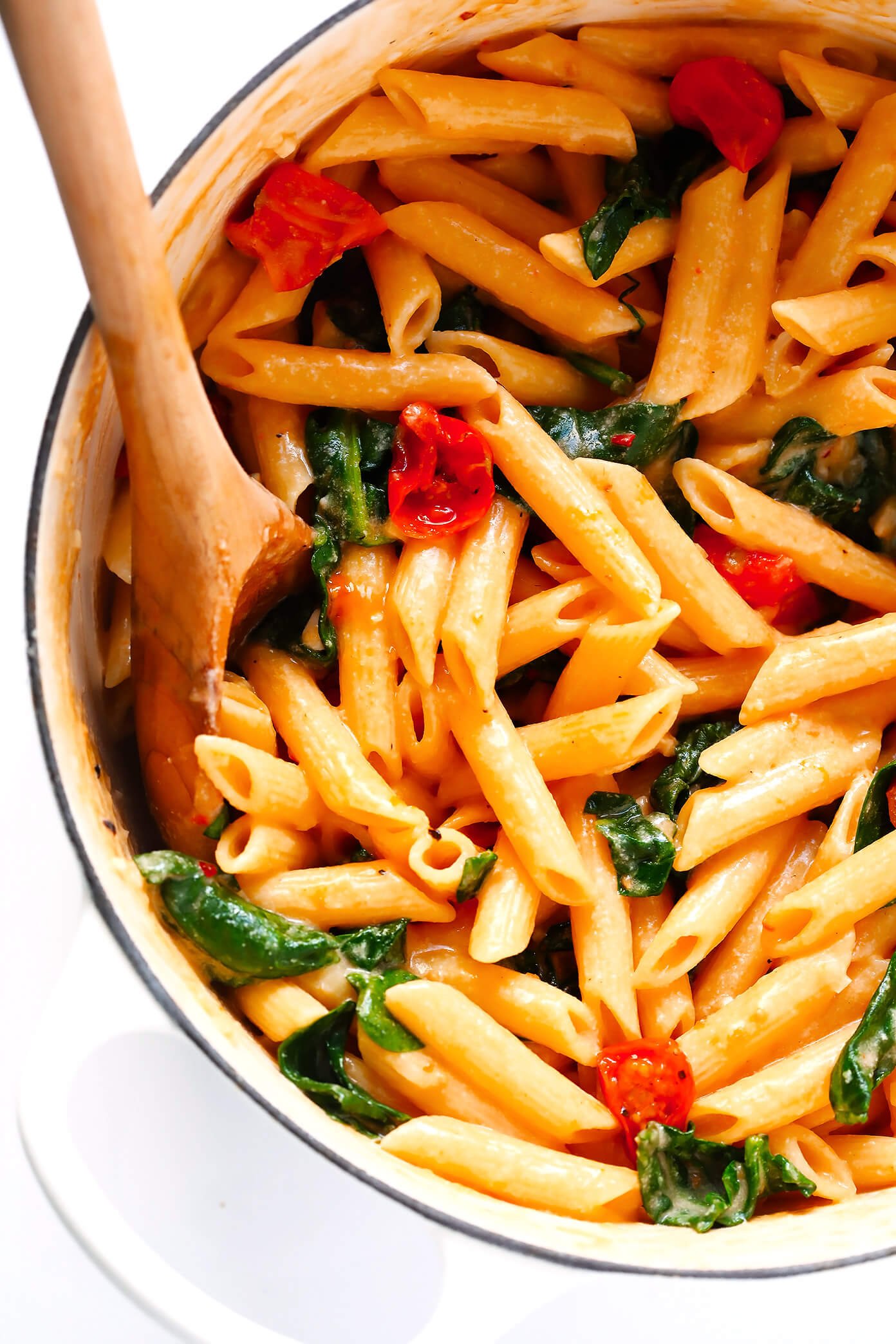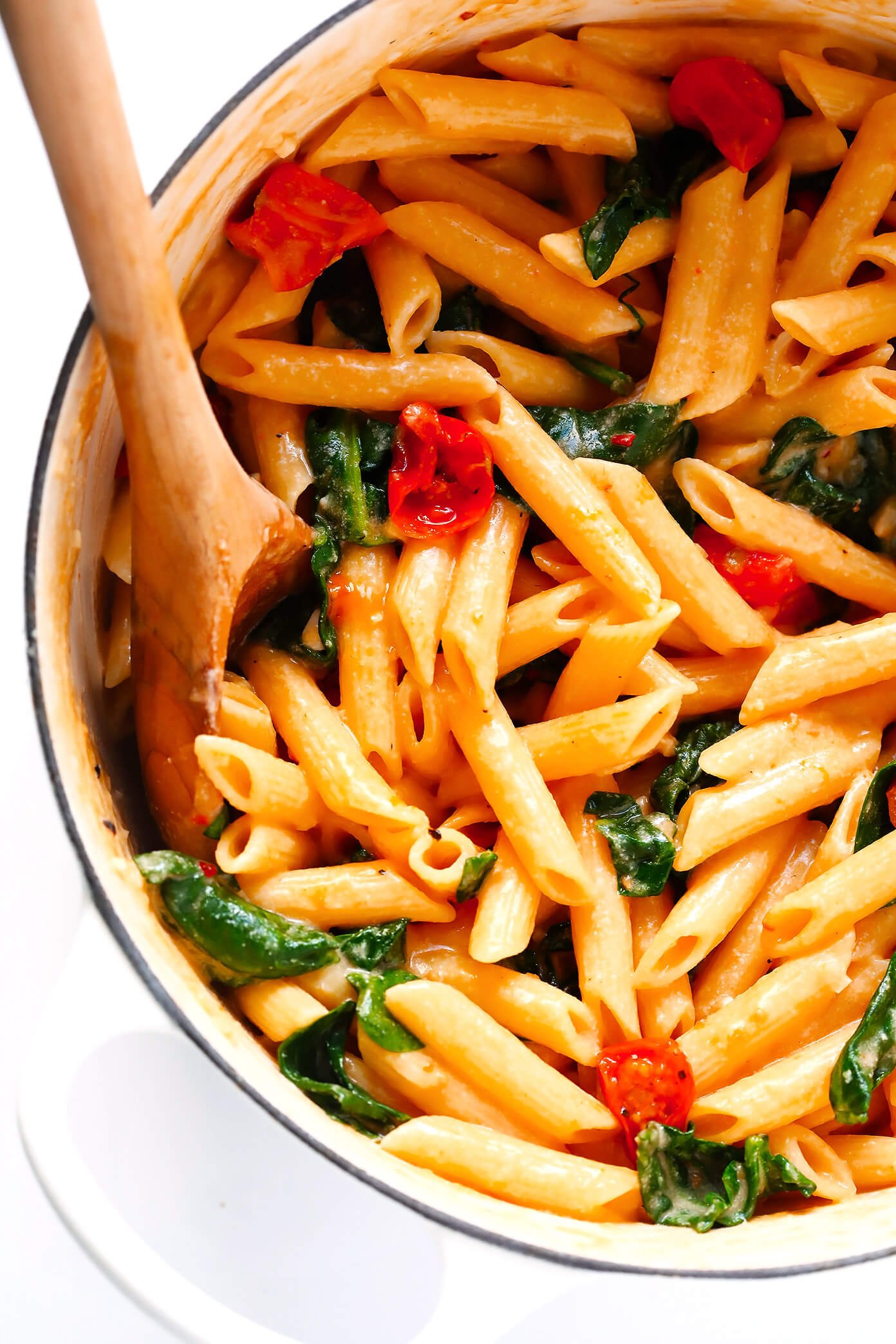 Anytime I ask Barclay what we should make for dinner that night, he'll pause for a second to give it some serious thought. Then his eyes will light up in a flash of inspiration, and — nine times out of ten — his answer is exactly the same.
"Ooooh, how about some pasta?  Maybe with a nice big green salad and some wine? What do you think, babe?"
(As thought he didn't just say that when I asked him three days earlier. ?)
Ha, what can I say? This cute husband of mine loves him some pasta. Which — I'll be the first to admit — works out especially well for me too, since pasta is just about my favorite food group ever. Needless to say, pasta nights happen at least once or twice a week in our house since we've been married. Lately, we've been on a big cacio e pepe kick, served with a side of whatever's fresh at our neighborhood seafood market. Or when we're craving a red sauce, we'll snip some of the rosemary in our garden to make our favorite rigatoni. But in honor of Valentine's Day this week, I've been tinkering around with some new creamy sauces made with a generous pour of rosé wine. And last night, we both agreed that I finally nailed it.
So if you're planning a date night in tomorrow night…or you're just craving a creamy, garlicky, ultra-cozy pasta dish any night of the year…grab a bottle of your favorite rosé and make it happen. I think you're going to love it.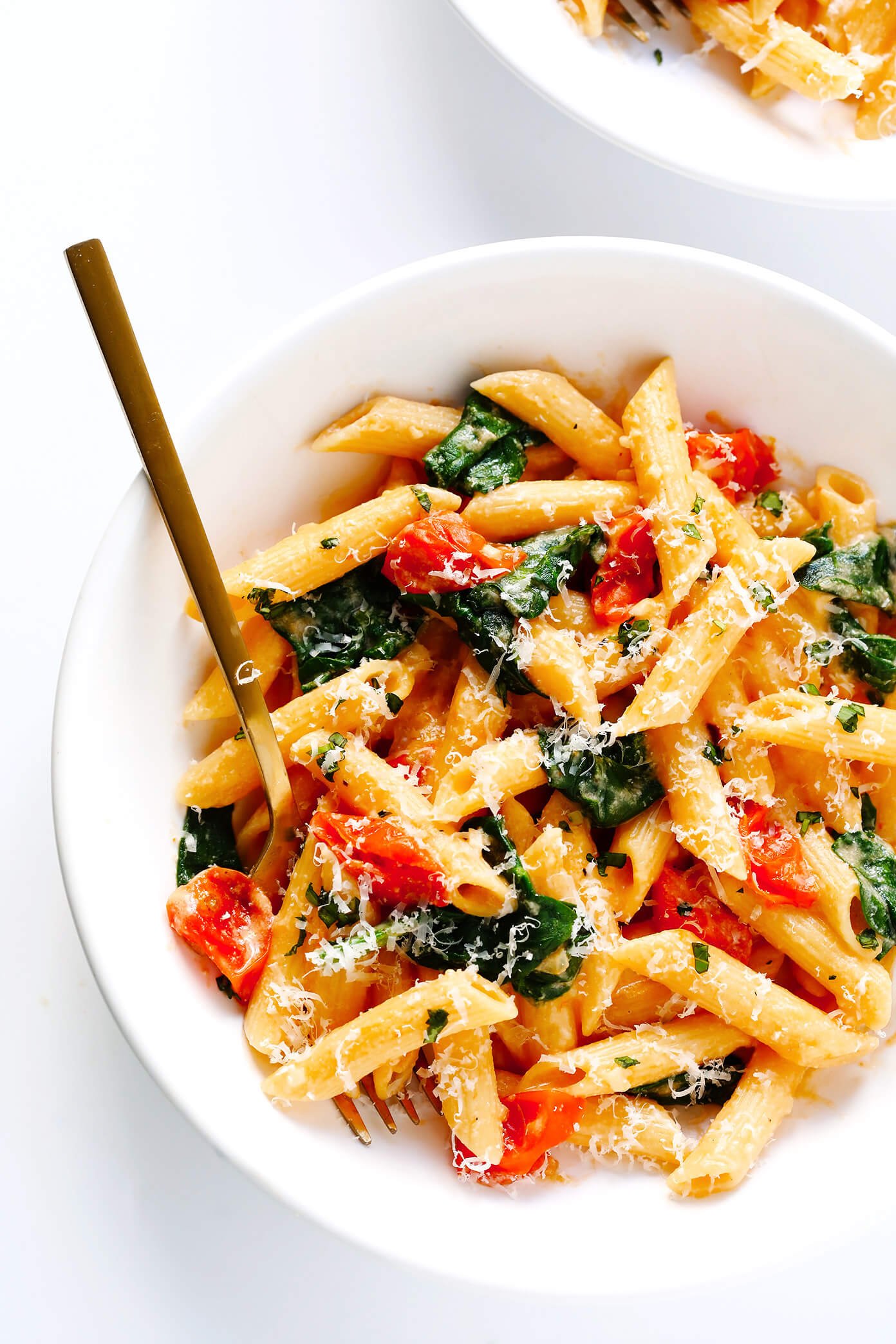 Ok, so I feel like I need to disclaim right off that this pasta looks much creamier and saucier and a bit more pink in person than it does in the photos. (Food photographer fail, here. ?  White sauces are annoyingly difficult to photograph!)  I may go back and re-do the photos this week to make them look a little more true to life. But you guys have been asking for this recipe ever since I posted about it on Instagram, so I wanted to be sure that you had it before Valentine's Day.
So on that note…here it is!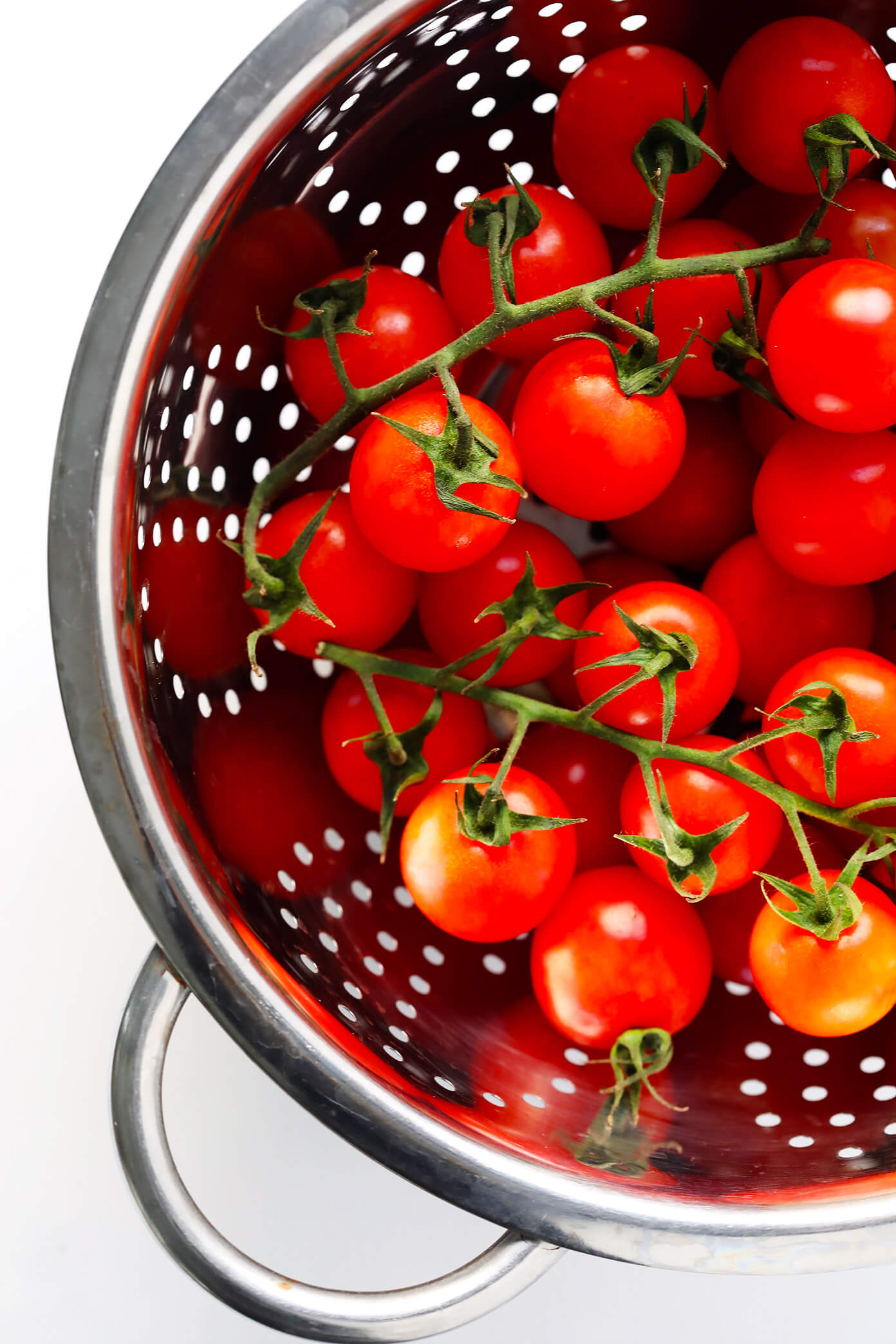 I experimented with a few different ways to use the tomatoes in this recipe — either canned, roasted, or completely pureed. And these cute little roasted cherry tomatoes were the favorite in our house.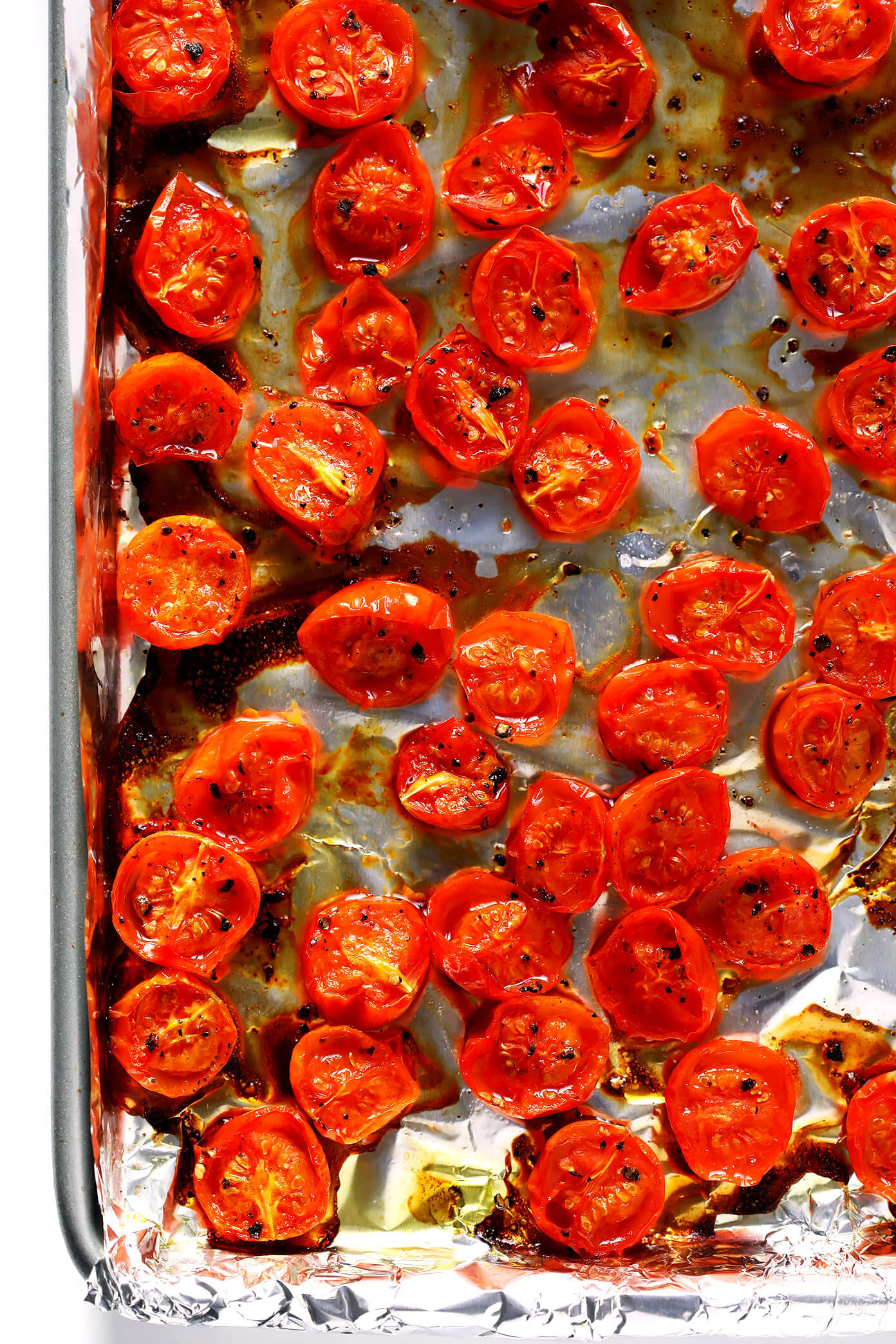 Just pop 'em in the oven while you prepare the rest of the pasta. Then a pan full of sweet, beautiful, caramelized roasted tomatoes will be ready to add to your pasta at the very last minute. Totally recommend.
(That said, if you're short on time, or there are no good tomatoes at the store, feel free to sub in a can of fire-roasted diced or crushed tomatoes. They'll work just as well!)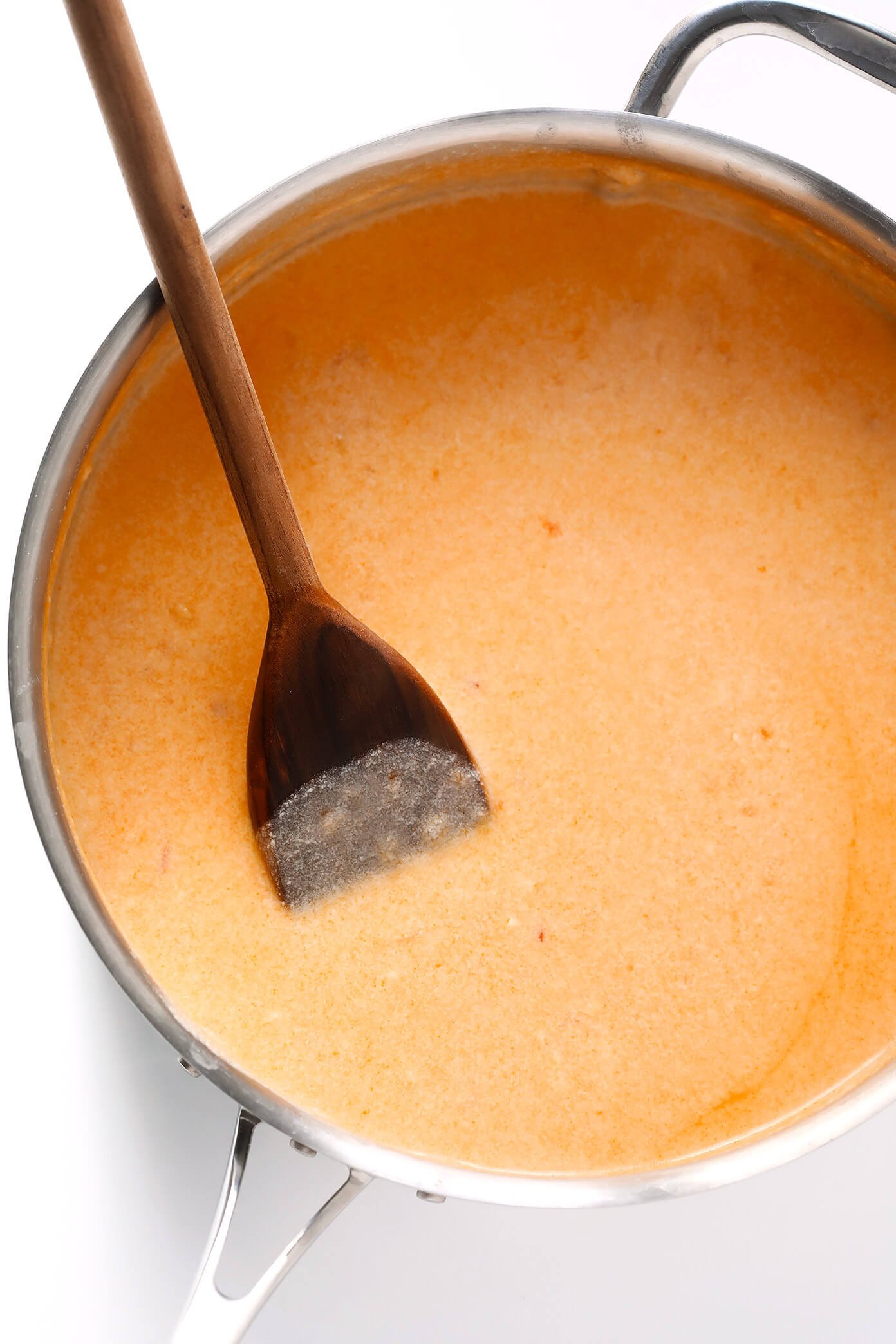 Then, while those tomatoes are roasting, make your creamy rosé sauce. I made mine with shallots (or you could sub red onions), lots of garlic, whole milk (instead of cream), Parmesan, and…half a bottle of rosé. Because I'm a firm believer that if you're going to cook with your wine, you should legit be able to taste it in the food. And I must say, it is perfect in this sauce. Nice, crisp, light, and delicious.
The rest of the bottle will be yours to drink with dinner. ?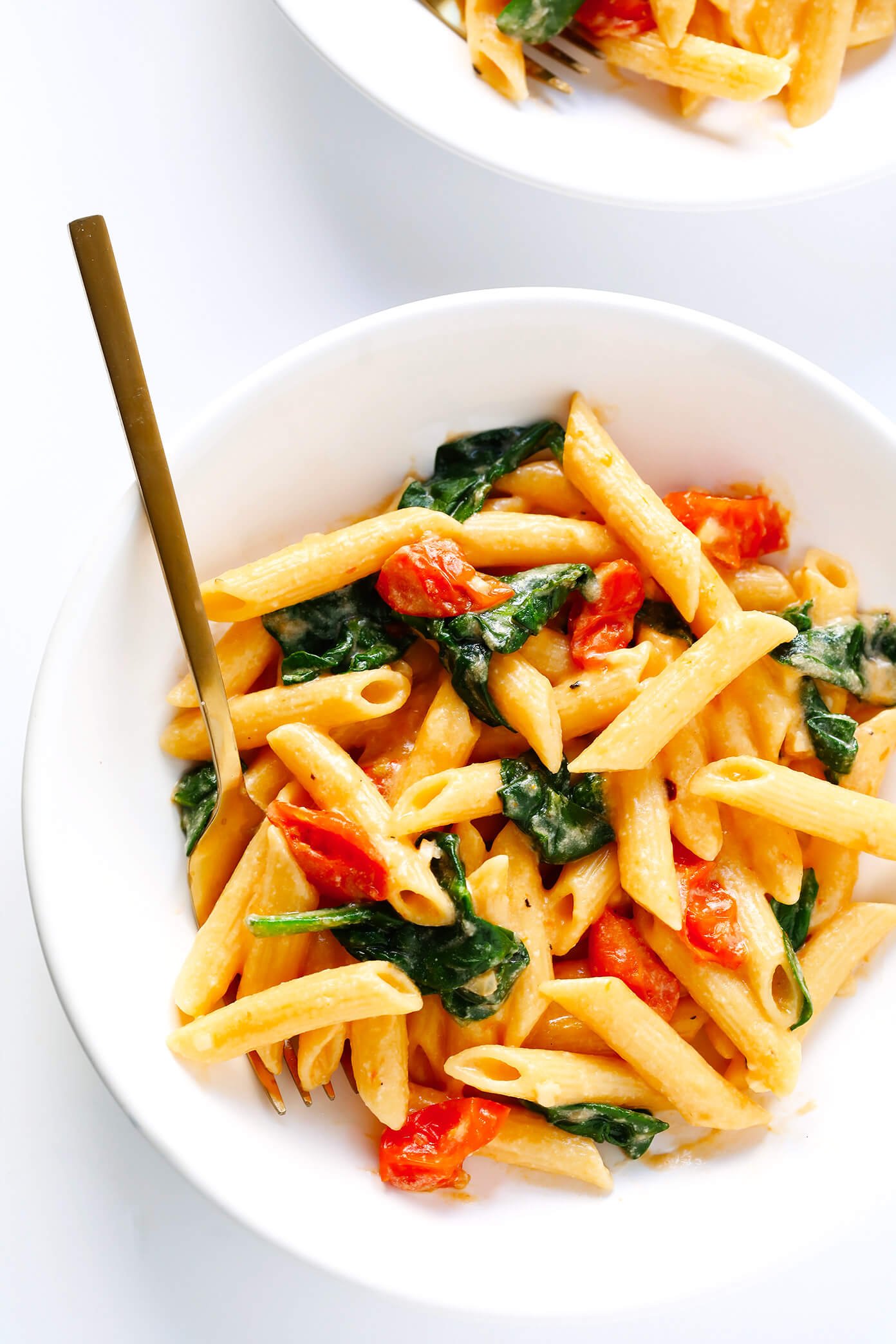 Once the pasta and sauce and roasted tomatoes are all ready to go, combine them in your large stockpot, along with a few generous handfuls of baby spinach and some fresh basil. Then stir the mixture together for a minute or so, until the spinach has wilted, and the pasta is evenly coated.
Then…serve it up right away while it's still warm…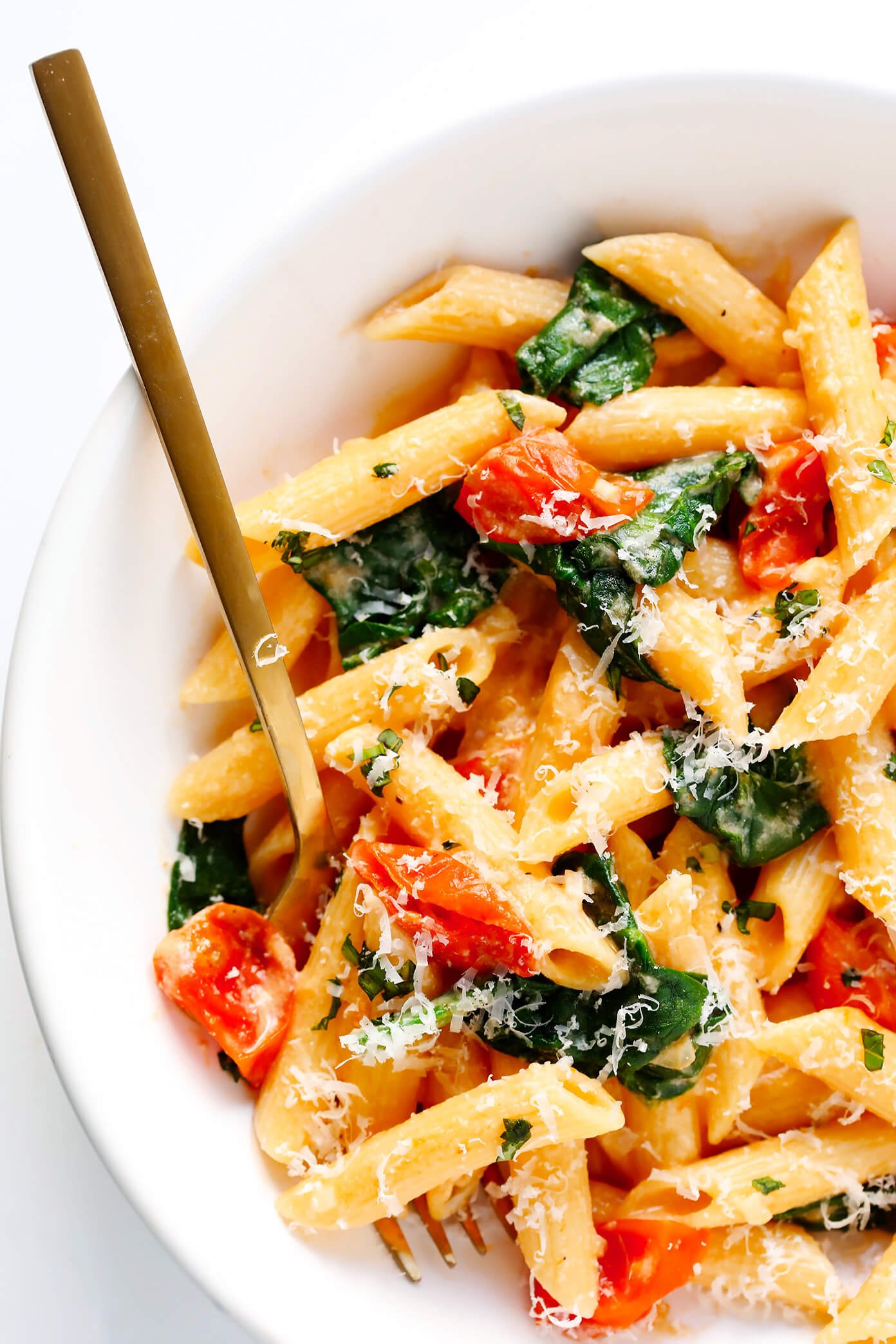 …and, of course, top with lots of freshly-grated Parmesan cheese. I insist.
We kept ours vegetarian. But if you'd like to add in some sautéed shrimp, or chicken or Italian sausage…that would be a delicious idea too. I also forgot to sprinkle on some pine nuts in these photos, but if you have some on hand, I totally recommend them too. We're kind of obsessed with pine nuts on pasta.
Also, if you're looking for a quick salad to serve along with it, I recommend checking out my 5-Ingredient Lemony Arugula Salad or, what we fondly call, Our Family's Favorite Salad.
All in all, a definite new favorite recipe in our house, and one that we look forward to making for many date nights to come. Enjoy, everyone!
Print

Creamy Rosé Pasta with Roasted Tomatoes

Prep Time: 25 minutes


Cook Time: 20 minutes


Total Time: 45 minutes


Yield: 4 –6 servings 1x
---
2 pints

cherry or grape tomatoes, halved

3 tablespoons

olive oil, divided

kosher salt and freshly-cracked black pepper

1

pound uncooked pasta, any shape (I used penne)

1

large shallot, peeled and thinly sliced

6

large garlic cloves, peeled and minced

3 tablespoons

flour

3 tablespoons

tomato paste

1 1/2 cups

 dry rosé wine

2 cups

whole milk

1/2 cup

Parmesan

3

handfuls baby spinach

1/4 cup

thinly-sliced fresh basil leaves, lightly packed

optional toppings: extra Parmesan, extra basil, crushed red pepper flakes, and/or toasted pine nuts
---
Instructions
To Make The Roasted Tomatoes: Heat oven to 400°F.  Spread the tomatoes out on a foil- or parchment-lined baking sheet, toss with 1 tablespoon olive oil, and sprinkle with a few pinches of salt and pepper.  Bake for 20 minutes.  Remove from the oven, and transfer the baking sheet to a cooling rack until ready to use.

To Make The Pasta: Meanwhile, cook the pasta in a large stockpot of generously-salted water according to package instructions.  Drain.

To Make The Sauce: Meanwhile, heat the remaining 2 tablespoons olive oil in a large sauté pan.  Add the shallot and cook for 3-4 minutes until soft and translucent, stirring occasionally.  Add the garlic and sauté for 1 more minute, stirring occasionally, until fragrant.  Stir in the flour and tomato paste until evenly combined, sauté for 1 more minute, stirring occasionally.  Then gradually pour in the rosé, followed by the milk, and whisk until combined.

Continue cooking the sauce until it reaches a simmer and thickens.  Then reduce heat to medium-low, and simmer for 10 minutes until it has partially reduced.  Stir in the Parmesan (I also recommend a pinch of crushed red pepper flakes).  Then taste, and season with a few generous pinches of salt and pepper if needed.

To Wrap It All Up: Combine the cooked/drained pasta, roasted tomatoes, sauce, baby spinach, and basil together in the large stockpot, and toss for 1-2 minutes, until the spinach is slightly wilted and the pasta is evenly coated in the sauce.  Serve immediately, garnished with your desired toppings.
---