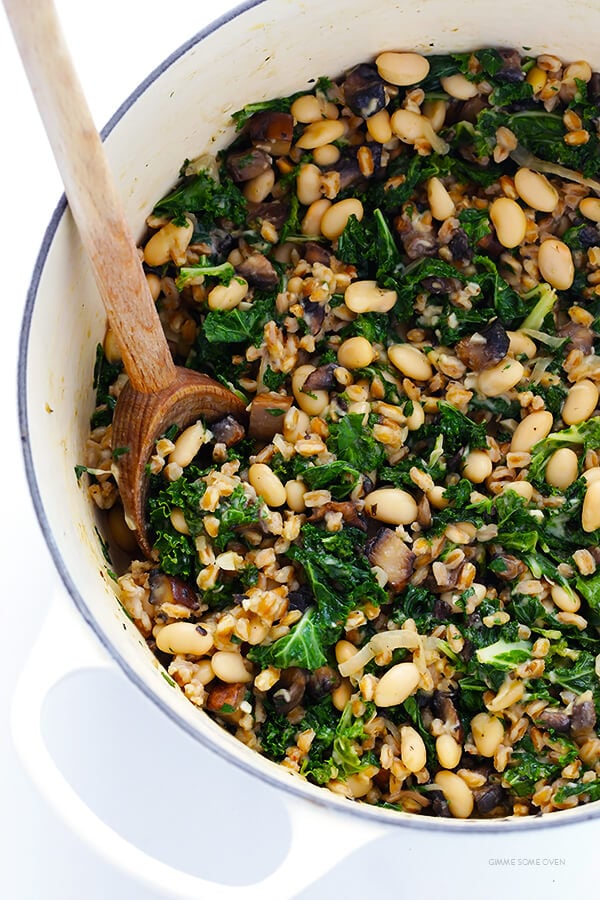 Three years ago this spring, I randomly agreed to go on this cool culinary press trip to San Antonio. I was totally pumped about the itinerary they had planned for us, couldn't wait to explore the city, and could already taste the tacos. But, there was one catch — I didn't know a single other soul going on the trip. Which pretty much guaranteed a mega spike in my anxiety level as I dropped off my luggage and walked down the hotel stairs for the happy hour "meet and greet" (<– code words for "an introvert's worst nightmare"). But the second I walked into the restaurant, I remember spying a girl my age with warm smile across the room, so I made a beeline her way, and was so glad I did.
It was the moment I met my friend, Andie. ♥
Anyone who's ever met Andie will tell you that this girl positively radiates warmth and passion and joy, and her charismatic personality has a way of instantly setting people at ease, and that big heart of hers makes everyone feel so special and loved. But I also swore from that very first night that this girl was destined to become the next "Oprah", because she knows how to ask the best questions, and listen as though she's peering into the deep, deep, innermost depths of your soul. Truly. It's remarkable, and I've never met anyone quite like her. (And — ahem — I still totally think she would rock it as a talk show host, if any of you network execs out there are reading.)
Anyway, at that very first happy hour back in 2013, I remember her sharing the big news with us about the double book deal she had just signed to write her memoir and an accompanying cookbook. I must have raised a little eyebrow when this gorgeous girl in her mid-twenties said this, because she immediately made some self-deprecating comment about, "Ohmygosh, I know, I seem so young to write a memoir, right?" But once she started telling us a little bit about her story — from some of the heartbreaking challenges she faced in childhood, to the refuge she found in food, to her journey from obesity to losing 135 pounds in college to then finding that even the weight loss didn't completely satisfy, to then embarking on the even greater journey within herself to find self-acceptance and start from scratch redefining a new and healthy relationship with food — well, let's just say I was blown away by her courage, and how much she has already learned in life by age 30. You can read all about her story in her memoir, It Was Me All Along. And I really hope you do, because her prose is beautiful and the story is beyond inspiring.
But today, I'm excited to be celebrating alongside her again because this week marked the release of her second book — an absolutely gorgeous COOKBOOK! It's called Eating In The Middle: A Mostly Wholesome Cookbook, and it's chocked full of delicious recipes that are true to Andie's eating philosophy — mostly healthy, balanced out with a few indulgent "sometimes" treats sprinkled in. It's also absolutely gorgeous, shot by one of my all-time favorite food photographers. And — my favorite — sprinkled with lots of great essays and stories and encouragement for how to foster a healthy relationship with food yourself.
Basically, it's a gem, just like the author herself.
So anyway, today I thought I'd share one of the recipes that I dog-eared once the book hit my doorstep, and then immediately cooked up myself. It's easy to make, nice and hearty (without being too heavy), easy to serve as a side or main dish, and absolutely delicious. It's Andie's Creamy Farro with White Beans & Kale.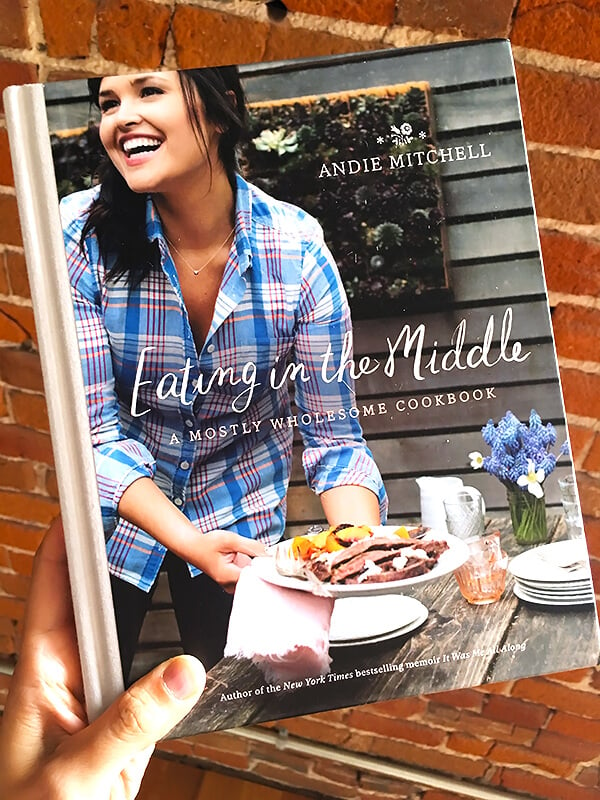 Oh, but first, here's a sneak peek of the cover. And that gorgeous smile that always makes the world a little brighter. Don't you want to be friends with her, too? 🙂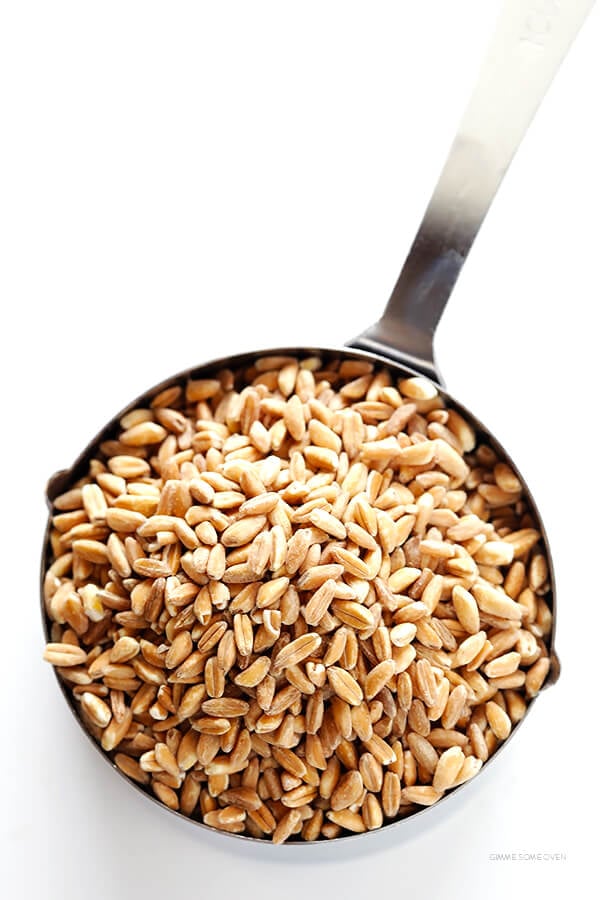 Alright, so now let's get to the recipe. The main ingredient is one of my favorites — delicious, chewy, ancient farro. I've been obsessed with this hearty grain for quite awhile now, which I totally prefer to rice (especially in this recipe, sorry Chipotle) and love cooking in chicken stock for extra flavor.
If you happen to be gluten-free, though, you could substitute a cup of quinoa or rice or any other GF grains in place of the farro. (Just be sure to cook 1 cup of the dried rice/grain with the recommended amount of stock.)
Most of the cooking time is just devoted to the farro itself. But once it's ready, just saute it up with some white beans, a few cheeses, mushrooms, garlic, shallot and kale…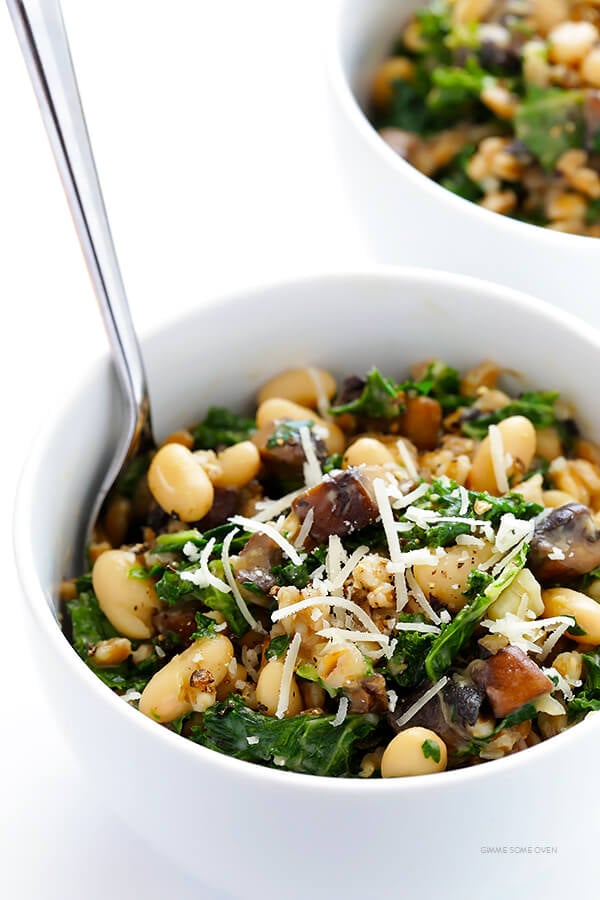 …and soon, this hearty bowl will be yours to enjoy.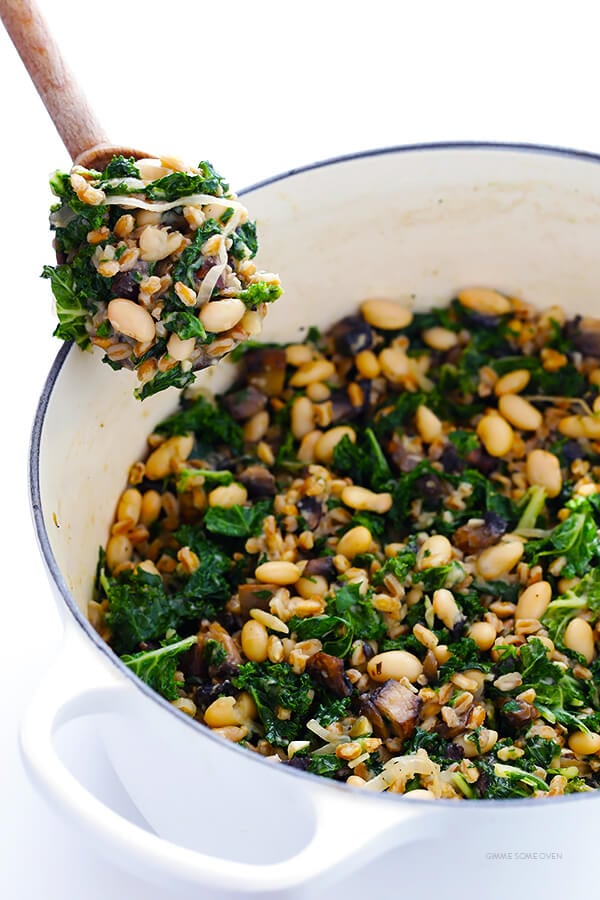 Feel free to add in some cooked chicken or another protein if you'd like. But otherwise, I thought this recipe stood totally well on its own as a nice and hearty vegetarian main dish, and I enjoyed the leftovers the next day just as much as the first. Definitely a winner, Andie!
So big congrats to her on this beautiful next chapter (literally) of her career. And I can't wait to follow along for many more to come. ♥
Print

Creamy Farro with White Beans and Kale

Prep Time: 10 minutes


Cook Time: 45 minutes


Total Time: 55 minutes


Yield: 4 servings 1x
---
Description
This Creamy Farro with White Beans and Kale recipe is easy to make, nice and hearty, and absolutely delicious!
---
1 cup

dry farro

3 cups

 vegetable or chicken stock

1

bay leaf

1

(15-ounce) can white beans, rinsed and drained

2 ounces

Gruyere cheese, shredded (about

1/2 cup

)

3 tablespoons

grated Parmesan cheese

4 teaspoons

extra-virgin olive oil

8 ounces

 baby bella mushrooms, diced into

1/2

-inch pieces

1

medium shallot, thinly sliced (about

1/4 cup

)

3

garlic cloves, minced

1

small bunch kale, leaves chopped (about

4 cups

chopped)

1/2 teaspoon

salt

1/2 teaspoon

freshly-ground black pepper

2 tablespoons

finely-chopped flat-leaf parsley
---
Instructions
In a medium saucepan set over medium-high heat, bring the farro, stock, and bay leaf to a boil.  Reduce the heat to medium-low and simmer until the grains are tender but still chewy, about 30 minutes.

Stir the beans into the hot grains.  Add the Gruyere and Parmesan cheeses and stir until melted.  Cover to keep warm.

Meanwhile, in a 12-inch nonstick skillet, heat 2 teaspoons of oil over medium-high heat until very hot.  Add the mushrooms and cook until browned on one side, 3-4 minutes, then stir and cook until browned and tender on the other side, 3-4 minutes more.  Transfer the mushrooms to a warm plate.

Add the remaining 2 teaspoons of oil to the skillet along with the shallots and garlic and cook, stirring occasionally, until the garlic is fragrant, about 30 seconds.  Add the kale and cook, stirring frequently, until wilted, about 3 minutes.  Season with the salt and pepper.

Stir the kale, mushrooms and parsley into the farro and beans and serve immediately, garnished with extra cheese if desired.
---
Notes
Recipe used with permission from Eating In The Middle: A Mostly Wholesome Cookbook by Andie Mitchell, ever-so-slightly tweaked by me.