This delicious curry noodle bowls recipe is easy to make, naturally-gluten-free, and full of the most delicious curry flavors that are sure to warm you up. Feel free to substitute in your favorite protein in place of shrimp, if you'd like.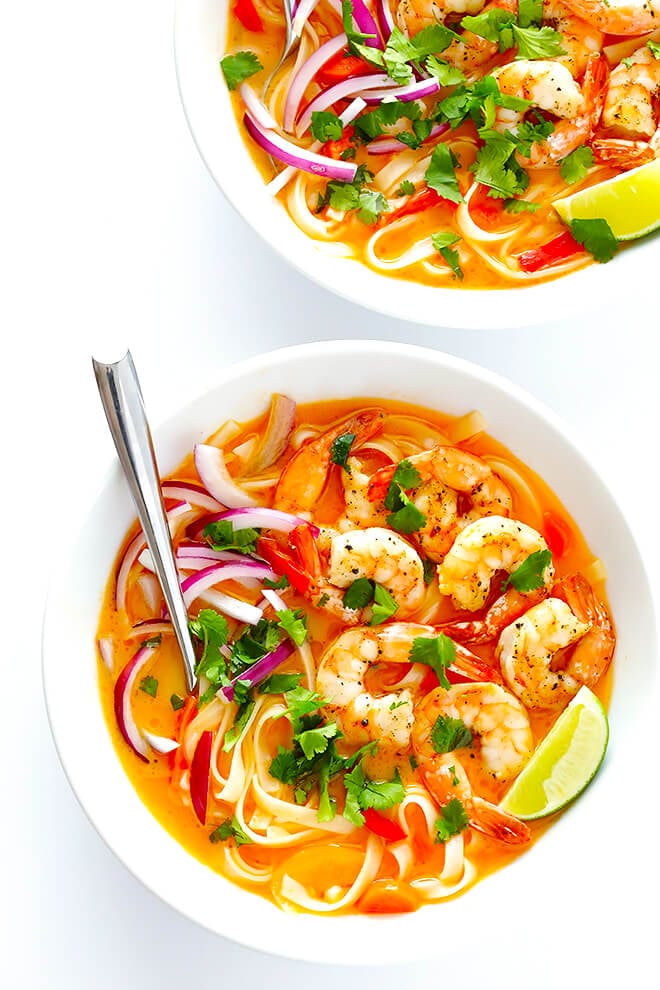 To be honest, writing words about food has felt a little hard lately.
Like many of you, I feel like my world has been filled to the brink with so many words these past few weeks.
There have been the endless news updates and editorials and podcasts that I can't stop (and don't want to stop) reading about everything happening in our nation right now. There have been the social media feeds, sometimes literally 100% full political conversations, ranging from those that are helpful and motivating to those that just seem to widen the divide. There have been the daily conversations with Barclay and friends and family about how on earth to respond, where to give our time and our resources, who of our representatives we should be contacting, what voices we should be following, and how to love and support the most vulnerable loved ones in our society, and on and on. SO many conversations. So many words.
It's making me aware, more than ever, that all of those words call for a particular kind of balance. Not a balance to neutralize or in any way silence so many of these brave voices speaking out. But a balance in how we take it all in…and respond.
In my life, at least, I'm realizing the need for the words and articles and podcasts and conversations I take in need to be balanced with much more space and silence between them. The need for our speaking to be balanced with much more listening to those with differing perspectives. The need for our social media feeds to be balanced with thoughtful perspectives from many more different viewpoints. The need for protests and signs raised out on the streets need to be balanced by much more time actually spent in person getting to know those for whom we advocate. The need, as one of my heroes Richard Rohr says, for action to be balanced with much more prayer and contemplation.
If I'm honest, I'll probably always be someone who's more prone toward action. Like, seriously, I love jumping in and getting stuff done, especially when I feel like there's an urgent need and there's some way for me to lend a hand. But after watching the events of the past few weeks unfold, and seeing tensions rise all around the country and in the lives of friends and family around me, it seems that all of our energy spent on action and speaking can run the risk of losing its impact when it's not balanced with understanding and compassion. But on the flip side, when it is — when I see people raising their voices bravely, while working hard at the same time to be listen and learn and reach out across the table — man, that's brave too. And important. And inspiring. And I see how it often welcomes the same in return.
I want to do more of that kind of brave work in these coming days and months ahead. I think we all need it, right? ♡
Anyway, all that to say, I've been thinking a lot lately about how we move forward as a country together after this season. And amongst other things, I'm reminded that time around the table can often be the very thing that bring us together. It's not always easy, to be sure — I know from plenty of experience that conversations about hard and important topics around the dinner table can be divisive and hurtful if not navigated thoughtfully on both sides. BUT. I also know that some of the most meaningful, stretching, and motivating conversations in my life have happened around the dinner table, especially when I have the courage to engage with those who see the world through a different lens. Because there's something about good food that naturally draws us together (for more than just a Facebook comment or two). And it give us a great opportunity to learn and listen and look people in the eyes if we are willing. And — I've gotta say — a good meal can also soften some of the hardest conversations with some delicious smiles and happy bellies and "yums". 😉
So if you're looking for a good and comforting meal to share with some important people in your life this week, this delicious curry noodle soup is one of my favorites. It's easy to make with shrimp, or chicken, or any of your favorite proteins. It's easy to customize to your (and your guests') preferred levels of heat. And it's a wonderfully slow meal to sit and savor and enjoy, especially as you talk and listen and — really, even just be silent and still at times — with the good people in your life.
Because in this season full of words, I think that some silence and good soup are good for our souls.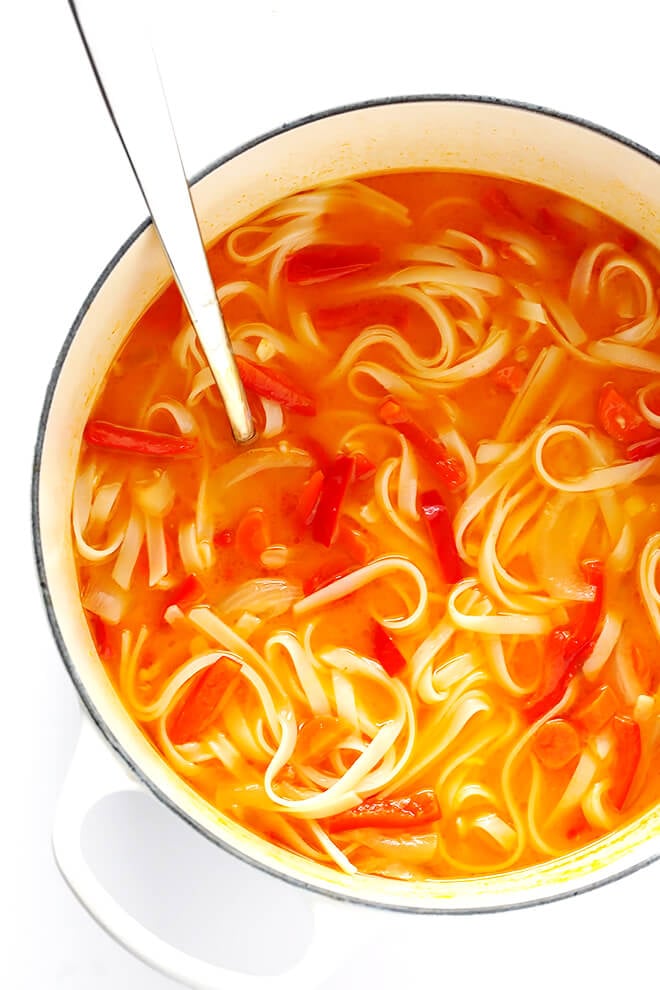 As I said, the beauty of this soup is that it can really be whatever you'd like to make of it.
Love spice? Add in some extra Thai chilis, and maybe some extra curry powder if you'd like.
Love a specific kind of curry? Feel free to use red, or green, or yellow curry paste in this recipe — whatever sounds good to you.
Love something other than shrimp? Feel free to sub in a pound of cooked chicken, pork, beef, tofu, or whatever sounds good. OR, feel free to nix the protein entirely and add in some extra veggies, like broccoli, bok choy, peas, mushrooms, or cabbage.
Love it just like in the photo above? Well, see the recipe below. ?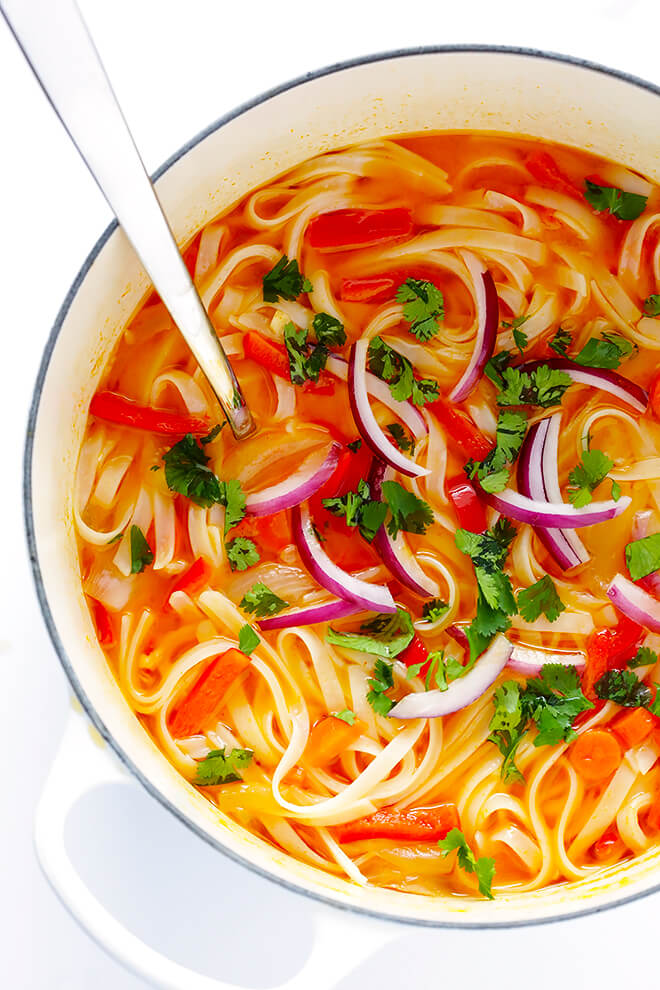 Just sauté your protein, then the veggies, stir in some coconut milk (full-fat or light or a combo), stock, and seasonings. Then let everything simmer and come together…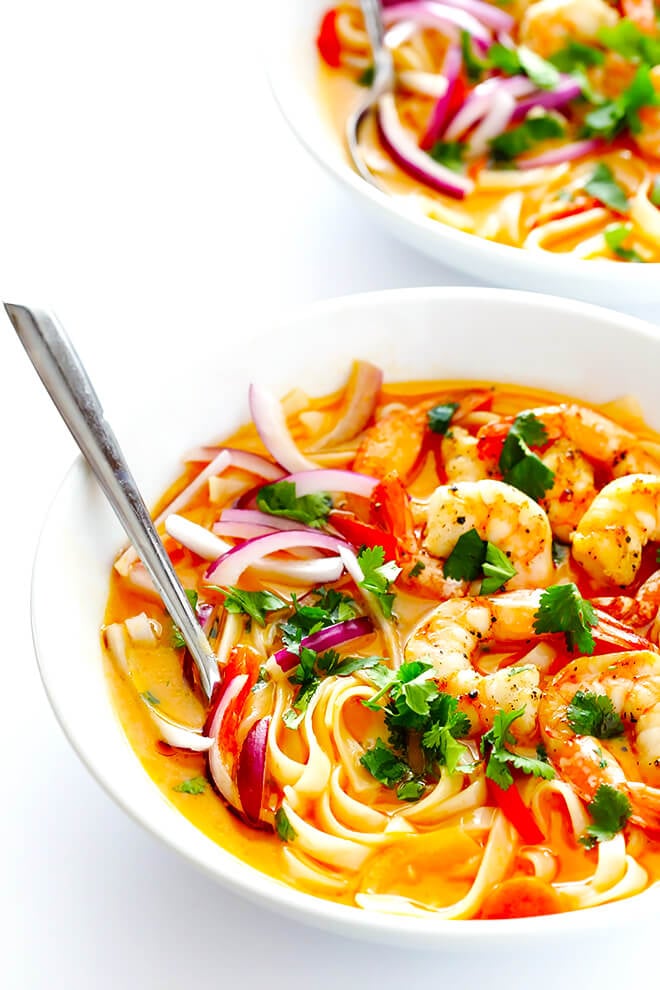 …and then voila. This delicious, comforting bowl of curried soup and noodles will be yours to enjoy. I topped mine with extra red onions (my fave) and fresh cilantro and cooked shrimp, but go with whatever sounds good to you.
Just get to cooking, invite people around your table, ask meaningful questions and really listen to people's perspectives…and I'm convinced that all of us doing this together really will make the world a better place.
Love you guys. Thanks for listening to me "type out loud" here on the blog today. ♡
Print

Comforting Curry Noodle Bowls

Prep Time: 10 minutes


Cook Time: 25 minutes


Total Time: 35 minutes


Yield: 6 –8 servings 1x
---
Description
These comforting curry noodle bowls are quick and easy to make, and seasoned with the most delicious coconut curry flavors.
---
8 ounces

uncooked thin rice noodles

1

pound jumbo shrimp*, peeled and de-veined

Kosher salt and freshly-cracked black pepper

2 tablespoons

olive oil or coconut oil, divided (or any mild-flavored cooking oil)

1

small white onion, peeled and thinly-sliced

1

large red bell pepper, cored and diced

1

large carrot, peeled and diced

4

cloves garlic, peeled and minced

3 tablespoons

 Thai red curry paste

2

(15-ounce) cans coconut milk (regular or light coconut milk)

2 cups

chicken or vegetable or seafood stock

1/2 teaspoon

ground ginger

optional: 1-2 red Thai chiles**, thinly-sliced

toppings: chopped fresh cilantro, thinly-sliced red onions
---
Instructions
Cook rice noodles according to package instructions.  Drain and rinse with cold water, and set aside.

Meanwhile, lay out the raw shrimp on a plate and pat dry with a paper towel.  Season the shrimp generously on both sides with a pinch of salt and pepper.

Heat 1 tablespoon oil in a large stockpot over medium-high heat.  Add shrimp and cook for 1-2 minutes per side, until the shrimp are pink and opaque and cooked through.  Remove from pan with a slotted spoon and set aside.

Add the remaining 1 tablespoon oil to the stockpot.  Add sliced onion, bell pepper and carrot, and sauté, stirring occasionally, for 6-8 minutes or until the onion is soft and translucent.  Add garlic and sauté for 1-2 more minutes, stirring occasionally, until fragrant.

Add in the coconut milk, stock and ginger (and chiles, if using), and stir to combine.  Continue cooking until the mixture reaches a simmer.  Reduce heat to medium, and continue simmering for 5-10 more minutes.

Stir in the noodles.  Taste, and season with extra salt and pepper and curry paste to taste.  (Feel free to add a few generous pinches of salt and pepper, especially if the stock you use is not very salty.

Serve warm, topped with a few pieces of the cooked shrimp, and your desired toppings.
---
Notes
*Feel free to use a protein other than shrimp if you'd like, such as cooked chicken, pork, beef, or tofu.  Also, if you'd like to save time, you can cook the protein in a separate sauté pan while you begin cooking the onion, etc. in the large stockpot.
**Thai chiles are pretty spicy, so I recommend only adding these if you like heat in your food.  And I recommend starting with fewer slices, and then you can always add more if you'd like.
This post contains affiliate links.