This recipe is sponsored by Chex, maker of the rockstar ingredient in my favorite party mix. 🙂
It's party tiiiiiiiime!
Actually, it's Chex party mix time!
Because I must be honest — as someone who pretty much always chooses savory over sweet, I'm always on the lookout for other options beyond the trays upon trays of cookies during the holidays. Enter my favorite snack of all time — good ol' Chex party mix.
We grew up making this stuff almost weekly in my house growing up, and I almost always have a fresh batch of it on hand nowadays as well. Because, well, it's quite simply my fav. I love how easy it is to make in the microwave, or the oven, or even the slow cooker (holla to the crock pot!). I love how cooking it up always makes my loft (and let's be real, our entire hallway) smell freaking amazing. I love how the ingredients are easy to keep on hand in the pantry (especially if the craving hits and you need some, um, rightthisverysecond). I love how it keeps for weeks, and is the perfect appetizer or snack to set out for a last-minute party (or even a party of one!). And — quite frankly — I just love it because I've always loved it (and always will!).
That said, as much as I love the original recipe, I do love experimenting with a few twists on it from time to time. And since so many of you went nuts for this Slow Cooker Chex Mix recipe that I posted last year, I thought it would be fun to share three new versions this holiday season that I've played around with this year.
And after making Chex party mix with butter for — oh, about thirty years — I must say that I'm pretty darn excited about this new recipe. It's everything we all love about the traditional recipe, but made with a little extra seasoning, zero butter, and (you guessed it)…
…coconut oil!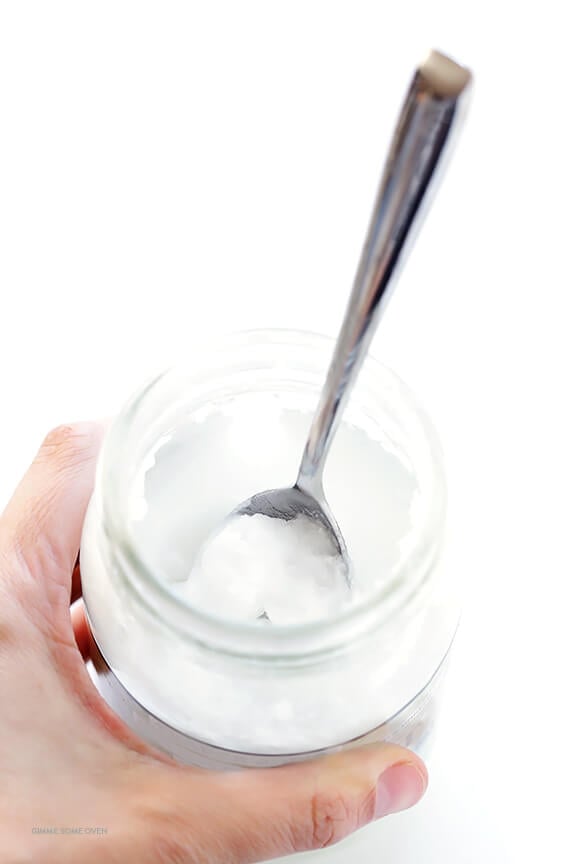 I must confess that after making dozens — probably hundreds — of batches of Chex mix over the years, I can't believe that I never thought of swapping in coconut oil until now. But now it's been done. And now it's definitely going to be happening again.
It's awesome!!!
The subtly-sweet flavor of the coconut oil pairs perfectly with the classic Worchestershire and seasoned salt sauce.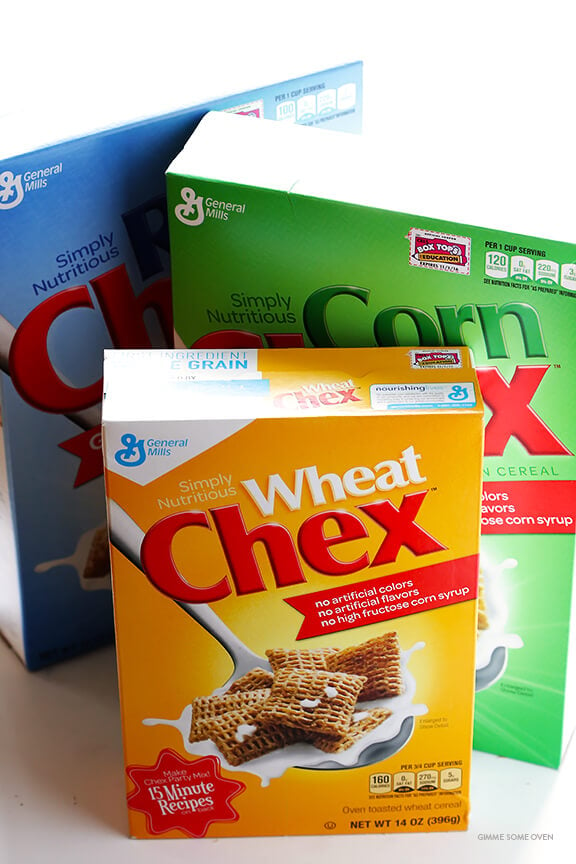 Then when combined with the classic trifecta of Chex (wheat, corn, and rice, or your favorite combination of the above)…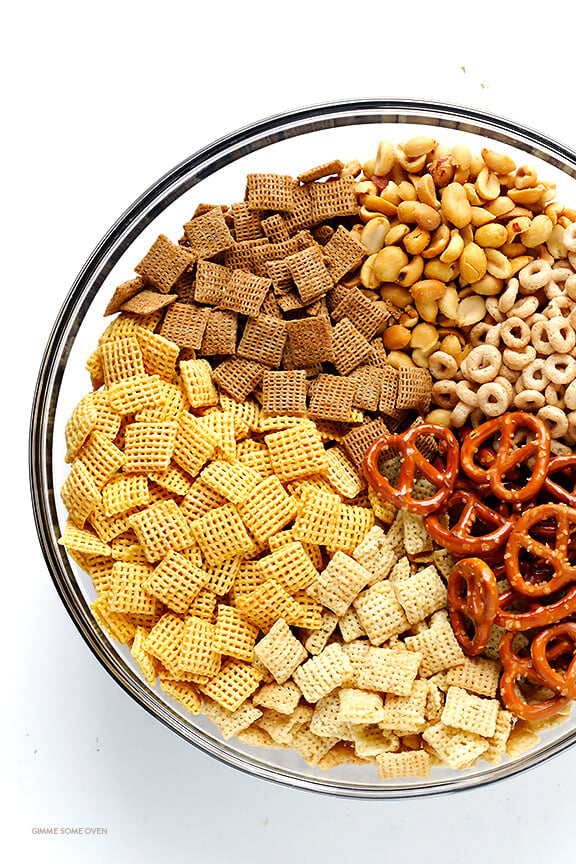 …and your favorite ingredient add-ins (pretzels, peanuts and Cheerios for life!)…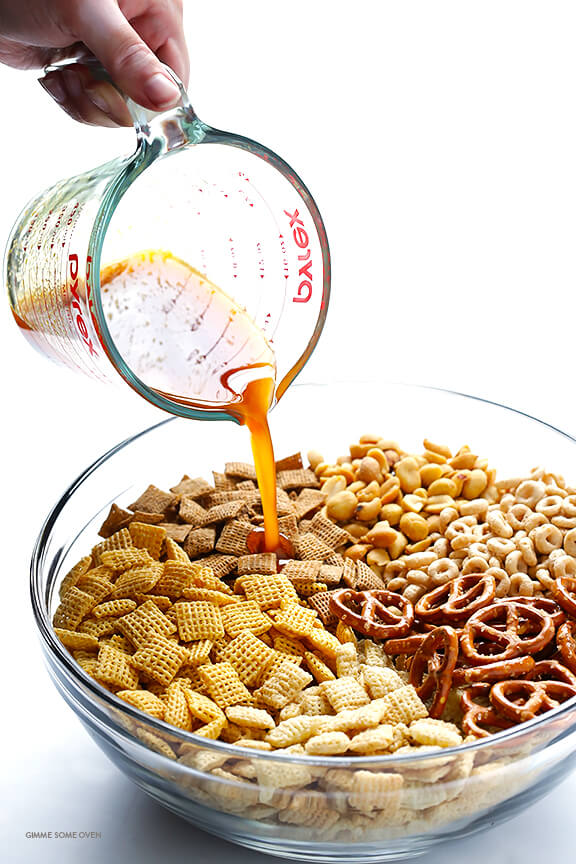 …everything combines to make an irresistibly tasty Chex party mix that I'm pretty positive everyone will love. Well, at least, my friends demolished an entire batch at one of my Friendsgiving parties. So I'm pretty sure yours will love it too. 🙂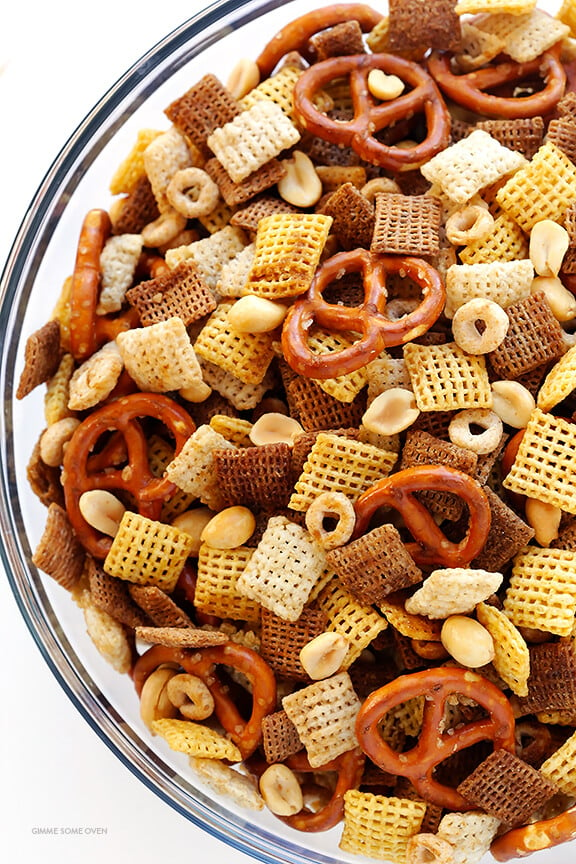 Definitely a fantastic savory (with a little sweet!) option for holiday parties, and any ol' party where you're craving some Chex Mix.
So stay tuned for two more Chex Mix recipes that I have coming up this month. Also, for more holiday party tips and recipes, be sure to check out Chex.com, where Yours Truly also has a little cameo in this fun video that I made along with my friends Alie & Georgia and Pizzazzerie. We all actually came up for a different party theme to share with you each week. So for any of you who love to get your fa-la-la-la-la on, be sure to check out this week's Holiday Karaoke Party guide for some fun themed recipes, drinks and entertaining ideas. We guarantee it'll be a very merry time.
Partayyyy!
Print

Coconut Oil Chex Mix

Prep Time: 5 minutes


Cook Time: 7 minutes


Total Time: 12 minutes


Yield: 24 servings 1x
---
Description
This Coconut Oil Chex Mix recipe subs in the mild flavor of coconut oil in place of traditional butter, it's easy to make in the oven or microwave, and it's always a crowd-pleaser!
---
9 cups

Chex™ cereal (I used equal parts Rice Chex™, Corn Chex™ and Wheat Chex™)

2 cups

pretzels

1 cup

Cheerios

1 cup

peanuts

⅓ cup

(

6 Tablespoons

) coconut oil, melted

1 Tablespoon

seasoned salt

¼ cup

Worcestershire sauce

1 teaspoon

garlic powder (optional)
---
Instructions
See Coconut Oil Chex Mix directions on Chex.com.
---
This post has been sponsored by Chex. I am partnering with them this holiday season to create some new Chex party mix recipes to share with you, and all party-mix-obsessed opinions are 100% my own as always. Thanks for supporting the brands who help make this site possible!