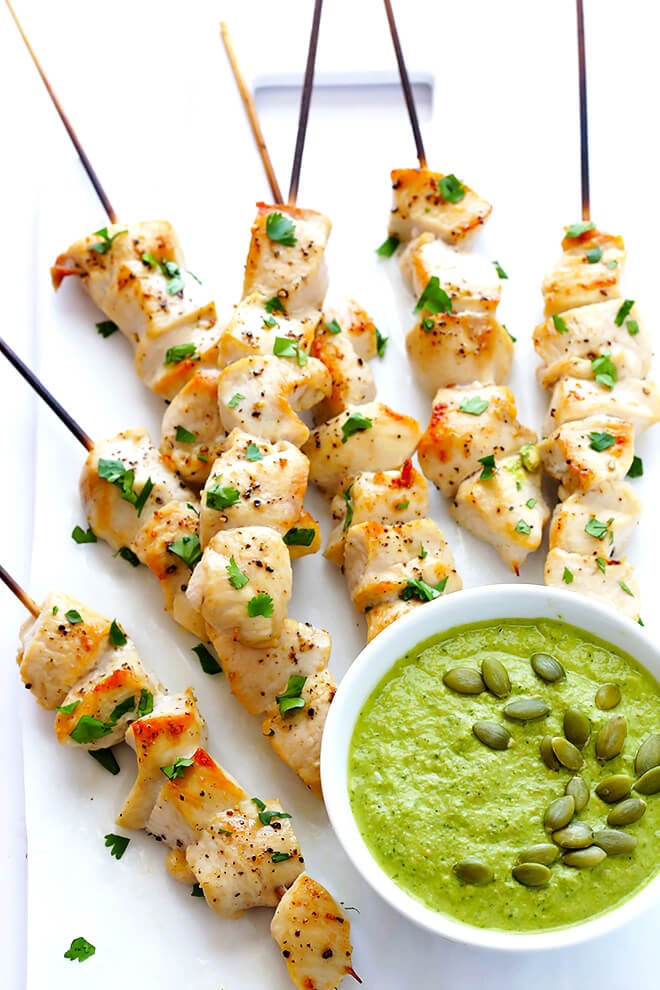 When was the last time you dug deep into the archives of your Facebook photos?
Like, went all the way back to the start?
Well sure enough, an old photo randomly popped up on my homepage the other day that piqued my interest. And nearly an hour later, I realized I had fallen completely into the rabbit hole of scrolling down…and down…and down…until I reached the very first profile pic that I ever posted on Facebook back in 2007. Oh my gosh, it is downright crazy how much life is archived now on social media!! (To which Facebook says, mwahaha…they've got us.)  And ha, amazing how few of those photos I actually have printed out IRL, whoops. I feel a new year's resolution coming on for 2018. Print. More. Photos.
Well, in my trip down Facebook's memory lane, sorting through the photos of road-tripping with friends in college, to the early days when Henry was a puppy, to my very first camping trip, my first house, my first job directing choirs and more, I happened to run across some photos of a volunteer trip that my mom and my sister and I took to Guatemala about 8 years ago. We fell in love with the country, and had such a great time together! And even back then — before I became a food blogger — half of the photos that I snapped and posted on Facebook were, of course, of the food there. ? There was a pic of me learning how to eat a fish head for the first time, and a pic of the yummy Guatemalan take on rice and beans. And seeing a pic of their national dish — Pollo en Pepian (chicken smothered in a pumpkin seed sauce) — suddenly brought back the yummiest memories of that pepita sauce. So last week, I decided to see if I could recreate it for myself back here at home.
And of course, take a picture of it. (And post it on Facebook.)  ?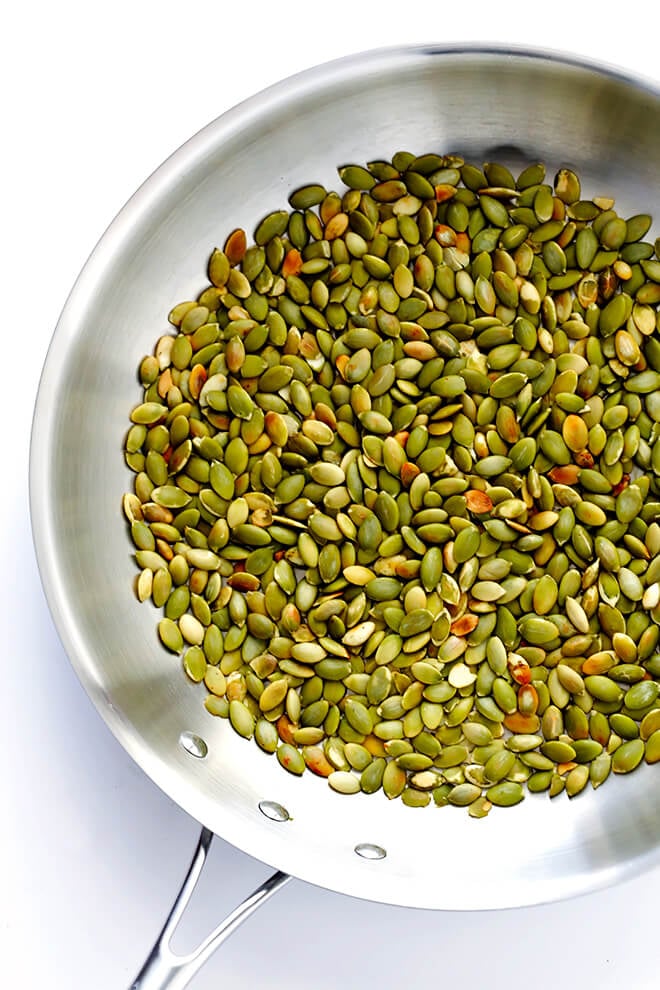 Sure enough, the main ingredient in this dish is in fact — pumpkin seeds.  Soooo many pumpkin seeds!
We begin by toasting them up, which I did in the skillet. (Or you could also briefly toast them in the oven if you'd like.)  Some people also include sesame seeds in their pepian, but I decided to keep it a little more simple here with just pepitas.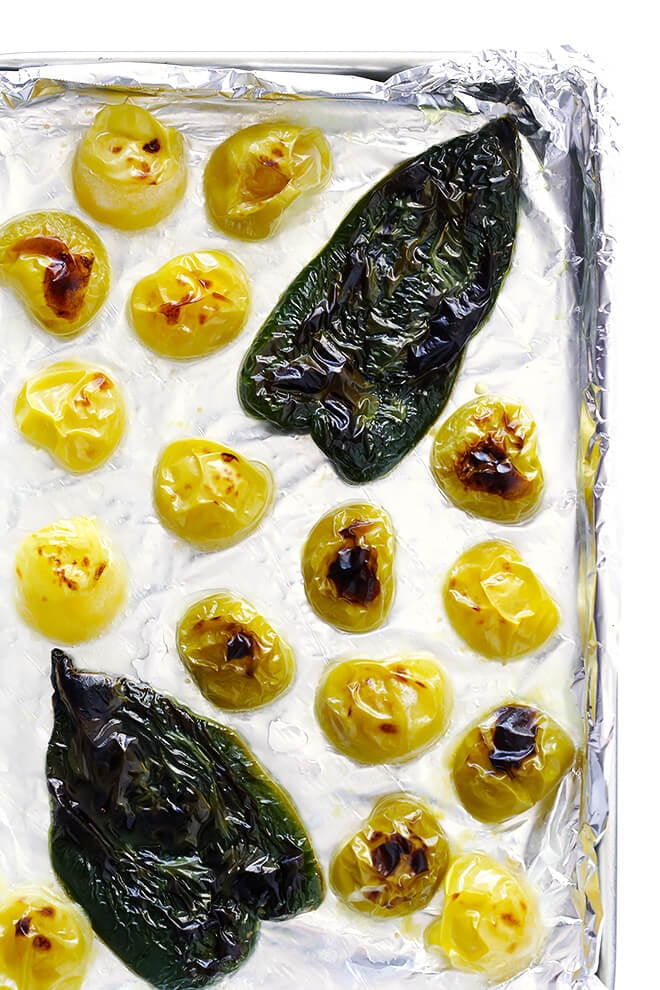 Then while those are toasting, pop the other main ingredients — lots of tomatillos and a poblano pepper — under the broiler until they are nice and soft and charred and ready to go.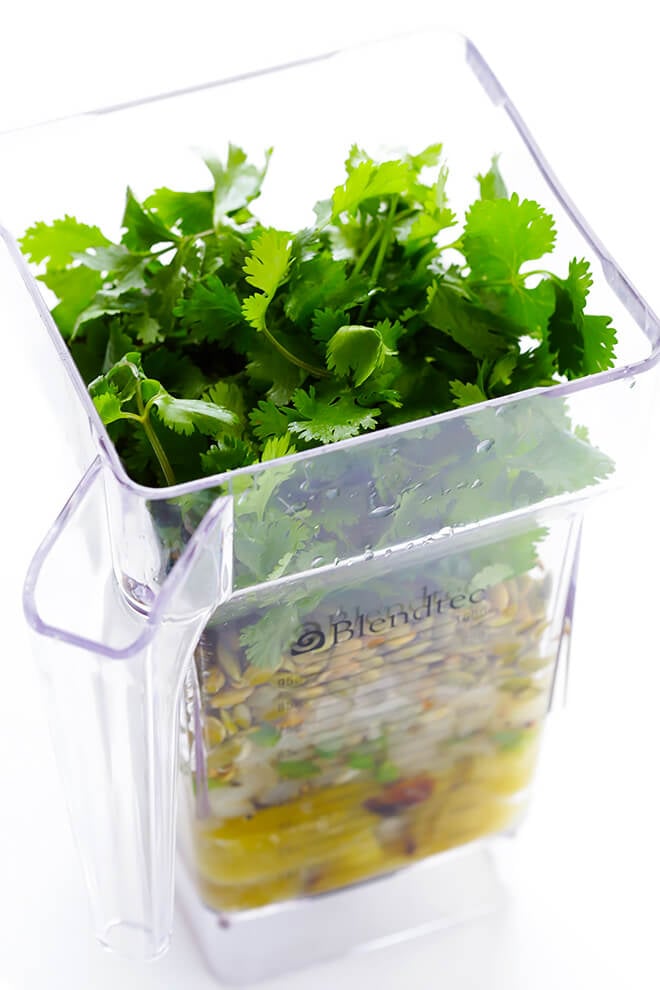 Add everything to a blender, along with lots of sauteed onion, garlic, and jalapeno, lime juice, cilantro, and a few spices. (<– Clearly, we're making pepian verde here, which is the green version instead of the red. Both are favorites in Guatemala and other countries in Latin America!)  And then puree everything until it's nice and smooth and…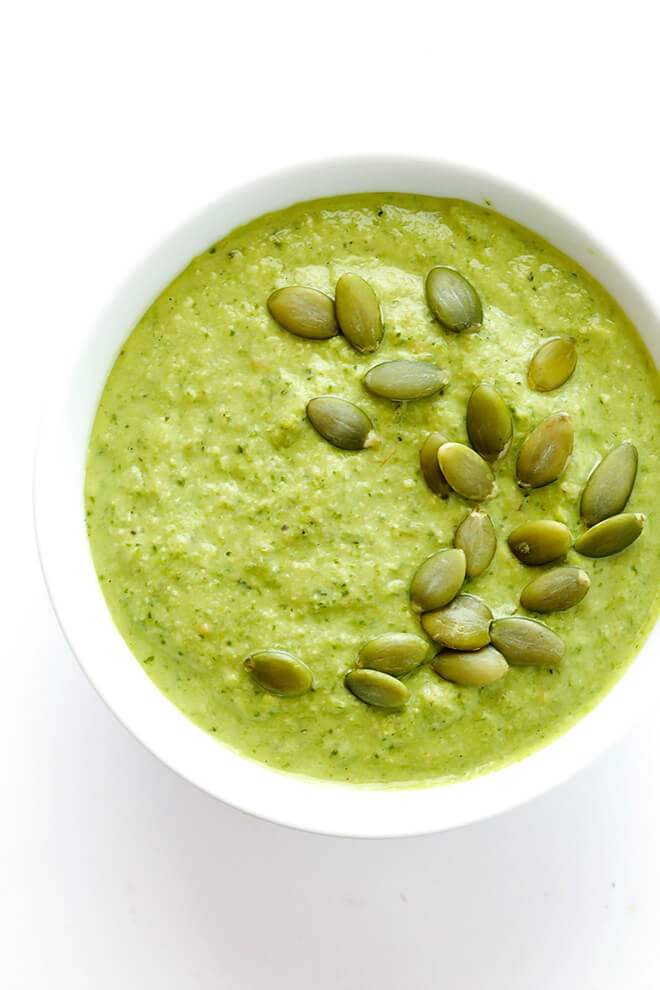 …voila! This gorgeous, vibrant, and wonderfully tangy and rich pumpkin seed sauce — or pepita sauce — or pepian verde — whatever you want to call it — will be ready for you to enjoy!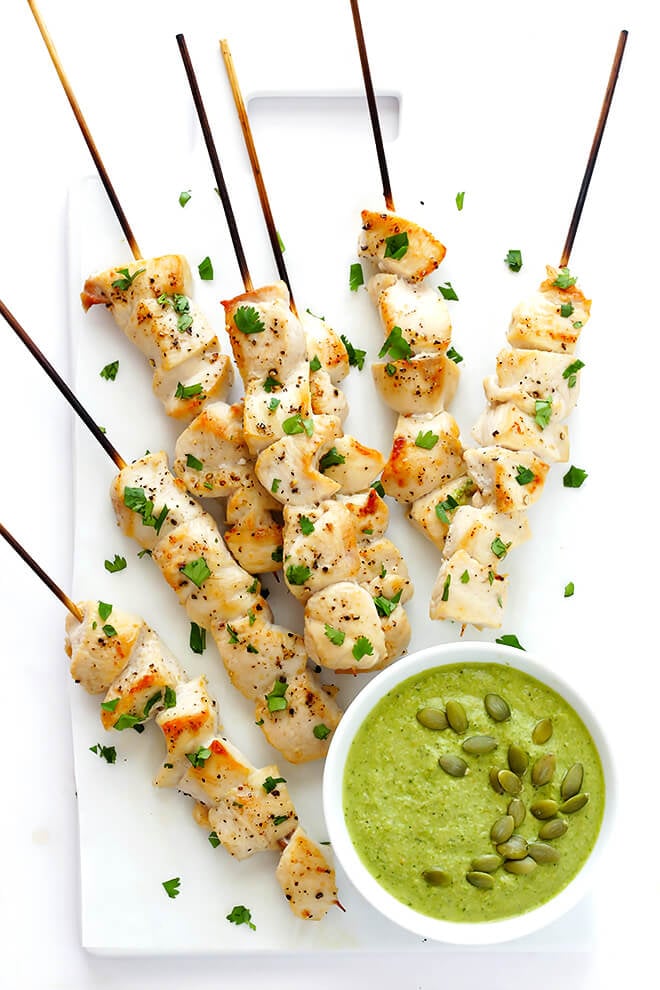 In Guatemala, they tend to serve pepian as a big bowl of stew, or with the sauce slathered all over a few roasted chicken breasts or thighs. But I happened to be in the mood last week for dipping, so I instead cooked up some chicken skewers and decided to make some pepian satay. And it was delicious.
But seriously, feel free to cook up whatever kind of chicken sounds good to you for this recipe. You can use breasts, or thighs, or legs. You can roast them, grill them, saute them. You can serve them whole, or skewer them up like I did. Mainly, I just want you to try some chicken with this amazing sauce, because I think it's going to be just a little bit life-changing. 😉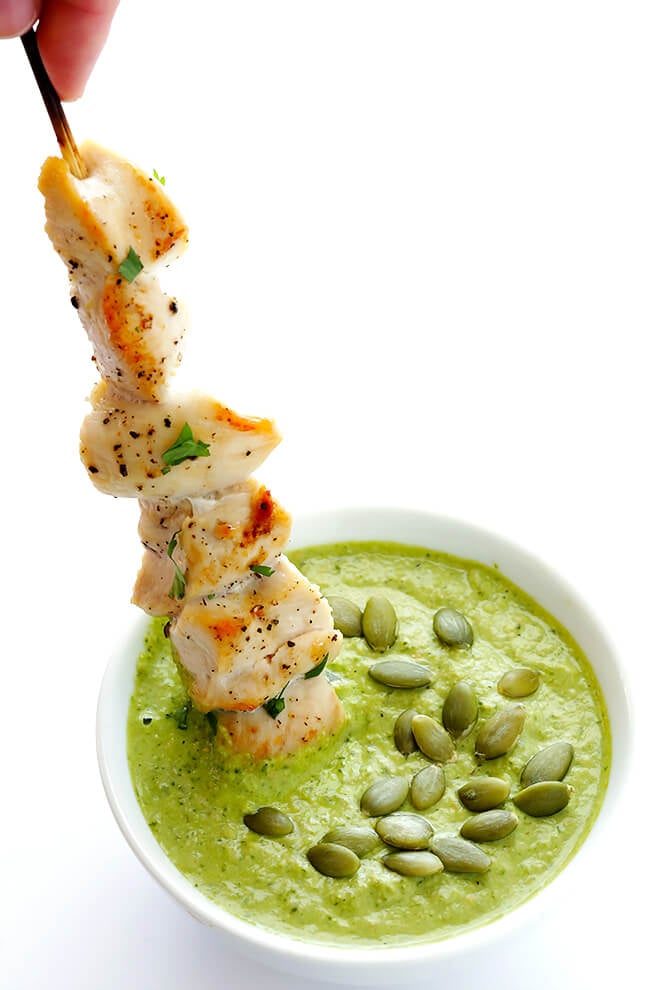 So cheers to taking photos of your food, and the good memories that might inspire you to re-create some of those old favorites again. 😉
Print

Chicken with Pumpkin Seed Sauce (Chicken Pepián)

Prep Time: 15 minutes


Cook Time: 25 minutes


Total Time: 40 minutes


Yield: 6 –8 servings 1x
---
Description
This easy Chicken with Pumpkin Seed Sauce recipe can be made with any kind of chicken you'd like (breasts or thighs, baked or grilled or sauteed, skewers or served whole), and it is served with the most delicious tomatillo pumpkin seed sauce!
---
Chicken Skewers Ingredients:
wooden or metal skewers

2

pounds boneless skinless chicken breasts, cut into bite-sized pieces

2 tablespoons

olive oil

Kosh salt and freshly-cracked black pepper

optional toppings: chopped fresh cilantro, thinly-sliced green onions, chopped pepitas, etc.
Pepitas Sauce (Pepian Verde) Ingredients:
1

pound fresh tomatillos, rinsed and halved (with the papery husks and stems removed and discarded)

1

poblano pepper, cored and sliced in half lengthwise

2 tablespoons

olive oil, divided

2/3 cup

raw pepitas (green pumpkin seeds), plus extras for garnish

1

small white onion, peeled and diced

5

garlic cloves, peeled and minced

1

jalapeno, stemmed, seeded and chopped

1 cup

fresh cilantro leaves, lightly packed

1/2 cup

 vegetable stock or water

2 tablespoons

fresh lime juice

1/2 teaspoon

cumin

Kosher salt and freshly-cracked black pepper
---
Instructions
To Make The Chicken Skewers:
Preheat the broiler on your oven.  (Or see alternate instructions below, if you would like to cook the chicken on the grill or stovetop.)

If using wooden skewers, soak them in a large pan of water for at least 30 minutes before cooking.  (Or skip that step if you're using metal skewers.)

In a large mixing bowl, toss the chicken and olive oil until combined.

Thread the 5-6 pieces of chicken onto each skewer, then place the skewers on a large baking sheet.  Season the chicken with a generous pinch of salt and black pepper, then flip the skewers over and season once more.

Broil on the second-to-top shelf of your oven for 8-10 minutes until the chicken is cooked through (no longer pink on the inside) and golden on top.  Keep a close eye on the chicken so that it does not overcook!  Remove and serve immediately with the pepitas sauce (see below), garnished with your favorite toppings if desired.
To Make The Pepitas Sauce (Pepian Verde):
Preheat the broiler.  Line a baking sheet with aluminum foil, or grease with cooking spray.

Place the tomatillo and poblano halves in a large bowl with 1 tablespoon olive oil, and toss until evenly coated.  Place the tomatillo and poblano halves skin-side-up on the baking sheet.  Broil until charred, about 8-10 minutes.  (Keep a close eye on them while cooking so that they do not get too charred.)

Meanwhile, heat a large saute pan over medium-high heat. Add the pepitas, and cook until they are fragrant and start popping, stirring occasionally, about 2 to 4 minutes. Transfer to a plate.

In same saute pan, heat the remaining 1 tablespoon olive oil over medium-high heat. Add onion and sauté for about 5 minutes, until soft and translucent, stirring occasionally.  Stir in the garlic and jalapeno, and sauté for 2 minutes more, stirring occasionally.

Immediately transfer the onion mixture to a food processor or blender.  Then add in the cooked tomatillos and poblano pepper, pepitas, cilantro, vegetable stock (or water), lime juice and cumin.  Puree until smooth.  Then season with salt and pepper, to taste.

Serve immediately, or refrigerate in a sealed container for up to 4 days.
---