This post is sponsored by Old El Paso.
Call it eco-friendly. Call it living "local". Call it a workout. Call it European. Call it whatever you want.
I am so over driving lately, and so pro walking anywhere and everywhere I possibly can.
I know I probably shouldn't complain. I have a great little car that's in good condition, I work from home and no longer have to sit in my car for an hour round-trip commute to work, I mostly just drive to see friends and do fun things, and even when I do, most trips around midtown in Kansas City rarely take more than 15 minutes. But still, I find myself increasingly avoiding any time I have to spend in the car. And instead, trying to think creatively about just how many of my errands I can conquer on foot.
The results have been encouraging, especially once I snap out of that silly Midwestern mindset where people tend to hop in their cars to go anywhere more than 3 blocks. When I tap into my inner New Yorker or Parisian, suddenly that 12-block walk to the grocery store is no big deal! That 20-minute walk to go visit a friend is actually energizing. The 1-mile walk to the movie theater is a fantastic excuse to have them add that butter on my popcorn. It's all so surprisingly do-able, and actually far more enjoyable than wading through traffic in my Prius.
That said, the only thing that's not within walking distance of my place is a Chipotle. Actually, for living in a city with so much great Mexican food, it is embarrassing how few good Mexican restaurants are within walking distance of my place downtown. There are definitely none that have the favorite burrito bowls that I love to order with seasoned chicken, zesty corn salsa, and a nice big scoop of guacamole.
So when the craving hit this week, I decided to take matters into my own hands — or into my own kitchen — and make it happen. We may not have a Chipotle nearby, but I live across the street from the city's largest farmer's market. So I walked over to grab some ingredients, and 30 minutes later, we were deliciously burrito bowl-ing in my dining room. Without ever having to drive an inch in my car. 😉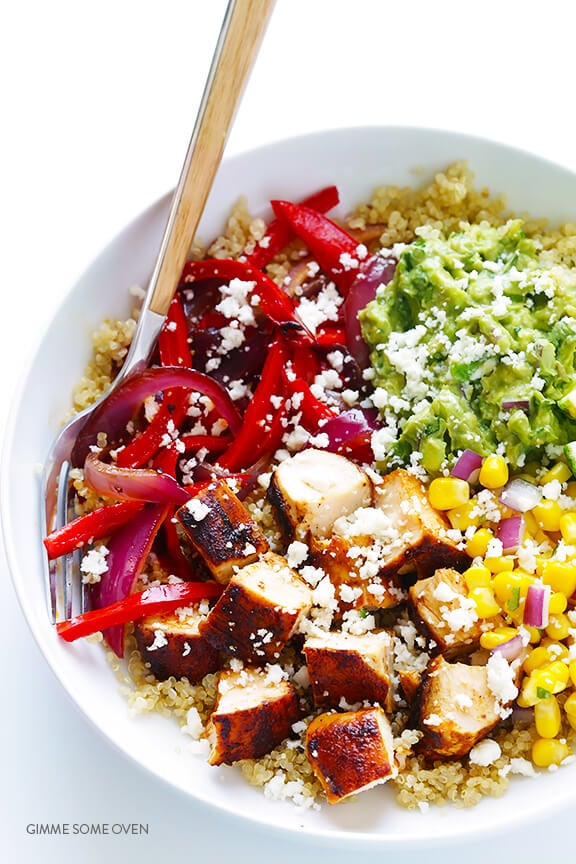 I have blogged on here before about how to make homemade barbacoa and carnitas. But lately as I have been trying to eat more lean meats, I have rediscovered my love of chicken. My complaint with chicken in the past has always been that it's so flavorless and boring on its own. But when rubbed down with some simple taco seasoning, it's amazing how flavorful it can be — especially when paired with some homemade guac, sauted veggies, corn salsa and cheese.
Oh, and quinoa!!
I know that most restaurants tend to make burrito bowls with rice. But I decided to swap in some quinoa to give these burrito bowls an extra dose of protein, which will also keep them naturally gluten-free. You could also use farro, or you could revert back to classic rice, but I highly recommend going the ancient grain route with quinoa. So good!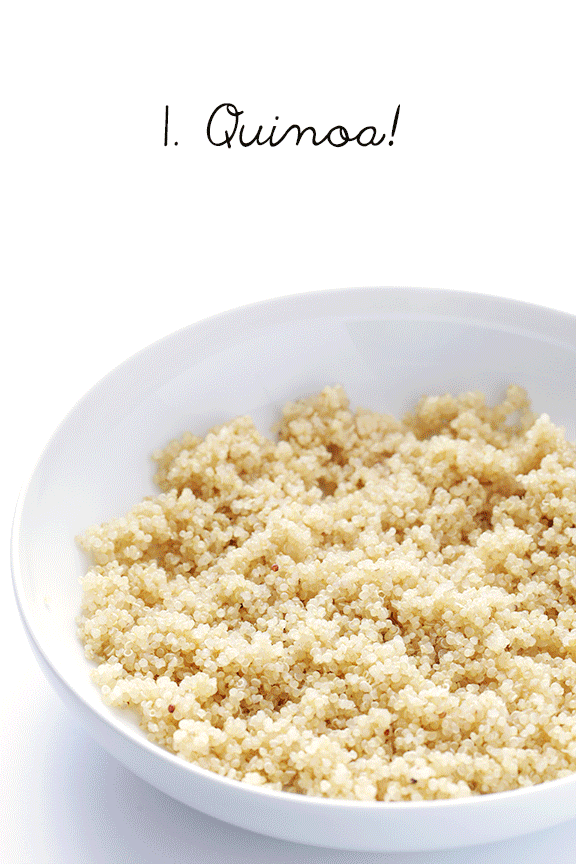 To make the burrito bowls, simply layer some quinoa (I recommend that you cook it in chicken stock for extra flavor), sauted veggies (I just used bell pepper and red onion), corn salsa (mixed with some onion and cilantro and lime juice), fresh guacamole (this recipe is perfection!), and a sprinkle of cheese on top (any kind will do!).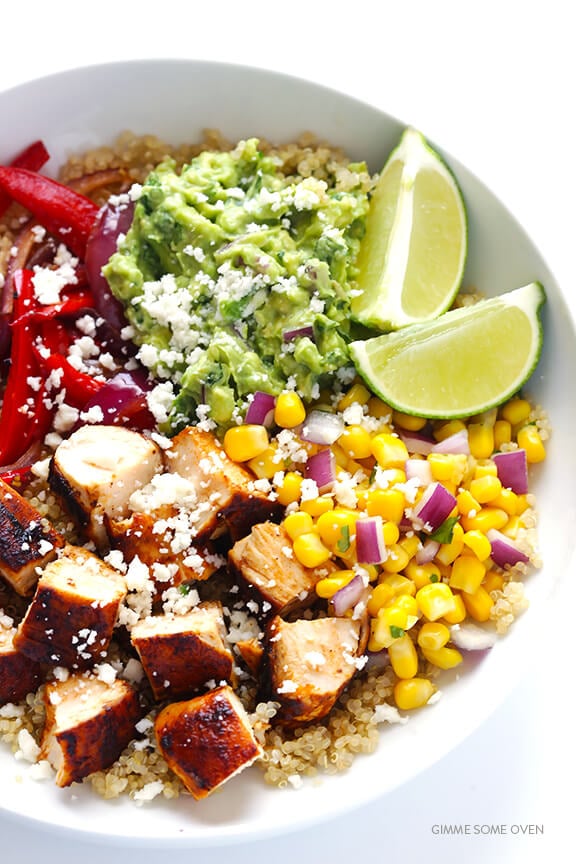 The result?!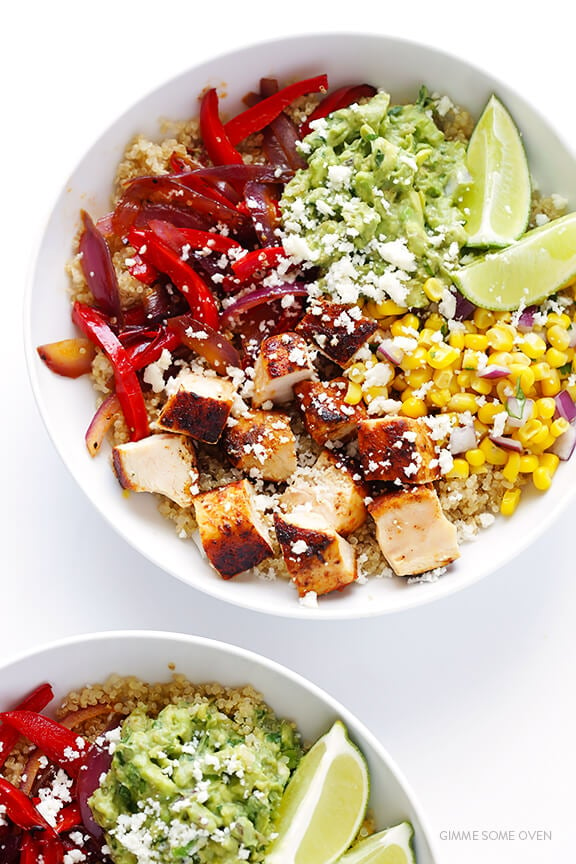 A big ol' bowl of pure deliciousness.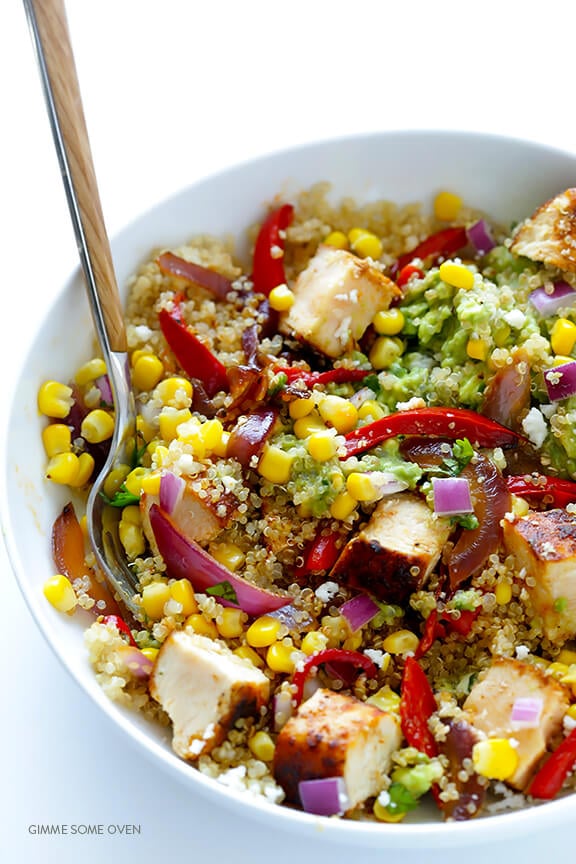 All the better when it's mixed up. 😉
Feel free to customize your bowl with any other favorite ingredients you might like, such as salsa or drizzled sour cream. But this is the bowl I typically order out at burrito restaurants, so this is the bowl I made at home. It's savory, sweet, simple, and sooooooo good.
Happy bowl-ing!
Print
Chicken Quinoa Burrito Bowls

Prep Time: 15 minutes


Cook Time: 15 minutes


Total Time: 30 minutes


Yield: 2 servings 1x
---
Description
These Chicken Quinoa Burrito Bowls are easy to make, naturally gluten-free, made with protein-rich quinoa, and full of the tastiest fresh ingredients!
---
Burrito Bowl Ingredients:
2 cups

 cooked quinoa*

1

batch taco-seasoned chicken (see below)

1

batch sautéed veggies (see below)

1

batch corn salsa (see below)

⅔ cup

 guacamole

¼ cup

crumbled cotija cheese (or your preferred cheese)

lime wedges (for serving)
Taco-Seasoned Chicken Ingredients:
2

small boneless, skinless chicken breasts, pounded to even thickness

4 teaspoons

 Old El Paso Taco Seasoning

1 Tablespoon

olive oil
Sautéed Veggie Ingredients:
1 Tablespoon

olive oil

1

small red bell pepper, stem and core removed, then thinly sliced

half of a

small red onion, peeled, then thinly sliced
Corn Salsa Ingredients:
1

(15-ounce) can whole kernel corn, drained

¼ cup

finely-diced red onion

2 Tablespoons

finely-chopped cilantro

1 Tablespoon

lime juice
---
Instructions
To Make The Chicken Quinoa Burrito Bowls:
Portion quinoa evenly between two serving bowls, spreading it out so that it covers the bottom of the bowls.  Divide the chicken, peppers and onions, corn salsa and guacamole evenly between the two bowls, and add them on top of the quinoa.  Sprinkle each bowl with some crumbled cheese.  Serve immediately, garnishing each bowl with a lime wedge if desired.
To Make The Taco-Seasoned Chicken:
Rub 2 tablespoons of taco seasoning evenly over each chicken breast (on both sides).

Heat oil in a medium saute pan over medium-high heat.  Add chicken breasts and cook for about 5 minutes per side, turning once, until the chicken is cooked through and no longer translucent.  Remove from heat and transfer chicken to a cutting board and let rest for at least 5 minutes.  Then cut into bite-sized cubes.
To Make The Sautéed Veggies:
Return the same saute pan to the heat and add the oil.  Heat over medium-high heat, then add peppers and onions.  Saute for 4-5 minutes until the veggies are cooked and softened.  Remove from heat.
To Make The Corn Salsa:
Toss all ingredients together until combined.
---
This is a sponsored post in partnership with Old El Paso. I am partnering with them this year to bring you fresh new Mexican recipes, and all opinions are my own as always. Thanks for supporting the brands who help make this site possible!