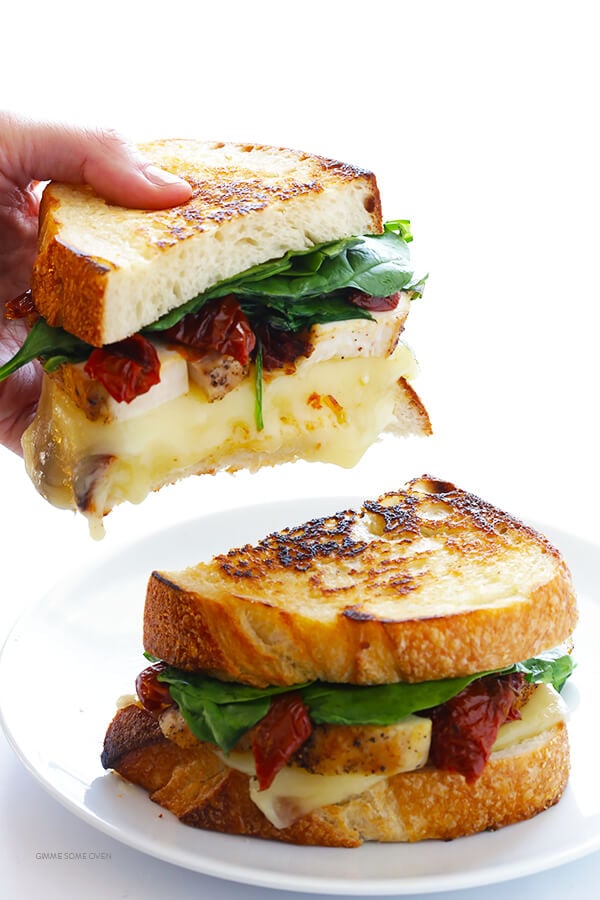 This post is sponsored by Arla.
Happy #NationalGrilledCheeseDay, everyone!
Oh man, how should we celebrate??
Should we serenade each other with our all-time favorite cheesiest songs? (<– I call dibs on "My Heart Will Go On!", a.k.a. the ultra-dramatic-background-music-to-my-first-kiss-at-freshman-homecoming, to which I may have memorized every word and learned the accompanying pennywhistle part, of course. ?)
Or how about we tell each other the cheesiest jokes? (What's cheese's favorite genre of music? RnBrie, of course. ?)
Or maybe try out some cheesy pick-up lines? (If you were a vegetable, you'd be a cute-cumber, of course. ?)
Well now, I have to vote all of these…with a side of this Chicken Florentine Grilled Cheese, of course.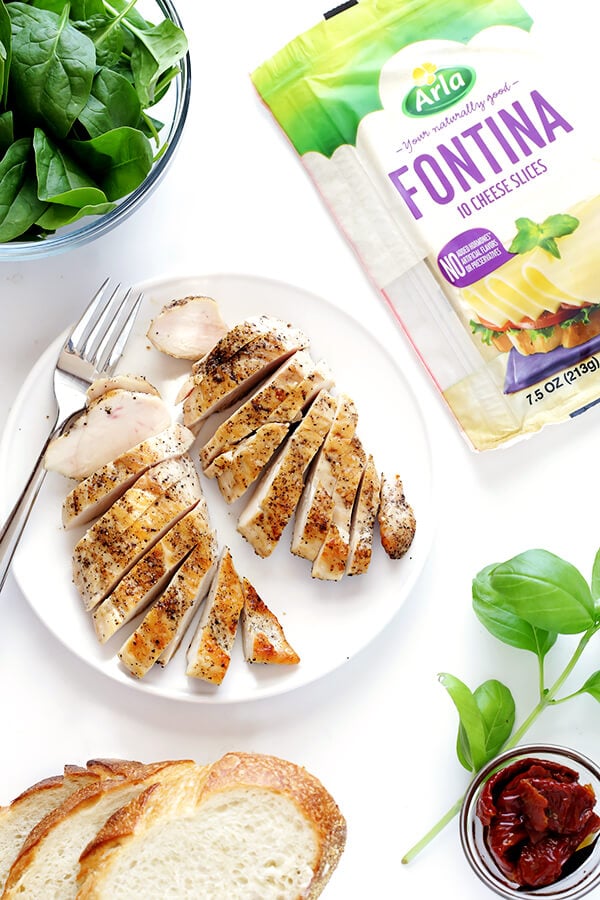 Actually, if you follow along on Arla's Instagram feed today, I'm going to be sharing all sorts of fun recipes to celebrate #NationalGrilledCheeseDay. But here on the blog, I'm zooming in on this one in particular:
Chicken Florentine Grilled Cheese.
Made with crusty sourdough bread, juicy chicken breasts, sun-dried tomatoes, fresh spinach, and the "cheesy" ingredient I've been obsessed with for awhile — Arla's Naturally Good Sliced Cheeses. I'm excited to be partnering with them this year because their sliced cheeses are totally free of artificial flavors and preservatives, and they are absolutely delicious, and they are perfect for melting into ooey gooey grilled cheese sandwiches.
Like this one.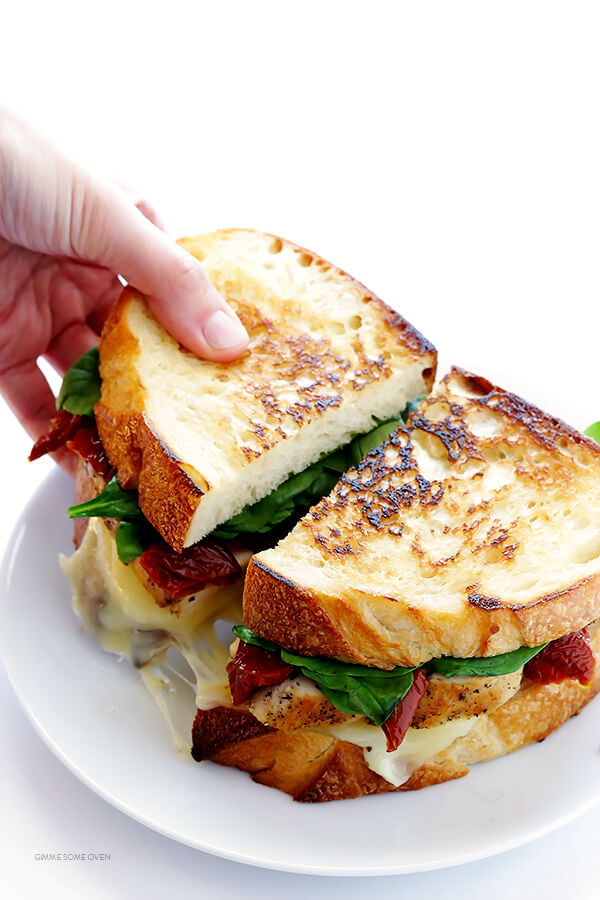 Look at that #cheesepull! (<– Just learned the name for that one, and apparently there's an entire mouthwatering hashtag for it. Check it out.)
Seriously, I'm a fan of just about any grilled cheese sandwich. But this one with its bold colors, flavors, and ultra-melty cheese is definitely one of my new favorites. So grab some bread and cheese and your favorite toppings, and let's raise a sandwich to a very delicious #NationalGrilledCheeseDay.
Print
Chicken Florentine Grilled Cheese

Prep Time: 5 minutes


Cook Time: 15 minutes


Total Time: 20 minutes


Yield: 1 serving 1x
---
Description
This Chicken Florentine Grilled Cheese recipe is quick and easy to make, full of delicious Italian flavors, and overflowing with ooey gooey melted cheese.
---
2 teaspoons

olive oil

1

small boneless skinless chicken breast*

Kosher salt and freshly-cracked black pepper

2

 slices of bread (I used sourdough)

butter

3

–

4

 Arla NaturallyGood Fontina Cheese Slices

2 tablespoons

roughly-chopped sun-dried tomatoes

1

handful fresh baby spinach**
---
Instructions
Heat oil in a medium saute pan over medium-high heat.  While the oil is heating, season the chicken with a generous pinch of salt and black pepper.  Add the chicken to the pan and cook for 6-8 minutes, turning once, until the chicken is cooked through and no longer pink on the inside.  Remove pan from heat, then transfer the chicken to a cutting board and let it rest for 5 minutes.  Then slice it into thin strips.

While the chicken is resting, butter one side of each piece of bread.

Place one slice (butter-side down) on your prep surface.  Layer it evenly with 1-2 cheese slices, followed by the chicken slices, sun-dried tomatoes, spinach, and the remaining slice of bread (butter-side up).

Rinse out the saute pan (if needed), then return it to the stove over medium-high heat.  Carefully transfer the sandwich to the pan and cook for 4-5 minutes on the first side, or until the bread is toasted and the cheese starts to melt.  Carefully flip the sandwich to the other side, and cook for 3-4 minutes or until the bread is toasted.

Remove from pan, slice the sandwich down the middle, and serve warm.
---
Notes
*For a shortcut, you could also just shred a store-bought rotisserie chicken instead of sauteing the chicken breast.
*I just used fresh (uncooked) baby spinach for my sandwich.  But if you prefer sauteed spinach, you're welcome to wilt the spinach in the saute pan after the chicken has finished cooking.
This post has been sponsored by Arla. I'm partnering with them to create some new recipes this year with their simply-better cheeses that I absolutely love. Thanks for supporting the brands who help make this site possible!