This post is sponsored by KitchenAid.
Yep, I'm back again today with another smoothie recipe inspired by one of my favorite desserts. (Here's lookin' at you, most delicious cherry pie ever!)  But today's smoothie recipe comes with another added bonus — a giveaway!
I received some great comments and emails from you all about the new high-powered Magnetic Drive Torrent Blender from KitchenAid when I reviewed it with my recipe last week on how to make crepes. So I'm happy to report back today with great news — we're going to be giving one away to a lucky reader here! Like, who knows, maybe you!  I think you'd better scroll down to the bottom of this post and enter to see if it's your lucky day. 🙂
Oh, and all of you cherry pie lovers had also better scroll down and check out this new smoothie recipe, because it is a definite keeper. It's full of protein, naturally sweetened, naturally gluten-free, ready to go in minutes, and tastes like the classic pie that inspired it. Such a treat.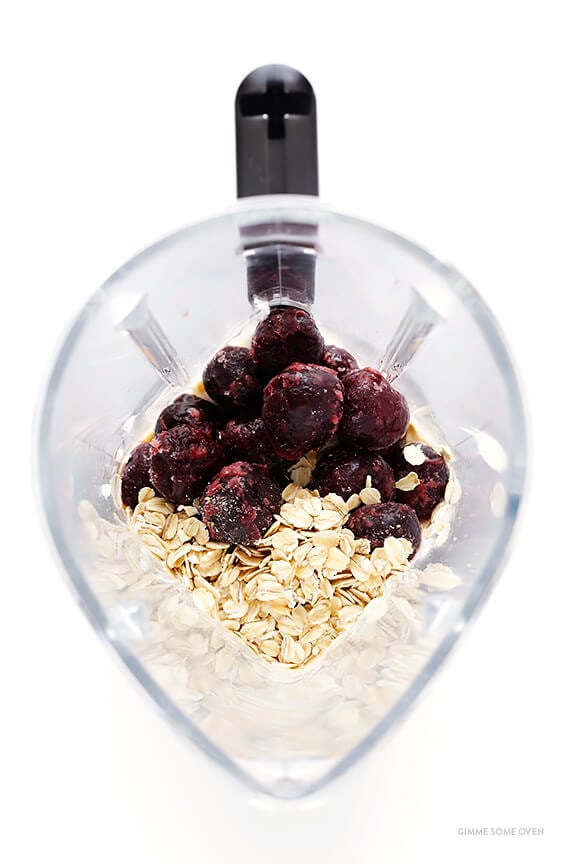 And the good news? It doesn't have to be fresh cherry season to make this one. All you need are some frozen cherries (which are naturally so sweet!), some oats (use gluten-free oats if making this GF), Greek yogurt (proteeeeein!), milk (I love almond milk), vanilla extract, almond extract, a pinch of salt, and you're good to go.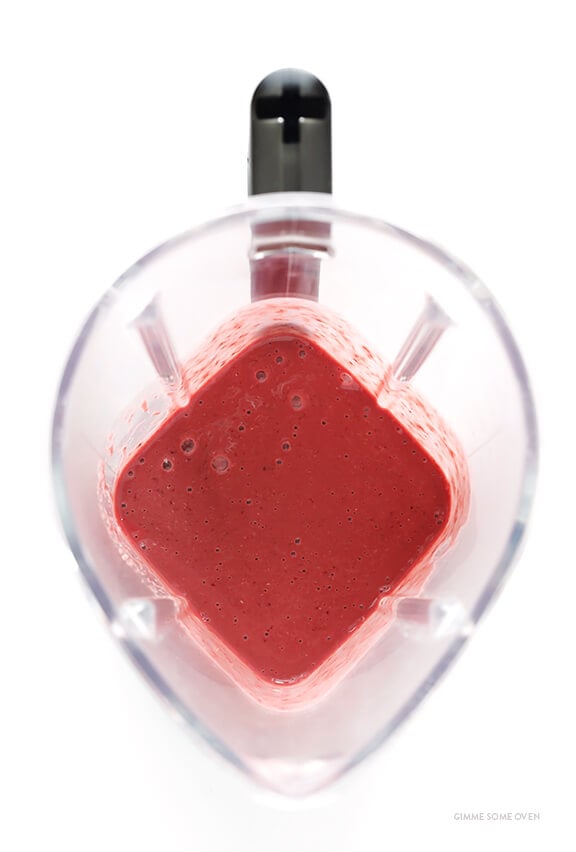 Blend 'er up until it's nice and smooth, then give it a quick taste. I find cherries to be so sweet that this recipe is fine as is, but if you'd like a sweeter smoothie, feel free to add in a teaspoon or two of maple syrup or honey or your desired sweetener. Feel free to also add in some ice if the smoothie needs thickening, or extra milk if it needs to be thinned out.
The joy of using my new toy — er, Torrent Blender — from KitchenAid is that it cuts through those frozen cherries and ice like it's no big deal. Once the pitcher is locked in nice and tight, all I had to do was give it one push of the button, and the "torrential" force of that machine smoothed everything out into a delicious drink in seconds. Shazammm. I'll tell you a little more about the blender below.
First, here's the smoothie recipe. (Then keep scrolling down for the giveaway!)
Print

Cherry Pie Smoothie

Prep Time: 5 minutes


Total Time: 5 minutes


Yield: 2 servings 1x
---
Description
This Cherry Pie Smoothie recipe is simple to make, naturally sweetened, and tastes like the pie that inspired it!
---
1 cup

frozen cherries

1/2 cup

plain non-fat Greek yogurt

1/3 cup

milk (I used almond milk)

1/4 cup

old-fashioned oats (use gluten-free oats if making this smoothie GF)

1/2 teaspoon

 vanilla extract, store-bought or homemade

1/4 teaspoon

almond extract

pinch of salt

(optional) 1-2 teaspoons maple syrup or honey, to sweeten if needed
---
Instructions
Add all ingredients to a blender.  Pulse until smooth, adding more milk if needed to thin out the smoothie or more ice to thicken it, if needed.

Serve immediately, garnished with a fresh cherry if desired.
---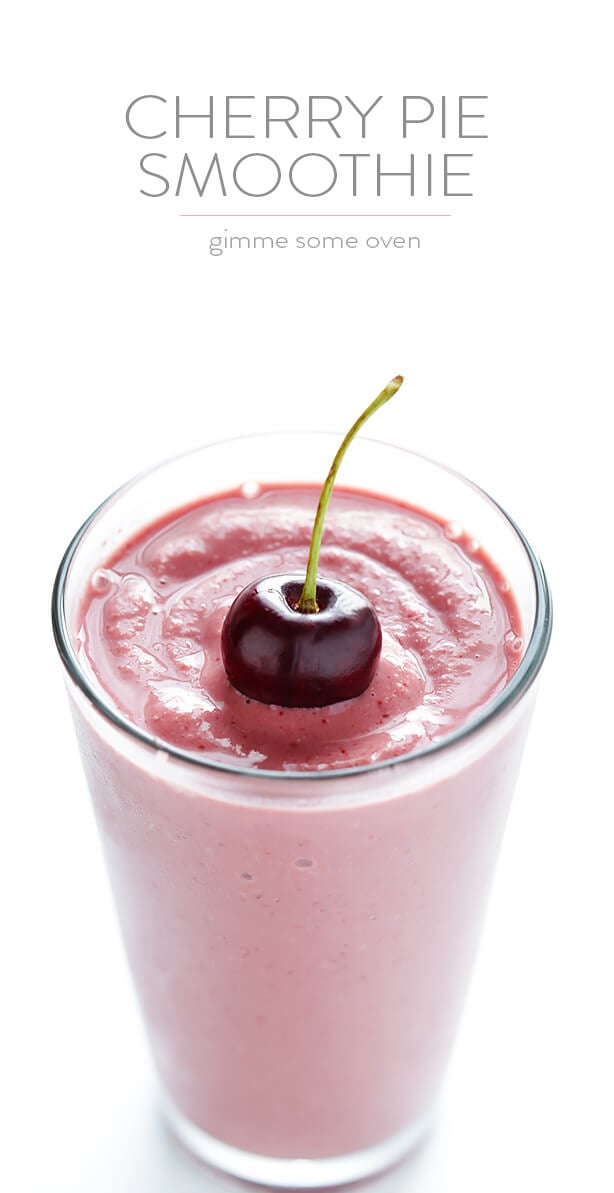 KitchenAid Magnetic Drive Torrent Blender Giveaway
Giveaway Prize:
One lucky winner will receive a new KitchenAid Magnetic Drive Torrent Blender in the color of his/her choice — Sugar Pearl Silver, Candy Apple Red, or Onyx Black. (Value: $599, MSRP)
Why I Love It:
I've been a fan of KitchenAid products for many years, and have recommended them countless times to readers specifically because I have found them to be very reliable (are always built to last), beautifully designed (classic and so sleek), and when it comes to preparing food well, they always get the job done (my stand mixer is a freaking champ). So when I heard that KitchenAid was making a foray into the world of high-powered blenders, I was super curious to check out their new magnetic-drive blender. As should probably come as no surprise…it's amazing.
Some of my favorite features?
It is mega-sturdy. By contrast to some other high-powered blenders with pitchers that sit on top of a base, the Torrent Blender has a magnetic-lock function which engages the pitcher automatically, so that you can walk away knowing it's absolutely staying in place and not going anywhere. The base of the blender is very heavy, which can make it hard for lifting and probably better for storing on your countertop, but it also means that it's incredibly sturdy and is built to last.

It's dishwasher-safe and BPA-free.  Both are "musts" in my kitchen.

It has a really simple-to-use variable speed option. This is probably the function I use the most. Instead of pushing buttons for the speed to increase/decrease (like with some other blenders), you can just simply turn the knob on this blender to manually adjust the speed yourself. Super easy to use.

It comes with 4 pre-set Adapti-Blend™ programs. The blender comes with handy presents for the foods we tend to blend most — juice, soups/sauces, milkshakes, icy drinks/smoothies. You know, like for delicious Cherry Pie Smoothies. ;).

It has a cool ingredient Feed. This nifty part of the design lets you add ingredients at any time during blending, and the feed cup features handy measurement markings for your ingredients (and it can also go in the dishwasher!).

It comes with a solid warranty. Another reason I love KitchenAid, and always something to consider when purchasing small appliances.
Basically, it's awesome, and will do a fantastic job with your everyday blending needs. So who wants to enter for a chance to win one? Here's how…
How To Enter:
Follow the Rafflecopter instructions below to enter the giveaway, and good luck!
a Rafflecopter giveaway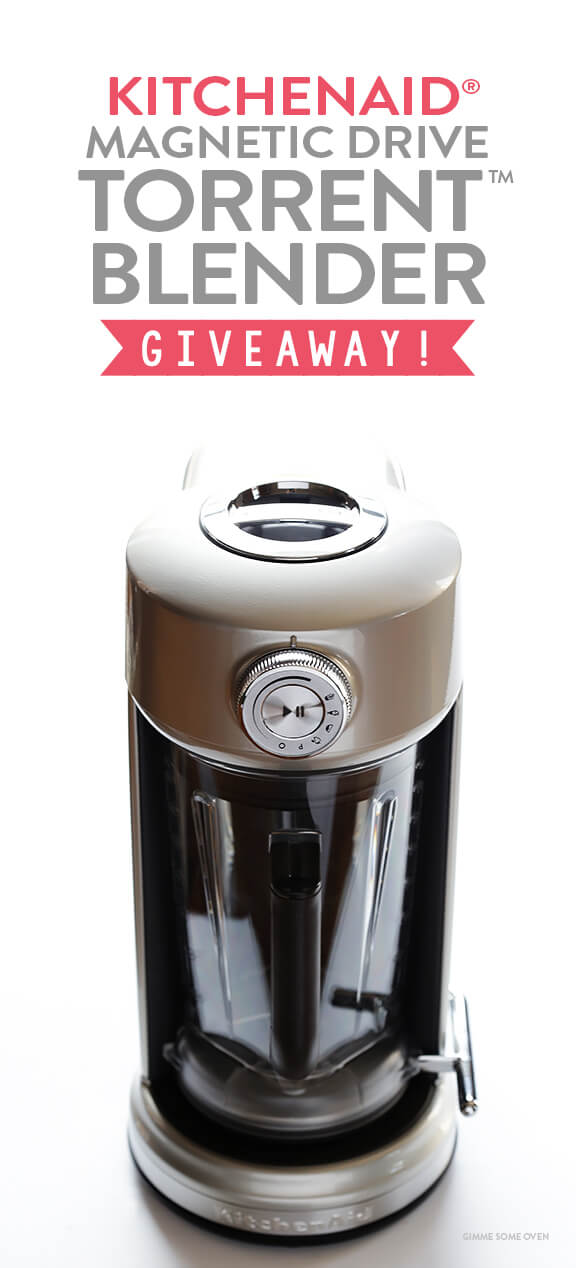 This post is sponsored by KitchenAid. They are generously providing a new Torrent Blender for the lucky reader who wins the giveaway, and also gave me one to review as well, for which all opinions are 100% my own as always. Thanks for continuing to support the brands who help make this site possible!